#24
Venice, January 1423
"
You can be proud of your son, you know. He's no longer the feather-brained young man I found upon arriving in Venice.
"
Maro walked, playfully trying to catch snowflakes in his black velvet-gloved hands. They did not fall in any numbers and only held as a thin layer on the most hospitable spots, like earth and roof tiles. The small, fat white dots lazily fluttering in the air added a touch of quiet drowsiness to the otherwise exuberant atmosphere of the city. The grey, limp paste they formed beneath the feet of the crowd made the stones slippery on the bridges arching over the canals.
"
Granted, he still can't run a business properly. But you should at least acknowledge his talent for politics and society life. Not everyone enjoys such gifts.
"
He flattened himself against the railing to free the way for a gang of screaming kids chased by a yelling devil. Smiling under his mask, he watched them disappear into the alleys before resuming his meditative strolling.
"
I'm actually considering increasing his allowance. He has made some contribution to my recent success, after all. But I'm afraid it may slack him off... What do you think?
"
He saw two women dressed in cascades of laces approaching in a gondola, headed to some – of course mysterious – rendezvous. Their dresses flirted impudently with the limits of decency and the relative warmth of the air would probably not be enough to spare them a nasty cough. Ah! But what other circumstance would have allowed them to enjoy the delight of displaying their charms like that? Maro brought his wandering thoughts back on topic and continued, waiting for the gondola to reach the bridge.
"
Oh yes, of course! You're right. I should have thought of that; always combine pleasure with business. He will certainly be delighted by an increase in the funds available for his receptions and patronage. It would be money well spent.
"
The damsels' gondola glided under a bridge and the young men massed on it threw rose-water filled eggs at them, some yelling obscenities, some uttering love poetry that was hardly better than the besotted babbling of drunkards. Although eggs - even filled with rose-water - can hurt when they are thrown from the height of a bridge, the young women did not seem really distressed at being the pulsating heart of everyone's attention. They would undoubtedly take advantage of the situation as much as they could during the few remaining days of the carnival. After that... Well, the burden of Lent would descend on these cheerful roisterers of Venice.
Maro emitted a bawdy snigger under his white, smooth mask. "I'll bet we see the effect of the carnival in the fall. The city will certainly gain a few souls..." He was aroused, and briefly contemplated the idea of burying his nose in some generous, unlaced cleavage. However, he was not quite drunk enough to disregard the trouble the Serenissima's harlots could bring upon a businessman; particularly a tipsy foreigner whose financial successes were so brazen. On the other hand, he could keep his mask on... He finally discarded the idea and resumed his saunter, staggering slightly after drinking too much of a bad wine that was so sweet that you could drink it like a syrup. He followed the sinuous thread of his thoughts as he progressed through the moving crowd of happy drunken men and women that pushed around him like an undulating sea. Only later would he realize that his purse had disappeared. But that was fair enough; thieves had to earn a living, too. And he never had much money on him, anyway.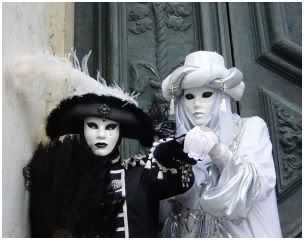 "
What a brilliant stroke it was to hire this Bartolomeo Bon to create a statue in honour of the pope's victories! I would never have believed it possible to create such a piece in so short a time. Cost me an arm and a leg, but what splendour! Those stern lines and haughty disdain curling the lips of the conqueror! What a pope! He would almost make me turn Catholic... That is, if we hadn't exaggerated a little, of course. And the amazing Eustathius even managed to have the statue erected in the public square. No one can still be unaware of the pope's recent campaign against the Moor. It is seen now as an overwhelming victory. I've even had odes written and paintings made to show the battles and the surrender of the treasury of Carthage to the Sovereign Pontiff. The Catholic sword against the swarms of Infidels and all that stuff. Just imagine Doge Mocenigo's face! He was very pale last time I saw him; stiff lips and all. I know he's seriously ill, but I can assure you that wasn't the only reason. Ah! It is easy for him to explain that this so-called conquest was merely a bloody raid aimed at extorting money from Tunis. But tell me, what use is truth in the face of art and rumour? The piles of corpses left by the expedition will rot away quietly and only the statues of the 'Warrior Pope' will remain. Hihi! I love writing history. Your son even received a eulogistic letter from Cardinal Pierozzo. I'm not even sure if that nutcase in his red beanie noticed that he was writing to a schismatic Orthodox Christian!
"
People were shouting, declaiming or singing just about everywhere. Most of them very badly; wearing a mask tends to remove any fear of being mocked. But then Maro heard the shouts of an over-excited crowd over the surrounding hurly-burly. Curiosity aroused, he headed towards the sound and had to push his way through a compact group of people who were craning their necks to see what was happening farther on. He finally managed to reach the front row, however.
A makeshift arena had been set up in a small square, using big planks. Spectators were packed together round it, bellowing even louder than the young bull that was desperately defending its life against a pack of blood-frenzied dogs. Taken over by the joy of the moment and the brutality of the crowd, Maro started to shout too, but not without ulterior motive.
"Tear it apart! Go, Venetian dogs of war, go! Devour the big Turkish bull!"
Punctuated by less intelligible exclamations, the whole thing was a little ridiculous. But he burst into laugher when his words began to spread around him until they were uttered all over the square. Public opinion was ripe. He decided to leave, all the more since the bull was no longer offering more than token resistance in the middle of the blood-soaked square.
It was time to head back home, not least because his stomach was protesting against the quantities of fat-drenched fritters he had eaten during the afternoon. He was in good spirits: his efforts were paying off nicely, at last.
"
Seen that? They're on the boil! The pacifists won't be able to resist them for long. Even the argument of trade becomes irrelevant now that the Ottomans control the Bosphorus and are spreading south. Andrea Dandolo even dared to maintain, in the middle of the Council of Ten, that Venice would lose everything should she fail to act now. It would be perfect timing, too, since Murad is currently bogged down in a bunch of wars throughout Anatolia. He underestimated the local potentates and the whole area is put to sword and fire. Just sparking a little more of this in Greece should get rid of him, once and for all.
"
He arrived at Eustathius' place. The young man would probably not be home for several days, busy as he was with the celebrations organized by his noble friends. Maro unlocked the door and stepped into the office, which was closed for the duration of the carnival. He took off his coat and shook it to remove the small quantity of snow that had stuck to it. Meanwhile, his inner monologue continued.
"
Oh yes, the Turks will have to release what they should never have gobbled up to begin with. Eustathius recently met an Austrian prince and I'll bet Murad will have his hands full just to keep a few square inches of his empire... You'll soon be avenged, my old friend! Ah, I'm turning just as maudlin as you... Maybe more.

Well, the old owl's left the mail on the writing case. I didn't even know there was any during the celebrations. Let's have a look at it!
"
There was nothing more than two wet letters. He put the first one aside as it was obviously from a local customer and could be dealt with later by the accountant. His heart missed a beat when he saw the scrawl on the second one. Forgetting to breathe, shivering, he slipped his thumb under the seal to open it. In his emotion, he had not even noticed that it wasn't addressed to him. He opened it and skimmed through the body of the text, quickly jumping to the signature... Alexios.
Breathless, he let the parchment fall. His thoughts whirled. He straightened up and looked around, as if seeking support. The room was cold and dark. He was all alone now.
.