Second Lieutenant
17 Badges
As announced yesterday
, Bulls on Parade, the new update for Steel Division: Normandy 44, is also available now!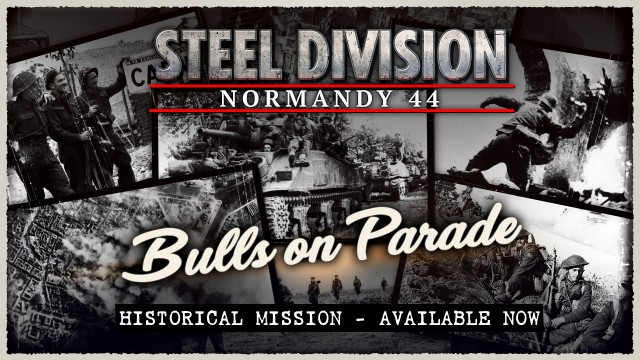 IMPORTANT NOTE ABOUT MODS: All mods will be out of date and won't load, contact modder to ask them to update their mod so you can play again with them!
Here's the patchlog:
NEW FEATURES
:
New Historical Battle "Operation Atlantic" available
Added Random map option in the lobby: pretty self-explanatory, with this option selected, the game will randomly pick a map for you.
Added Filter in the battlegroup list: you'll be able to display all your battlegroups, or to only display Breakthrough or Normal battlegroups.
Added Rebindable Situation Awareness key: for the ones who'd like to use the spacebar to... let's say... toggle the active pause, for example.
FIXES
:
Fixed the UE 630(f) Wurfrahmen's icon.
Fixed the Universal Carrier (and variants)'s invisible passengers.
Fixed some strange AI behaviour on US solo mission #3.
Fixed a discrepancy between the number of soldiers in the Canadian Rifle Leader squad and its armament.
Fixed the Canadian Rifle Leader squad's picture.
Fixed a bug allowing artillery spotter planes to still call a strike even when routed & and breaking off.
Fixed the PzH Lorraine's top view image.
Fixed the Carrier Recce's (missing) panel order.
Fixed 2-man AT teams' strange movements.
BALANCE
:
Generic
:
Recon vehicles now gain accuracy and suppression resilience like vehicles.
Reduced damage taken by AT Guns from tank guns but still as many suppression (fire support vehicles/tanks still do as much damage).
Added 3 smoke grenades to Sturmpionier and FJ-Sturpionier.
Reduced price Lw-Flammenwerfer from 25 to 20.
Fixed Puppschen, Bk37 and BK75's damage.
Reworked lethality of AT weapons to be more effective against light vehicules.
4th Armored
Changed B-26B-10's armor to make it more vulnerable to suppression
Reduced B-26B-10 availability to one card in phase A
Reduced B-26B-10 veterancy from veteran to rooky in phase A
Increased B-26B-10 availability to 2 per card in phase B
Reduced B-26B-10 veterancy from elite to veteran in phase B
Increased Jeep Bantam price from 35 to 40
Removed Sherman 105 from phase A
352. Infanterie-Division
Removed one slot in the support category, added one slot in the AT category.
Added Pak 40 in two single cards in phase A.
Have fun!