Manager of Micro
53 Badges
ADIOS Naxos
Naxian ideas:


Traditions:

+4
Tolerance of heretics
−20%
Time to fabricate claims (yay
)


Maritime State

+20%

Naval force limit modifier

+10%

Galley combat ability




Naxos Rules The Waves



+5%

Recover naval morale speed




Archipelago Of Opportunities



+10%

Embargo efficiency

+25%

Privateer efficiency


Legacy Of Crusaders

+0.5

Yearly army tradition (not too bad
)
Archipelago Feudalism

−1
National unrest (Always comes in handy
)

Latin Roots

-5%
Technology cost (see above)

Naxian Ambitions

−10%
Core-creation cost (woot!)

Ambitions:

−15%
Diplomatic annexation cost (see above)
Naxos is a tiny nation inhabiting a collection of islands in the Aegean Sea.
They start as a vassal of Venice and close proximity to the Ottomans and Byzantium in 1444.
Being a remnant of the crusader states formed in the aftermath of the fourth crusade and the weakening of the Byzantine Empire,
its main culture is Lombard and its religion is Catholic, while their capital and only province is Greek and Orthodox.
"A mix of everything makes a nice soup" as Gorion would say..
They used to start as eastern tech, but now they are western technology from start.
They are a One Province Minor (OPM) with low development (I think they start with 6 development). Naxos now also has TWO land straits connecting them to Greek mainland, making the capital very vulnerable versus Ottomans.
Why did I take Naxos?
Because I wanted to learn the diplomacy again in cossacks dlc.
And because I usually expand without allies, I wanted to try a nation that NEEDS allies to survive, like Naxos.
Some will argue that disabling cossacks dlc is likely better (alliances and abusing ai gets easier then) but I decided against it. Naxos will try to live WITHOUT abusing allies too much.
What are the goals of the campaign?
Not sure yet. Getting independent for starters, and then trying to survive to 1500 without being roflstomped by the Ottomans.
Important mods for eu4 and programs used
gfx overhaul:
https://steamcommunity.com/sharedfiles/filedetails/?id=381321692
better font (great white font, ideal for screenshots and aar):
https://steamcommunity.com/sharedfiles/filedetails/?id=378830868
batch image resizer:
http://www.faststone.org/FSResizerDetail.htm
screenshot upload site that allows clicking on the images in the forum to enlarge them:
www.imgur.com
TABLE OF CONTENTS:
Chapter 1:
Opening moves:
https://forum.paradoxplaza.com/foru...-the-opm-to-bbb-travel-guide-1-15-aar.906343/
Chapter 2:
Jousting in the Balkans:
https://forum.paradoxplaza.com/foru...b-travel-guide-1-15-aar.906343/#post-20618098
Chapter 3:
The secret wish of Orlando Gavalas:
https://forum.paradoxplaza.com/foru...el-guide-1-15-aar.906343/page-2#post-20633714
Chapter 4:
Crusading in the Levant:
https://forum.paradoxplaza.com/foru...el-guide-1-15-aar.906343/page-4#post-20644370
Chapter 5:
We drive them back, or we die trying!:
https://forum.paradoxplaza.com/foru...el-guide-1-15-aar.906343/page-5#post-20663834
Chapter 6:
The legacy of Francesco III:
https://forum.paradoxplaza.com/foru...el-guide-1-15-aar.906343/page-6#post-20677976
Chapter 7:
A pouch of WIZ weed:
https://forum.paradoxplaza.com/foru...el-guide-1-15-aar.906343/page-7#post-20699381
Chapter 8:
In the game of thrones, you win or you die:
https://forum.paradoxplaza.com/foru...r-aar-no-exploits.906343/page-8#post-20710704
Chapter 9:
Knowledge is power :
https://forum.paradoxplaza.com/foru...el-guide-1-15-aar.906343/page-9#post-20721267
Chapter 10:
The legacy of empress Ariadne, part 1 :
https://forum.paradoxplaza.com/foru...l-guide-1-15-aar.906343/page-10#post-20739880
Chapter 11:
The legacy of empress Ariadne, part 2 :
https://forum.paradoxplaza.com/foru...l-guide-1-15-aar.906343/page-11#post-20745308
Chapter 12:
The Polish charade :
https://forum.paradoxplaza.com/foru...l-guide-1-15-aar.906343/page-13#post-20768527
Chapter 13:
Remember all this, Sansa, when you come to play the game :
https://forum.paradoxplaza.com/foru...l-guide-1-15-aar.906343/page-14#post-20778786
Chapter 14:
The Sansa Doctrine :
https://forum.paradoxplaza.com/foru...l-guide-1-15-aar.906343/page-15#post-20788006
Chapter 15:
Next coring batch :
https://forum.paradoxplaza.com/foru...l-guide-1-15-aar.906343/page-17#post-20811734
Chapter 16:
Conquering while integrating :
https://forum.paradoxplaza.com/foru...l-guide-1-15-aar.906343/page-18#post-20842076
Chapter 17:
Emperor Giovanni versus King Jaime :
https://forum.paradoxplaza.com/foru...l-guide-1-15-aar.906343/page-19#post-20858267
Final chapter:
The will of the last Habsburger :
https://forum.paradoxplaza.com/foru...l-guide-1-15-aar.906343/page-19#post-20879879
Chapter 1: Opening moves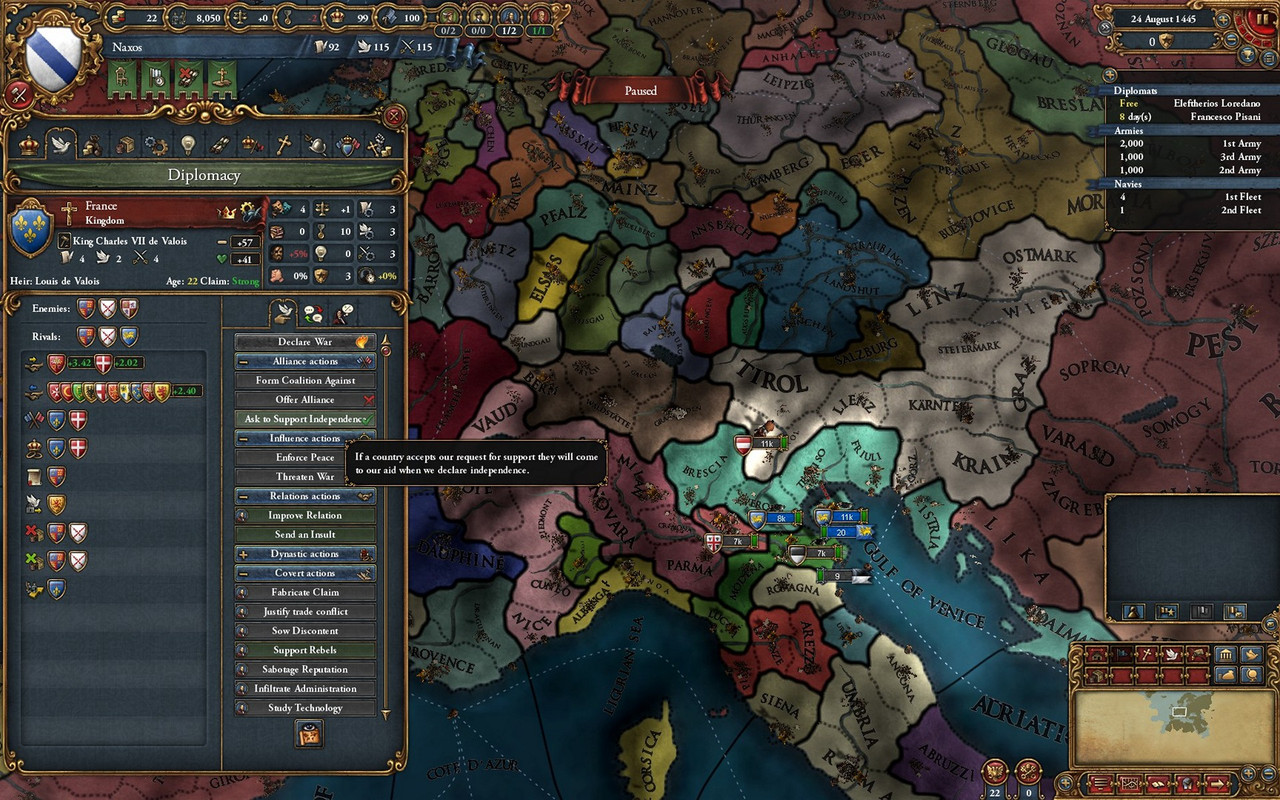 Naxos needs someone to support its independence. I just re-rolled until I saw THIS. France and Austria rival of Venice
I'm not proud of it, but this will only work, if some big nation supports my independence versus Venice.
There is one big change in 1.15: you can't declare war in the first month of 1444 gametime, to give ai nations a chance to ally themselves with someone.
THIS also means Venice has the time to ally whoever, making matters LOT more harder.
Before patch 1.15, Naxos could ask support independence from Austria on day 1 and declare independence day 2. Impossible now.
I had campaigns where Venice allied France. Ok, restart.
Then the stars aligned and produced this.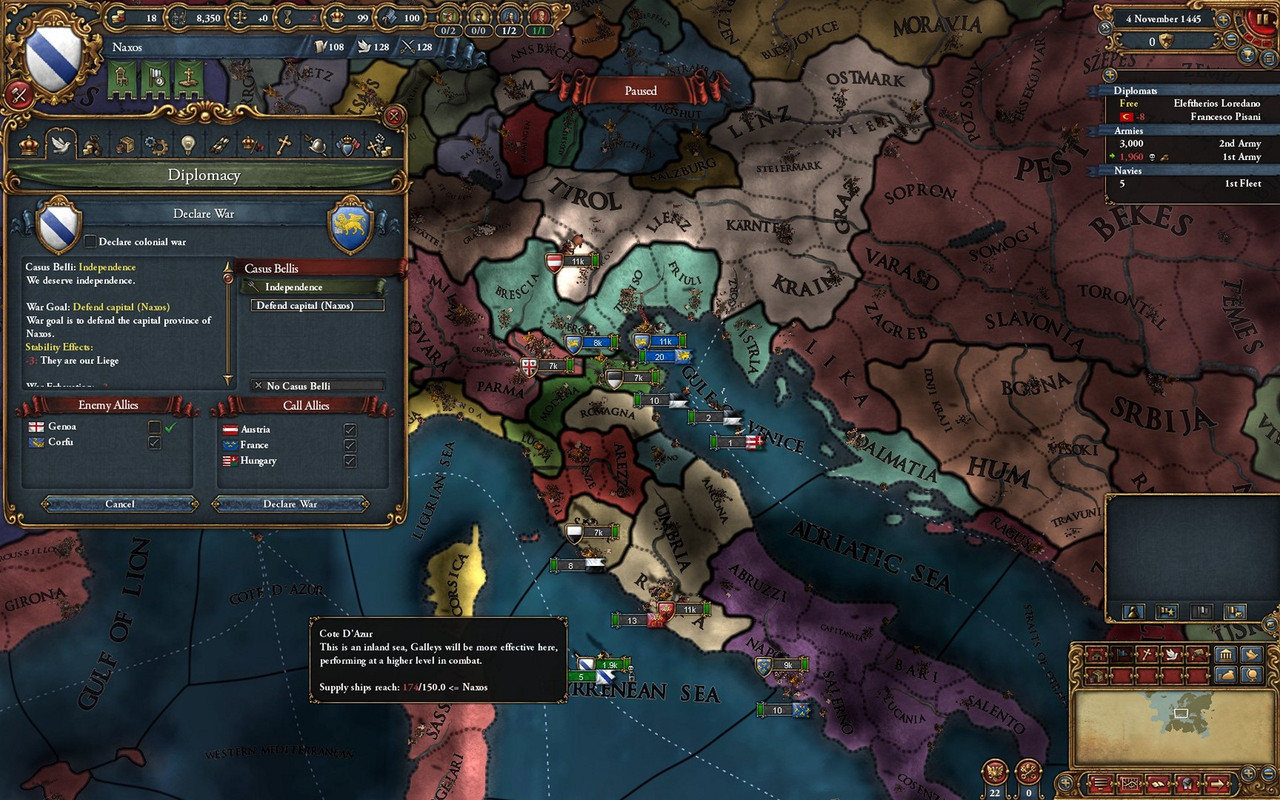 Venice allied Genoa. Ok, that is not very good (as Genoa has big navy), but its better then facing France.
Austria, France and Hungary support my independence. They will become my allies once I press this button.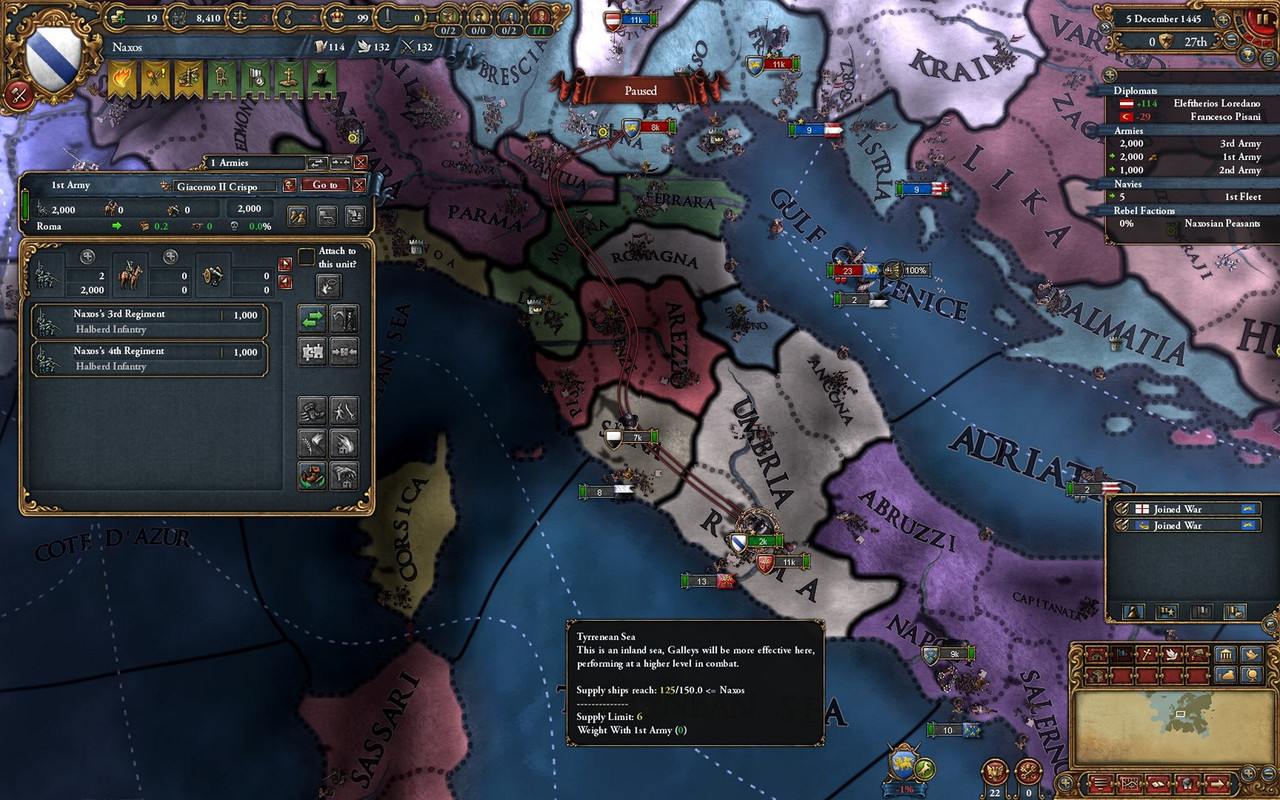 I asked military access from the Papal state, and declared when Genoan fleet was faaaaar away.
Let's march! I bravely led 2k troops versus the forces of Venice. "What the heck do you think you can do with 2k troops versus them?" I hear you ask...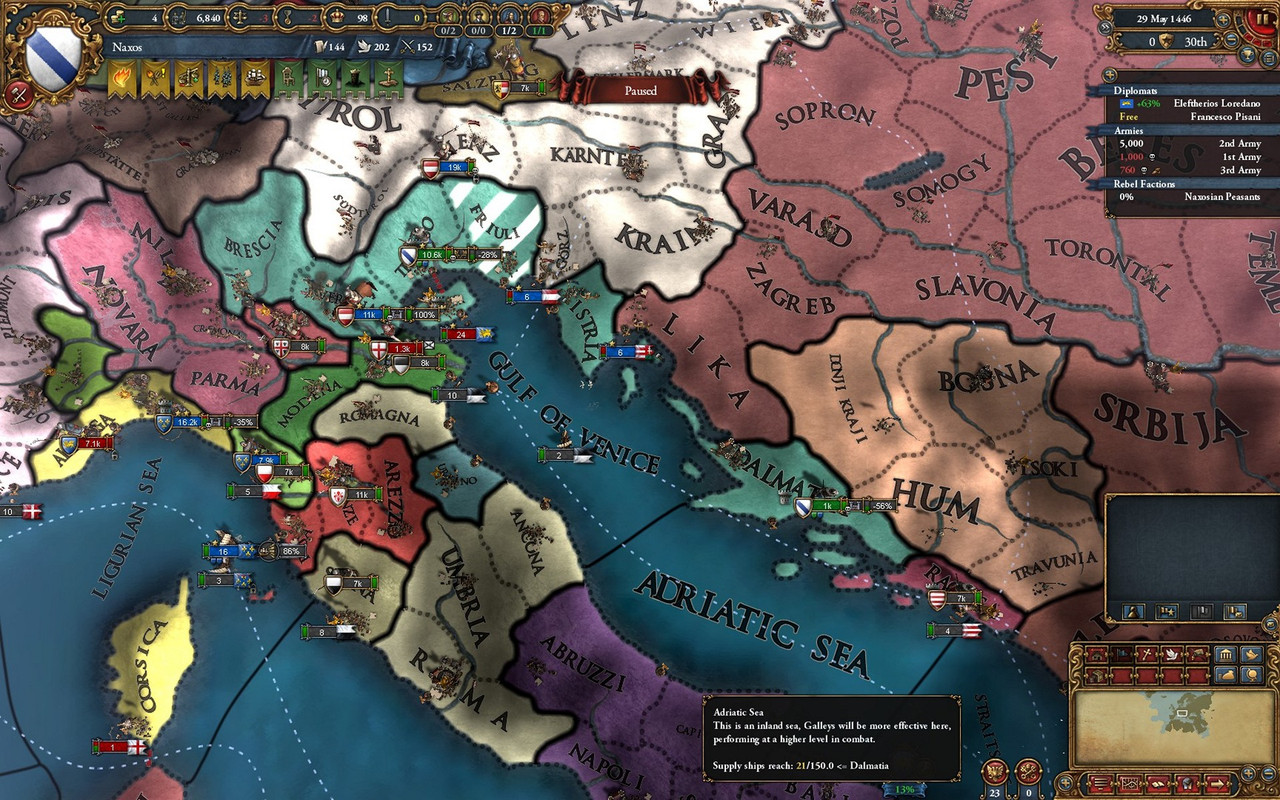 Not much. BUT I vinked on the "attach to my army' on the two seperate 1k stacks, and whaddayaknow, an austrian stack and the hungarian army attached to my 1k stacks.
This has ONE big advantage: the sieges done by this 1k stack with ally armies attached will siege forts in YOUR name, and occupy them in YOUR name.
Why is that important? Because otherwise Austria and Hungary would simply occupy the forts and the provinces in their name.
Can't have that, as I am planning to do something wicked here...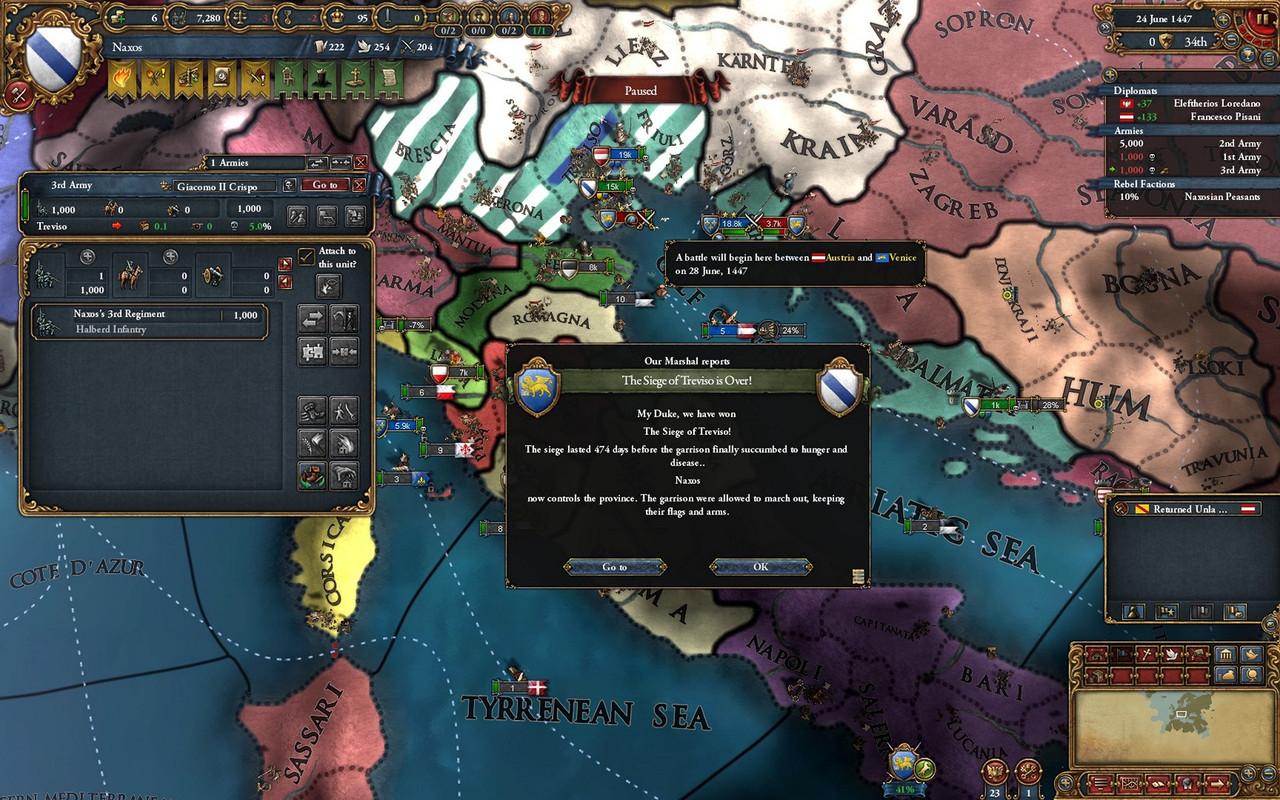 Treviso fort fell, and I was able to lead the Austrian army into the capital of Venice! Note that this would have been flat out impossible, if the Austrian, French and Hungarian fleet didn't defeat the Venetian fleet.
The naval AI got improved a boatload (pun intended); I actually had to restart this campaign quite a few times because Genoa or Venice simply sea-invaded my island capital with 10+k troops...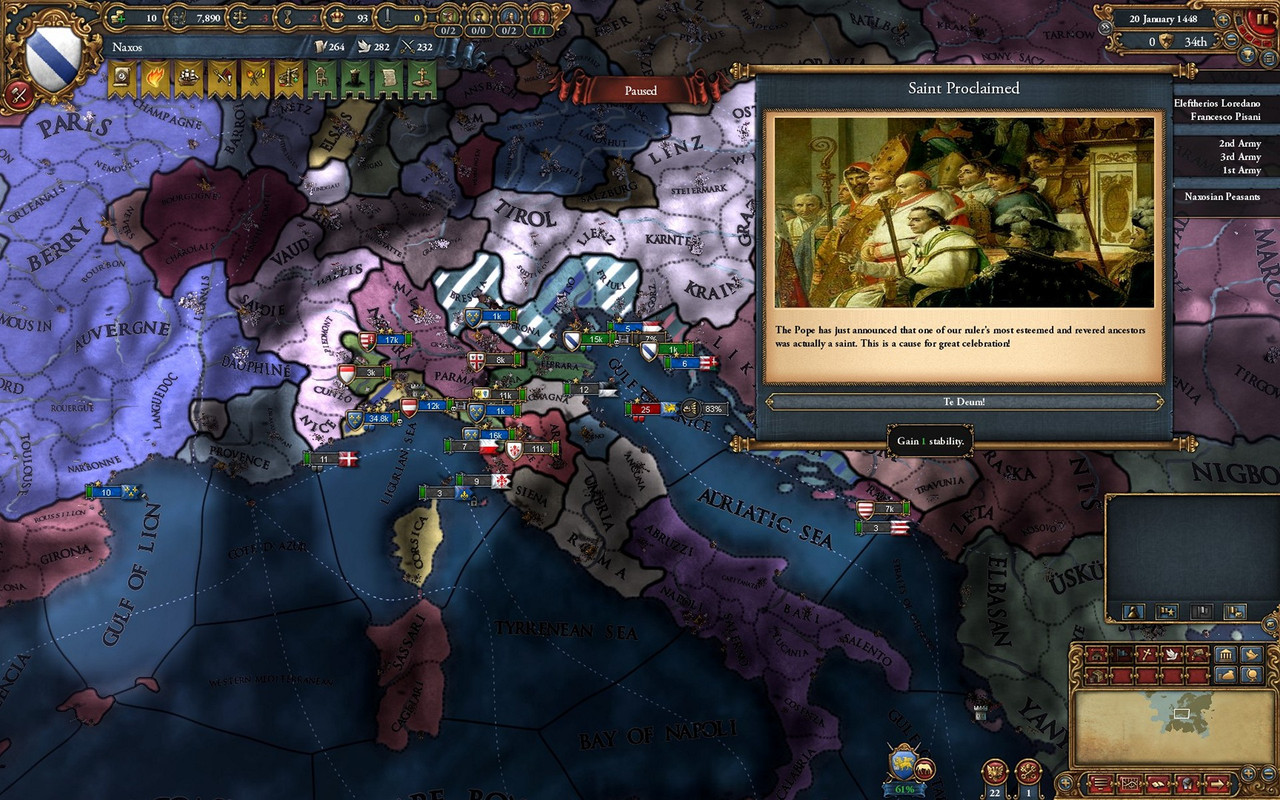 One of the first events I got, and its a stability one... Don't look at me. Me and stability events always loved each other...
I was hoping to get the event that gives option to get 100 army tradition general... It can trigger if your nation is at war and if you have less then 20 army tradition.
It happened during my Yeren aar....
Anyways... the war is going as planned. Genoa is being sieged as well.. And Dalmatia fort is ALSO occupied in the name of Naxos.
I made seperate peace with Genoa annulling their alliance and asking ducats and war reparations.
I only got a fraction of the ducats, but it seems war reparations give the full amount to YOU, even if your allies did all the work fighting and sieging the involved nation.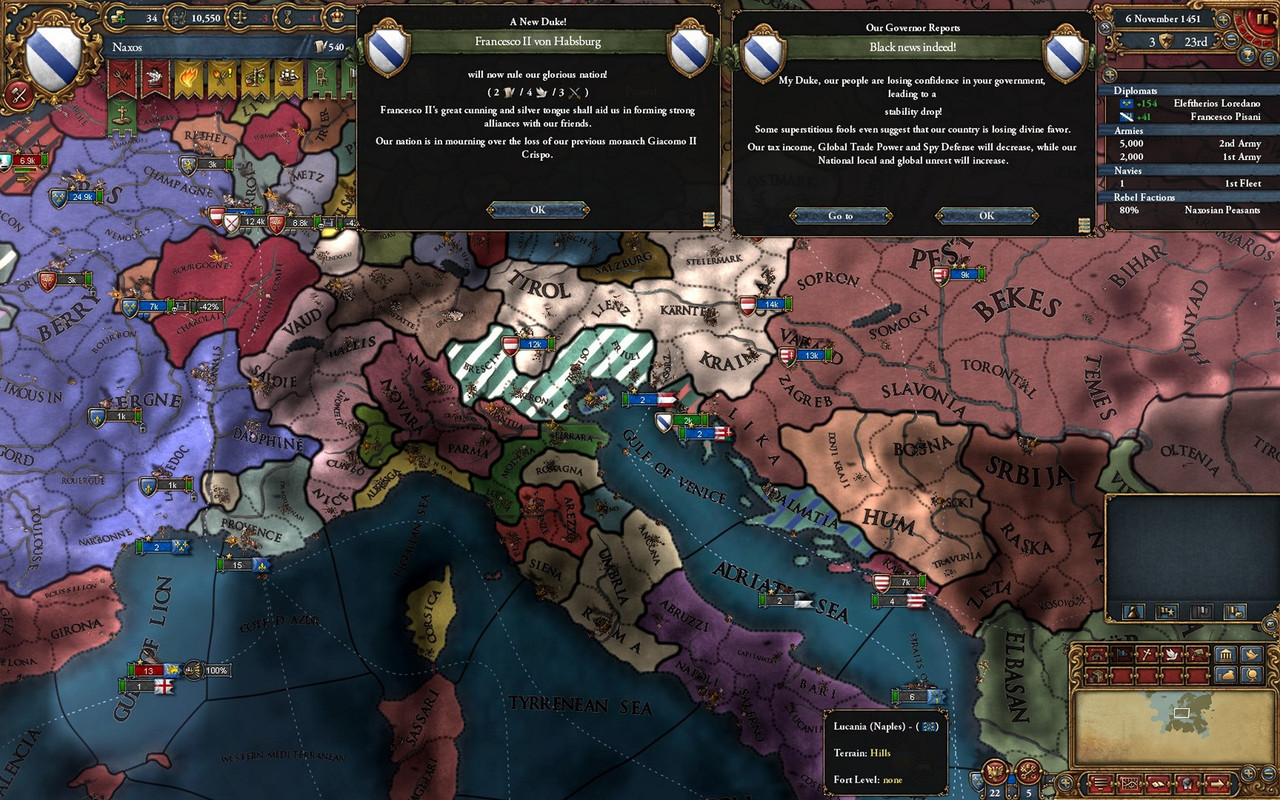 Naxos starts as heirless nation. Our king died very young, and the habsburgs spread their dynasty to Naxos. Don't look at me, nothing to do with it.
Back to -3 stab. Great.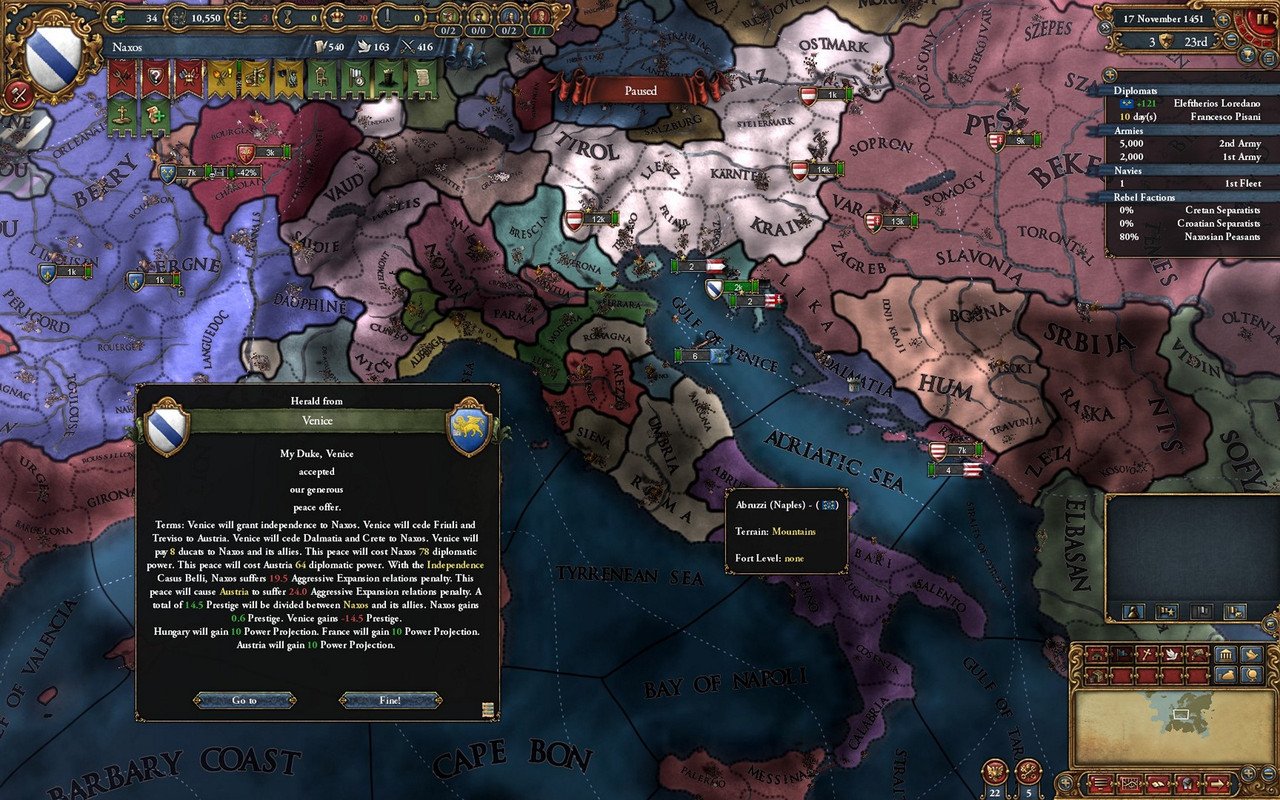 I made peace with Venice, and obtained the claimed province of Crete. And Dalmatia!
I did a few test runs on console before I started ironman, and this led me to the conclusion that asking for Venice immediatly is BAD idea (for the agressive expansion and because Austria usually breaks alliance over wanting Venetia province). Hence, Dalmatia.
Hungary got nothing, and broke alliance. France didn't do a lot in the war, and they were happy with the ducats.
Naxos kept alliance with Austria and France!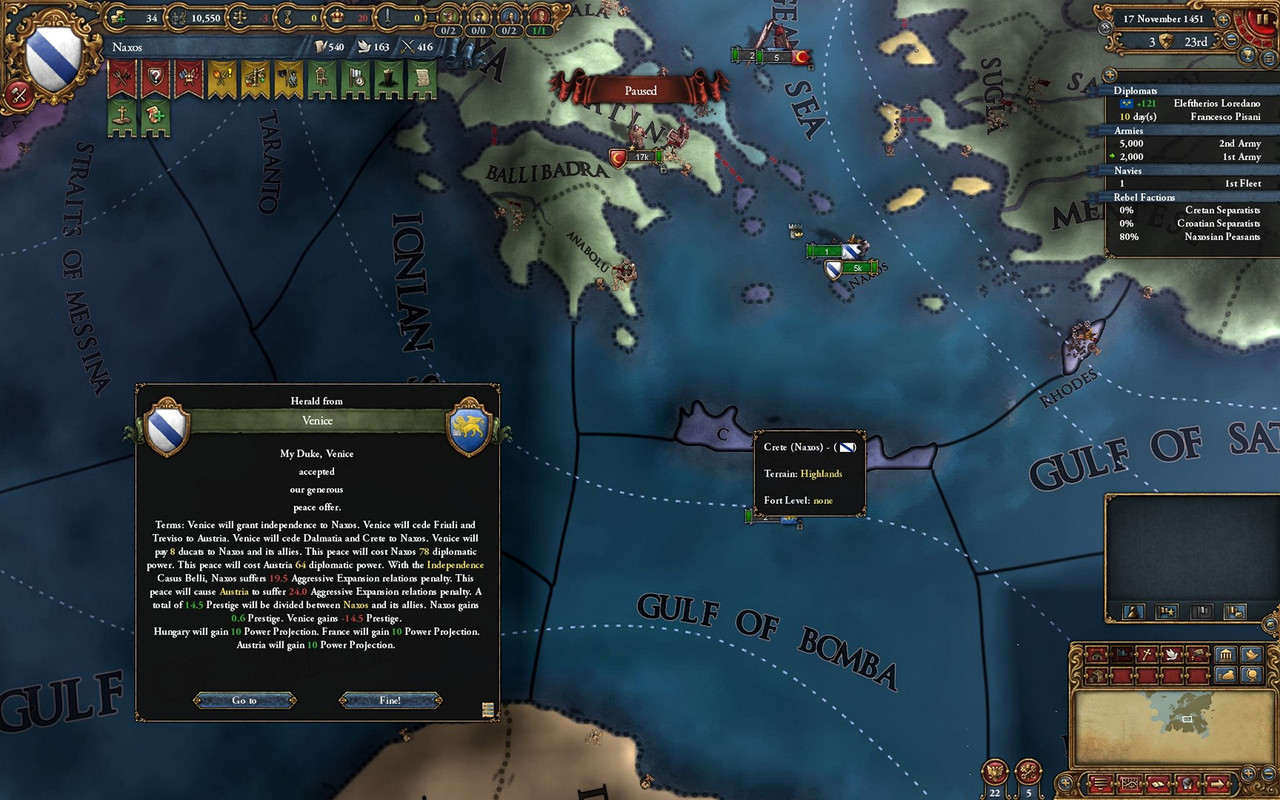 Ok we are independent. But look who is right at my doorstep now...
The Ottomans! They warned me NOT to go to war with their neighbours before I even got independence.
Yeah, ok, sure!
*mutter mutter* BULLY! mutter mutter*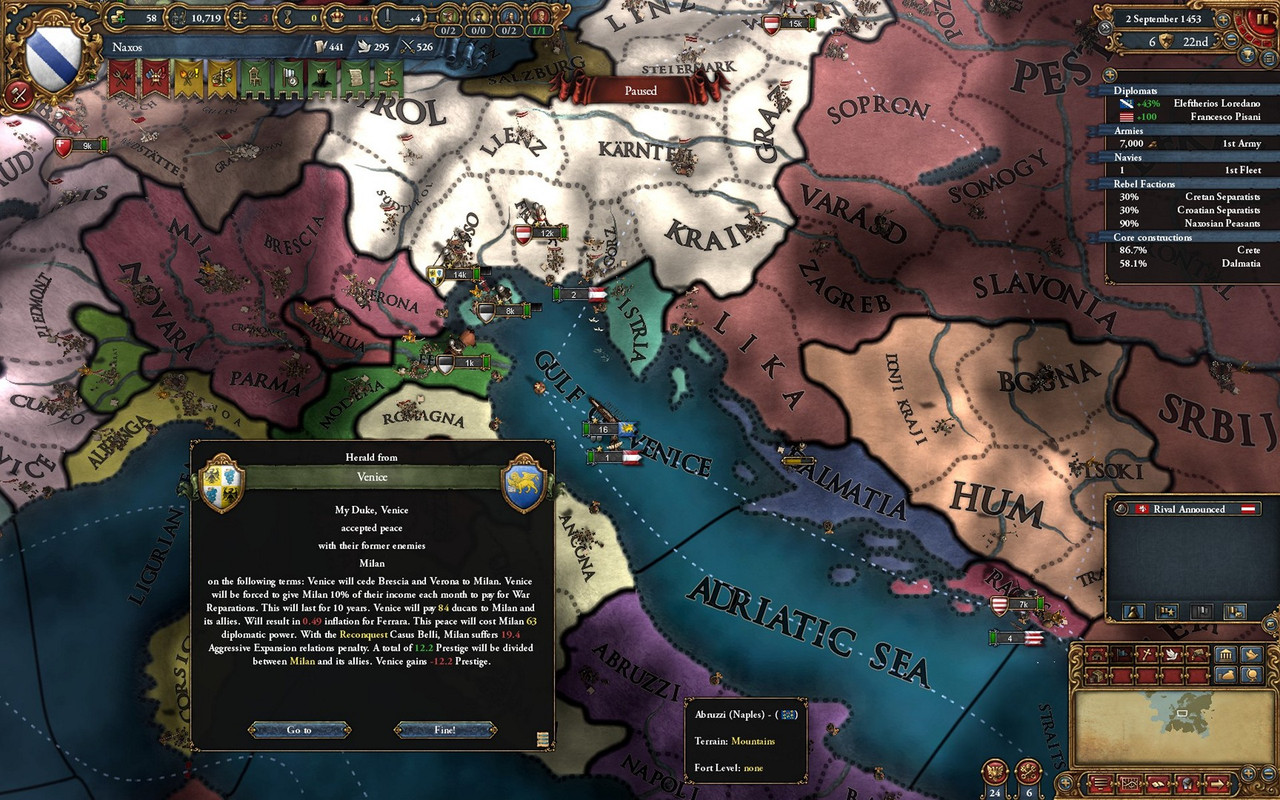 Venice got eaten alive by its neighbours after this. The AI preys on the weak a lot more.
As soon as a nation is overrun, other nations are likely to declare on them as well.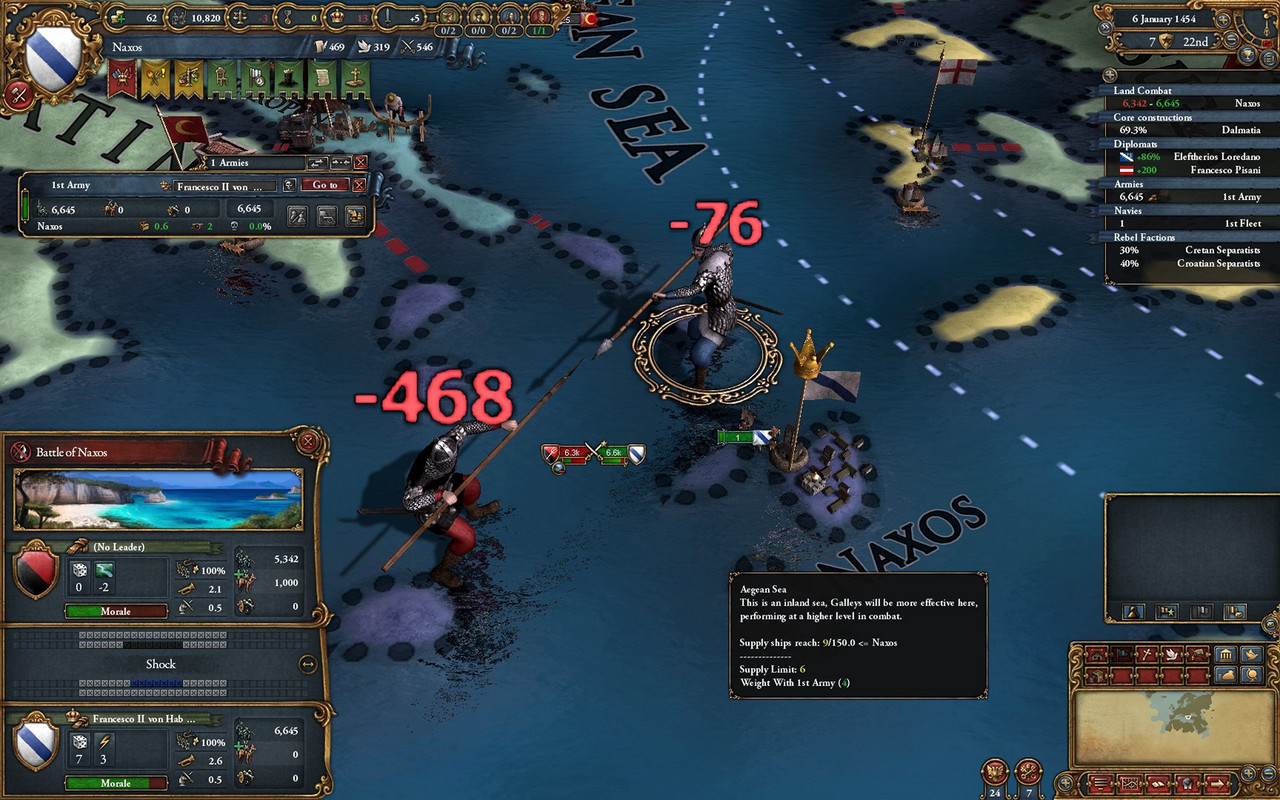 Fransesco led the brave Naxosians versus the peasants that dared to revolt!
Naxos is at -3 stab, has ton of war exhaustion, has a capital of the wrong religion and wrong culture...
HOW DARE YOU REVOLT?!
The peasants were on ONE island, our army on the other, and our spears jabbed across the sea!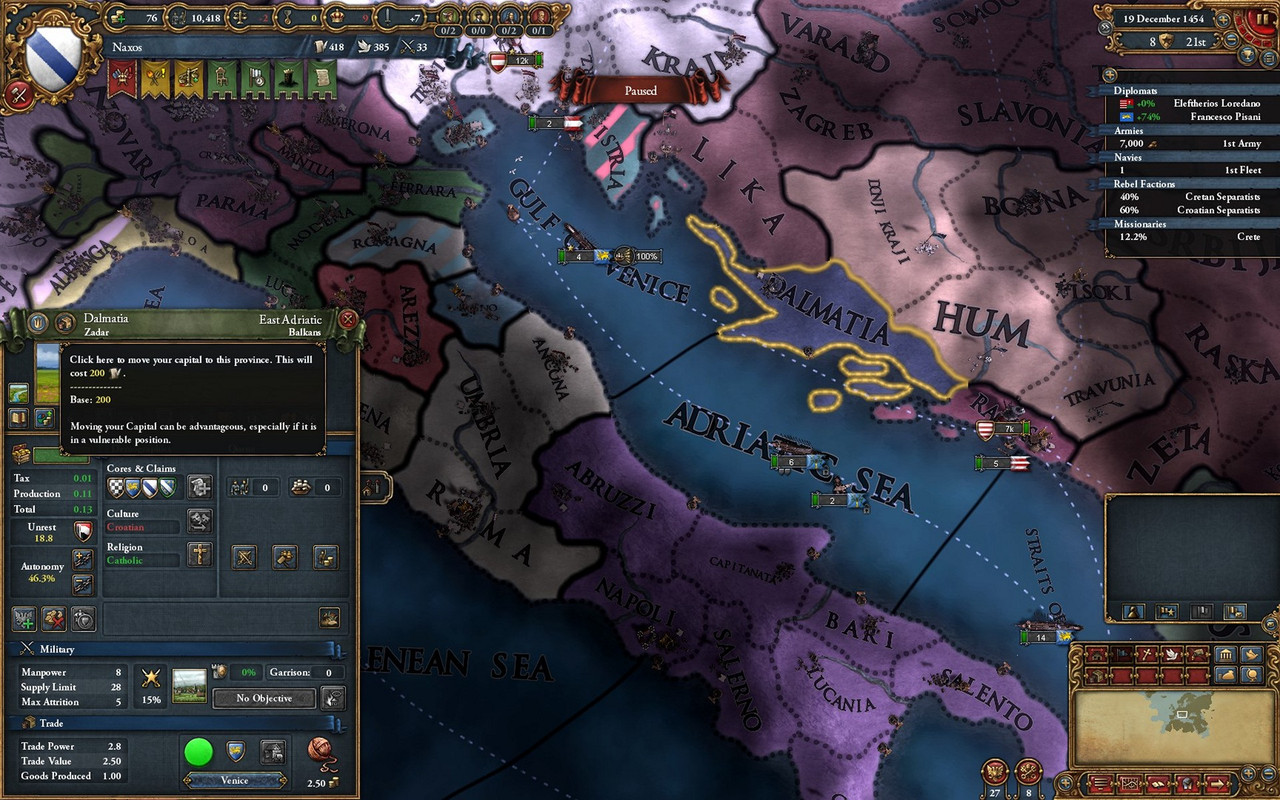 Dalmatia province finished coring, and Naxos moved its capital to Dalmatia. Why? Because Naxos itself is too vulnerable to the Ottomans....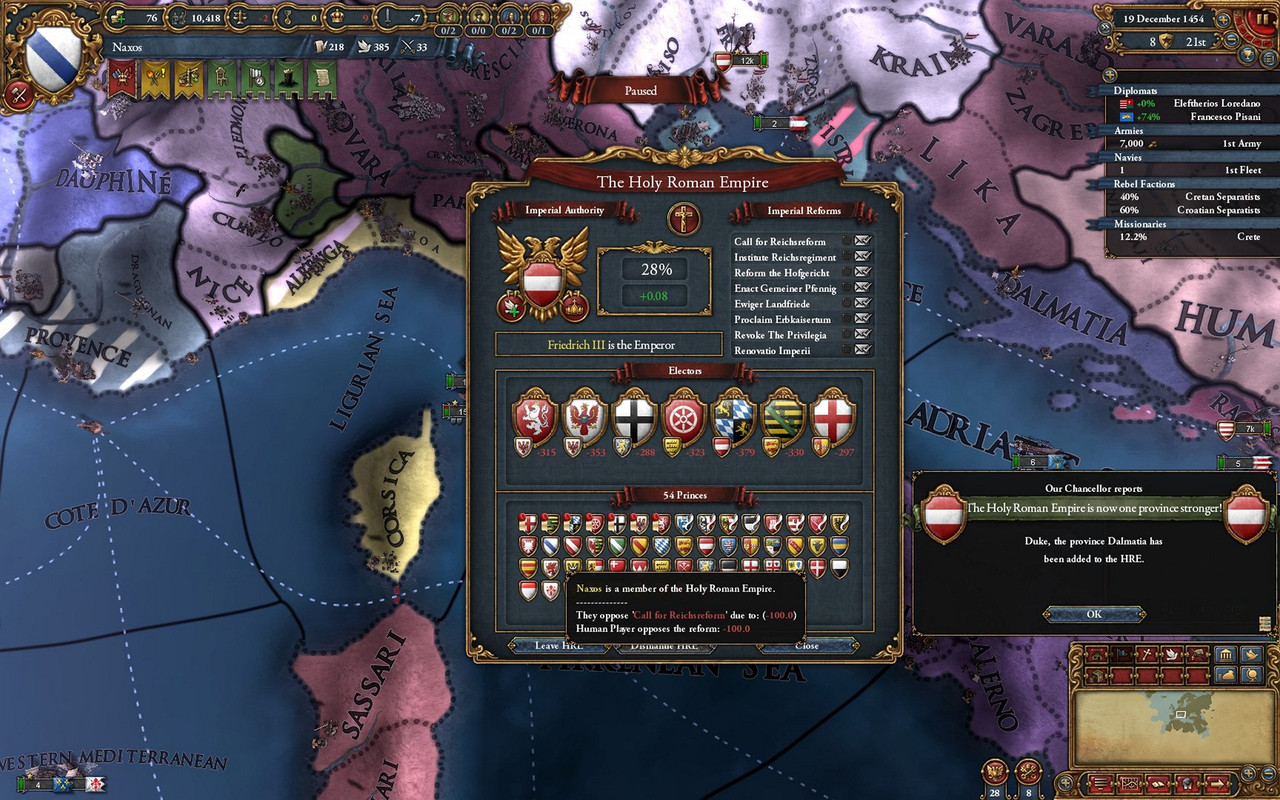 .... and because Dalmatia shares seazone with a province of the Holy Roman Empire, which enabled Naxos to grovel before the emperor and ask his protection...
Naxos is a prince of the HRE now!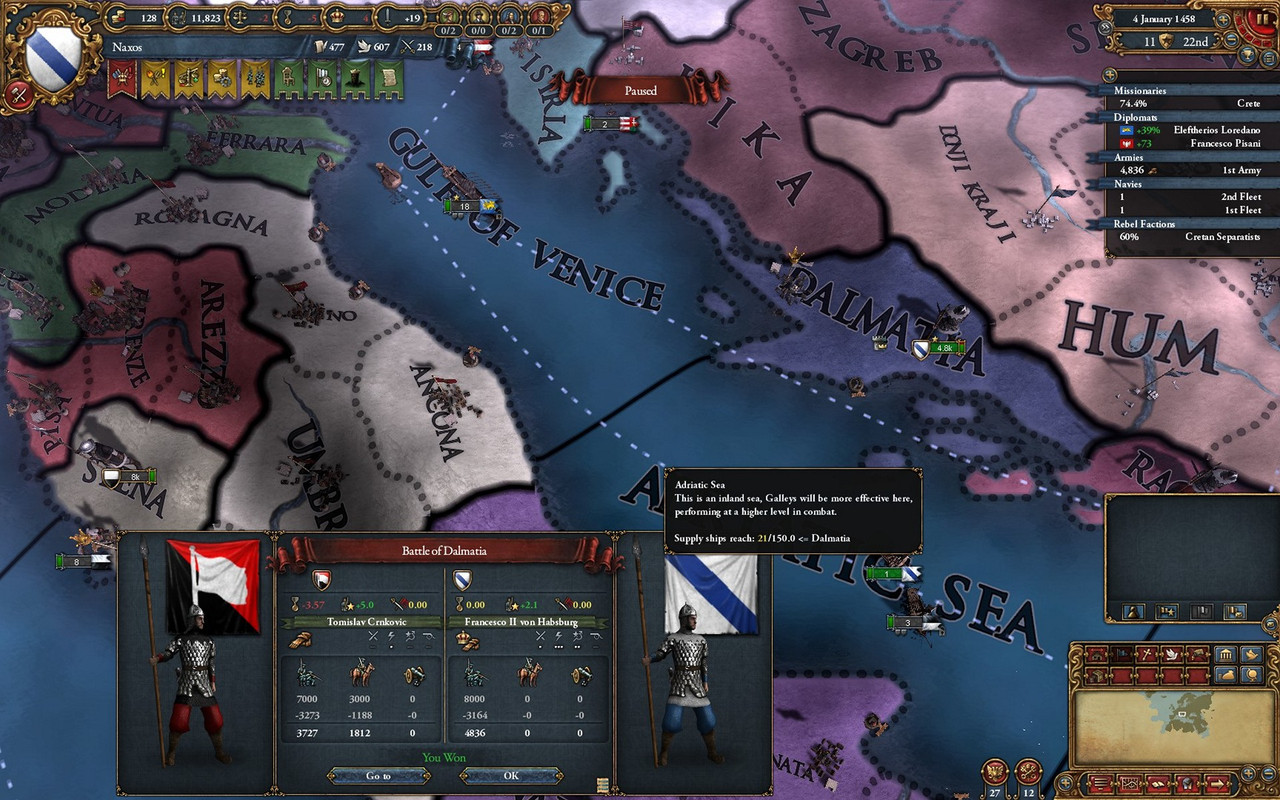 Luckily Francesco was a reasonably good general... As usual, rebels are more of a problem then the AI nations...
Dalmatia shares sea zone with Venice; I claimed their capital!
We are lombard culture after all...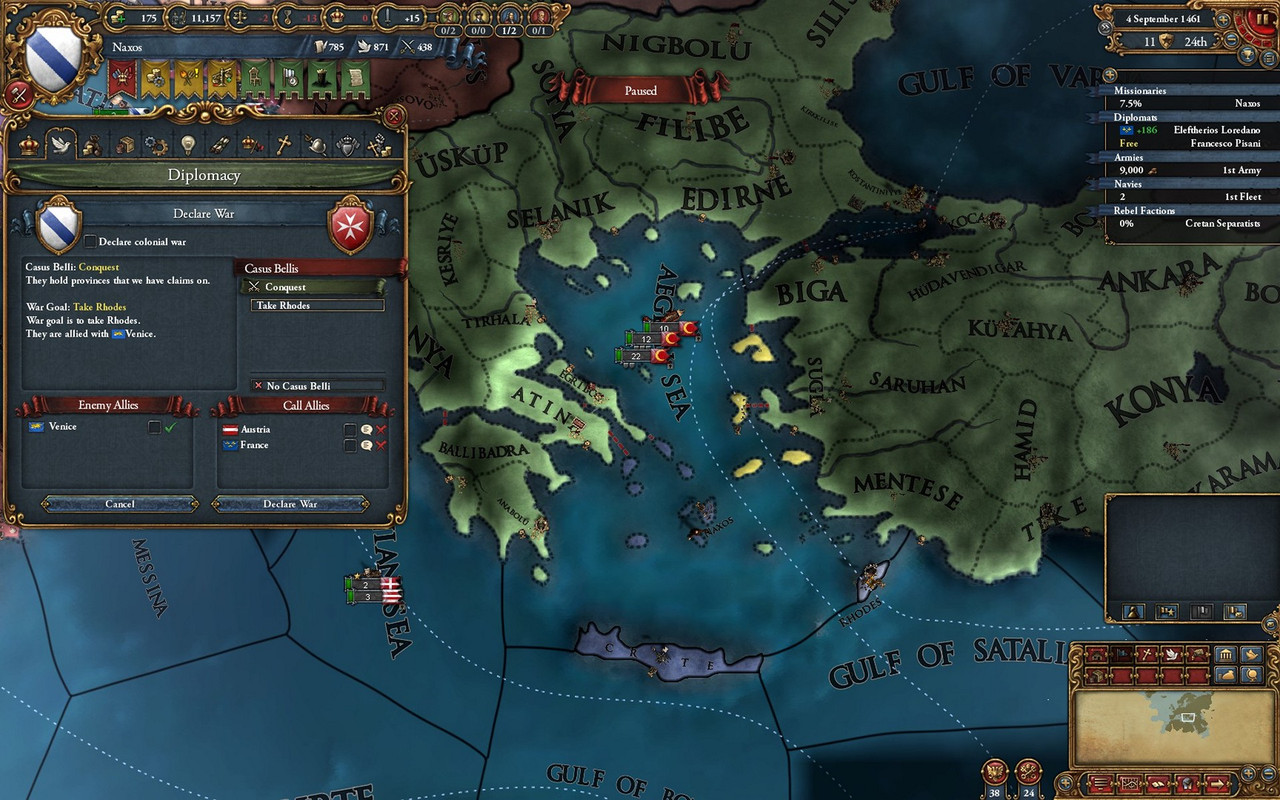 I also had claim on the Knights by now. Hence, I attacked them.
But Venice is the main target here! The ottomans attacked them (opportunistic AI for the win) and occupied Venice. They also sank their fleet. Ottomans took Corfu and the province near Naxos.
Time for a VERY opportunistic stunt..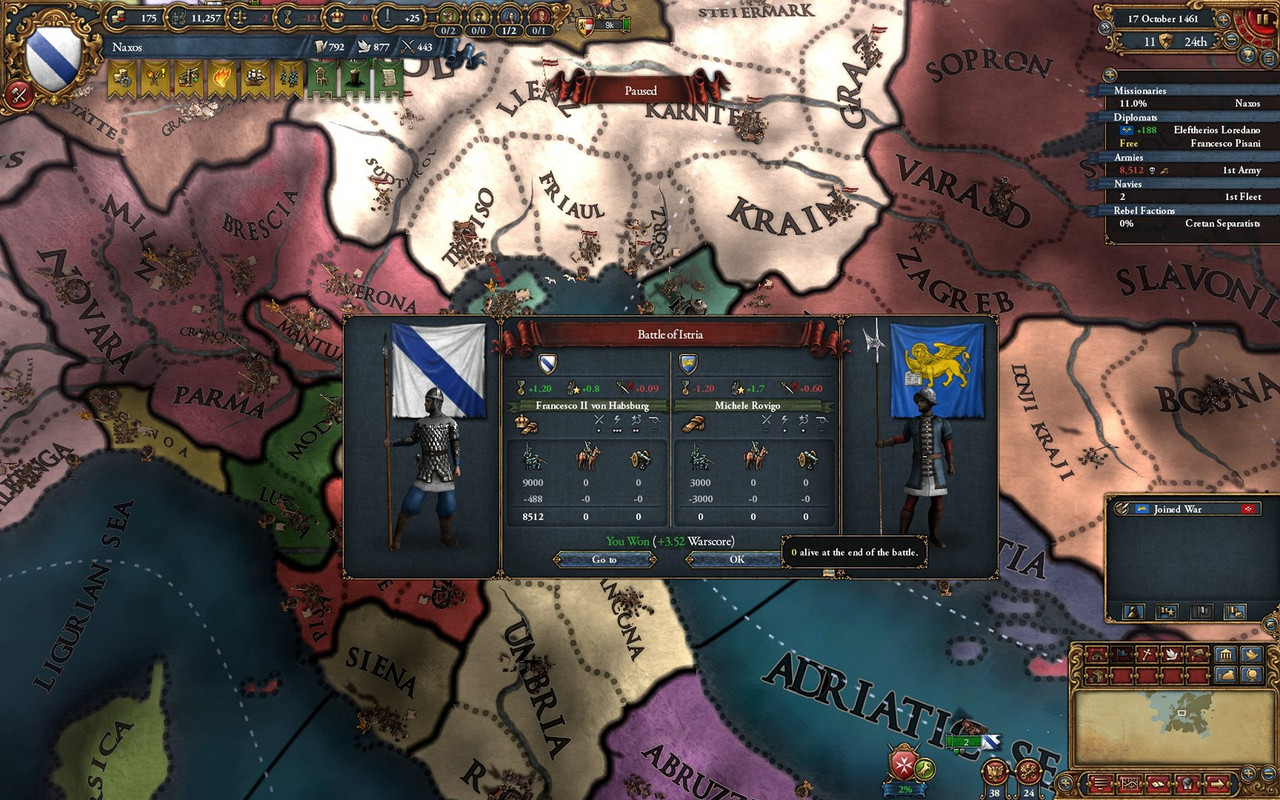 I asked access to Hungary (at least they still want to do that) and invaded Venice only a few months after they made peace with Ottomans... I waited to attack until they were willing to defend the knights!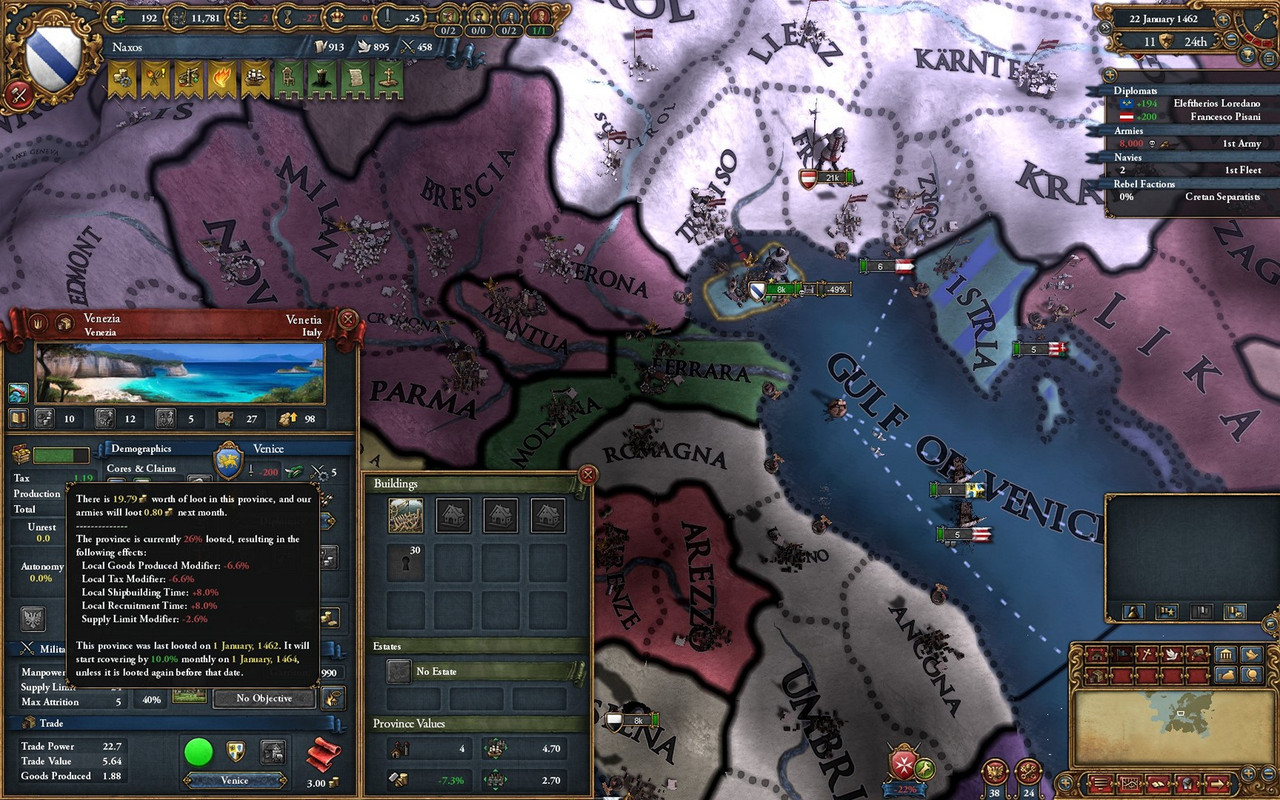 MMMM sweet ducats!
The knights invaded the Naxos province, and they blockade Crete.
Grmpf.
Our fleet got sunk in the independence war... Naxos is making galleys in Dalmatia to compensate. But that will take YEARS...
No problem, we *HAVE* time.
Bring it on, valiant knights!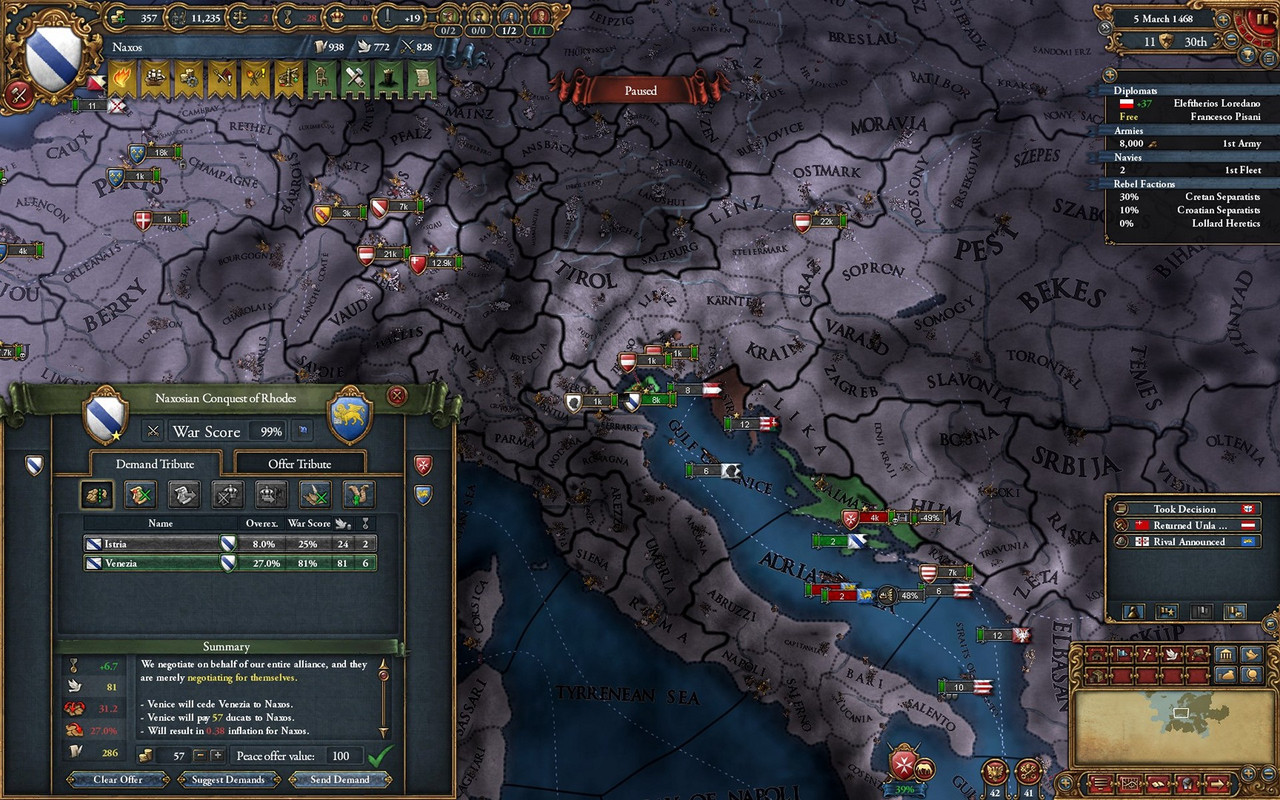 Yeah that's right, NOW we ask for Venetian capital. And 57 ducats all for ourself!
The emperor likes us now, we are part of HRE, and we gave them two former venetian provinces in the independence war. Hey Austria, you won't be mad about this right?
..... right?
Pfrt who cares, we also have alliance with France.
Anyways, the valiant knights landed troops on our capital in Dalmatia.
GOOD!
I stomped them, because they had nowhere to run. Wiped them in Hungary, after they routed.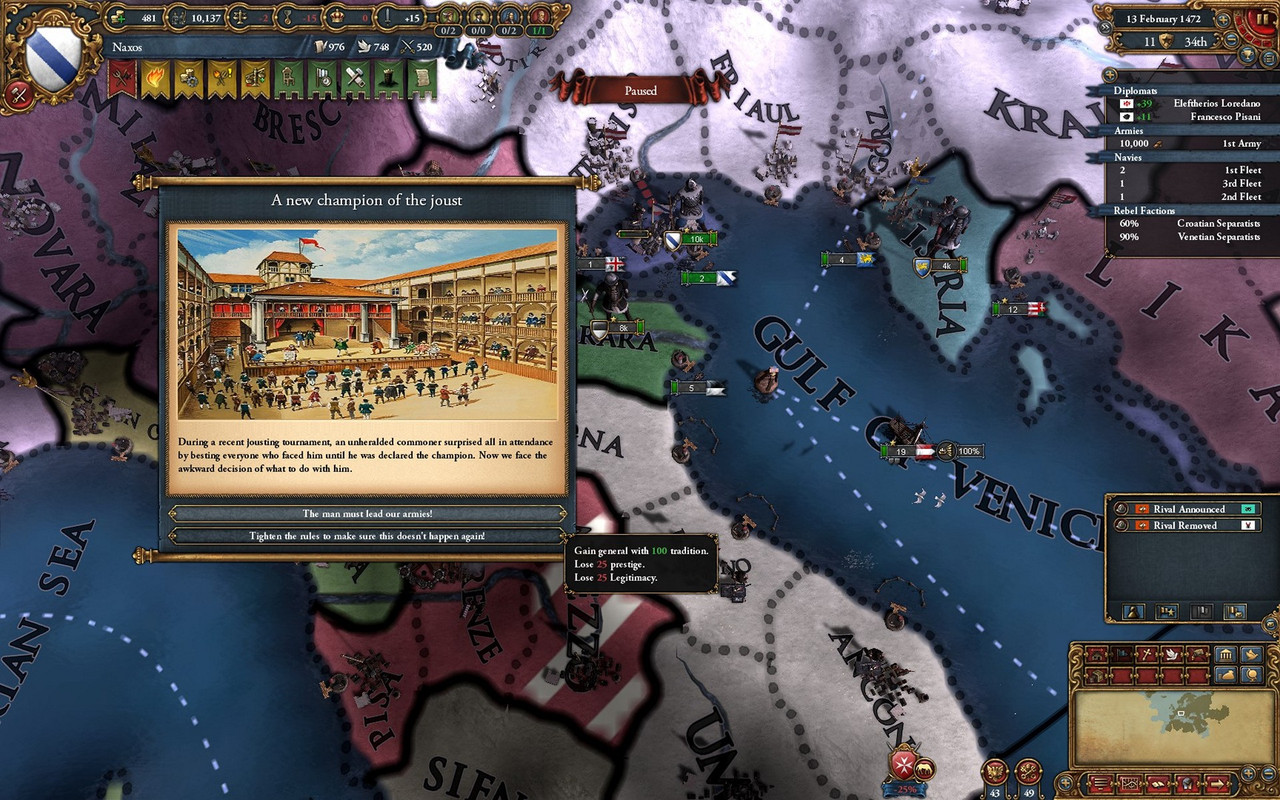 Remember I said I wanted to get that event that gives 100 army tradition general?
Well, it seems there is ANOTHER event that gives this option.
And Naxos gets that event... Don't look at me.
Ok, an unheralded peasant just won the jousting tournament..
Francesco Von Habsburg was awestruck and made the guy his general.
If we don't have legitimacy, who cares if we lose more... Right?
Important tip: if you are below 20 army tradition, you can get an event that gives you chance for 100 army tradition general. It is my suspicion that the LONGER you stay at war the MORE chance you will get to get this event. Just an observation though, but I'm probably right.
The above event can trigger for any christian monarchy nation before 1500, so this was plain simple LUCK that I got this generic event.
......OOOH boy, a 100 army tradition general. Francesco asked the commoner to remove his helm, and the crowd gasped..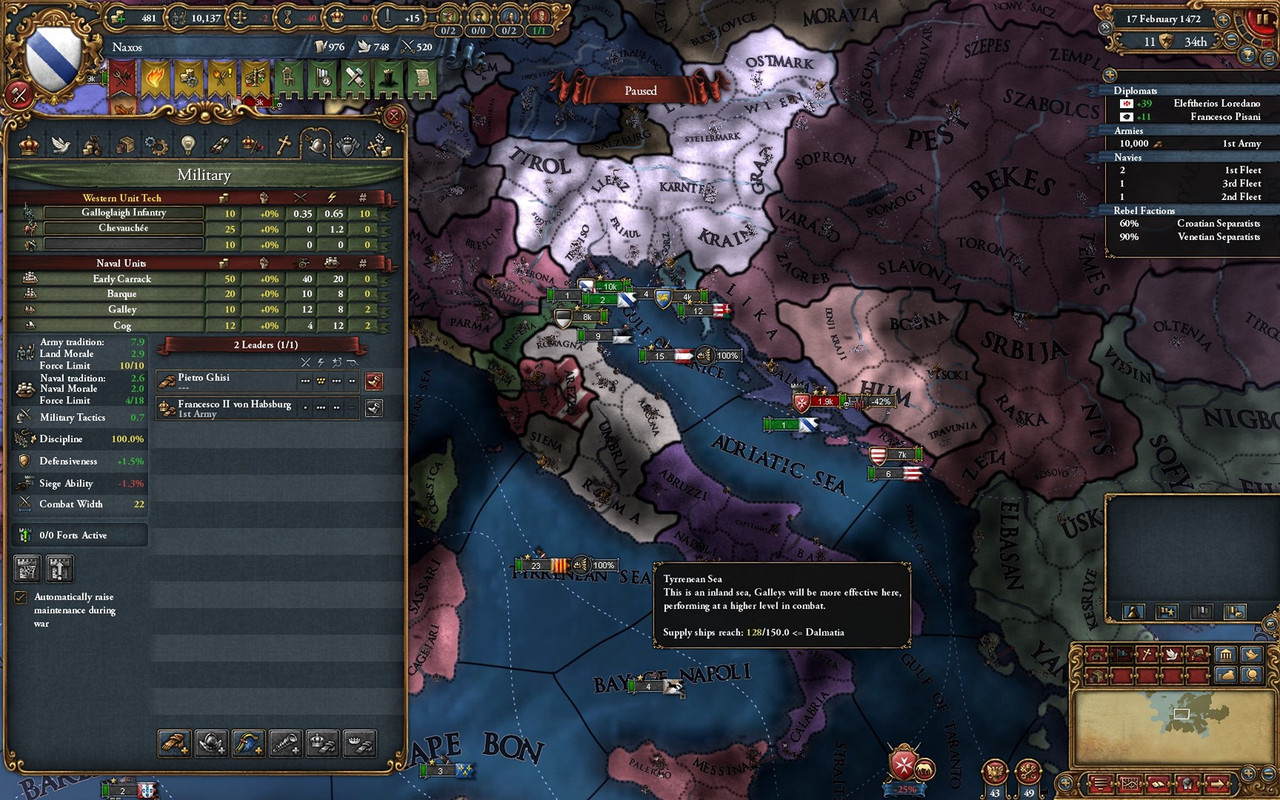 ...because Pietro Ghisi was stunning. Simply stunning.
Half of the ladies at the tournament swooned.
And Francesco? He was like "WTF a 3-5-3-2 general?!"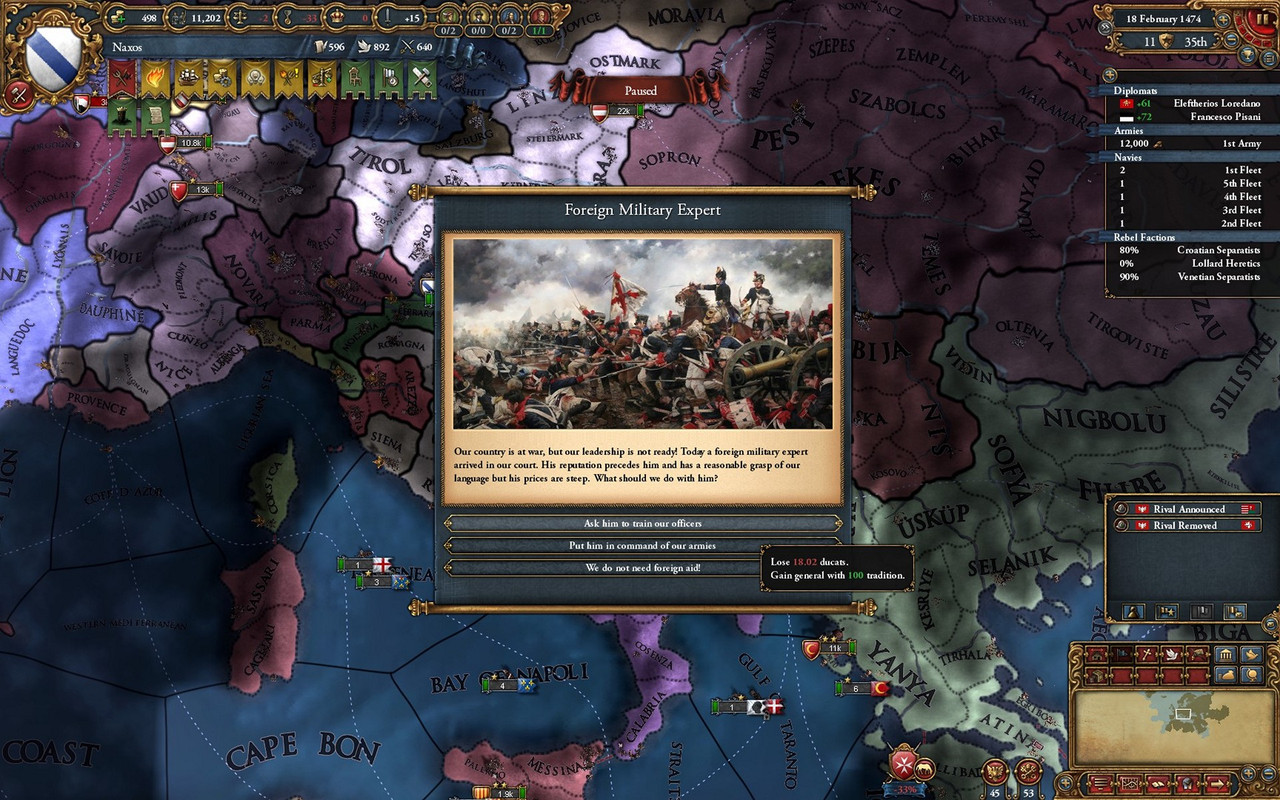 What the F*CK....
two years after the jousting tournament event, the next bi-annually event is the other event that can give a 100 tradition general.
What are the odds I wonder. Don't look at ME!! Nothing to do with it...
I did decide there and then that I was going to go THROUGH with this campaign and write an AAR, as this seems to be divine sign and divine providence...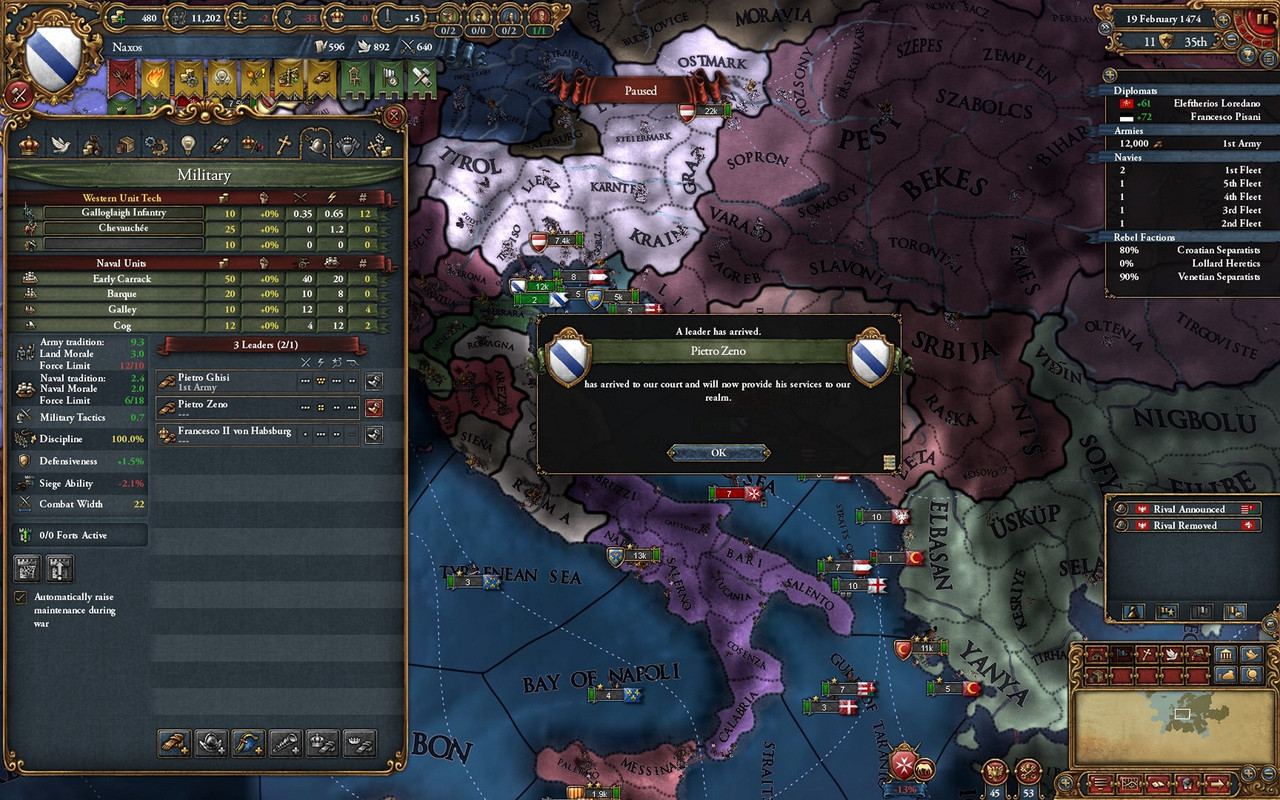 The foreign expert was ALSO a Pietro, and he had quite similar stats as the other pietro general..
Now Francesco had a general with TWO siege pips, and one with THREE.
I think I'll keep both, and pay the military monarch point malus...
Meanwhile, our ordered galleys were waiting in the various harbors Naxos owned.
4 galleys, 2 transports. Not enough yet to take on the Knights.
They kept offloading troops into Dalmatia, and my jousting general rode them down.
CHAAARGE!
Pietro Joust was a bit tired after that, so Pietro ZENO made the Venetian seperatist count .... ZERO.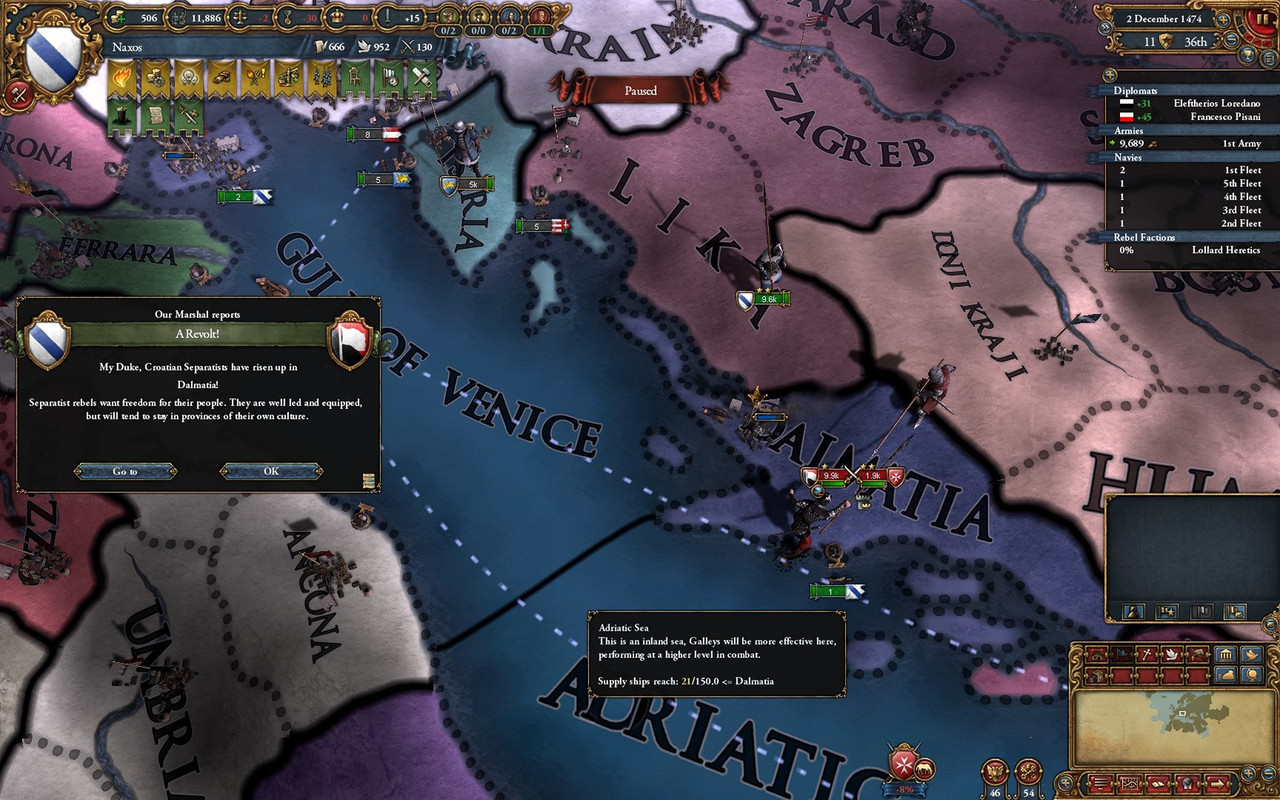 The knights got slaughtered by the rebels. Because Pietro Zeno arrived in Dalmatia before that fight concluded, the rebels got -2 to attack roll.. The rebels had to attack from the sea...
Don't know if that is a bug or not.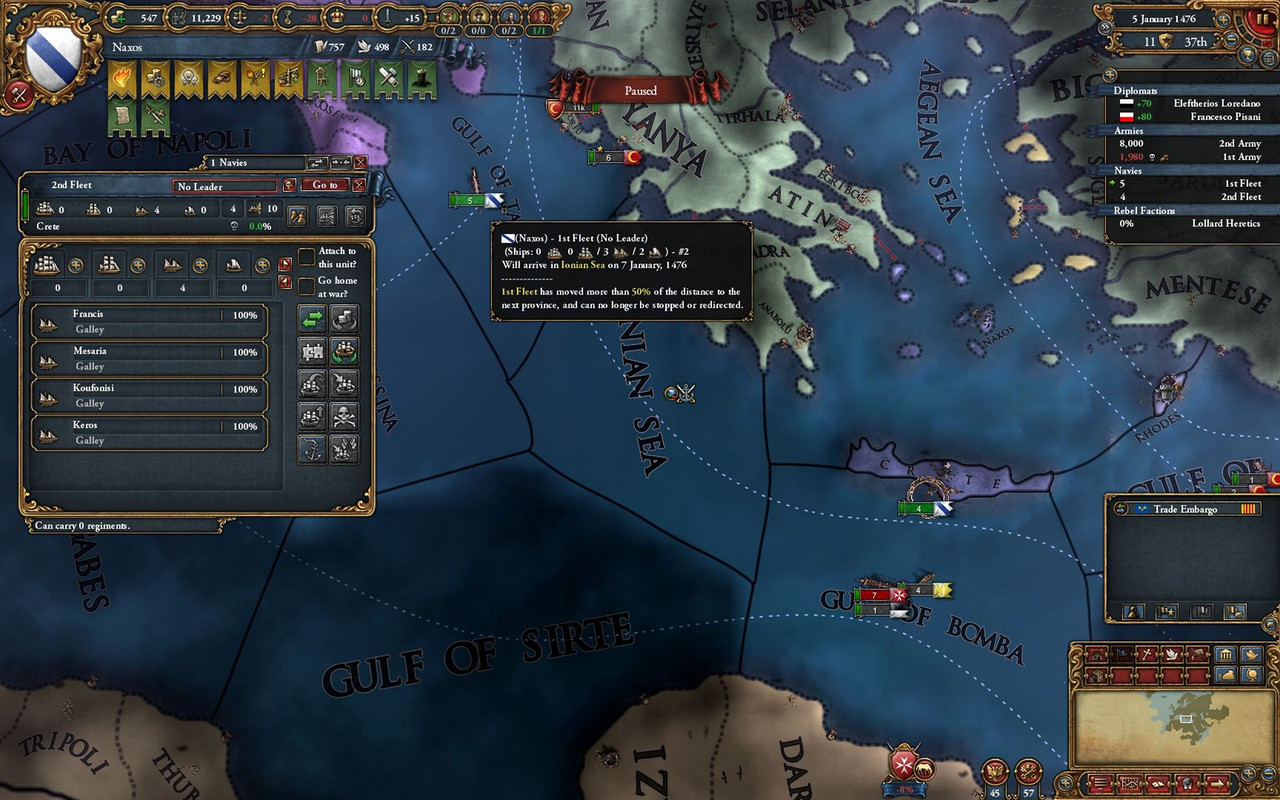 OK, Naxos has 7 galleys now and two transports. Its finally time to engage the knights.
This war has been going on for 11 years already...
But Naxos (or is it me?) is very stubborn.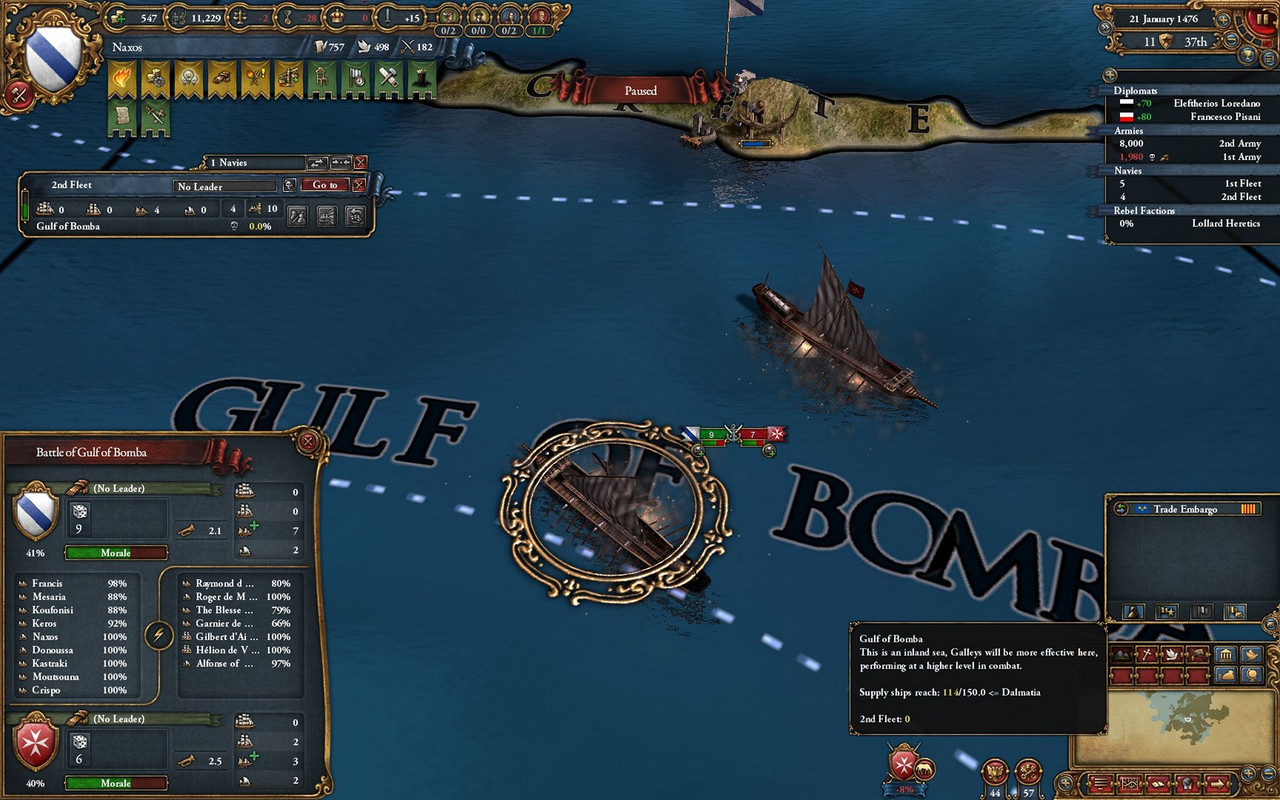 I never started so intensily at a sea battle before.. Usually, I don't use fleets to win wars before end game. But the knights are on an island....
FIRE!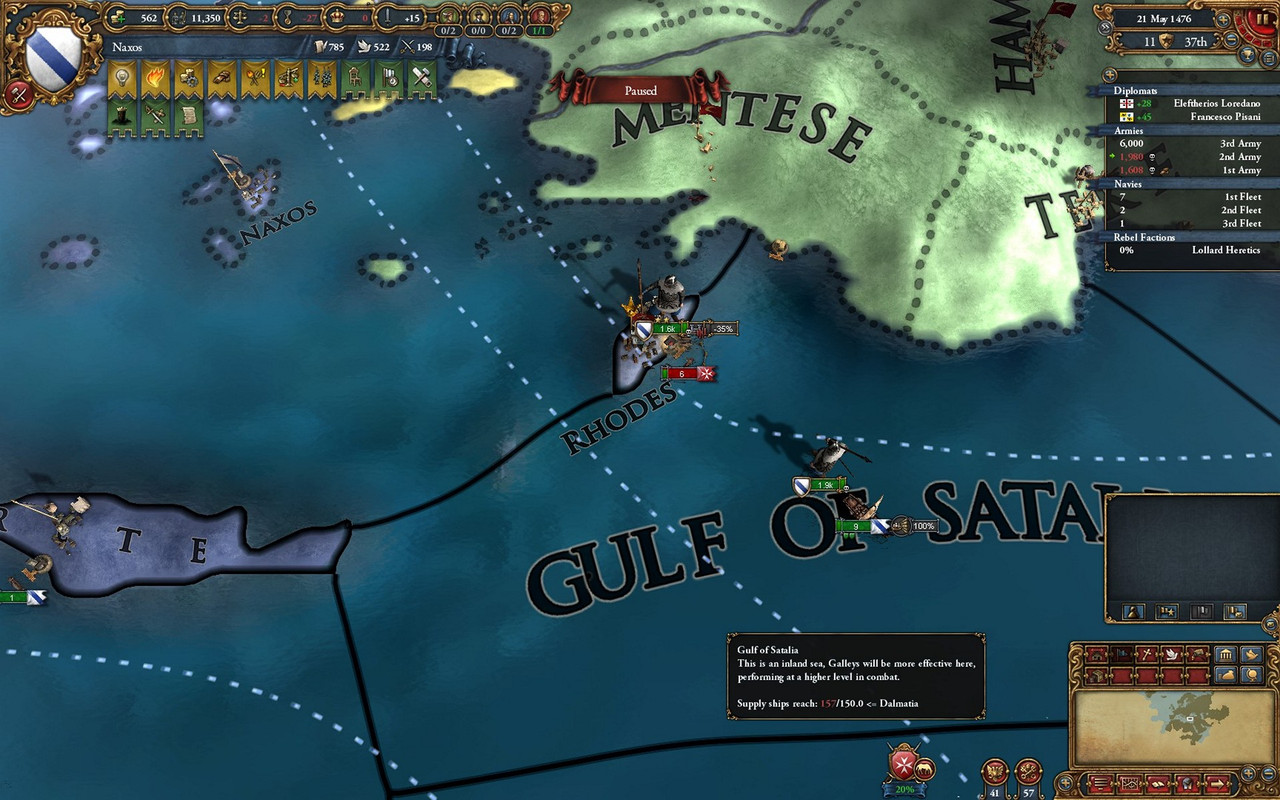 The knights had squandered their wealth and manpower on continuous invasions.
Their capital only had 2k troops on it. Pietro Zeno invaded it, and barely won the naval invasion battle.
BUT he made it to the fort of Rhodes!
Over the next year, I ferried ALL my troops there with the 2 transports, while my galleys kept the fleet of the knights in check.
Rhodes needs 9k army to do proper siege, and we landed 10k.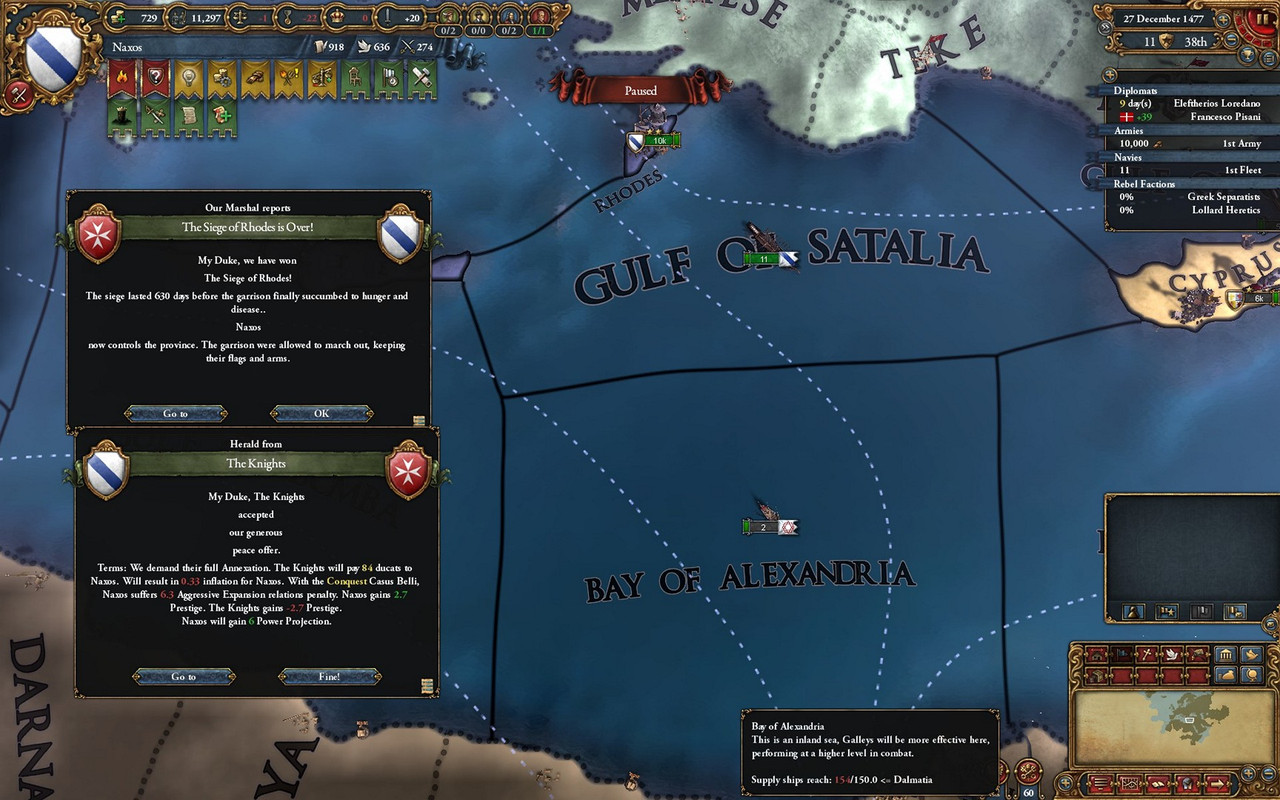 Our war on the knights started in 1461, and in 1477 Pietro Zeno completed the siege on their capital.
Call me stubborn... But I won in the end.
Hope you enjoyed this chapter!
Last edited: