My Big Fat Gujarat
Chapter 1: 1419
How it All Began
​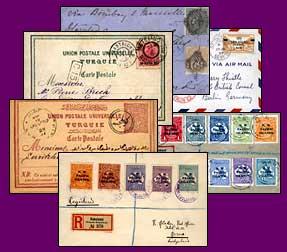 Sultan Nasir ud-Din Ahmad Shah I was above all other things a stamp-collector. It was his passion, his love, his very life. It was therefore a source of slight irritation to him that the Sultanate of Gujarat in 1419 possessed no postal service. Like rulers around the world on January 1, 1419, Sultan Ahmad Shah I summoned his counselors to discuss what should be done in his realm. Or rather, his counselor, for he had only one, his faithful Prime Minister who went by the unfortunate name of Nysan Handhi.
Sultan Ahmad Shah I:
Well, Handhi, it seems to be January 1, 1419, and a game of EU2 has just begun, apparently. What should we do?
Nysan Handhi:
Sire, I'm afraid we can do nothing.
Sultan Ahamad:
Nonsense, man. There must be something we can do! What about this ridiculous vassalization to the Sultan of Delhi? We can surely cancel that right away?
Handhi:
Er, no Sire, I'm afraid not. We have no diplomats, you see...
Sultan Ahmad:
When do we get some?
Handhi:
In about a year, Your Excellency.
Sultan Ahmad:
A year? We have to twiddle our thumbs for a year, grovelling to that toad in Delhi? Luckily I have my stamp collection to keep me busy, but I do hate being a vassal.
Handhi:
There is the army to deal with, Sire.
Sultan Ahmad:
Ah, yes, let's declare war on someone. Oh - no diplomats, can't do that yet, then. Well, how big is it anyway?
Handhi:
Ten thousand infantry and three thousand cavalry, My Lord.
Sultan Ahmad:
Yikes! That's not very big, is it?
Handhi:
Too big, as a matter of fact, Sire. We can really only afford to support nine thousand troops altogether.
Sultan Ahmad:
This gets worse and worse. Well, disband four thousand infantry. Luckily I just happen to be a fearless and brilliant field commander as well as the world's greatest stamp collector. Once we get to declare war on someone I'm sure we'll give them a thrashing in spite of having such a piddling little army. Let's make sure and go to war against someone who has a postal service. Ah - think of the pillage and loot! Stamps, first day covers...
Handhi:
That kind of narrows it down to Hyderabad, Sire.
Sultan Ahmad:
Hmm... They're kind of large - no allies, though, I trust?
Handhi:
Vijayanagar, Rajputana and Bengal, Sire.
Sultan Ahmad:
Eek! Well, what else? Trade is surely our trump card, right? We have this nice fat centre of trade in Rajkot. Do we have any merchants?
Handhi:
We get about four a year, Sire, but it's cheaper to send them to Samarkand or Mascate.
Sultan Ahmad:
Pah! We fill up Rajkot first, then we can start sending them abroad.
Handhi:
Very good, Sire. And what about domestic policy changes?
Sultan Ahmad:
Let's become more innovative in the next ten years. Maybe we'll be able to invent a postal service.
Handhi:
As good as done, Your Excellency.
Sultan Ahmad:
Good - now, bring me my albums, and don't disturb me again until we have a diplomat.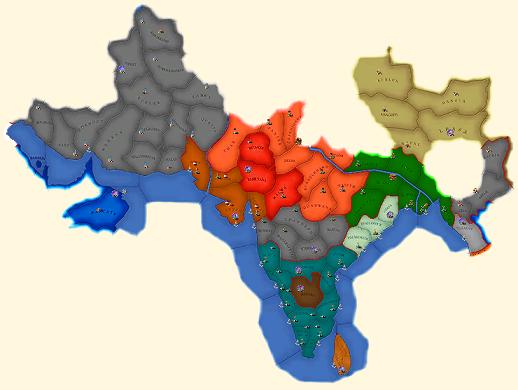 Gujarat and its environs in 1419​
Gujarat is the yuckie Provençal brown on the coast south of the Timurid Empire (grey)
Northeast, and in confusingly similar shades of red are Rajputana (red) and Delhi (orange-red)
To the south is Hyderabad (grey),Vijayanagar (bluish) and Mysore (dark brown)
Further east are Bengal (dark green) and Orissa (light green)
The country: Gujarat (oh, you guessed that, huh?)
The scenario: Grand Campaign, AGCEEP
Settings: Normal/normal (the reason for this is not that I'm a total wimp, but that I always forget to change them when starting a new game. The reason I don't change them later when I remember is because I'm a total wimp)
Goals: Become big and fat, and write a totally non-serious AAR in the grand Farquharson tradition.
Why Gujarat: Chosen totally at random - and yes, this is the first ever Gujarati AAR!

The flag of Gujarat, designed by Ahmad Shah I in 1419. Red is for the blood of the many sons of Gujarat who would die fighting to make Gujarat big and fat. White isn't really for anything - he just happened to be designing it on a white piece of paper.​
Last edited: