Generalfeldmarschall
5 Badges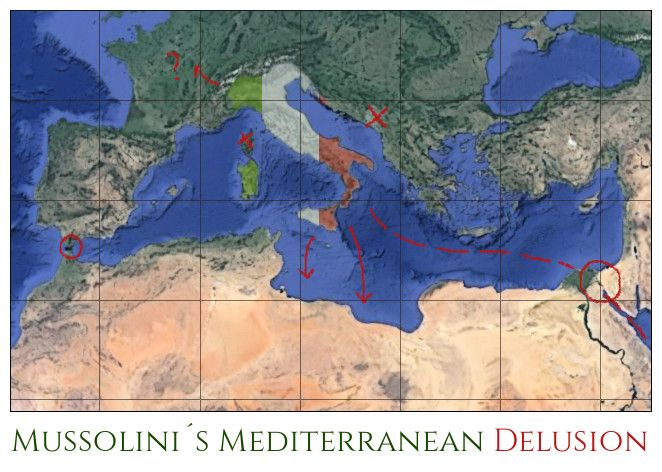 Mussolini's Mediterranean Delusion
by Gen. Marshall
Style:
Gameplay
Version:
Black ICE TFH
Warning: AAR might contain charts and graphics.
For a long time, I thought that Italian military leadership was somehow worse than average. I was right.
For a long time, I thought that mods like Black ICE weren't all that different from vanilla, and that they weren't worth the trouble of installing. I was wrong.
After playing the Black ICE mod by Panzeroo et al for only two in-game months, I realized that I was in a unique position to tell you an equally unique story, one worth taking up the pen for. I realized that in my first Black ICE game ever I was, without question, as poorly prepared as the Italian command. So, if you are to read this AAR, prepare yourselves for a tough ride (I sure have). Prepare… for Mussolini's Mediterranean Delusion.
Obviously, I will measure my gameplay success by whether or not I possess a Mediterranean Empire by the end of this game. I fear I won't, though, and so my main and most immediate goal will be to provide you with a good story about a fool who tried Black ICE. I'll not always know the right options to pick, and even if I do, I won't always pick them. I'll go historical - and hope that the mod is forgiving.
Wish me luck.
House Rules:
No reloading / cheating / the usual stuff.
No cheesy impossible landings etc. (although the mod might already prohibit those)
Stay as historically plausible as possible.
Finish the AAR.
Last edited: