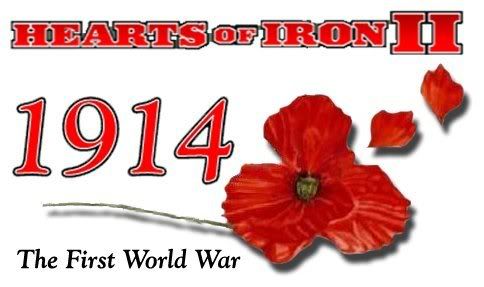 We from the Mod1914-Team are announcing Mod1914 for Darkest Hour. Since 0.51 we were able to make some good improvements:
- balancing of research and combat improved
- Italy, Morocco and Austria-Hungary reworked
- WW1-Sprites are working now again
- exchanged music-files with better ones
- new soundeffects added
- fixed hundreds of bugs in database, events and ai-files etc.
- etc.
Be aware: this mod uses Map of HoI2 and has still a sort of incompleteness. We are only a little and lose team of four members and so we are looking for help. With this release we hope to get this mod alive. Every help, every contribution, every report is welcome.
Much fun.
Your Mod1914-Team
Download 0.63
(filesize: 148 MB, format: 7z)
via Gamefront:
LINK
via Mediafire:
LINK
Music Pack
http://www.mediafire.com/download/ctgapycrsx0a8vc/music.7z
This Mod works only with DH version 1.0.3.
Description:
1914 was originally a modification for Paradox Interactives award-winning grand-strategy-game "Hearts of Iron 2". It was made by a couple of fans, which ported the original game into the scenary of the Great War. Starting at different dates, it is possible to play each nation in a timespan between 1897 and 1924. Thousands of new events simulate all important incidents and force the player to react on world affairs.
Features:
Up to 180 playable nations (even if some of them still lack ministers, leaders and techteams)
Four scenarios (1897, 1911, 1914) to start with, as well as several battle scenarios, which let you lead a nation in a regional conflict
Thousands of new events creating an lively historical atmosphere
Completely new units and techs to discover
WW1-related music for contamporary flair
FAQ
So i downloaded it, now how do i install?
Unpack file and copy folder into mod folder of DH. Start DH Launcher and select Mod1914.
Is it possible to adopt mod to DH map?
Of course it is possible to convert mod to DH map. But the Mod1914 is going to develop a new WW1-Mod based on mumia's E3-map.
Members of Mod1914-Team are:

Melkor89
Arturius
Last edited: