Something fluffy
67 Badges
Welcome to the "Some What More Historic 2.0" mod
( the HIP version is uptodate with latest ck2 patch) this thread's
Spanish sisterthread can be found here.
What's it all about?
SWMH is first and foremost a comprehensive mapoverhaul, we have gone to great lengths to bring alive the medival world as contemporary accuartely as possible. Secondly it includes substantial work on history and cultural related features. All this work has been conducted with a philosophy of keeping as close to the core features as possible in order to maximize compability with other mods.
Map Features:
* Adds an in depth overhaul of the map, in the process adding more than 500 provinces, 7000 medival barronies and reworking entites down to the last barrony.
* New Projection featureing:
Handdrawn coastlines for: Northern Europe(everything north of Bilbao, excluding Iceland), atlantic coast of Morocco, northern half of the Mediterranean(Coastline from Provence to Alexandria and all mediterranean islands), Adriatic, Black sea, Red sea, Persian Gulf, Ran of Kutch etc(basically everything than the southwestern part of the Mediterranean, Iberian peninsula and Iceland).
A massive river and lake overhaul.
Redrawn mountains, terrain, topology(3d effect) overhaul
All new normal height map(adds the 3d shadows)
Projection comparison:
SWMH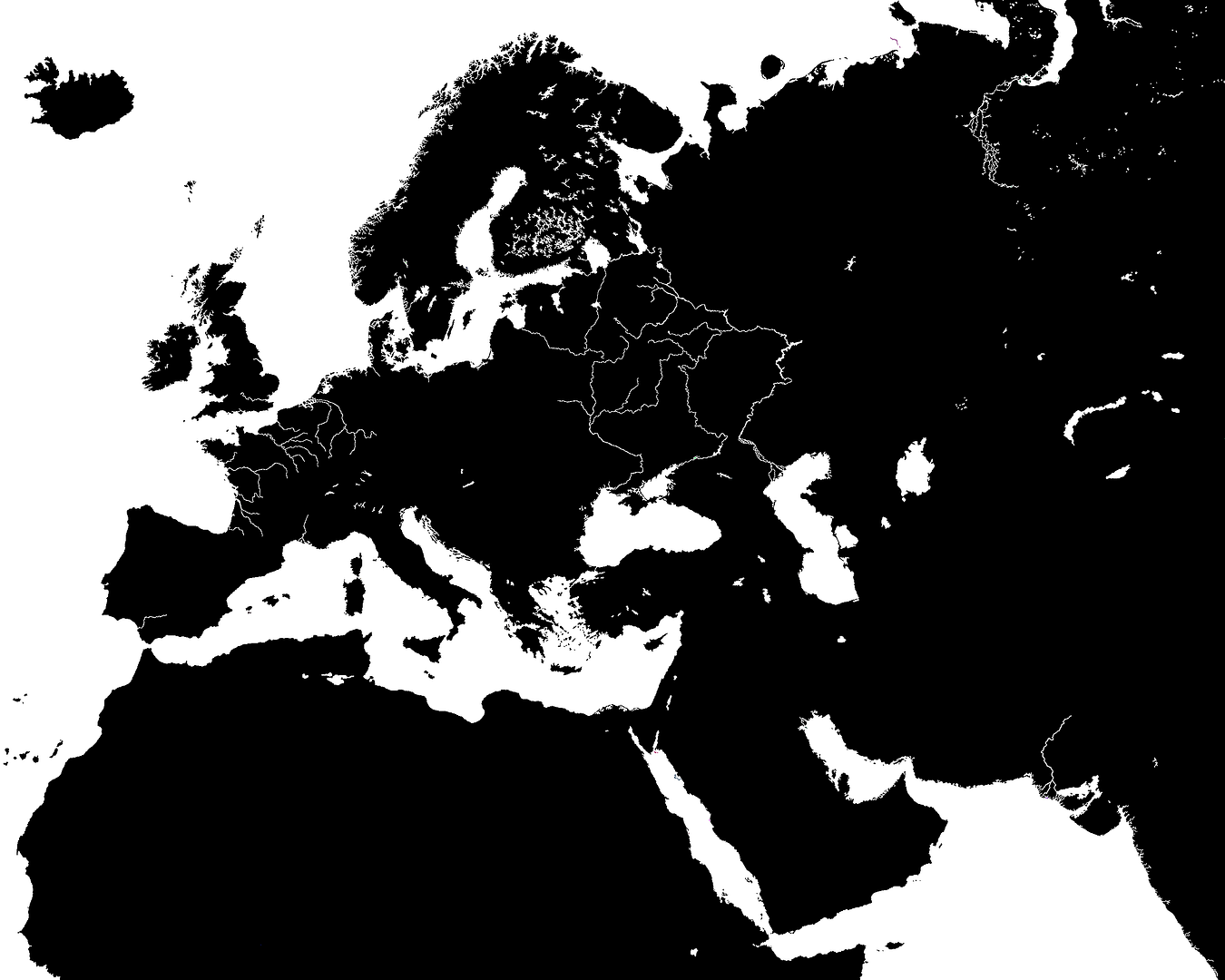 Vanilla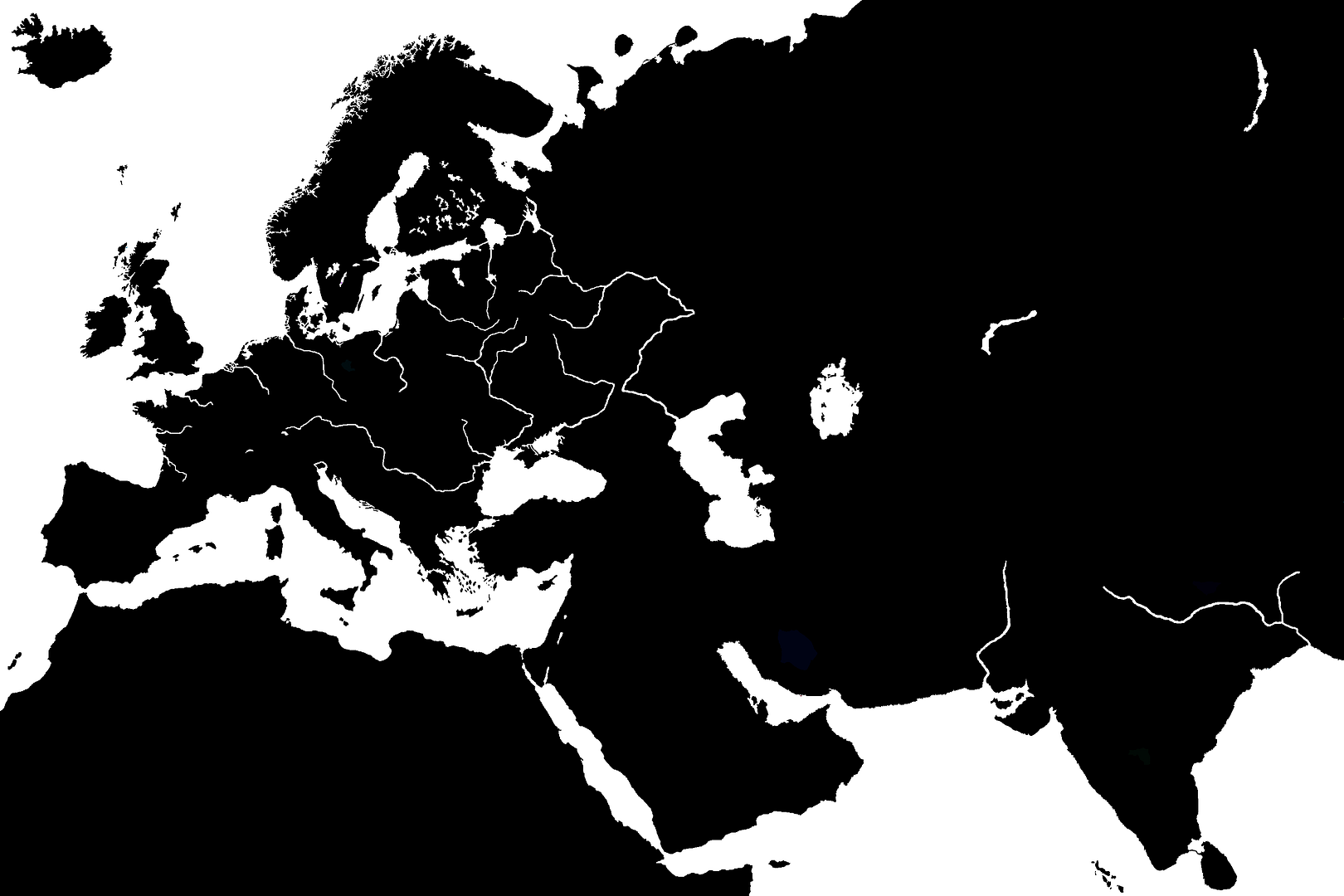 Comparison(green and blue is SWMH, white and black is vanilla), purple is inside the SWMH projection and outside the vanilla one, while the red section is the reverse.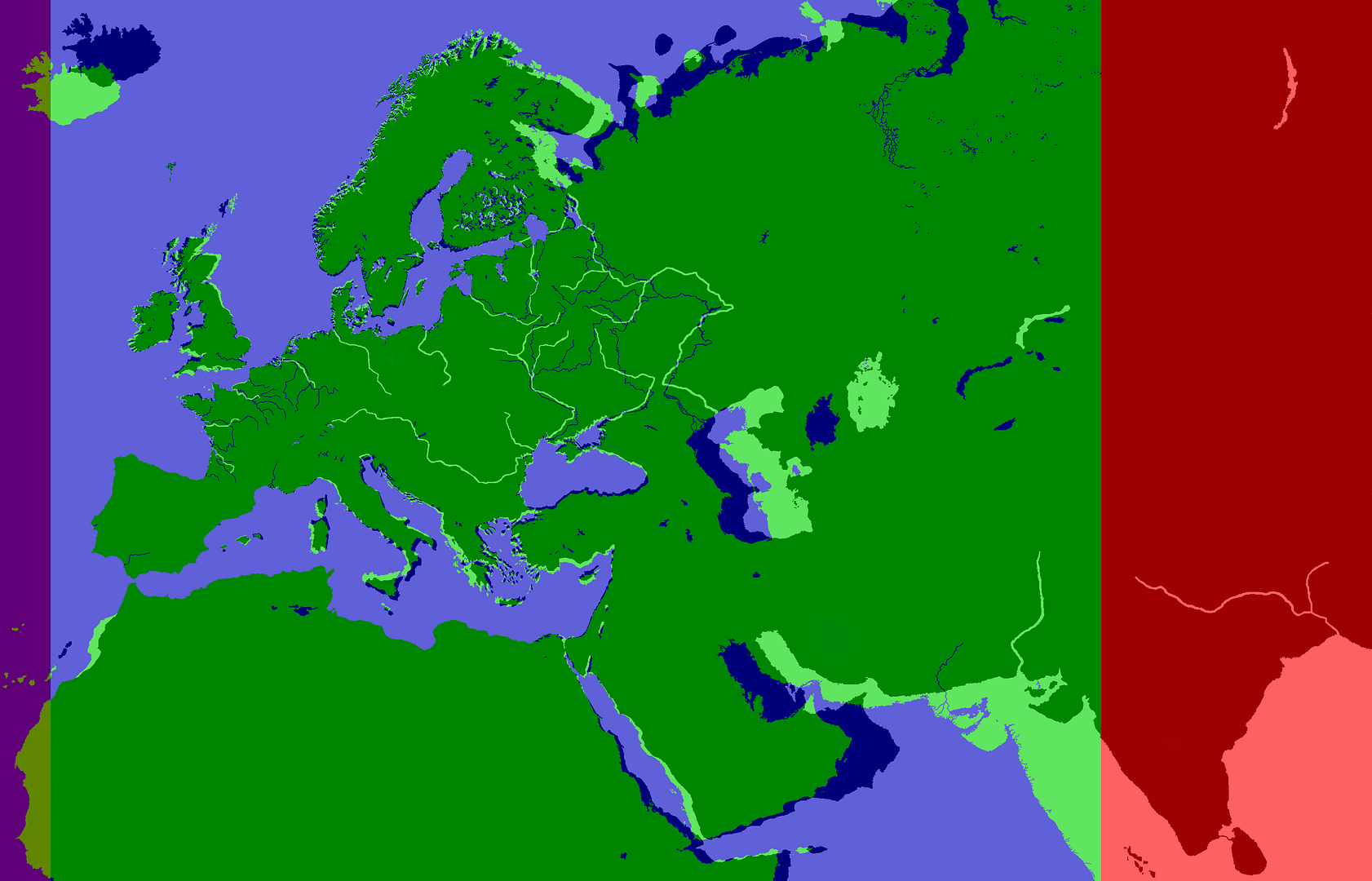 Cultural features:
*Adds many new cultures, including a brakeup of the Italian and German cultures.
List of added cultures:
Frysk(Frisian)
Gall Goidel(Norse-Gaelic)
Eestlased(Estonian)
Livonijas(Livionian)
Arbëreshë(Medival Albanian)
Sicilianu(Sicilian)
Gautar(Geats(or Goths if you prefer) the eastnorse term also covers Gutes(the inhabbitants of the Isle of Gotland) as well as the mainland Geats)
Corsu(Corsican)
Veneto(Venetian)
Toscano(Tuscan)
Ligure(Ligurian)
Arpitan(Franco-Provençal)
Langobardo(southern Lombards)
Lombardo(northern Lombards)
Mediano(central Italian)
Meridionale(south Italian)
Neapolitano(Neapolitan)
Sardu(Sardinian)
Karantánija(Karantanci, precursors to the Slovenians)
Moravský( Moravians, precoursers to the Slovaks)
Aragonesa
Leonesa
Sanhája
Masmúda
Zanáta
Soninke
Wolof
Nubian
Somali
*Adds real cultural retinues, every culture has a retinue based on a for it apporiate RL military unit.
*Adds cultural modifiers, every culture is no longer the same as the next one.
*Adds unique, and culture specific form of address and titles.
*Adds cultural appropiate spelling to all entites(from empires all the way down to the barronies), with many styling their contemporary medival spelling form(For instance Denmark sporting medival danish, while Norway featureing westnorse spelling).
*Adds full dynmamic naming to the Iberian peninsula, British isles, Baltic adjacent areas, Balkans, Anatolia, Western steppes, Finno-Russia and partial dynamic naming for other large swathes of the map
History features:
* Adds a great many new historic dynasties and characters as well as expanding and correcting on vanillas characters.
* Adds more playable historical characters
* Adds the actual RL rulers to many entities
Other features:
* Adds new republics
List of added republics
Utlande: The northfrisian republic centerd on Rungholt.
Hormuz: Controlling the flow of spices through the Persian gulf
Dahlak: Striving for dominance over the redsea trade.
Ragusa: the Dalmatian republic competing with Venice over control of the Adriatic.
*Adds many many hundreds of freshly drawn title flags.
Download and installation
SWMH is included in the main HIP download, using that is recomended
Installation(

non HIP

) and independed download link(

not currently provided

)
Download the file, then unzip into the mod directory, start CK2 and select the "some what more historic" mod in the launcher
Startup of CK2 will be a bit longer(around a minute) the first time you use the mod(due to the map and flag changes), but this will not be an issue after the first use.
If running on Macs you will need to do
this small workaround
in order to get mods to work.
Speak English Damit!
(included in HIP)
Want the map, but not keen on all those strange titles? then try out
Ioannes's
brand new incarnation of the
Anglicised naming sub mod
. Its already included in the download of HIP and if activated through the installer if using HIP or selected in the launcher if running independently, it will reverts many of the localisations to something more familiar.
There is two different ways to enjoy this mod:
1. to run it alone without other mods(why would one want to do that?)
2. to use the build a bear principle and run thoes mods you want alongside it(Yay!)
As you might expect we recommend a full HIP configuration(or as full as you like
). However if EMF is not your fancy you got another tasty alternative in the form of

LT3

which is fully compatible with SWMH and most other HIP modules.

The modding team:



Active(

main centers of interest

):

Team leader :

theKing1988 -

ERE, Caucasus and Mideast

Team members:

Aasmul -

Scandinavia, Baltics, Eastern Europe, Russia and Italy

Retired/on hiatus:

Axl Madness

. Our Castilian specialist he have been the driving force behind the Iberian, Scottish and Welsh overhauls.

Bertuccio

. Our Leonese specialist he have been deeply involved with the Iberian overhaul and its dynamic names, and been the driving force behind the overhaul of Ireland.

Elvain

. Our Bohemian specialist and expert on the Persian, Arabic and African world. Elvain is behind the Bohemian, Persian and all the African overhauls.

Il Moro

. Our Italian specialist, he have been deeply involved with the Italian overhaul, culture and history in both Italy and the Levant.

Woody Man

- Our British specialist who have been all over the projects on the British Isles and more than a few in France aswell. Ruwaard - Our HRE expert, our Dutch friend has masterminded the HRE recreation as you know it in SWMH.


Credits



Credits related to the current incarnation of the mod:

Ese Khan

for Khitan culture namelist and titles, the entire CA reoverhaul, mongol historical setups etc etc.

Zijistark

and

Think0028

for the massive work with keeping the mod alive throughout 2015, and tons of debugging help

IoannesBarbarus

for a massive amount of help with debugging, improving coherency and improving the mod in general.

Graf_radetzky

for help with research and a platoon of enlighting discussions on the Finns, Bolghars, Blackcaps, Moravians, Sardinians, neapolitans, Prussians and much more.

Arko

for the shiny new minimap and bookmark buttons, Nova Regna Occidentalis(Burgundian provinces), a lot whole lot of beta testing, and for adding much needed fluffy squirrels to the world of CK2(see his COA pack
)
CJL
for the comprehensive Italian title history rework.
Stolidcius
for contemporary Estonian, Lettgalian and and Livonian name list and finish cultural research
Cbrxkhan
for african cultures (the 6 new for East and Central Africa) and for inspiration concerning that region
AnaxXiphos
for two awesome persian flags.Arko for the shiny new minimap and bookmark buttons.
Lord of Pain/
Köten
for the new Sami namelist.
Galvakojis
for all his help and advice about Lithuania and for the new Lithuanian dynasties.
CrackdToothGrin
- For his wonderfull research maps that helped to make Persia and Central Asia look as beautiful as possible.
Maestro Ugo
for advice on the Balkan
smederevo991
for advice on the Balkan
SBolshevik
for advice on the BalkanDragovit for advice on Russia
Amuri
for portugese culutral title localisations
ragbe
for Frisian and dutch cultural title and job localisations
Bad-Haggis
for Roman title localisations.
Zebeleizis
for Vlach feedback, help and Vlach namelists.
Misantropia
for Vlach feedback and help.
Vorpalnekro
for his bugtesting assitance
Raczynski
for Polish and Ruthenian barrony fixes and for help with Polish layout
Nagyko
for his Hungarian localistaions
Elandreads
for his Russian localistaions
ZmajOgnjeniVuk
for Hungarian and Balkan research
eXmAn
for Bosnian and general Balkan research
El-Fatih
for Bosnian and general Balkan research
Dragovit
for advice on Russia
Tsar Monarchist
for help with Polish layout and help with Ruthenian and Polish barrony setup
LordHroth
for his exstensive work on culture defined titles and holdings.
Adal
for the Somali culture
Exin
for his help with Moldova
NeverForget
for vlach Flavour additions.
Polskers
for frisian families and localisation
Satyrlord
for Roman names.
Sleight of hands
for Danish invasion
Cardinal sin
for Austrian research and setup, as well as many suggestions and ideas all around the entire map. mod
Meneth
for extensive bugfixing support
Darrigan
for the lowland mod, and history titles for the Lowlands
ahog
for his help with bugfixing(and for coming up with the idea to add the much missed eastern part of the Limfjord
Thure
for the Langobard culture
Sir eyeball
for his research of the medieval Danish sealanes
Cèsar de Quart
for Catalan title localisation.
EmperorTojo
for norsegaelic culture
Credits related to features which were part of earlier incarnations of the mod:
John Foresti
for quite a bit of inspiration
The Valkyrier
for germany divided(I started out reworking one of his mod's that included some of John Foresti's work and this is what it ended up as)
Criss Croos
for Hellas and Anatolia
Hamja
for research on norse province names
Ijtzoi
for Cantrefi Wales devided
Nuril
for Norddurland and some FOA
The_hdk
for Saxon England
Sir Draco
for Saxon England
Closet Skeleton
for his FOA work
Szamovary
for Arpadian age
Arko
for the Mercator mod
Elryck
for the Mercator mod
Sporghley
for his layout of Bohemian provinces
Dartvader
for the redrawn Traungau
Dunnin
for Carinthian and culture.
Monnikje
for Dutch localisations
Bloodmerchant
for Armenian and Georgian Barrnoies and general help with the are + his beautyfull COA's for the area.
Darkspawn12
for providing his expertise on the HRE and Italy
Idib
for his Italian localisations
Berggren
for his woderfull idea of adding de Gothers and Venders
Meneth
for allowing us to use PB's holywar and imperial reconquest CB
CJL
and
Ofalaf
for Anglicised localisations.
Kastratores
for tweaks to kladsko
Leviathan07
for Anglicised localisations.
Ijtzio
for Cumbric culture
cybrxkhan
for Sardinian names.
TheDarkbane12
for Caucasian corrections.
Remarks
There lies an exstensive bit of research behind the forming an composition of each entity, that said, due to the scale of this project we will enviably have made a mitstake or two so please help us correct any errors we might have made
Terms of usage in other mods
Please do not include any part of SWMH in your (public)mod unless you have asked for, and gotten, clear permission.
Only the SWMH team can give permision to public distrubution of SWMH in itself or as included whole or partially in other mods
If you would like too use the whole of SWMH or a by us developed component of the mod, then please PM one of the team members and we will discuss your request.

In the request please describe what parts you are interested in, and include a link to your mod.

Note that we favor a modular approach, so if you are interested in the whole of SWMH and your mod can run alongside SWMH, then we prefer to keep them independent of eachother. We try to keep SWMH as cleanly focused on the map/history side of things as possible, inorder to insure compability with as many mods as possible(and compabilty patching can often sort things out, in the situation where the mods are'nt compatible straight out of the box.)
We are unlikely to give permission for the integration of the whole or majority of SWMH content for other overhauls with similar aimed scope( ei strictly vanilla focused map and history overhaul) or a scope similar to HIP(ei vanilla focused total overhaul)
Last edited: