After working on this for about four months, here is Teleglitch: Slaughterhouse.
If you're one of those TL : DNR peeps and you just want a link to the D/L, the link is here:
LINKY
INSTALLATION
Simply unzip the files and overwrite the files in your Teleglitch directory.
HOW TO UNINSTALL
The easy way: run Steam's cache integrity check. Steam should overwrite all of the files and return Teleglitch to 100% Vanilla status.
However, if you are paranoid that Steam's cache check won't restore the game back to Vanilla later (as if you'll ever want to play Vanilla again, lol), you can save all of your existing files first. The mod changes just about every file in every single folder other than the shared_library file, and changes two core CSVs. So make sure you back up everything. Really, just doing an integrity check should work, though.
FEATURES
So, for folks who actually wanna read stuff, here is a short breakdown on the features.
This is completely different than anything that's been done with Teleglitch, thus far; by using some Lua and GLSL, the game looks, feels, plays and is generally very different.
Think "Crimsonland, Doom Hell Mode and Blasteroids made a zombie baby". This is a much more action-based, fast-paced version of Teleglitch with a totally different difficulty curve. Early game is pretty easy. Late game? Not so much.
So, if you love the idea of blowing through giant hordes of zombies with dual-wielded SMGs, roasting the enemy with a flamethrower, or even just the idea of having functional flashlights (what a concept, lol)... this might be the mod for you. It's just plain fun.
Just a few of the new / unique features, in no particular order:
1. Custom bullet brass bouncing everywhere, for that Crimsonland-esque feel.
2. Totally remastered art. Just about every pixel has been worked on at some point.
3. Complete overhaul of the level balance. Early levels are easier than later levels, rather than the other way around (at least, that was my take on Vanilla).
4. The game's GLSL shaders were re-written so that the system of light and darkness is taken to a whole new level. Soft shadows, better handling of pixel transitions and some built-in aliasing.
5. A complete setup for future modders to build new weapons and things with, with a few caveats. Custom projectiles, custom enemy projectiles, ways to de-couple player weapon types from entities so that they can be customized / balanced for SP, etc.
6. Weapon rebalance; the objective is to make every gun useful and have a distinct niche, and every weapon has a long-term customization path.
7. Vastly expanded crafting.
8. More enemy types to fear... and kill.
9. Much more of an emphasis on action, much less emphasis on ammo conservation. Kill things. Fear things. Don't fret too much about ammo; you'll be stripping it from the dead soon enough.
10. More guidance in the UI about things; for example, an unloaded gun shows up on the ground with a different color than a gun that still has bullets in it. The Items menu is more readable and less cramped-feeling. The only part of the UI I didn't get to was the Monster List area- maybe later.
Anyhow, that's roughly it, without spoiling it for you folks. Please let me know if you hit any bugs; I will probably release a patched version when those are all in. If you hit a bug that causes a crash or other seriously-bad behaviors (level can't be finished or whatnot) then please copy-paste your stderr.txt file to a site where it can be read, rather than cluttering up the thread here, or just post the Lua error, if you can find it (practically any major bug you hit will be a Lua error).
If you have kindly, constructive ideas about how to improve various areas of balance or thoughtful ideas about new features after you've given it a few hours (and preferably, after you've managed to complete a game from Level 1), please let me know.
SCREENS (OLD):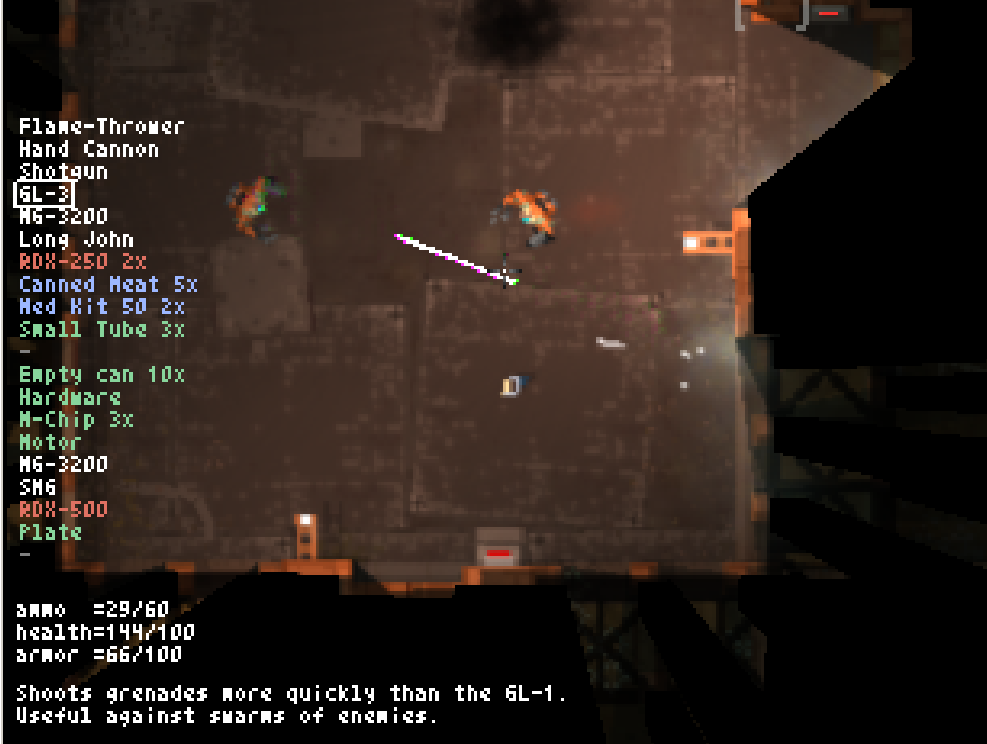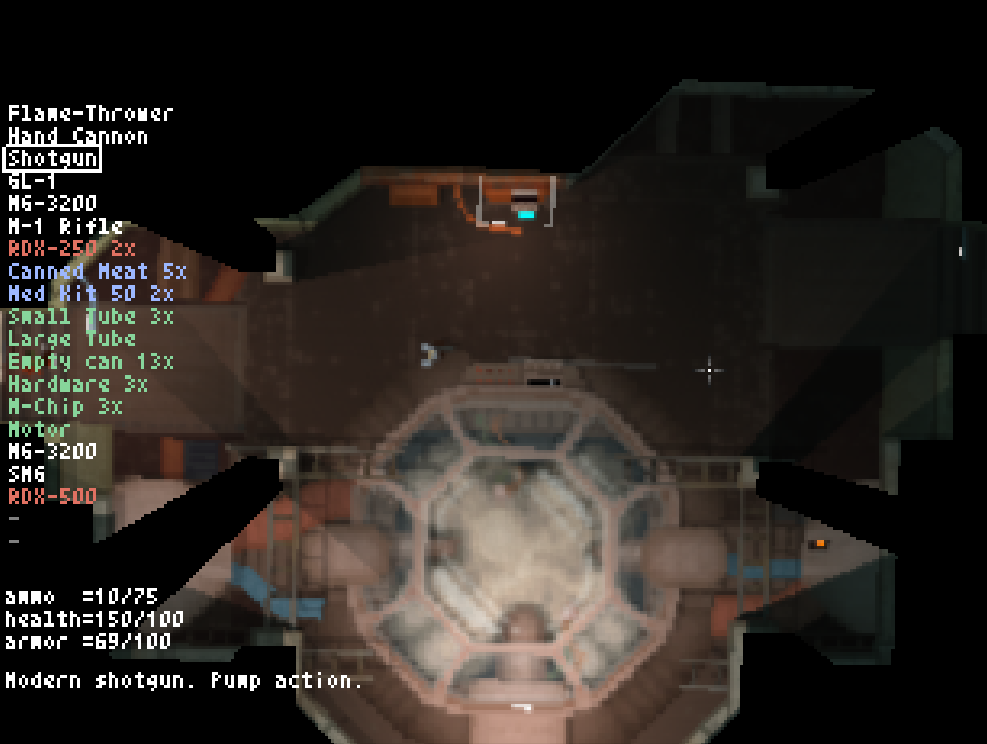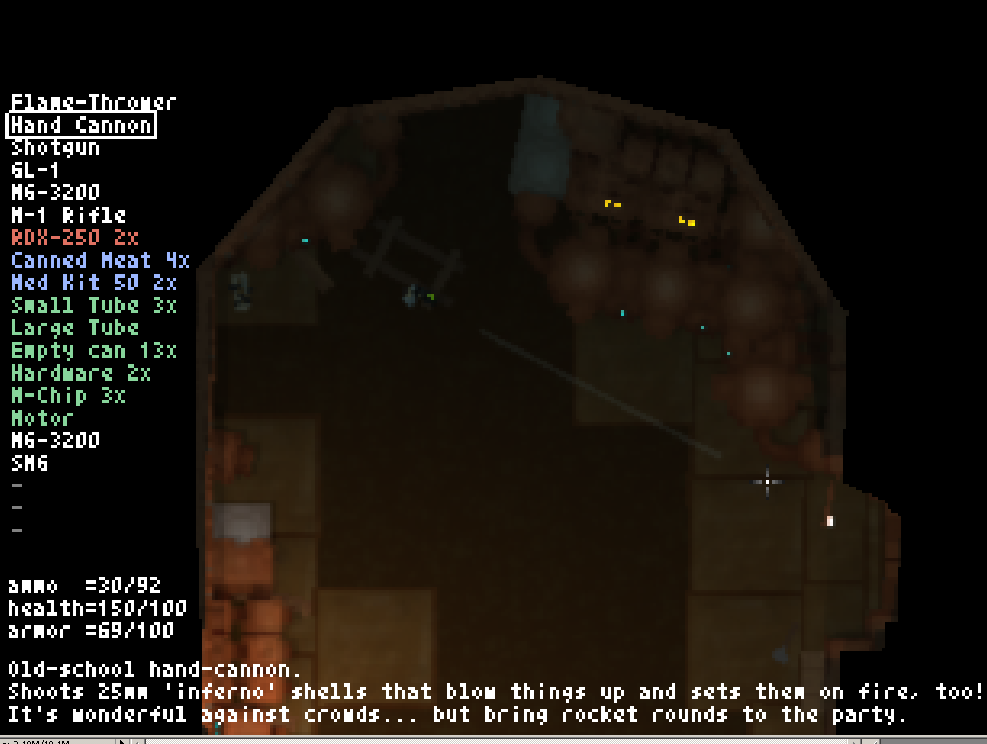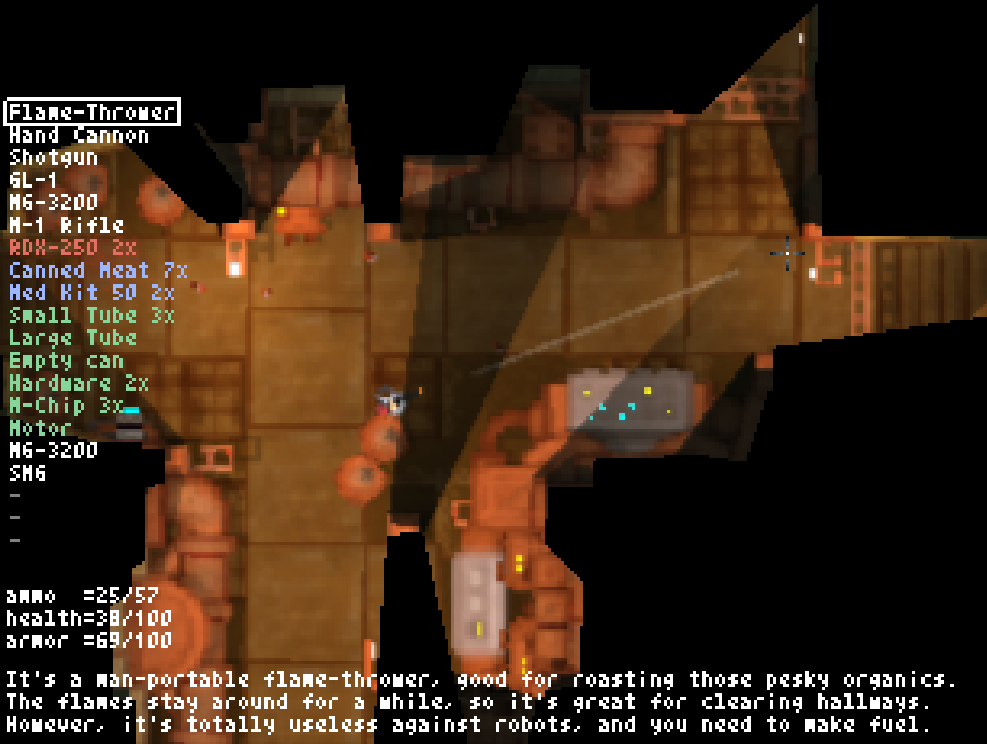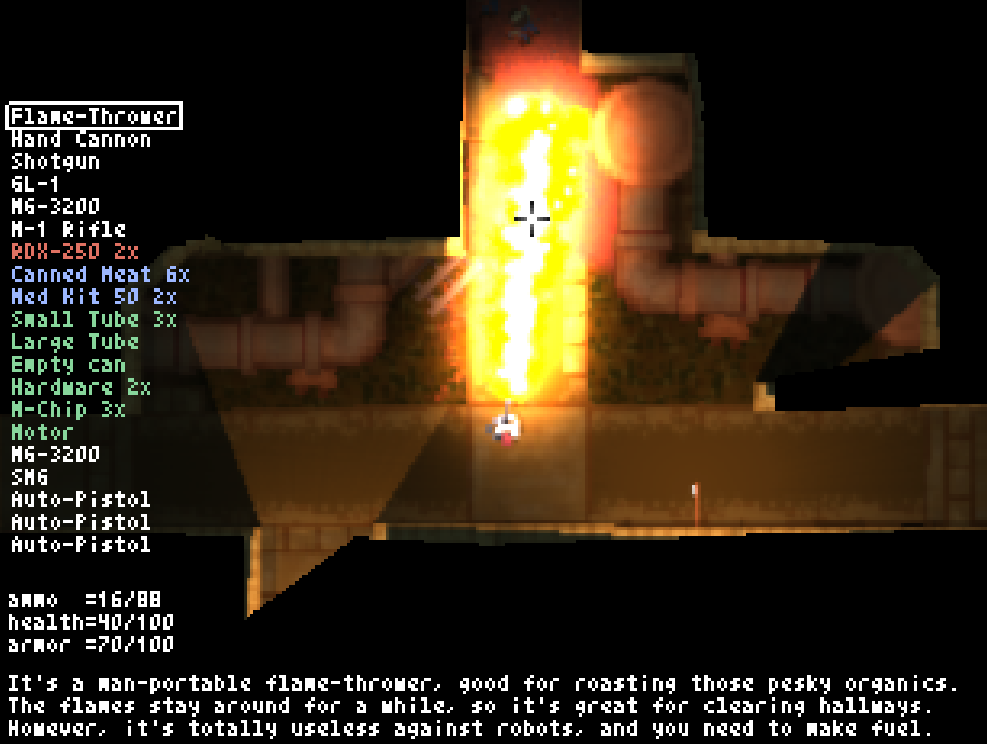 Last edited: