Reposting the thread, as the other one was too old to reply to.
Bored of having to be a (mostly) secretive Satanic cultist? Well now you can announce your heretical beliefs to the world, and purge the non-believers (or be purged).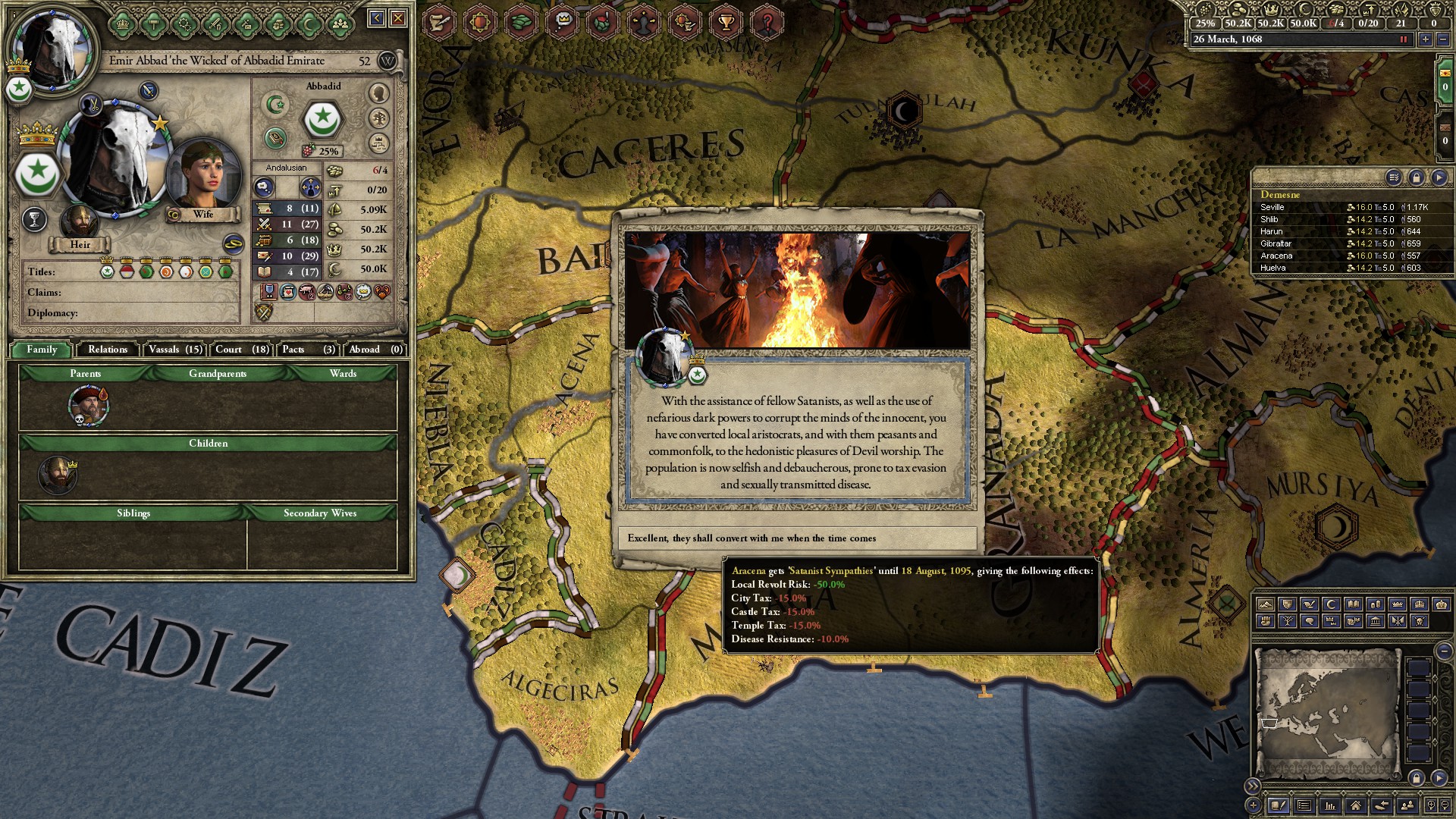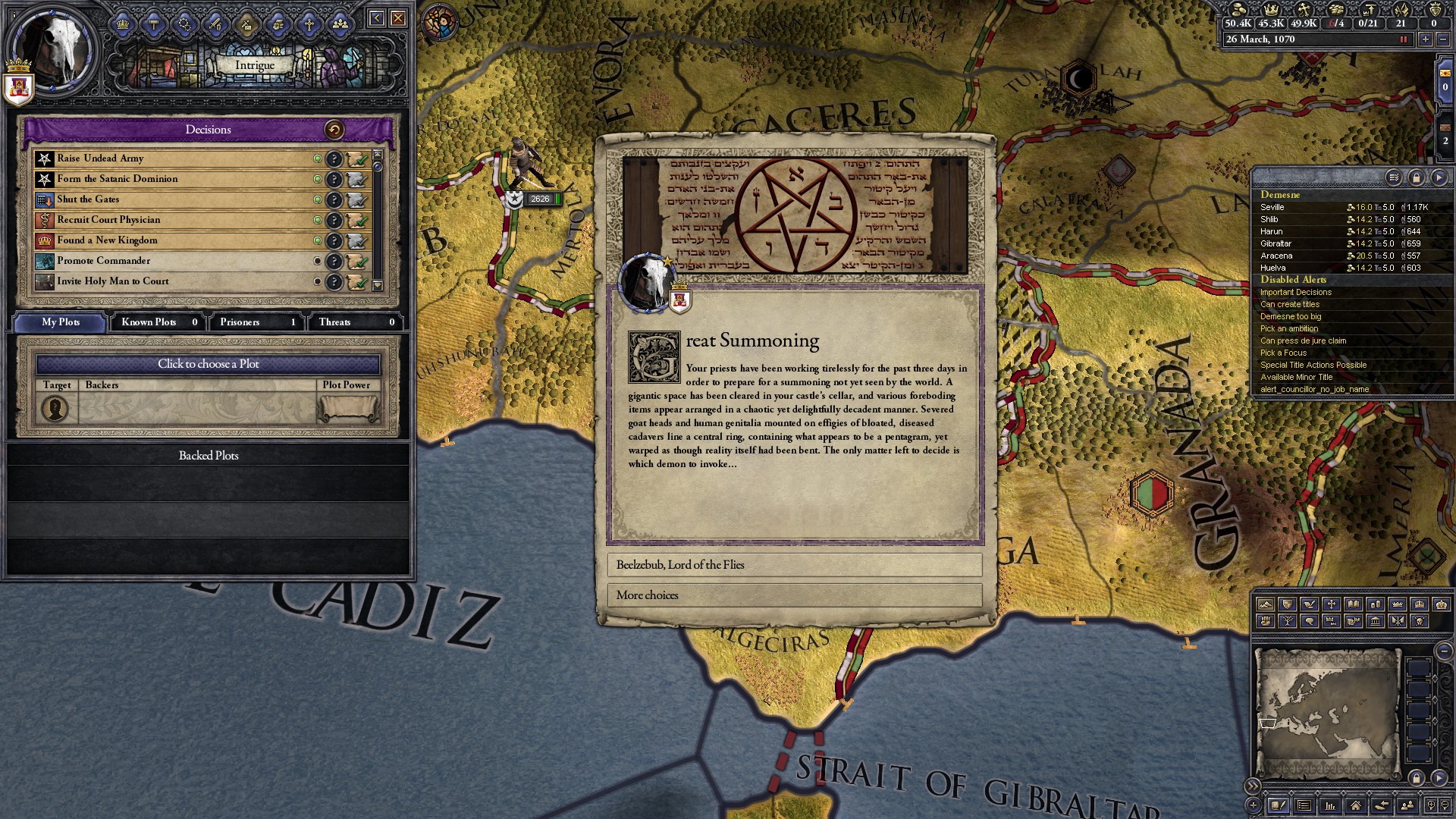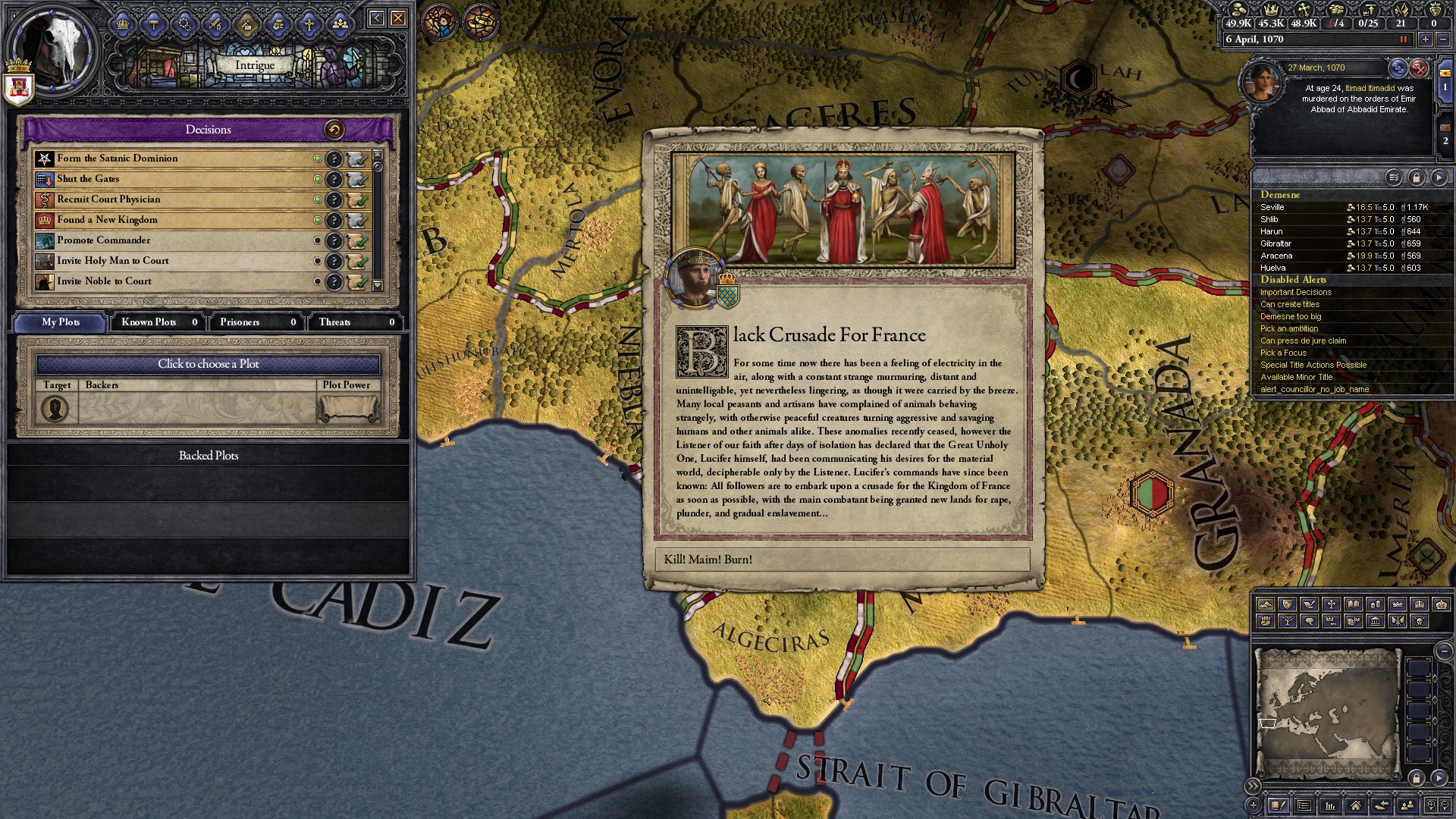 Current Features:
If you're High Priest of the Satanists you can officialise a state Satanist religion. A religious head will be spawned who can call Black Crusades
Once it's officialised, lesser priests in the society can convert for a prestige and power cost, as long as they're independent
Can take 20 concubines (arbitrary value, but it's still a huge amount compared to others)
You can loot non-Satanists just like unreformed pagans
All Abrahamic adherents will despise you (-15 opinion penalty)
Incestual marriages fully allowed, to hell with morality
A Satanic Empire that's formable after creating the religion, it will merge any landed secret Satanists and overt Satanists into your realm
Half a dozen mercenaries and holy orders
System for secretly converting provinces whilst playing as a religion besides Satanic (have to be part of Lucifer's Own)
Characters in your realm who are part of Lucifer's Own when you convert will also be converted
Province emancipation/slavery system, There are three possible states: neutral, enslaved, and liberated, affecting tax, levies and revolt risk of Satanic provinces.
A couple of minor flavour events (burning Catholics, and some trait related).
Conquest casus bellis with low truce cooldowns against fellow Satanists and other religions
Made Hermetics available to Satanists
Demon summoning event chain, depending on your sins you can summon a demon of your choice once converted to Satanism (and you meet the other requirements).
Necromancer, witch, minion, medium minor titles. The first two have associated traits, and prestigious necromancers can become liches, and eventually allow their liege to summon an army of the dead (all for religious Satanists).
Sins and virtues are now inverted in terms of how the Satanic church views them (ie, sins give piety, increases church opinion, vice versa)
Download:
http://www.mediafire.com/file/ce53afs29xah61t/satanismPlus2.8.2.zip
- v2.8.2 - Removed all special Satanic sin/virtue traits and replaced them with triggered modifiers. The special traits were causing problems with vanilla events and decisions which required the normal traits as conditions for triggering
https://www.mediafire.com/file/c7kgiq69c9n3q7o/SatanismPlus30.zip/file
- v3.0 - Updated to Holy Fury and fixed some minor bugs.
https://www.mediafire.com/file/hbcyva6v0m35adg/SatanismPlus301.zip/file
- v3.01 - Added the ability to get rid of demons and the Satanic Empire if you're no longer Satanist.
https://www.mediafire.com/file/cegs57qw88m4e74/SatanismPlus.zip/file
- v3.02 - Updated again to the latest CK2 patch (Iron Century bookmark)
Extract the .zip to documents\paradoxinteractive\crusaderkingsii\mod\
If there's a previous installation of this mod, delete it first.
NOTE:
I don't check this forum much, so if you want to guarantee that I see a suggestion/bug that you're thinking about, try posting it in the Steam workshop thread for this item (
http://steamcommunity.com/sharedfiles/filedetails/?id=918939555
).