VeF Team; URP/GeS Creator
48 Badges
In the spirit of the popular Veritas et Fortitudo mod (EUIV), the same deft touch of modding comes to breath life into Imperator:Rome and bring the player an altogether more real and immersive experience. With the stoppage of development on Imperator by Paradox, an opportunity exists to forge the future of Imperator through modding.
Gladio et Sale (With Sword and Salt)
Current Version 2.0 (for 2.0 'Marius' version)
Steam
Direct Download
Gladio et Sale is also available in a "light" version 2.0 without the expanded map for slower PCs or those who want the features without the added map.
Light Version - Steam
Light Version - Direct
The Vision: A mod that extends the timeline out to the fall of Rome (AD476) and expands the breadth of the map to cover China, Korea, Mongolia, and Indochina while adding flavor and mechanics that create a more immersive experience for players anywhere on the map.
Progress: Currently the mod reaches 843AUC (AD90) and the map has expanded to include China and Korea. The overhaul of culture and religious conversion is nearly complete after which the focus will shift to further flavor creation while the economic overhaul is planned.
Main Features:
Reworked map projection and aesthetic elements (terrain, height map, flattop) courtesy of
Lambert Conformal Conic Projection
mod
There is an in-game encyclopedia explaining these features and their operations which I encourage people to reference their first time playing (accessed from button in the topbar).
* Expansion of the map to include China and Korea
* Significant adjustments to diplomacy including factors for subject acceptance and an option for non-tribal tributaries to convert to client states over time
* Rebalanced pop desired levels to create more realistic and dynamic pop spread
* Assimilation and Conversion functions overhauled to affect differing pop groups and culture groups at differing rates. These processes are dependent on first unifying your own culture groups and unified culture groups are resistant; thus should Rome conquer Iberia and Greece (after unifying the Italic cultures), Latin will displace the native languages of Hispania over time but Greece will remain inherently Greek.
* Rebalanced manpower and war exhaustion for more realistic army sizes and war effects
*New military traditions for Chinese, Illyrian/Dacian, and Iberian
* Cultures revamped: added Illyrian, Anatolian, and Caucasian culture groups; culture added to each culture group to represent foreigners acclimated to but never completely of your culture (E.G. 'Hellenized'). Moved Thracian to the Dacian culture group and created Thraikes culture for the Hellenic group; former Thracian pops now split between those two. Split the Tocharian culture group off from the Scythian.
* Added trade goods for copper, lead, silver, opium, wax, porcelain, tea, and jade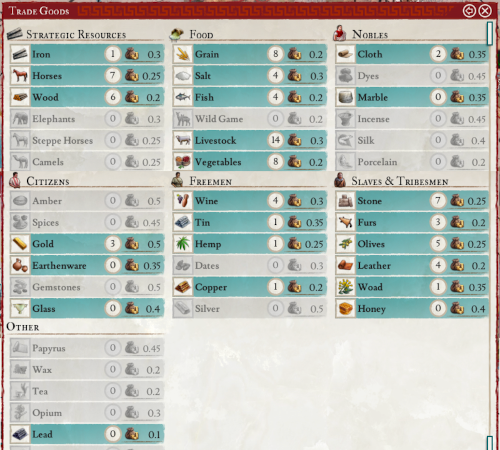 * Added missions for Antigonids, Armenia, Egypt, Epirus, Macedon, Parthia, Persis, Pontus, Qin, Seleucids, Thrace
* Additional mechanic for Chinese philosophical schools.
* Six metropolis buildings and some unique cultural buildings introduced
Settlement Buildings:
Farming, Fishing, and Pasture settlement buildings that produce extra food from freeman rather than slaves (For Grain/Vegetables,Fish, Livestock)
Hunting Settlement that produces extra food from tribesmen rather than slaves (For Wild Game)
Frontier Wall: Army Movement Speed -75%, Hostile Attrition +1, Hostile Food Multiplier -100% (Chinese military traditions)
The generic Port building only allows one level to be built; after that two subsequent levels can be built of either Mercantile OR Military port (or Cothon for Carthage).
City Buildings:
Military Port: Local Ship Recruit Speed +25%, Local Ship Start Experience +10, Local State Trade Routes +0.25
Mercantile Port: Local Migration Speed +10%, Local Migration Attraction +10%, Local State Trade Routes +0.75, Local Population Capacity +1, Local Monthly Food +15%
Cothon: Unique Carthaginian building that combines the benefits of Mercantile and Military ports
Necropolis: Local Happiness For Same Culture +10%, Local Defensiveness +10%, Local Pop Promotion Speed +25% (Unique to Etruscan culture)
Qanat: Aqueduct replacement for Persian culture group that adds +5 population capacity instead of +4
Stupa: Temple replacement for Buddhist religion that adds +15% Same-Religion happiness instead of +10%
Odeon: Equivalent to the theatre building; can be built in a province that already has a theatre making it the equivalent of having two of a building normally capped at 1 (Unique to Greek military traditions)
Metropolis Buildings:
Baths: Local Population Capacity +6, Local Pop Promotion Speed +25%
Gymnasium: Local Pop Promotion Speed +25%, Local manpower modifier +5% (this building is available to Cities for hellenic culture)
Training Camp: Local Unrest -1, Local starting experience + 5%
Library: Local Research Points +15%
Amphitheatre: Local Citizen Happiness +5%, Local Freeman Happiness +5%, Local Slaves Happiness -5%
Hippodrome: Local Citizen Happiness +2.5%, Local Freeman Happiness +2.5%
* Added two new unit types (javelins and slingers) for more variety in ranged units
Javelins - powerful vs heavy infantry, weak vs archers
Slingers - cheaper than archers, weaker vs armored units
Setup Changes:
*In many cities, tribesmen are now of a different culture than the remaining pops (E.G. In the Greek city states in Italy, the tribesmen are now the local Italic cultures instead of Greek).
*Greeks in Magna Graeca are now Italiote not Sicilian
*New tags added to Italy including Daunians, Vestini, Praetutii tribes and a number of Greek city-states.
*Corsica: pop rearrangement (fewer overall, more tribesman at expense of other pops); Etruria now starts with only one province on Corsica
*Rearranged Italy to accommodate new tags and more closely reflect history including that Umbria and Samnium are now tribal federations and Rome starts without the east-coast provinces
*Divided the Getae nation into four separate tags and added a decision to form united Getae tag.
*Added more tags to the empty Sarmatian lands in the Caucuses
* Split off Persis as a satrapy of the Seleucids
Minor Features:
* Date display can toggle between AUC/Gregorian (right-click)
* Popularity now factors into senate support as a sliding scale rather than a hard cutoff at 80
* Pop interaction buttons to sell slaves pops
* Variable name for Phrygia (Antigonids at start; only becomes Phrygia if they lose that dynasty)
* Events for Mithridatid dynasty to move from Kios to Pontus (player can start as either nation and end up leading Mithridatid Pontus)
* Added bloodline traits for Agiad(Sparta), Eurypontid(Sparta), Mithradatid(Kios), Arsacid (appears in Parnia or Parthia) and Frataraka(Persis) dynasties
Last edited:
13

4

2
Reactions: