Gouverneur van Torkia
41 Badges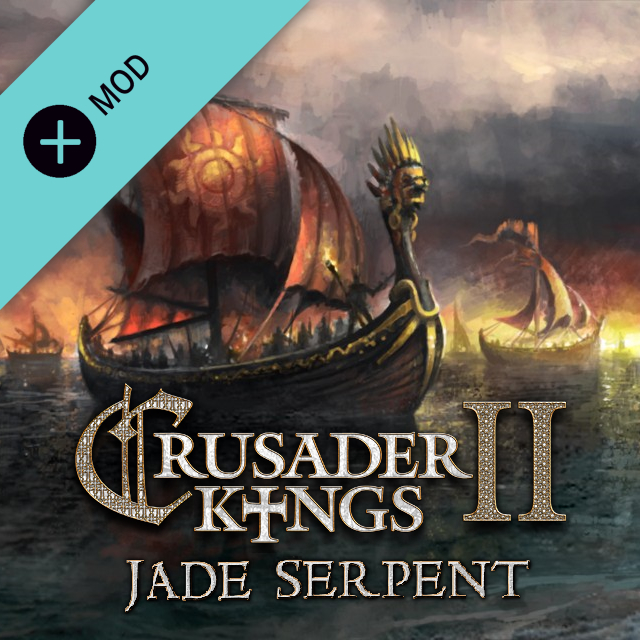 ​
Crusader Kings II: Jade Serpent
is the community expansion for the much mixed-reviews strategy/RPG Crusader Kings II: Sunset Invasion DLC and introduces the gamer to an ahistoric story of rising of Aztec.
This fantasy scenario marks Paradox Development Studios first departure from history(And now they've gone really-really far.) Hearing of Europe from travelling Northmen, the blood drenched Nahuatl Civilization has risen early and now spread like a virulent plague. Prepare to defend all you hold dear against the Sunset Invasion!
Jade Serpent will feature:
Sunset Invasion Overhaul:
Sunset Invasion event now shows in new form, with offmap Mexikha power integrated.
The Imperial Majesty Request:
A new "Mexikha Screen" lays out the status and desires of the Huetlahtoani of Mexikha, letting you keep tabs on what he wants and how to earn his favor.
Present Tribute For Now:
Submit to the Empire as a tributary, always keeping an eye on the waning power of the Huetlahtoani, so you can time your escape to freedom. Or simply becoming a reliable ally of Huetlahtoani.
Booty and the West:
Collect wondrous new Mexikha artifacts for your characters; explore a new Triangular trade route that adjusts returns based on Mexikha's stability
Disclaimer:
This expansion is still in early beta. You can play it with a previous savegame. However you'll be unable to revert the savegame back to Vanilla state.
As I mentioned, that early beta means it may have weird behaviors, and the localisation strings are improvised and incomplete. Please report any bugs you found with screenshots below.
Set game rule "Sunset Invasion" to "Random" will fire it immediately, for beta test purpose.
Upload your art works and replace my makeshift graphic files! Every helps are welcome.

Credit:
Buy it NOW
Free Download:
https://xfl.jp/nTzXd3
Steam:
https://steamcommunity.com/sharedfiles/filedetails/?id=1871385339
Last edited:
1
Reactions: