Watcher on the Walls
16 Badges
Today, I looked at my AARing past (Paradox and Total War) and noticed that the only two AARs I wrote that lasted more than five updates (The British Resurrection of the Roman Empire for Rome:Total War and CKII's Dead men DO tell tales) have something in common: They were written in-character, but they were
not
narratives. Therefore, I am starting a new aar (latest among billions). However, it has one thing that makes it unique:
This will be a megacampaign beginning in CK2. For those who don't know what that is, it is a hallmark of Paradox's games. A megacampaign means starting in CK (in this case CK2), then when reaching 1453 use a savegame converter to produce a EU3 save, from which one plays until reaching EU3's end date (Here modified to 1835 to avoid an awkward gap between EU3 and V2), then converting that to Victoria 2: A House Divided and when reaching 1936 convert to Arsenal of Democracy (using King of Men's AHD to AoD converter used in the MP megacampaign Children of the Fatherland), and play until 1966, thus playing for 9 centuries, (this is my plan, there are other ways, such as using CK1/pre-DW EU3/Victoria 1/HOI2, but this one uses all of the current generation Paradox games, except of course for AoD which was developed by BL-Logic and is based on HoI2 and it is possible that EU4 will be released before I finish this) . As far as I'm aware, this is the first megacampaign AAR starting in CK2. Yes, the converters to EU3 aren't complete, but I am sure that by the time I reach 1453 they will be functional enough to produce a reasonable EU3 game.
TROPHY ROOM (AWARDS AND HONORS)

GLOSSARY:
ANGLAND- ENGLAND
EIRANN- IRELAND
EIRANNIAN- IRISH
EIRANMANN- IRISHMAN
EIRANMENN- IRISHMEN
JORSAL- JERUSALEM
JORSALABORG- CASTLE IN JERUSALEM
JORSAL-LAND- THE HOLY LAND
VALSHLAND- WALES
VALSHER- WELSH
VALSHERMANN- WELSHMAN
GLUKSLAND- GLOUCESTER
VALSHERMARCH- SHREWSBURY
JORVIK- YORK
JORVIKBORG- YORK CASTLE
ELEKTOR- DUKE
TABLE OF CONTENTS:
REGES DOMUS DE YNGLING:
HARALD 'THE CONQUEROR' SIGURDSSON YNGLING, HARALD III OF NORWAY (FORMALLY KING HARALD I OF ENGLAND, BUT NEVER CROWNED DUE TO COMATOSE STATE, INSTEAD OLAF WAS CROWNED), B. 1015, R. 1046 - D.15 AUGUST, 1068 (COMATOSE FROM 3 OCTOBER 1066)
1. Harald and Harold- This post
2.
All along Yorkshire
3.
An Island of Ghosts

OLAF 'THE WISE' HARALDSSON YNGLING, OLAF III OF NORWAY AND OLAF I OF ENGLAND, B. 3 JANUARY 1050, R. 15 AUGUST 1068- 27 FEBRUARY, 1117 (DEATH FROM OLD AGE)
4.
Bitterness

5.
... But the Sword!
6.
Magna Cum Traitor
7.
Never-ending Battle
8.
War and War
9.
End of an Era
11.
Best of Times
13.
Merry Old Gwynedd
14.
Triumphs
15.
Virility, Murder, and a Blind Pope

16.
The North is Conquered
17.
The Will of God and the Will of Godwin(son)

18.
Waiting for Godwin

20.
A New Century and a New Destiny

21.
The Reaping

SVERRE OLAFSSON YNGLING, SVERRE I OF NORWAY, R. 27 FEBRUARY, 1117- 13 OCTOBER 1118, D. 3 APRIL 1126:
23.
A Sverre Problem
GUNNAR OLAFSON YNGLING, GUNNAR I 'THE FAT' OF NORWAY, R. 13 OCTOBER 1118-21 JULY 1136
24.
Factions

25.
After the Calm (first 80%)

ASLAK OLAFSSON YNGLING, ASLAK I OF NORWAY, R. 21 JULY 1136-24 APRIL 1138 (KILLED IN BATTLE AGAINST DUKE ÆTHELBEHORT OF CORNWALL)
25.
After the Calm (last 20%)

26.
Turning Point: Fall of Monarchy (first two paragraphs)
ERLEND ALFSSON YNGLING, ERLEND 'THE BEWITCHED' I OF NORWAY, R. 24 APRIL 1138-23 MAY 1162 (DIED OF ILLNESS)
26.
Turning Point: Fall of Monarchy (all the rest)
27.
Jorsalaborg

28.
But We Shall All Be Changed (first two paragraphs)

ARNMOD ERLENSSON YNGLING, ARNMOD I 'THE FAT' OF JORSAL, THEN ARNMOD I OF NORWAY R. 23 MAY 1162-15 NOVEMBER 1164 (NORWAY) 7 OCTOBER 1170-22 JUNE 1202 (JORSAL SICILY) (DIED OF TOO MUCH FOOD)
28.
But We Shall All Be Changed (the rest)

30.
Rebirth of Olaf (before the asterisks)

OSSOR GUDBRANDSSON YNGLING, OSSOR I OF NORWAY, JORSAL, SICILY, AND ANGLAND R. 8 MAY 1193-3 OCTOBER 1229 (NORWAY), 22 JUNE 1202- 3 OCTOBER 1229 (JORSAL AND SICILY) 18 AUGUST 1219- 3 OCTOBER 1229 (ANGLAND)
30. Rebirth of Olaf (after the asterisks)

31. Bad Blood (before asterisks)

SVERRE OSSSORSSON YNGLING, SVERRE II OF NORWAY, SVERRE I OF ANGLAND, JORSAL, AND SICILY, R. 3 OCTOBER 1229-3 SEPTEMBER 1266 (DEATH OF HEARTBREAK)
31.
Bad Blood (after asterisks)

33.
Decline and Fall

36.
The Tempest (the beginning)
OSSOR SVERRESSON YNGLING, OSSOR II OF NORWAY, ANGLAND, JORSAL, AND SICILY, R. 3 SEPTEMBER 1266- 25 FEBRUARY 1290 (NATURAL DEATH)
36.
The Tempest (the middle)
ALV OSSORSSON YNGLING, ALV I OF NORWAY, ANGLAND, JORSAL, SICILY AND VALSHERLAND, R.19 DECEMBER, 1267- 25 JUNE 1315 (VALSHERLAND) 25 FEBRUARY 1290- 25 JUNE 1315 (DIED OF A STROKE) (NORWAY, ANGLAND, JORSAL, AND SICILY)
36.
The Tempest (the end)
37.
Toto Orbe Terrarum (first half)
HALDOR IVARSSON YNGLING, HALDOR I OF NORWAY, ANGLAND, JORSAL, SICILY, AND VALSHERLAND, R. 25 JUNE 1315- 9 SEPTEMBER 1325 (DIED OF A FEVER)
37. Toto Orbe Terrarum (BEGINNING OF SECOND HALF)
GUTTORM HALDORSSON YNGLING, GUTTORM I OF NORWAY, ANGLAND, JORSAL, SICILY, AND VALSHERLAND, R. 9 SEPTEMBER 1325-?
37.
Toto Orbe Terrarum (THE REST)
INTERLUDES:
10.
Meet the Authors
12.
Party Poopers
19.
The Eye of Magnus
22.
Flashback!

29.
The Dragon's Lair
32.
Pro Mundo

34.
The Apple's Voice

EXTRAS:
TALES OF THE NORSEOVERSE:
INTRODUCTION AND CONCEPT
http://forum.paradoxplaza.com/forum...14726607 TALE #1: DESPITE EVERYTHING (c.1295)
TALE #2 PART I: REVENGE OR REDEMPTION?
KONG ARNMOD: A TRAGEDY BY THE EXPERT HAND OF SIGURD ORMSLEV
ACT I
ACT II
ACT III
ACT IV
ACT V
And now, to begin:

A Saga without Heroes: Chapter 1: Harald and Harold

Excerpted by permission from A Saga without Heroes, by Erik Haraldsson, published by Nidaros University Press, ©2012
Used with permission from the author and publisher
-History is a saga without heroes, but with no lack of villains.
In the middle of September 1066, Harald Hardraada, famed for his cruelty and poetry, was perched between glorious affirmation of his prowess, and dismal failure that would curse him for the rest of his days.
The English lord Morcar of Northumbria was surprised by the Norwegian landing and was unable to prevent Harald's troops from laying siege to Morcar's capital at York. Eight thousand of Norway's best fighting men were concentrated around the city, preventing the earl's escape. No self-respecting lord subject to Harald was absent. Not his sons Olaf and Magnus, not the lords of Telemark, Agder, the famed Duke Paul of Orkney whose half-brother was king of Scotland. But Morcar was not despondent. Help was on the way.
Harold, king of England elected by the Witangaemot only eight months previously, had made his way from London to Leicester in days, picking up his army on the way. Now a host of over ten thousand, according to Morcar's agents, was assembled and expected to march to Morcar's aid within days. Nor was Morcar disappointed, Indeed, on September 15, Harold's army departed its camp near Leicester and began to march.
All well-informed men knew now that the inevitable battle might well decide the fate of England itself.
In the meantime, the royal steward, one Brynulf, decided to spend three hundred krones of the treasury's money on hiring, a band of mercenaries, ironically they were Saxons led by one Ethelweard of York.
The royal court, mainly the highborn ladies of Norway, at first berated him for what they thought was a reckless waste of royal funds, but with hindsight it was a move that may have saved many lives.
On the diplomacy front things went less well when a summons to war sent to Duke Gudrod of the Isles, son-in-law to King Harald, went refused.
The king would not forget this offense.
On 2 October, 1066, the Battle of York commenced. Arriving at a bluff overlooking the Norwegian camp, Harold raised the dragon banner of Wessex. He made it clear that this was personal. "A battle of Harolds!" one courtier joked. The rain of arrows commenced as the inexperienced
fyrd
of England ran down the hill, charging the Norwegians who had only minutes of warning.
It was not a good start, not offset at all by King Harald's incapacitation.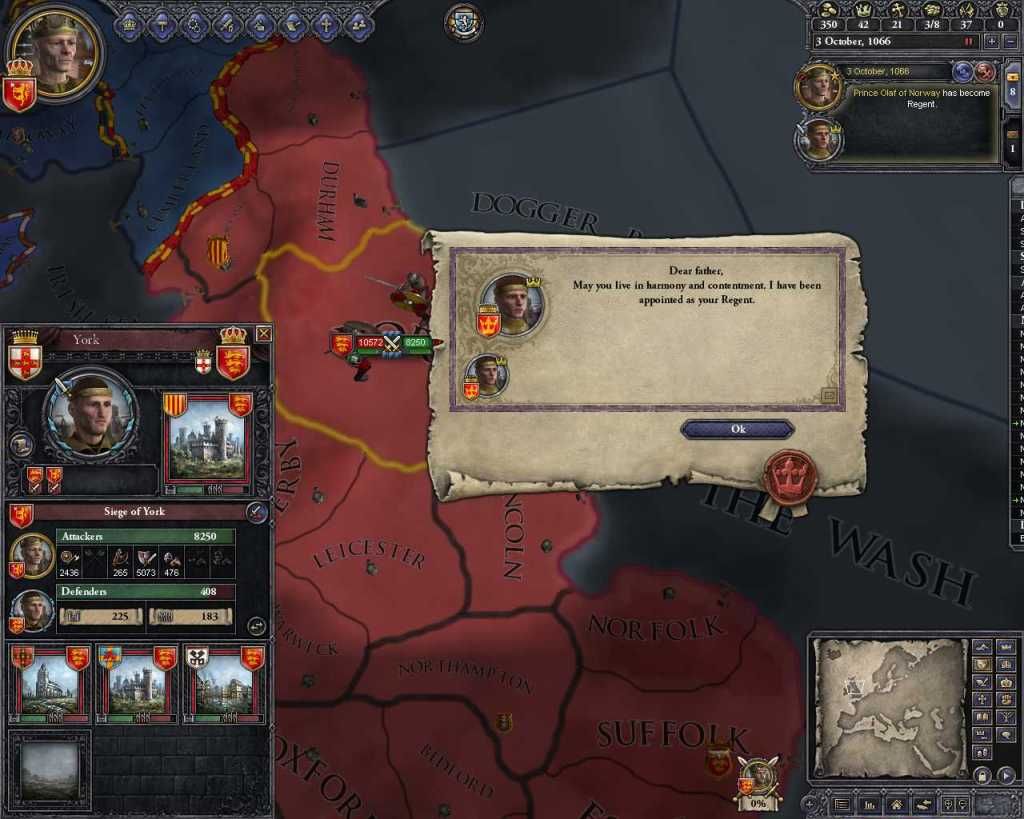 Last edited: