Meet Meck - he's a Minotaur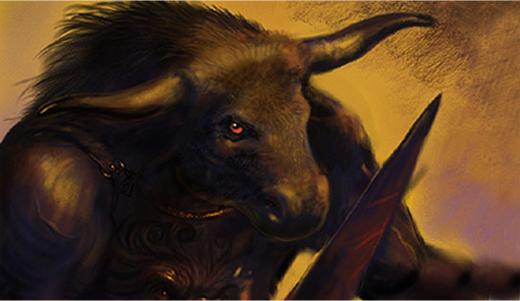 Chapter 1
Tom's Unpredictable Day
​
Tom had just switched on his laptop to start a brand new game of Europa Universalis II when the minotaur had walked into his room. This was not something that happened every day, of course. In fact, Tom couldn't remember it ever happening to him before. The minotaur seemed friendly enough though, and he was also wielding a nasty-looking broad-bladed sword, so Tom didn't feel like arguing with him - pure intellect would probably not have been the deciding factor in a fight.

So here he was on the tram, with his laptop packed away again in its carrying bag, heading into town with this minotaur. Of course, people were giving them strange looks, but Tom had the uncomfortable feeling that he was the odd one out. The obvious conclusion was that they were on their way to a New Year fancy dress party - so why wasn't he in fancy dress like his companion? Hadn't noticed that detail on the invitation, or just too embarrassed to take it seriously?

When they finally got off the tram at the Vieux Port and threaded their way through the crowds - more strange looks, but more at the sword than the bull's head it has to be said - they headed out along the Quai de Rive Neuve past rows and rows of pleasure boats, as the crowds thinned.

"It's changed a bit since I was last here," said the minotaur conversationally.

"You've been in Marseille before then?" said Tom, trying to sound equally casual.

"Must be two and a half thousand years ago now of course," came the disconcerting reply. "On holiday from Crete. The old Greek city was all on the other side of the port - over there." He waved his sword in an alarming fashion in the direction of the Quai du Port beyond the serried ranks of berthed boats with their crowded masts.

The minotaur seemed to have a key to get into the berths, and they walked out along one of the pontoons, past all kinds of yachts and schooners. Most were deserted but there were people aboard a few of them. One person even gave the minotaur a friendly wave.

"What's your name, by the way?" asked Tom.

"You can just call me Meck," said Meck the Minotaur. "I know yours - Dr Fraser, right?"

"You can just call me Tom," said Tom, too confused to ask how on earth Meck knew this.

The minotaur's boat, predictably enough - and Tom was becoming glad of anything that was predictable in this rather unpredictable day - was nothing like any of the other boats. It was unpainted and looked more like a small Viking drakkar than anything else.

There was no visible motor, but the boat seemed to glide out of the harbour under its own power, without the sail being unfurled. Once out in the open sea the minotaur did unfurl the sail, and Tom noted with interest that it was decorated with a large bull's head design. When they had gone a few miles out to sea and the port of Marseille had dwindled to a smudge on the horizon the minotaur furled the sail once more and the boat appeared now to be floating motionless, bobbing gently on the waves.

The next thing that happened was the most alarming thing that had happened yet. It began to spin. That is, either the boat or the world around them, Tom wasn't quite sure which. The spinning became faster and faster and Tom collapsed on the deck, clinging to a wooden strut in case he should be thrown overboard. And then the boat started to descend, down into the sea. But instead of getting wet, Tom only felt a strange silvery tingling sensation as the water spun around them. The light seemed to change and the temperature - it got noticeably colder - and there was a tremendous rushing noise that built to a crescendo. And then quite suddenly the boat bobbed up onto the surface again, and had stopped spinning.

Tom could see right away that they were nowhere near Marseille. It was overcast and the waves were much bigger here. Also it was extremely cold. There was still land on the horizon though. The minotaur unfurled the sail once more and they sailed towards it.

"Where are we going, exactly?" asked Tom, feeling that he should perhaps have asked this earlier.

The minotaur waved his sword towards the distant horizon. "Rostock," he said.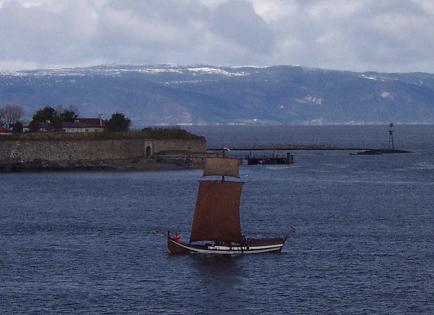 =========================================​


Duke Johann of Mecklenburg sat bolt upright in his bed at the sudden intrusion into his chamber. The minotaur was carrying a candle, with which he lit several more about the room, so that the Duke, blinking in the light, could see his visitors. What he said next was not what Tom was expecting at all.

"Oh - not you again."

"I have returned," said Meck the Minotaur, "as I promised."

"Great," replied Duke Johann, in a voice that suggested that it was anything but.

"I have brought the Master."

For the first time the Duke seemed to notice Tom, standing in the shadows behind Meck.

"Who the devil are you?" he asked, a little rudely Tom thought.

Nevertheless Tom strode forward confidently with his hand outstretched. "Pleased to meet you, Duke Johann. Dr Fraser - Tom Fraser. You can just call me Tom."

The Duke stared at Tom, then stared down at the outstretched hand as if it was leprous. Then very slowly he extended his own hand and gave Tom's a brief shake.

"This guy seems to think I need some help running the Duchy," said Johann, indicating the minotaur with a dismissive tilt of his head.

Tom wasn't sure what to say to this. "I'm sure I'd be happy to help in any way I can."

"He has brought the Secret Lore," put in Meck, indicating the laptop carry-case with his sword. "You had better do what he says, Duke Johann, or I might just decide to relieve you of your pretty head."

He brandished his sword and made a curious noise in his bovine throat that might have been a chuckle.

"And what exactly is the Secret Lore?" asked the Duke, looking dubiously at the black bag.

"A Dell Inspiron 6400", said Tom, "but that probably doesn't mean much to you."

"It means nothing," agreed the Duke. "How is it going to help me run the Duchy of Mecklenburg?"

"Well, I have some - err - software that might help," said Tom. "It's called Europa Universalis II, but that probably doesn't mean…"

"I can understand Latin all right," interrupted Duke Johann. Let's just get on with it. I was actually trying to get a night's sleep as a matter of fact, and I would very much like to continue with it as soon as possible."

Tom switched on the laptop, wondering how much time he had before the battery ran down. He clicked on the nice familiar EUII icon on the desktop. Apparently he was going to get to play after all, although not quite in the circumstances he had expected.

"Hmm, Mecklenburg - let's see," he said, scrolling down the undisplayed options. "Here we are. What settings, I wonder? Better make it normal/normal, eh? Then at least something is normal about all this."

Meck stared dubiously at the map that appeared after a few moments. Then he brightened a little, pointing to the bull's head in Mecklenburg's coat of arms. "Oh look - there's me!"

"Hmm - apparently," said Tom. "Anyway, let me see - so, in 1419 you've got… someone called Johann III in charge according to this. That must be you, Duke Johann."

For the first time the Duke seemed to take an interest in the strange contraption that Tom was fiddling with. "Indeed," he said, "although there are my cousins too. We prefer to rule jointly."

"Oh, I see - you've got a severe decentralization problem, that's what it is. You'll need to do something about that as soon as possible. See this slider here? Away down at 1? That should be up here at least at 8 or more."

"What does that mean?" asked the Duke.

"Well, let's put it this way, Duke Johann. All Dukes are equal, but some are more equal than others. Just put it like that for the time being, which means that we move one step towards centralization - so."

Up popped the stability drop window.

"Of course, the nobility won't like that," remarked Tom cheerily, "and nor will the merchants. Now, what else. You've got a COT, of course - a bit of extra income. Lübeck is the principal centre for the Hanseatic League, as I understand it."

"Ah yes," said Meck, "Lübeck. That is another problem we have. It is not exactly under the control of the Dukes, you know."

"Yes - it's entirely independent, if I remember rightly," said Tom. "All part of your decentralization problem, I suppose. But with time that can be sorted out. Duke Johann will just have to take the bull by the… err, I mean, he'll have to bite the bullet and start throwing his weight around a bit more. Show those merchants who's boss."

"Hmm, well I suppose that sounds quite fun," said the Duke. "Anything else?"

"Well, let me see. Good grief, what's this? You're a vassal of Stettin? Where did that come from? Completely unhistorical I would say - cancel it right away."

"This gets better and better," said the Duke. "But I warn you, if 'Some Dukes are more equal than others' gets the people of Mecklenburg jumpy, I can tell you that, 'Let's get rid of Stettin' will really put the wind up them."

"Don't worry, Duke Johann," said Tom. "You're a one province nation. Stability is never a problem. Now then what else? Oh - you're also leader of an alliance with Holstein and Bremen - well that's excellent. You need to use that to your best advantage. Gobble up a weak defenceless neighbour as soon as you can. What about Stettin, in fact? Or maybe Hanover? And keep an eye out for potential additions to the Alliance."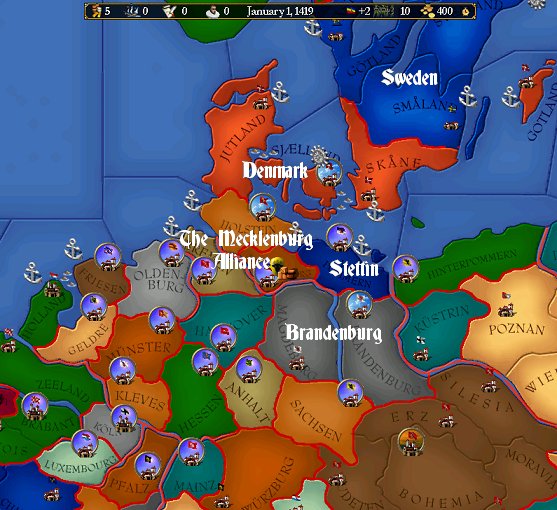 "Gobble up? Are you talking about war, Master?" said Meck.

"You got it! Don't worry about reputation at this stage - the important thing is to expand quicker than your allies. Then you can work on diplomatic expansion later."

"War? I don't like the sound of this," said the Duke.

"Are you an ambitious man, Duke Johann?" asked Tom

"He's very ambitious, Master," said Meck, "as are all the House of Mecklenburg - I've tried to make sure of that at least. You know they have claims on the thrones of Denmark, Sweden and Norway?"

"Yes, that does ring a bell. But I shouldn't think… no, I see you don't have a single core outside your starting province. But listen Duke Johann, if you want to become truly great - and I have no doubt that Mecklenburg could one day rule over all of Scandinavia and Germany - you will have to make some unpopular decisions."

Meck and Duke Johann stared together at the laptop, and the tiny brown blob that was Mecklenburg in 1419.

"All of Scandinavia and Germany?" said the Duke incredulously. "Do you really think so?"

"Believe me - you just need to know the Secret Lore," replied Tom.

After a few moments, the Duke yawned.

"Well gentlemen," he said, "it was kind of you to drop by and all that, but really, I'd prefer to get back to bed right now. I'm sure conquering all of Scandinavia and Germany can wait till the morning, can't it?"

"But you will do what he says?" said Meck, giving his sword an almost imperceptible shake.

"Yes, yes, if you insist," said the Duke, climbing back into bed. He turned to Tom. "You'd better sleep in the next room."

Tom was taken aback.

"Oh - you mean I'm staying?"

"Well, of course you are," said the Duke.

In a daze, Tom shut down the laptop and stumbled through to the next room, which was clearly some sort of servant's chamber. One slight detail was preying on his mind. What was going to happen when the Secret Lore's batteries ran out? What would Meck and the Duke have to say then?