Armchair Temüjin
6 Badges
-All settings normal
-This means lucky on, gogo France!
-Difficulty=Hard
-No inheriting nor diplo annexing, both are considered cheating! by me
I forgot to mention: My Goals this time around:

-Colonise EVERY province on the map
-Have a CORE on every possible province
-Convert EVERY province to the catholic faith
-Doing these things earlier then I did in my Meck game!

Sounds familiar doesn't it.
My last AAR had left me pretty demoralised: Having conquered and colonised the entire world, converting an absolutely insane amount of provinces to my culture and converting everyone to the protestant faith and then losing the remaining 50% of my screenshot to a HD failure
Anyways after I played some other games, I have come back to EU3:IN. Seeing two new patches made me itchy and eager to get back into the game.
Allrighty: I am afraid I will not be making the same progress as I did with Mecklenburg since Im a tad rusty (Havent played in months, at least not this game
) and there are now two patches that have some severe changes incorporated. So please bear with me and don't laugh at me when I fail to conquer all of the world
So without further adue I present for the second time:
Mantua: The best of the best​
Or so we hope :
Tis not that way in early 1399 I can tell you that much: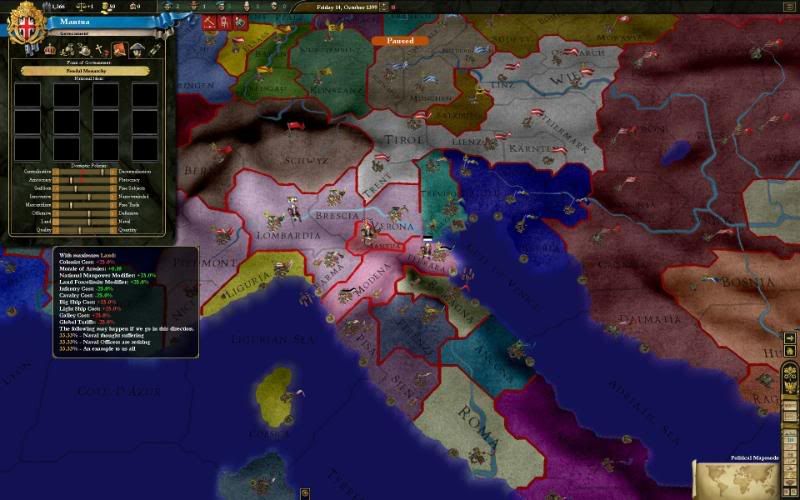 Saying Mantua is tiny is overstating things. Surrounded by a powerhungry Milan and close to both Austria and France, things always tend to heat up when I'm in command of a OPM in Italy.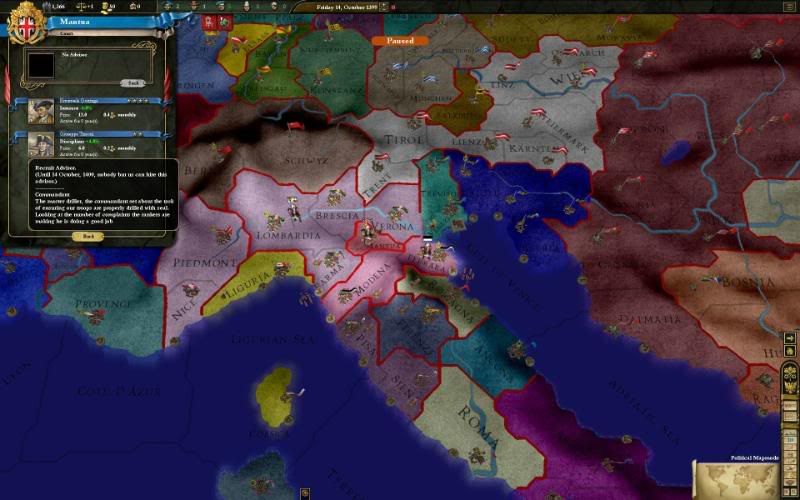 Ill just hire the discipline advisor then, I mean not much of a choice, and I just love discipline. War is the only way. Trade and stuff is best left to other people. Its too expensive to start with and once I can pay for it my BB will convince me otherwise. I think...
Hmm I already seem to have misplaced a screenshot
I was just checking out the slider changes and found out that almost all options leave the realm with all kinds of annoying effects... Bah: I can already see where this will be going, good thing slider changes will in general take me over 50 years or more to get, when I get going for real, else I would be miffed!
So Instead of the obvious + centralization that I would have taken pre 3.1 I go with a harmless +land. + cent would mean a big chance of a revolt and that would mean game over in this stage of the game. Can you envision a 12.000 rebel army in Mantua and still managing ? In 1399? I cant at least.
So some horsies it is then. That much is still the same.
As are the usual suspects. My eyes are focussed on Urbino, it's pretty much the same every game.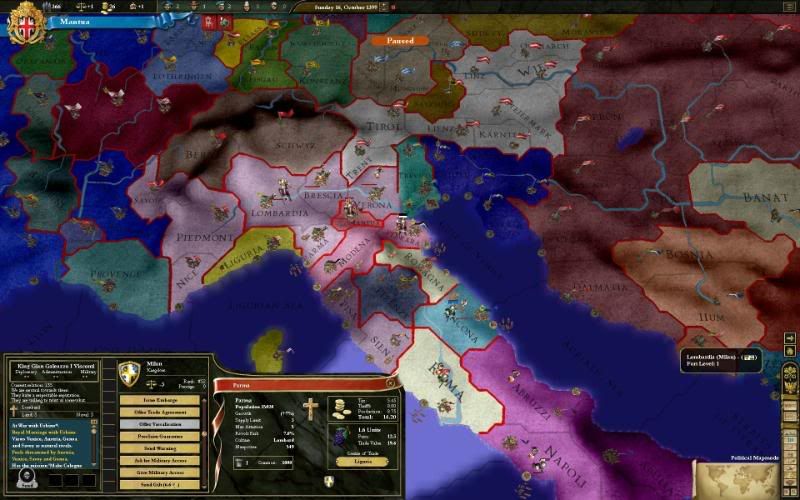 A round of alliances it is then. I try for pretty much everyone, I can't be stingy when it comes down to allies. As in my other games, my aim will be to either have allies
- To make sure they wont attack me.
- To destroy them from within. I'll let them wear themselves out, cancel alliance and attack.
- To wear an enemy out. Having them do the fightning and having myself taking the spoils.
- To help with rebels.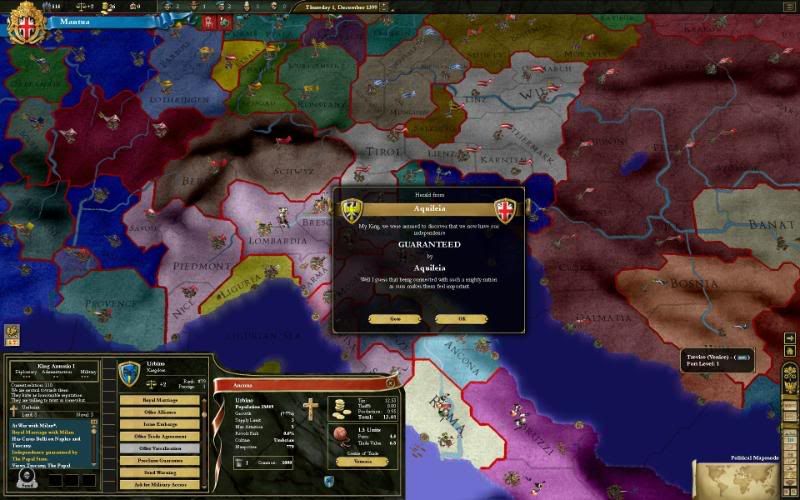 One guarantee. Whenever I'm playing a 1 province minor, stuff like this helps me relaxe a whole lot.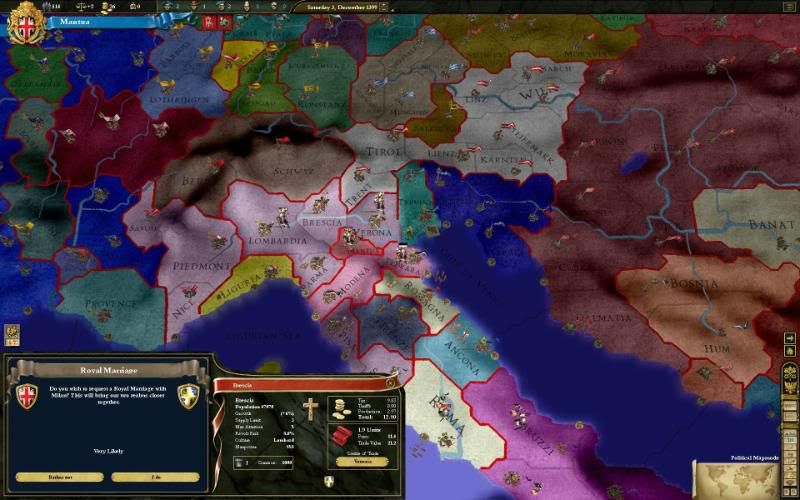 Throughout the early game Ill be sucking up to as many countries as possible. Giving out guarantees, royal marriages and military access where-ever I can. I have to.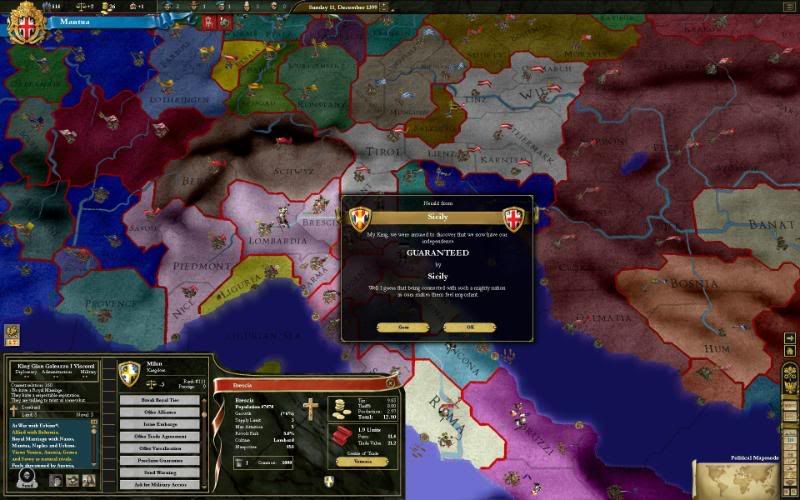 But sucking up is not the main aim here, just a means to an end. So we start Operation Capture Urbino, which is always a good thing for any Italian state. Getting some access first is vital.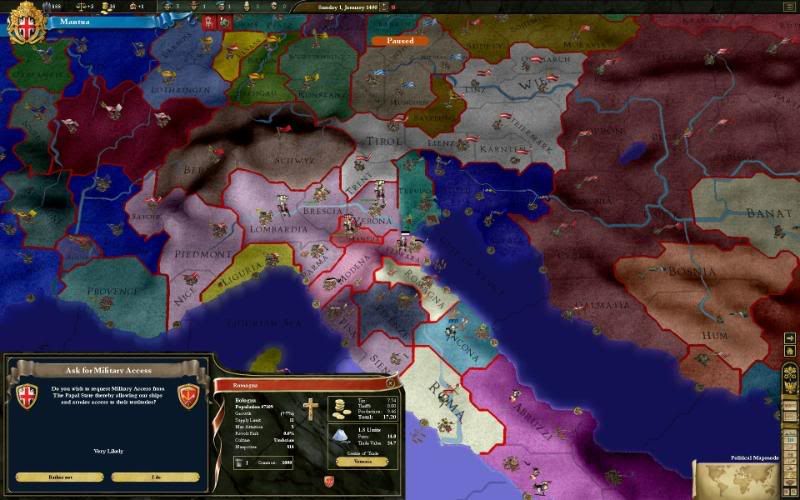 And there we have the huge Mantuan army with its brilliant leader...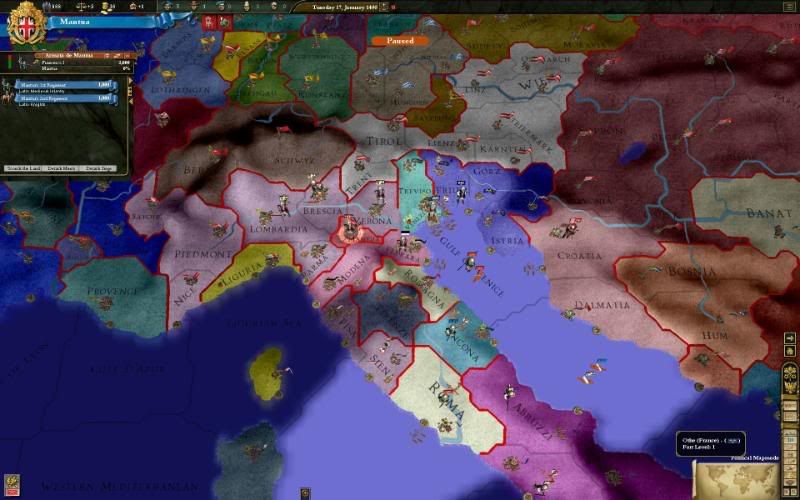 As always Italy looks mighty Balkanish, Urbino and Roma VS Napoli. Im still pretty much alone right now. With just the pope being my ally... as well as Urbino's ally.
But this is a chance: It will leave me alone, but it will also leave me with at least Urbino and with a tad of luck I can add Romagne to my demesne as well. Perhaps some gold too!
Roma and Urbino are busy in Napolian lands, having lost most of their strength already. So in we go: Me versus Urbino and Roma. Urbino needs to go first, for obvious reasons (it being a 1 province annexable state)!
The situation: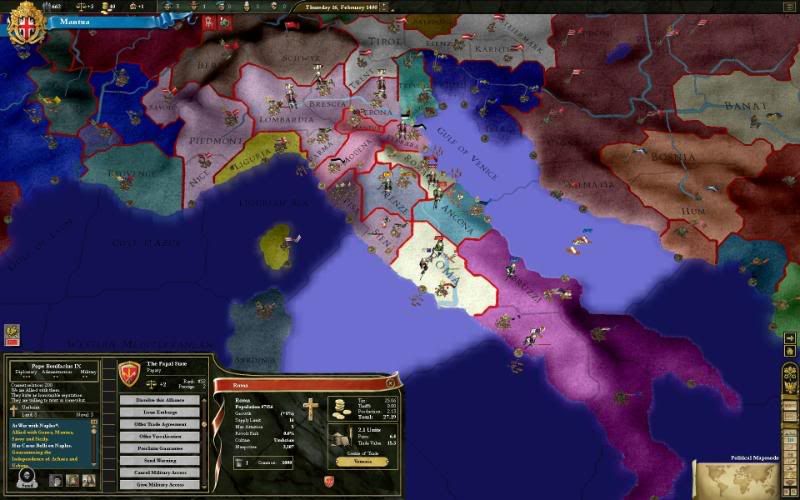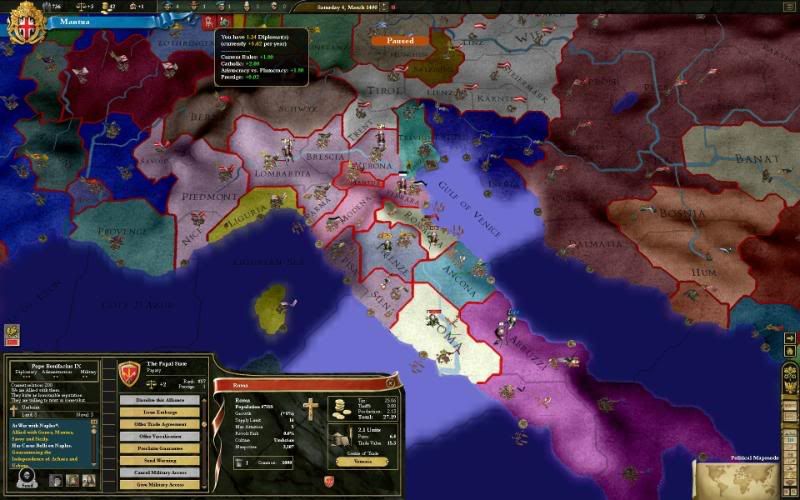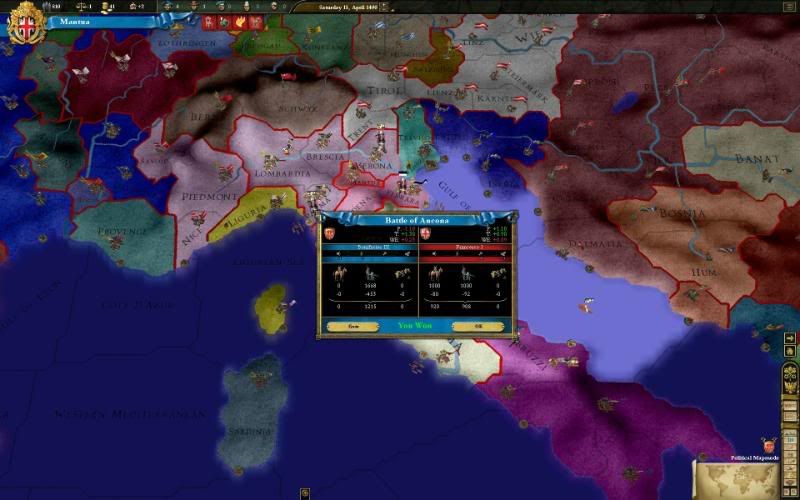 Cav might be expensive, but it WILL give you the best results, pretty much the entire game long.
Kinda feels like a true redux all of this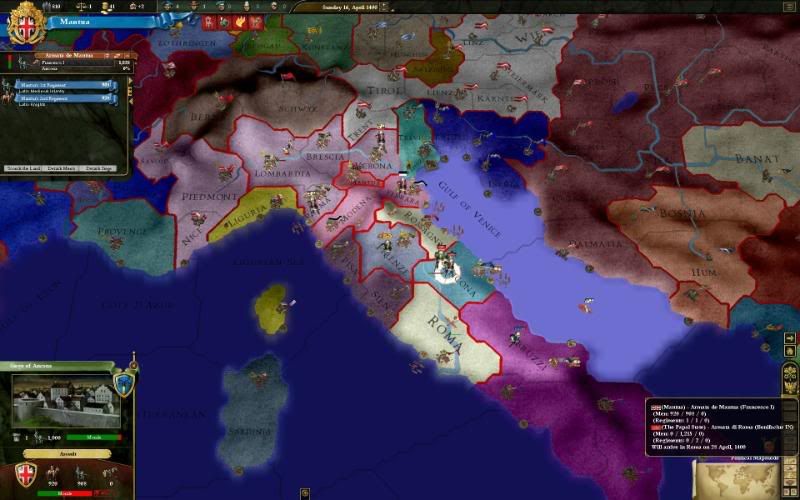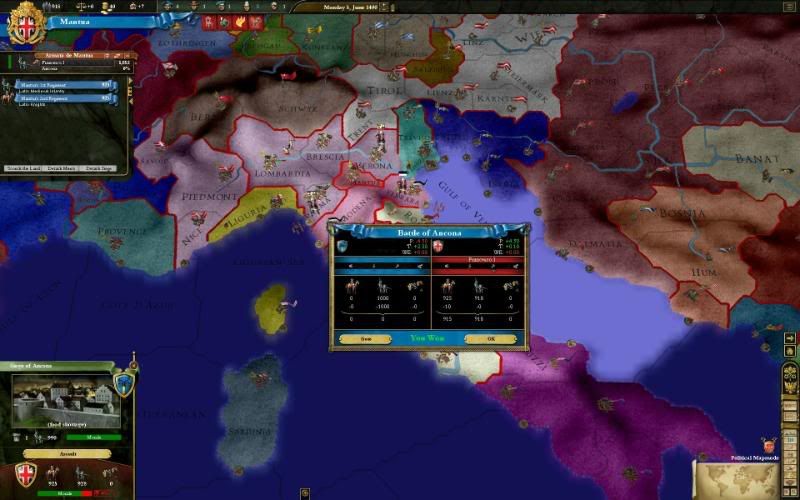 Silly Urbinos got beaten by Napoli and then retreat into my waiting army.
More armies incoming, a small check shows me it's an army with >1000 people.
Good news.. or not? Even though this creates a possible second antagonist for France, this might also mean Burgundy won't be growing at all and will be giving France a field day.... We will see I guess.
Roma under siege even though not by me. About 2k soldiers in Romagna, with 2k of my own + a general I should be save.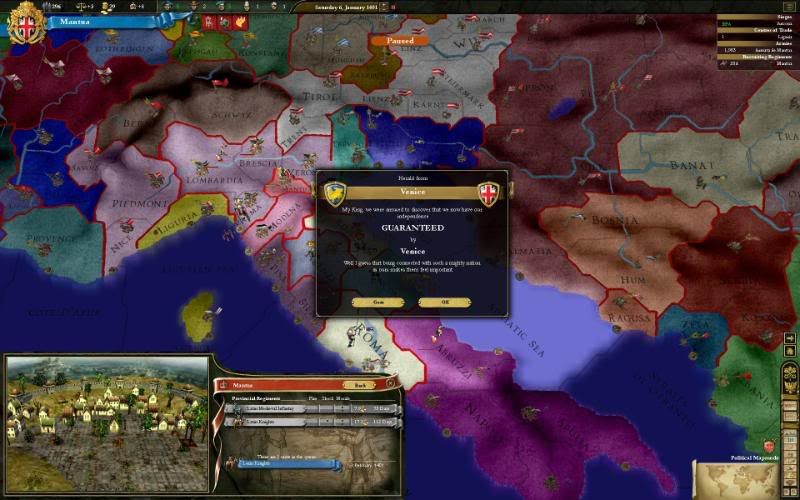 Good good, let's all guarantee me.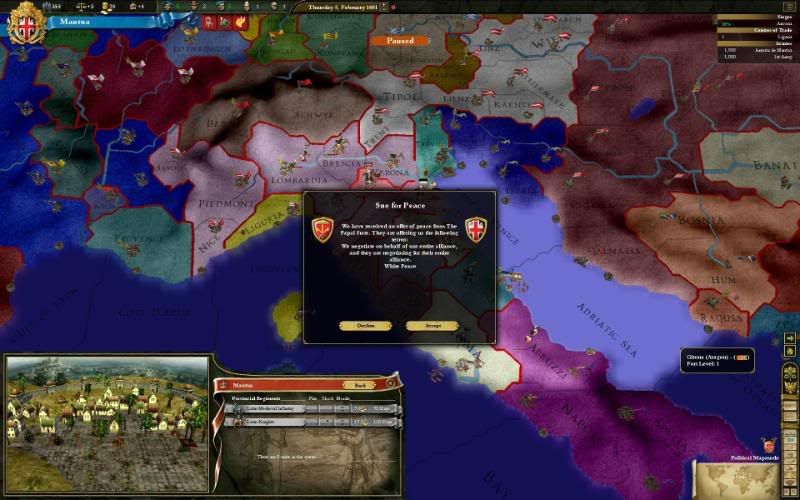 No reason to accept now is there.
Got some aid. Good news overall. Dog piling is fun!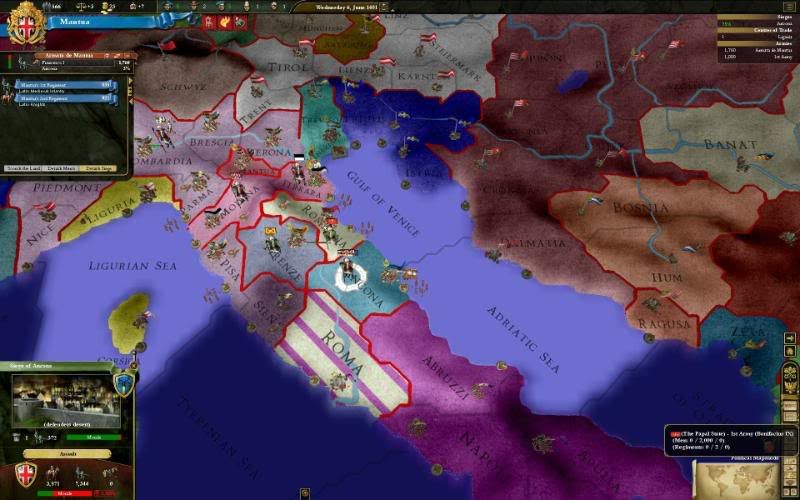 And some more aid.
Trying to actually storm fails. I dont know why I even bother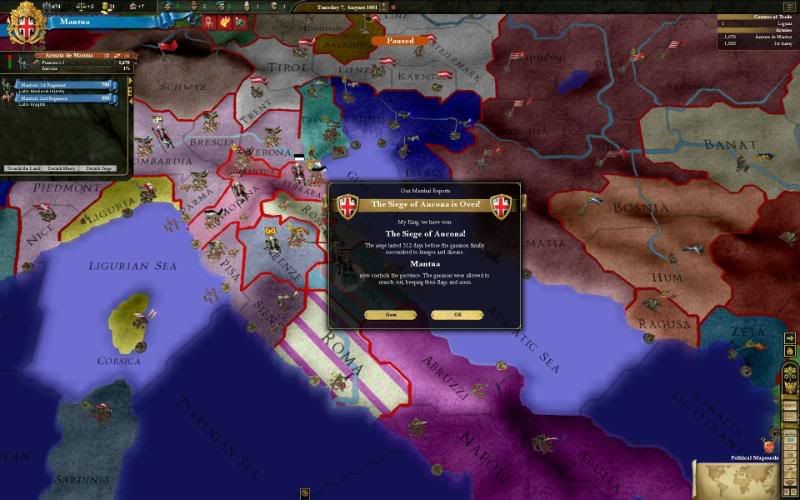 yeah, the first Mantuan victory is in the pocket!
So that concludes the first post. Remarks and questions are as always more than welcome
Last edited: