Hey, for those who haven't read
this thread
I've decided to do a gaming AAR about the most obsure/difficult non-pagan country in the game. There were quite a few suggestions, but Maldive caught my eye. I'll be attempting to conquer a lot of stuff, including a large chunk of Europe, but I won't be aiming for a WC. If I end up doing one it'll be a fluke, but I'm not sure even the best EU3 players, let alone myself (I've never done a WC before) could do a WC with Maldive.
Anyhoo, let's have a look at the situation shall we?
Oo-er. Maldive barely registers on the game map. We get 12 manpower a month, which means I won't be able to recruit my second unit for ages.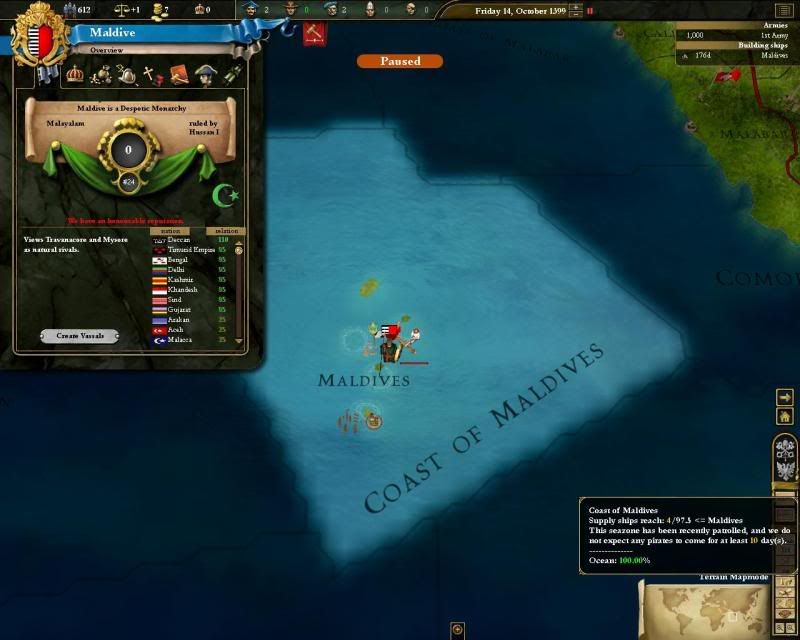 I recruit some cogs. I need to be able to move troops (mercenaries probably, since I don't have the manpower for any real army) and protect against landings.
I move my slider toward innovative, preparing for westernisation (but a distant dream!).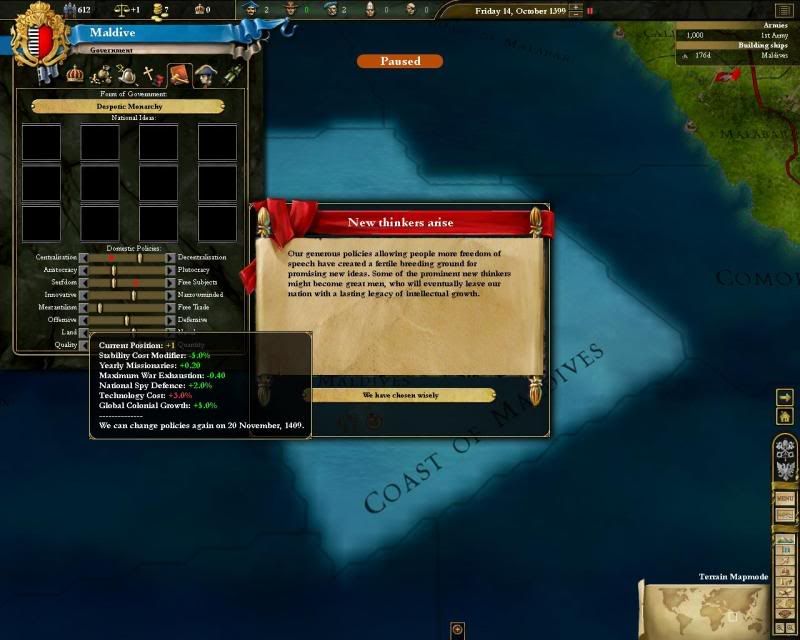 For this whole section, I am pretty much full minting. It's the only way to support any army or navy I make. My inflation will get very high, but it's a necessity to expand.
I get my first mission (which I failed when I took out my first loan later down the line) and two allies. Sind and Gujarat are the only countries willing to ally with me, so I need to hold onto them. At the very least they may deter other countries from declaring war on me...
Okay scratch that.
I must have forgotten to take pictures of the battle in the excitement, but Gujarat and my navy managed to defeat the Mysorean navy, and not only that, but capture a carrack!
As a result I park my ships outside Mysore and wait for a white peace. Their army is far too large for me to take on, even if I take out a load of loans and hire some mercenaries.
Mysore's ally (who are landlocked) asks for a white peace.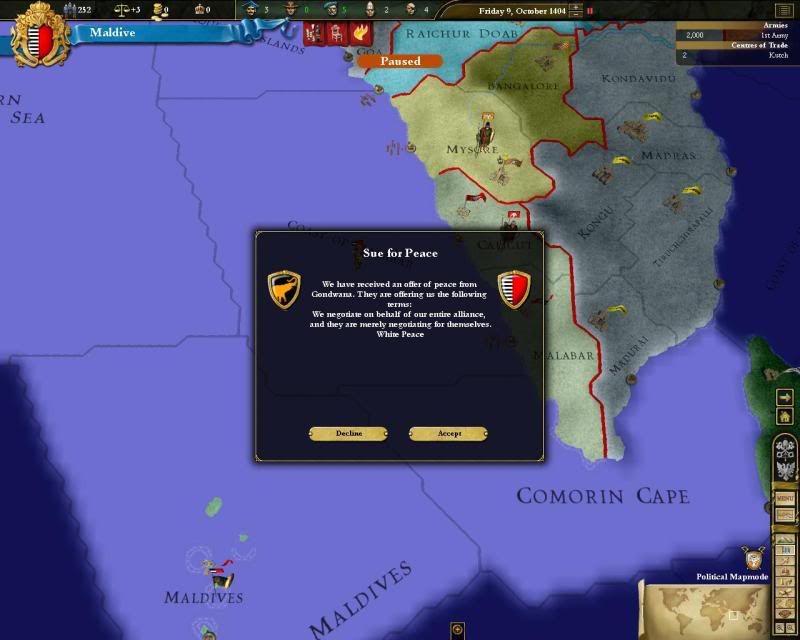 I get a call to arms, which I accept. The countries I'm going to war with are landlocked, so they can't touch me and I keep my ally. Plus it means when I white-peace with Mysore I can carry on taking war taxes.
White peace with Mysore!
Now when wondering what to do next, I get this nugget of a pop-up. Travancore, a two-province minor have gone to war with a country they don't share a land connection with. This means they'll be shipping troops out of their homelands. I'll use this opportunity to win my first war and take my first province!
I declare war on Travancor after they move their troops out and my allies join me, although they don't do anything of use. I have taken out four loans and hired a couple of mercenary units to help.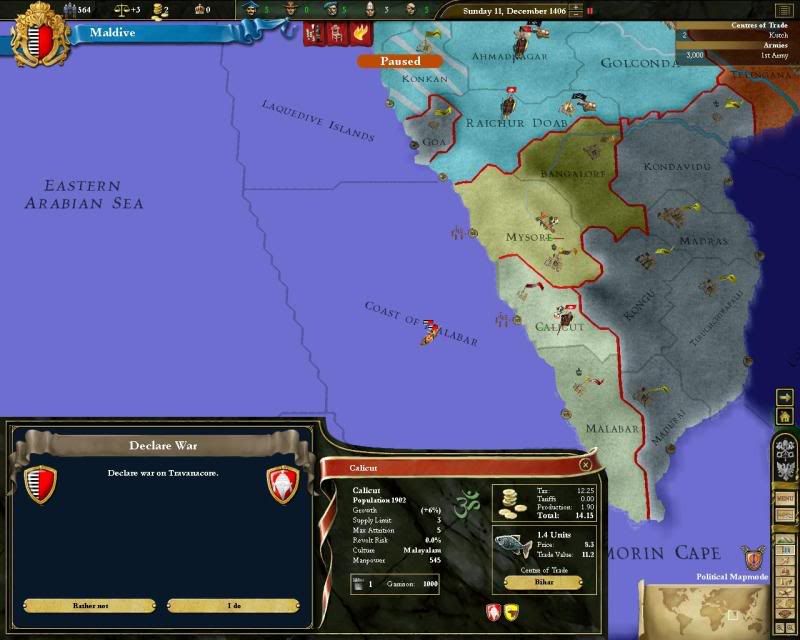 Travancore try hiring some mercenaries but it's all in vain.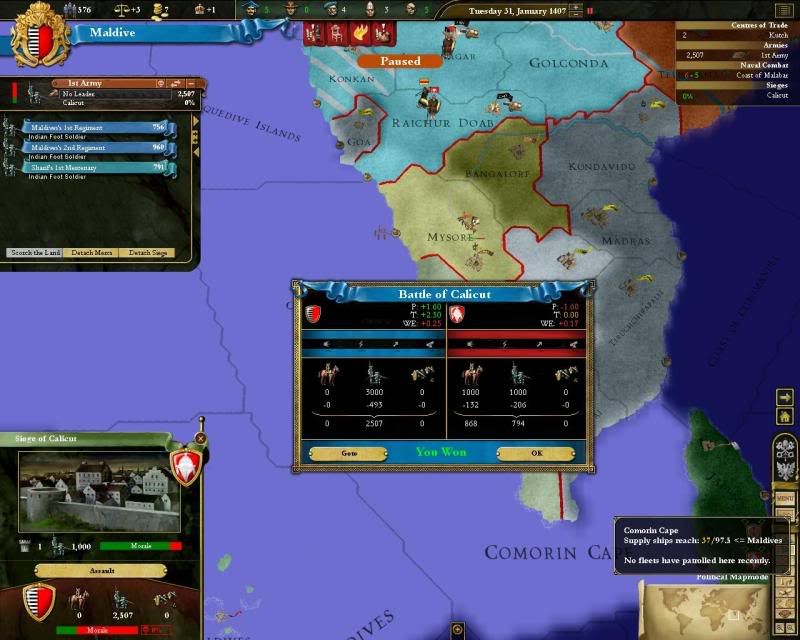 During the war I get this lovely event. It'll make westernising a lot easier!
I win a seige and the province is ceded to me. I have managed to double my country's size!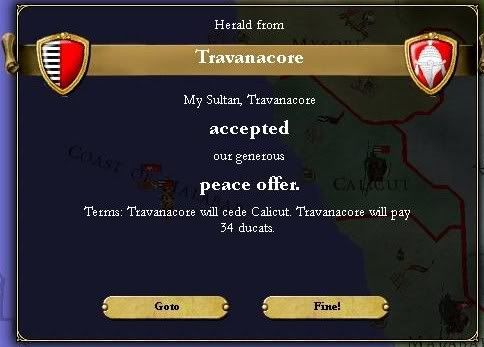 I move my slider another towards innovative whilst spending several years minting money to pay for the loans I took out.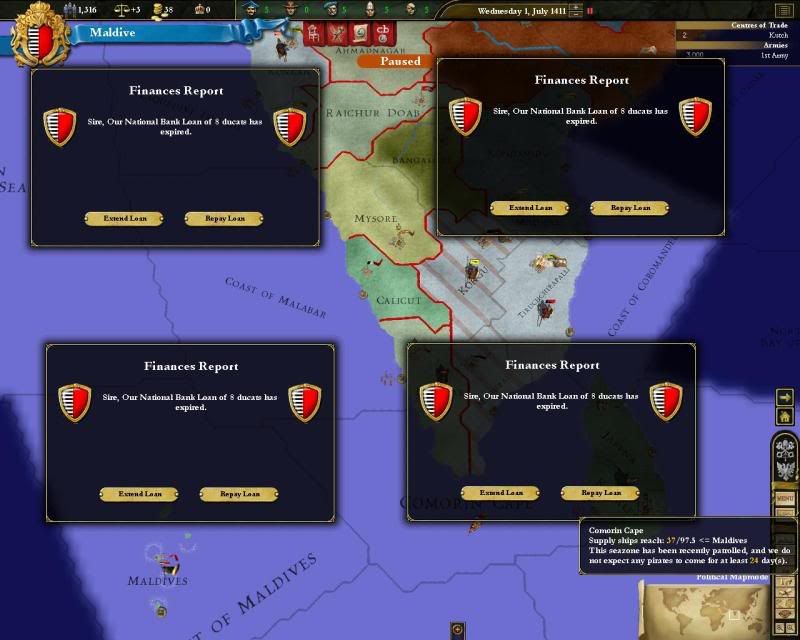 I get another call to arms against a load of landlocked countries. Again I join to keep my ally and raise war taxes.
I pick my next target. They're guaranteed by a landlocked country. Notice how in the background Vijayanagar have collapsed. In my practise runs they were the main reason for failure. Probably the reason I'm not dead this game.
I get my overrun, and Ceylon is mine for the taking!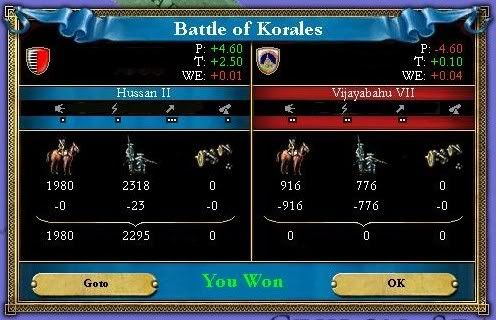 I get a really annoying event. Either I get a load of rebels I could never hope to defeat, or lose 30 ducats. I go for the ducats and take out a loan to pay for it. I'm still full minting by the way, inflation is around 17%.
I pay off my loans. I need to start weening myself off them now, since they force me to mint to pay them off. I now have the provinces to have a decent army (3 infantry, 2 cavalry) and a stable economy, especially once I have cores.
Vijayanagar have been annexed, which funnily enough completes the mission I've had for a while. I get a new mission, and it's a good one!
The DOW and easy rollover come.
I get this great event again. Remember the stability loss is still nothing for a country as small as mine, so it's a free centralisation move!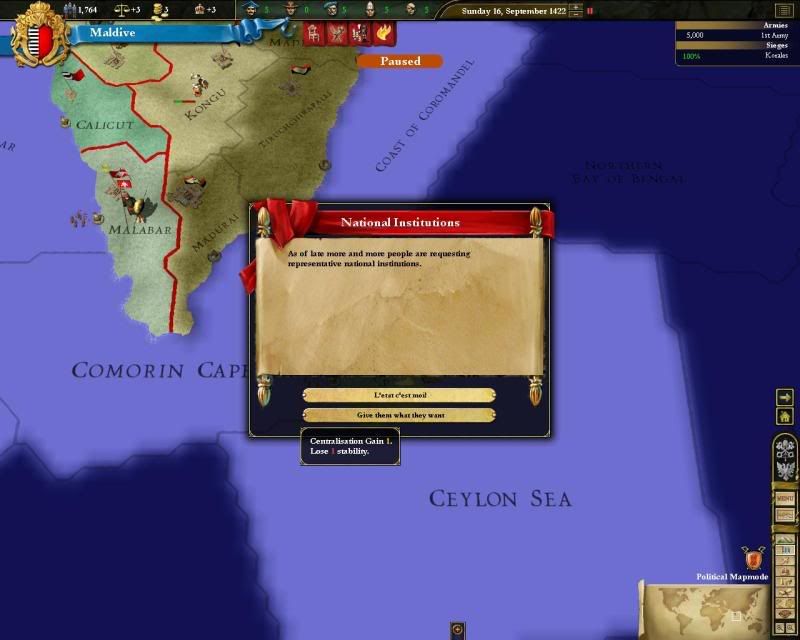 I annex Ceylon, completing my mission and decide now's a good time to save and rest. I'll be carrying on tomorrow, and we'll see if I can get a decent hold on the mainland, and actually start some research rather than minting!
Last edited: