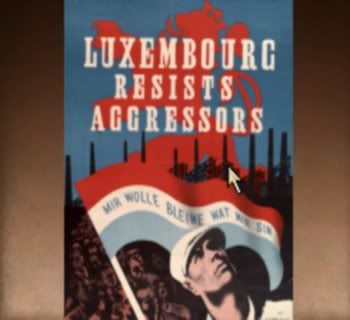 "You can bet your ass I'm doing WC." - Charlotte
​
Alright, welcome to the AAR. This is a contest between me and Storm501 to see who can succeed in the impossible, even if we consider the fact this is Vanilla. A WC with Luxembourg. Call us insane, call us retards for even trying, but bite our shiny metal ass, we are going to show that the impossible is possible without cheating and I for one demand tribute if I succeed
Anyway, here is a little more info for you guys.
Title:
"Luxembourg, Unite! The day of reckoning is at hand and we shall not falter!"
Storytelling:
Gameplay
Difficulty:
Normal/Normal, no IC/TT tech over.
Version:
Vanilla, DD+ARM 1.3 Beta. No graphical enchantment, although I might download later.
Perks:
When the pig's shall fly.
Ultimate Goal:
World Conquest. Yes, including Germany and USSR and not as allies.
Biggest Disadvantage:
No reloading
Update:
Soon.