Preserver of the Light
63 Badges
I, Magnus Artorius, Rex Cornoviae and rightful Rex of all Britannia, am reduced to the little better than a comes, confined to the rockbound coast of the extreme southwest. I alone, of all the myriad so-called kings on this island, hold to the true faith, to whit, that Jesus of Nazareth was Mithras incarnate.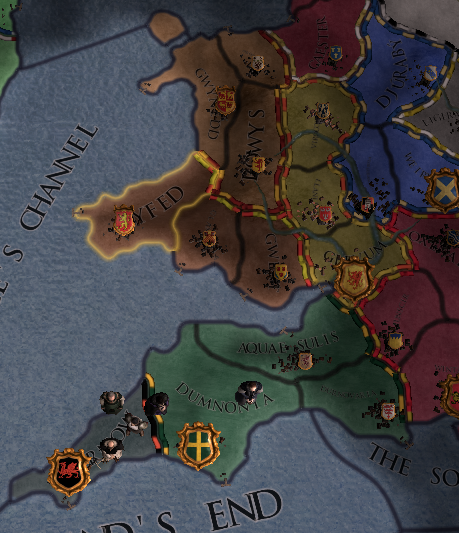 Cornovia and nearby lands, 1066​
To the east, the Constantinid kings of Dumnonia hold that Jesus was the incarnation of the Sun. To the north across the Bristol Channel, my cousins, the Artorius dukes of Deheubarth, hold that he was the incarnation of the Jewish god, and that men can be saved from sin through their own actions without the intervention of divine grace. North of them the Mathrafal dukes of Gwynedd hold with some Irish perversion of Christianity, and hardly consider themselves Roman anymore. To the east of both, my cousins who have abandoned the good name of Artorius and now call themselves Pendragon play at being steppe warriors, intermarrying with the former foederates descended from Sarmations and Dacians settled in these lands when Rome was more than just another two-bit city in Italy fought over by barbarians and warlords. They hold that Jesus was the incarnation of some steppe war god called Zalmoxis or some such, who must be appeased by blood sacrifice.
Outside of these lands, the island of Britannia is controlled by barbarians, Saxons and worse.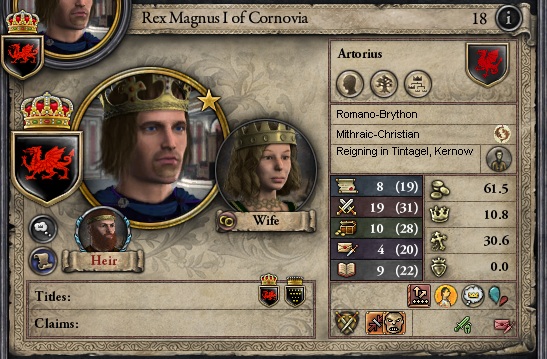 Magnus, Rex Cornoviae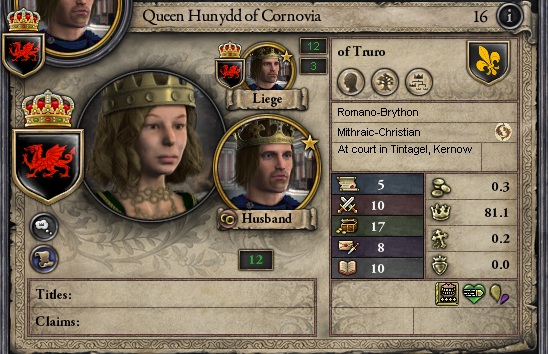 Hunydd, Regina Cornoviae
Literally, the only woman willing to marry Magnus, but what a catch.
​