Disclaimer
-
This shall be a rather unconventional "After Action Report" because it's, erm, not actually one. To be frank, I've only ever completed one campaign of Stellaris, because I have so much trouble keeping energy up to put in the time to actually make it to the end.

But I LOVE the species/empire creator in Stellaris. Sometimes I will just hop in and update my ever growing list, because I just want to. So, for the 3 Year Anniversary (Congrats, by the way) I plan on sharing a number of my Empire creations with all of y'all. Feel free to add some of these to your galaxies if you want.
So without further ado:


Literal Warhawks

Imari Citizen Regime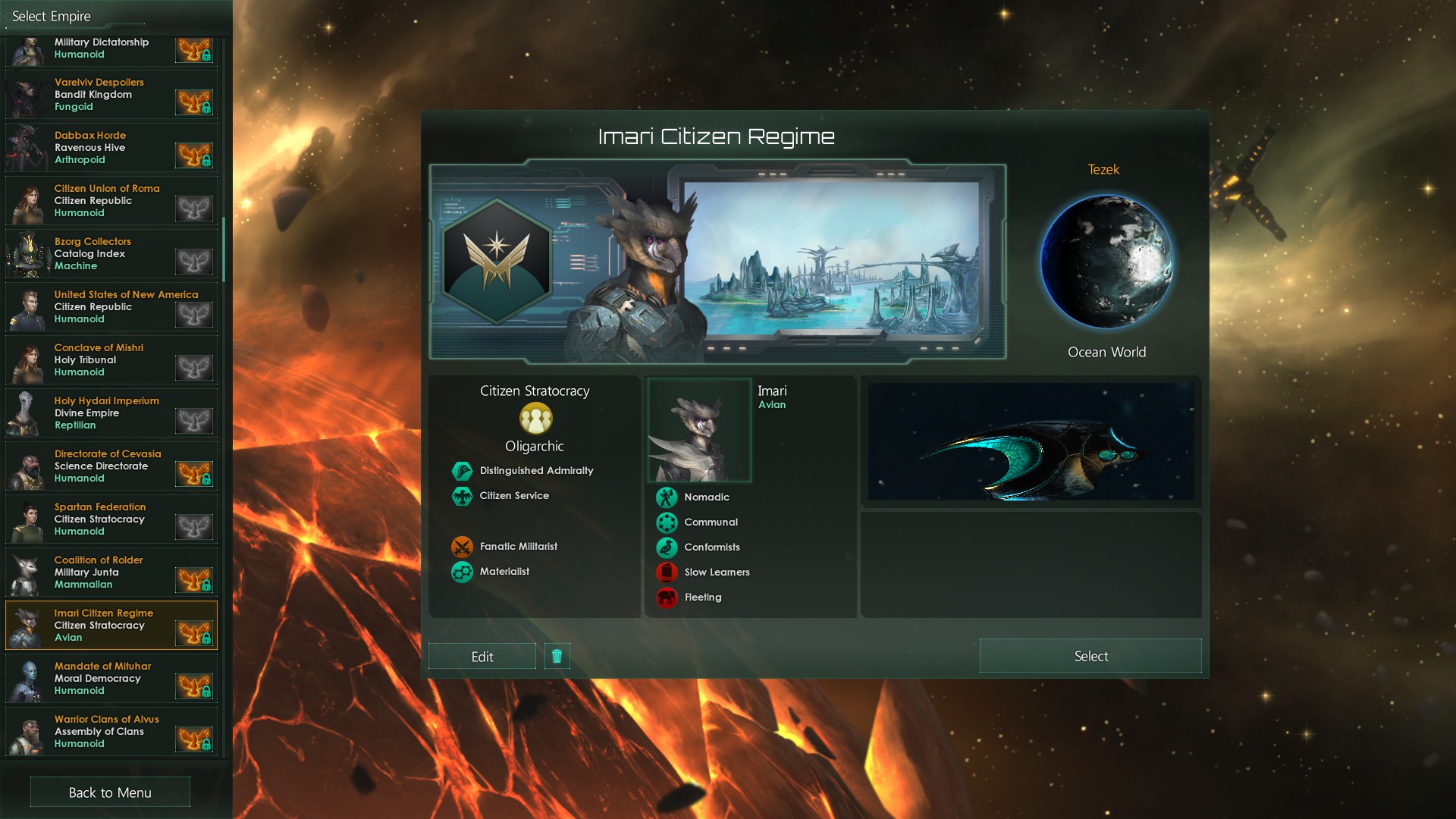 It is said that the Imari are descended from one of the many varieties of birds that roam the skies over the vast oceans of Tezek. Indeed, ancient legends speak of how the gods once took pity on a bird that lost the ability to fly, giving him the ability to reason and build his own society, though you would be hard pressed to find a modern Imari that puts much stock in those old tales.
What IS well documented are the vast variety of creatures that lived under the waves, beasts of all shapes and sizes, in some cases dwarfing even the largest vessels the early Imari could build. However, soon even these great creatures would fall to hunting ships of increasing size and complexity. The Imari became so skilled, in fact, that a number of sea creatures would go extinct before the ever advancing society realized what they were doing and found alternate means of food. Even then, it became tradition for entire island town gatherings to go out hunting, even if the ship they used could fly, and the food they ate were synthetic meat replacement.
Speaking of island town gatherings, much of Imari society is built around a strong naval-based culture. From hunter-gatherer ships to merchant vessels the livelihood of entire islands would rest. Because of this, Imari are used to being crammed into a tight space together, with other people, traveling long distances at a time, often with strict rules as given by a Captain (because to break those rules often led to someone you've known forever getting hurt somehow).
That said, because there was often limited room in these vessels, it was unavoidable that an "us vs. them" mentality would form, ranging from friendly competition to outright warfare. As such, the nations that formed were militarized to some degree, which did eventually lead to a global war that led to one ruling over all the others, in this case being the Imari Citizen Regime, probably the most militarist of the lot, though a lot of their success was due to an emphasis on reasonism and technological progress.
However, unlike what we humans tend to attribute to militaristic societies, Imari aren't very dictatorial by nature. Much of this is due to a healthy respect for just how tiny they are in comparison to the world (and later, the galaxy). Sure, ships are run by a Captain, but (s)he is just one person that requires a crew to actually accomplish anything, and more than a few times even they would require the assistance of other ships. So, in many cases, Oligarchies were the most common form of governance. In the ICR's case, many of the islands that were part of the progenitor nations were
heavily
reliant on their ships, so it was only natural for their government to be run by the Captains of these ships. A few of the larger islands were less strict about this requirement, with a few notable ones even attempting democracy once, though they ultimately either fell apart or voluntarily switched back. And there was an Imari known as the Mad King, though he's more of a historical joke than an actual serious figure.
Even as the ICR gobbled up its neighbors, however, it soon became clear that Tezek was reaching a sustainability threshold. A number of solutions were thrown about, when a breakthrough was made. Generations ago the first flying machines were created, and over time grand zeppelin-like designs were created, in some cases completely replacing purely naval boats as a source of livelihood. Then someone was able to break through the sky. It was a major turning in Imari history. A turning point the ICR embraced whole heartedly. Stories of possibilities flooded literary, and moving picture, media as a great endeavor was undertaken, collimating in the ICR Strategos to promise putting the first Imari on another planet within their lifetime.
And the hyperlane drive was created...
Come back next time for actual Pirate Parrots.