Chapter 6 - The Armenian Inquisition (1045-1047)
Chapter 6 - The Armenian Inquisition (1045-1047)​
It had been merely a month since Gagik had returned from his successful campaign, when he received the news about Grigor's death. The man who had crowned and supported him throughout his tumultuous ascension to the throne,
Sparapet
(commander-in-chief) of all his armies, succumbed one night to the passing of time, leaving behind a grief-stricken Gagik to ponder on who could possibly ever fill his shoes.

The death of Sparapet Grigor Pahlavuni, January of 1045
​
There were many
Naxarar
(nobles) who ambitiously eyed the role of the late Grigor, for the prestige it carried, as well as the vast commanding power of the title could transform any men into the second most powerful person in the kingdom.
The question of who to appoint became increasingly difficult for Gagik, as his spymaster Zakare had recently been victim of murder. Mayor Zakare was not the brightest man, but he had been loyal enough to Gagik to keep him as his master of secrets. If he had been murdered, he must have discovered something important, perhaps a plot by the
Naxarar
to oust him or in support of the Greeks.
With Zakare and Grigor gone, King Gagik lacked anyone he could truly trust the safe-guarding of the realm on, and thus convened a meeting with the royal council, where he abolished the title of
Sparapet
, reforming the Armenian military into a more localized system akin to that of the Byzantines to the West. The King would therefore become the commander of all military forces in the kingdom, while each
Naxarar
would become commander of the armies under his land, allowing for a faster mobilization of the army as needed. They would also be responsible for providing a certain percentage of these men to the King to safeguard the capital of Ani at all times. These
Naxarar
retinues would be comprised of heavy cavalry and horse archers, akin to the famous Parthian Cataphracts of the East, and act as a highly mobile, standing army ready to attack or defend at all times.

Depiction of a typical Armenian soldier of the new Naxarar retinues

​
Queen Theopiste's condition meanwhile had not been improving, afflicted by dysentery and other ailments, she had become a bit more temperamental than usual, being easily annoyed by the constant flux of men coming in and out of Gagik's court. One especially irksome figure was the humble chancellor Tachat, who had become a permanent presence in the court of Ani. Normally Gagik would not comply with such requests, but seeing the poor state of his wife, he agreed to remove Tachat from his court upon her request, hoping it would alleviate some of her pains.
While Tachat was initially indignant over such a petty action by his King, he soon found out that he was assigned a much more important mission to carry out in the East. The chancellor was to travel to Nishapur in Persia, seat of the Seljuk Turks, hoping to dissuade Tughril-Beg from any incursions into Armenian territory, and to establish friendly diplomatic relations that could perhaps lead to monetary gains in the future through the opening of new trade routes. Proving his worth as chancellor, Tachat was quick to become friends with the Turkic lord, putting in a good word for King Gagik.

The great diplomatic skill of chancellor Tachat
​
His removal from court however did little to alleviate Queen Theopiste's affliction, and she perished soon after while attending "chamber business." Gagik had never been too fond of her, even if he was eternally grateful of her family's sacrifice to aid his safe return to Armenia, and the
Naxarar
were mostly glad to rid of this "foreign" Queen as they called her, more Greek than Armenian.

The passing of Queen Theopiste, April of 1046
​
Still lacking an heir to pass the throne upon his death, King Gagik scrambled to find a new wife that could carry his children. He saw no better way to honor the memory of his former
Sparapet
and father figure, Grigor, than by uniting their bloodlines, marrying his daughter Mara. Renowned across the realm for her beauty, this marriage would cement his ties with the most powerful land-holder in the realm, Mara's younger brother, Grigor II, as well as please the
Naxarar
who clamored for a native Queen to rule alongside him.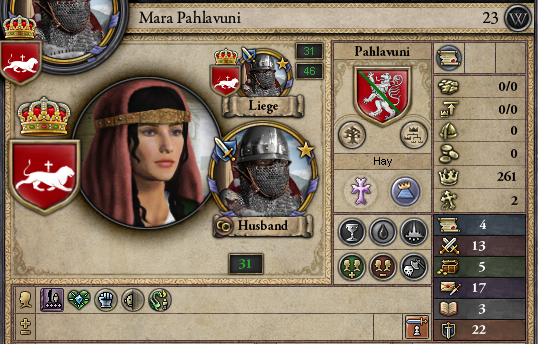 Queen Consort Mara Pahlavuni, May of 1046
​
Seeking to consolidate his realm further, he assembled a meeting with his brother-in-law, the emir of Dvin. Emir Šawur had seized the city of Dvin during the reign of Gagik's father, and in order to appease him and avoid any further incursions at the time, was offered Gagik's sister hand in marriage. Šawur resented his overlord and younger nephew Elî, and was looking to strike free of his reign.

Emir Šawur and his wife Mara, lord of Dvin
​
Gagik was looking to reconquer the city of Dvin, and asked for his brother-in-law's support. Šawur, a very pious man, could not side with a Christian over his own Muslim nephew, but agreed to stay out of the conflict if Gagik waged war on his nephew. If Gagik won the war, he'd submit to his rule and continue as lord of Dvin under Gagik, but if he lost, the now weakened Emir Elî would be an easy target to overthrow as he assumed the role of Shaddadid Emir.
The armies of Gagik and Elî met in the fields of Khachen, where the inexperienced Emir, expecting the forces of his uncle to reinforce him, were quickly subdued by the better commander Gagik.

The Battle of Artsakh, October of 1046
​
Defeated, the young Emir retreated South into the lands of the Rawaddid Emirate, hoping to recruit some Kurdish tribesmen into his cause. Largely unsuccessful and occupied with their own affairs, Elî failed to recruit any significant amount of Kurds to his army. Holding up his part of the ordeal, Emir Šawur opened the gates of Dvin upon Gagik's arrival, surrendering the city to the Armenian king. After six long months of skirmishes, Elî finally surrendered Dvin, adding another victory to King Gagik achievements.

King Gagik's victory over the Shaddadis, May of 1047
​
Having been responsible for the deaths of countless Armenian souls, the
Naxarar
of Armenia would not easily accept Šawur into their ranks. Gagik was well aware of that, but with the help of his sister Mara they organized a faux-conversion ceremony, where Šawur would publicly give up his faith in Allah to embrace the Apostolic Church of Armenia. Šawur was warned by Gagik to not be caught secretly practicing Islam, for if he was outed as a secret Mohammedan, he'd be forced to put him to the sword for his past crimes and lack of repentance.

Armenia in August of 1047, with the newly independent principalities of Bardzr Armenia and Taron in display
​
As this faux-ceremony took place, a three year war between Byzantine Emperor Katakalon, Konstantinos successor, and a league of nobles seeking independence came to an end. This league led by Doux Alusian and Doux Tornik was a grave loss for the Greeks for it reversed decades of progress in the annexation of Armenia.

The Byzantine rebel leaders
​
Although victorious against the Empire, the troubles of Doux Alusian were far from over. Born and raised an Orthodox Greek, Alusian struggled to connect with his subjects, for the lands of
Bardzr
(Upper) Armenia, were an overwhelmingly Armenian populace of Apostolic faith.
King Gagik hoped to exploit the situation by gathering support from his brethren in Alusian's realm to expand his Kingdom, and thus sent
Catholicos
(patriarch) Sion II to speak with the clergy of
Bardzr
Armenia to plot against the Doux. Taking advantage of his absence in Ani, the local clergy demanded an audience with King Gagik, where they exposed the corruption of Sion, who had been conspiring with some lower
Naxarar
to oust the young Grigor II from Varazhnunik and expand the power of the Apostolic Church, akin to what the Pope in Rome had done with the Papal States.
Outraged, but not surprised by the turn of events, King Gagik sent Grigor II himself to arrest the wicked priest, putting an end to the farce that was his reign as
Catholicos
. The populace was of course outraged, for Sion had been a popular figure among the peasants, promising them lands and tax exemptions if his plots came to pass, and now looked toward Gagik, lacking the guidance of the
Catholicos.

The arrest of Catholicos Sion II, September of 1047
​
With renewed zeal to restore the prestige and status of the Church, a small sect of devout Christians started a hunt for heretics, apostates, and corrupt clergy like Sion, culminating in the capture of Naxarar Šawur while he prostrated toward Mecca, showing his secret devotion to Allah and exposing the faux-conversion he had undergone months earlier.
His council implored Gagik to release Šawur in order to keep the peace among his vassals, but the clergy grew restless. If he had been so harsh as to imprison the highest ranking member of the Church, he couldn't impose a softer punishment on the Mohammedan. After days of deliberation, he agreed to the execution of Šawur by this militant sect. His three children, as well as Gagik's sister Mara were taken under interrogation as well, in order to prove they too weren't secret Muslims. After a couple of hours, and a bit of interference by Gagik, they were finally released, unable to find any lack of faith for the Church in his infant children or his wife Mara. Gagik's nephew, Fezl who was only five years old would now be the overseer of Dvin, with his mother Mara as regent.

The death of Naxarar Šawur, October of 1047

​
With Sion and many members of the clergy imprisoned, and the execution of Šawur and some of his followers, the clergy set their eyes on liberating their brethren from the clutches of Doux Alusian. If King Gagik wished to keep their support as spiritual leader, he'd have to make a move before Alusian could solidify his position over the realm of
Bardzr
Armenia.
Last edited: