Strategy GuidAAR
25 Badges
LOCARNO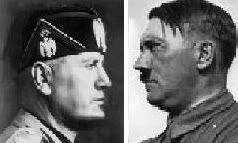 What if Benito Mussolini, of Italy, believed Germany's Adolf Hitler was the most terrible threat to the peace of Europe, and resolved to oust him before his plans could be realized?
In 1925, Germany had signed the Locarno Pact, guaranteeing the borders of Europe, and demilitarizing the Rhineland – French troops left, and German troops were never to re-enter. Hitler, of course, violated this agreement, to which he would never have agreed in the first place. When he did, Locarno was supposed to trigger a reaction among the signatory powers and military action was authorized to rectify the situation.
In real life, the Locarno Treaties broke down in the wake of Italy's invasion of Ethiopia, and Mussolini, who really did see Hitler as the greatest threat to European peace, eventually decided the Allies were going to oppose Italy's aggression, and he had best throw in his lot with Hitler.
What if Britain and France had seen Hitler as a greater threat, and had decided to look the other way on Ethiopia and maintain relations with Italy over the Locarno Pact?