This is the first AAR I am about to make. For my starting character I chose very specific and controversary person in Livonian and Latvian history. Kaupo of Turaida:
http://en.wikipedia.org/wiki/Caupo_of_Turaida
He betrayed his old religion, his tribesmen and fought on Christian German crusaders side. Couple of quotes from English wiki:
-
He became an ardent Christian and friend of Albert of Buxhoeveden, Bishop of Riga, who took him 1203-1204 all the way to Rome
-
The Pope was impressed by the converted pagan chief and presented him a Bible
-
His tribe rebelled against him and Caupo helped to conquer and destroy his own former Castle of Turaida in 1212. The castle was rebuilt two years later as a stone castle that is well preserved even today.
-
He did not have any male heirs as his son Bertold had been killed 1210 in the Battle of Ümera against Estonians. He left his inheritance to the church, but the Lieven family later claimed female-line descent from him.
(
http://en.wikipedia.org/wiki/Lieven
)
-
Latvian legends, however, are unequivocal: there he is named "Kaupo the accursed, the scourge of the Livs,... Kaupo who has sold his soul to the foreign bishops."
In game 1204 start he is the Chief of Livland, vassal of German High Chief Vinno of Livonia. His son Bertold is alive and he has bastard son Geraldus that can be legitimized.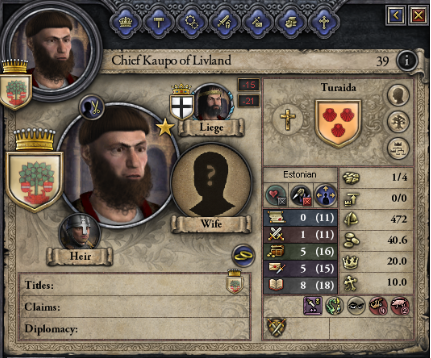 39 years old Flamboyant Schemer, Slothful and Gluttonous. On positive side he is brave and cynical. His stats are... em.. betraying him?
Some of Rules:
1. Never conquer or rule anything outside Livonia (d_livonia, d_curonia, c_latgale)
2. Survive, only Kaupo himself is forbidden to change his religion, nobody is forbidden to change the culture
3. Turaida dynasty is ok to rule something outside Livonia, as long as main character stays home
With foreign liege, Mongols coming around the corner, in Baltics where in South there are pagans and to the East Rurikid Grand Princes - what can go wrong?