Paris, January 1936
A new French government was sworn in today in the wake of considerable unrest. France, once considered a true world power, is known to be struggling to meet its financial obligations. The new cabinet, although slightly leftist in outlook, has come to power on the back of a promised "austerity program", designed to get the struggling nation back on its feet.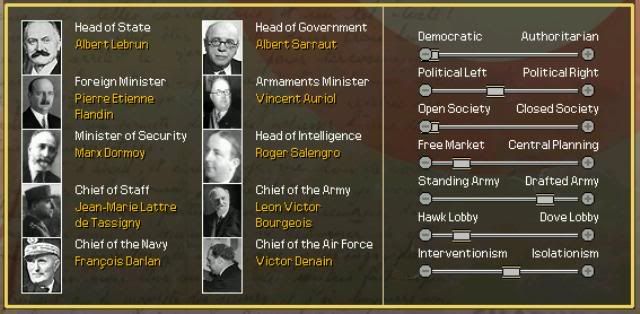 France's new cabinet - several minister changes designed to boost IC and manpower growth
The new government quickly proved its commitment to cutting costs: a dozen proud, but aging (WWI model) ships were decommissioned from the French Navy, and the order for the "Dunkerque" was canceled.
Essen, March 1936
These difficult but necessary decisions emboldened the Chancellor of Germany, Adolf Hitler. He ordered the re-militarization of the Rhineland, in a direct challenge to the Versailles treaty.
Committed to a policy of financial restraint, and receiving no encouragement from the British government, the French cabinet could do nothing about the move. The French press, however, were outraged by this "betrayal of a generation's sacrifices".
Not even news of war in China could stem the tide of criticism.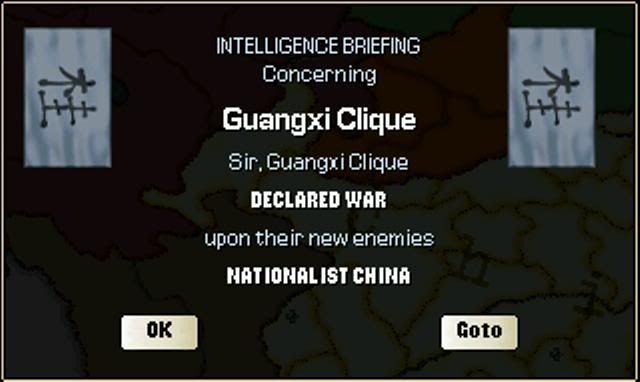 War in China - like that matters!
Paris, July 1936
The continuing dissatisfaction with the Rhineland situation forced a general election. The ruling cabinet - a coalition of centrist parties - shocked the pollsters by winning the day. Their new platform: to restore French dignity, and ensure the security of Europe, whatever the cost. Promises of increased military expenditure in the wake of 'the Rhineland Aggression' carried the team to victory.
It would not be long before the government's promises were put to the test: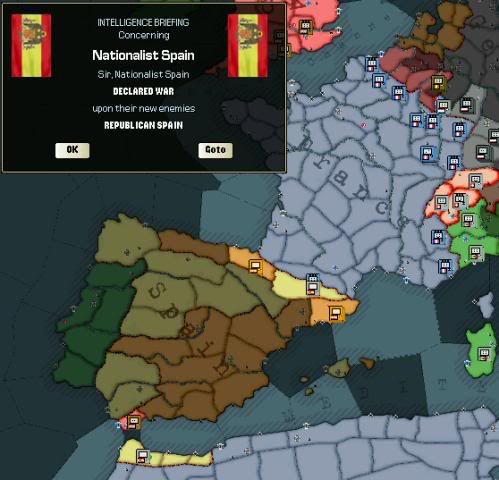 War in Spain - hey! That's our backyard!
The French government anxiously debated as a whirlwind of headlines were made: Italian and German equipment and 'volunteers' poured into the Nationalist war effort. The British refused any participation. The Soviet Union, on the other hand, gave aid to the Republican forces. Where would France stand?
On July 30th 1936, the question was answered: France would stand in the trenches. Severing their ties with Britain, France offered articles of alliance to the the Spanish Republic.
War had come to France ...
Game Notes
Hard/Aggressive. That 20% IC penalty hurts - I started this game with an effective IC of 40!
I'm using SMEP5.0beta (not publicly released) plus a few tweaks of my own (which I'll mention when they happen - there haven't been any yet). The option to directly intervene in the Spanish Civil War was new to SMEP5.0beta ... I'm not sure if it is in the DD version or not. Italy and Germany also get the option, though the AI has a very low chance of taking it (for Italy) or none (for Germany).
Previous AARs
Wow, these are from a while ago ...
Trattato di Roma: Clash of the Dictators
- Italy, 1936, SMEP 4.5
The Lion's Teeth
- UK, 1936, SMEP 4.5
Ride of the Red Horse
- USSR, Cavalry Spam!, 1936, SMEP 4.5
Last edited: