Revolutionary Leader
61 Badges
Hey everyone! The hardest part of being a writer for me is finding the resolve to stick with a project and not get pulled away by the new ideas that are constantly popping up. I've achieved varying degrees of success with that goal; I've stuck by my Byzantine AAR for months and months yet here I am starting a new one.
But enough rambling, here's the rundown.
The Basics:
Using the 476 Mod, playing the 476 scenario as the Western Roman Empire. Settings N/N, format of the AAR will be gameplay with a moderate to high number of pics.
As an EU2 player I probably fall somewhere between fair and poor. At this point I think I do a decent job with the economics but I'm not so bright when it comes to military matters. So don't expect great things. In fact, it's possible that the Empire won't hang around long. With that in mind, goals will be modest and set periodically.
Alright, that about covers it, so let's get started.
---------------------------------------------------------------------------
By 476 the city of Rome had been in existence for over a thousand years. For the last four centuries the might of Roman arms have dominated the known world. All that is changing, however. The empire has been split in two, East and West, and while the Emperor's in Constantinople are reasonably secure their counterparts in Ravenna are not so lucky. Most of the provinces have been stripped away by the barbarian tribes, leaving only Italia itself.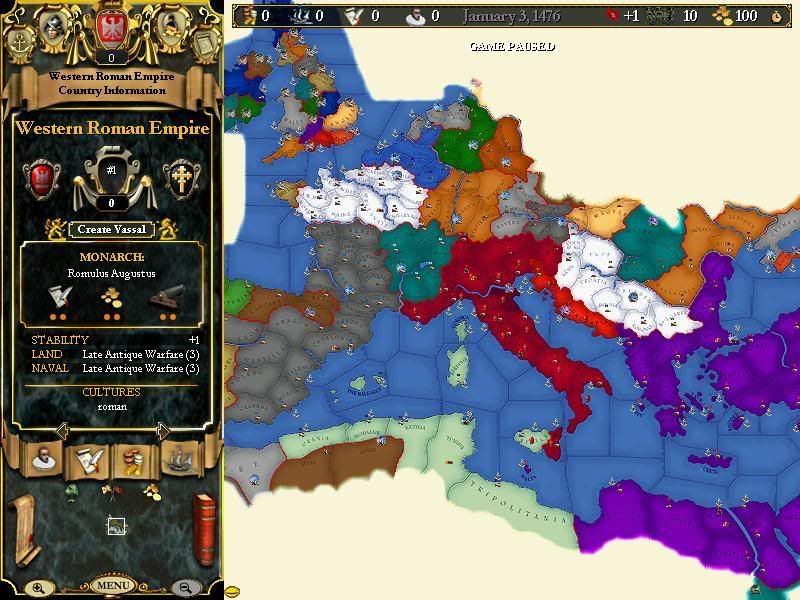 Manpower's low, the treasury's bare, and inflation is rampant (20%). The biggest threats right now are the Visigoths in southern Gual and Iberia(grey), the Ostrogoths in the northern Balkans(white), and the Vandals in North Africa(light green). All of our neigbors hate us, and most have a permanent CB.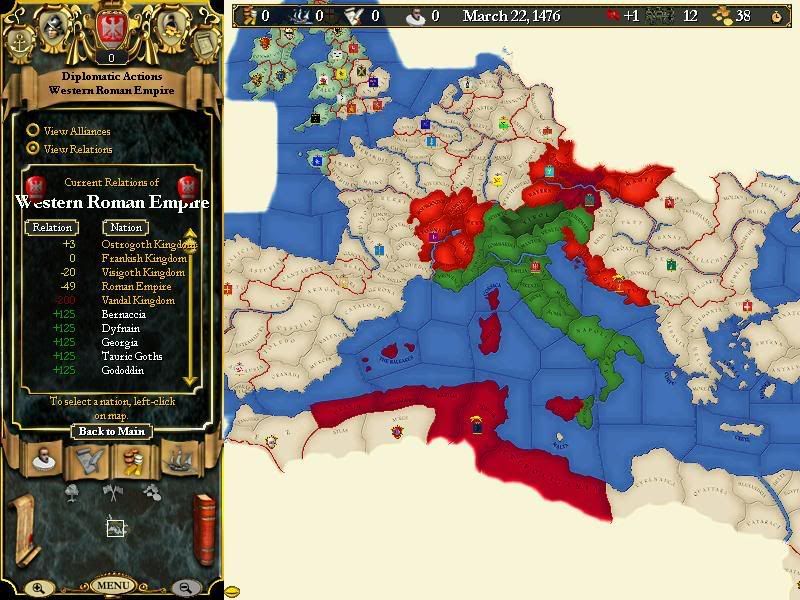 As if that weren't bad enough, our current "Emperor" is a half-wit child, Romulus Augustus (stats are 2-2-2). He is the puppet of his father Orestes, our first, best, and only general for the entire game. He's not long for this world, however, as he's fated to be assassinated later in the year. He's commanding the army in Ravenna while a nameless officer commands the 6,000 men in Rome.
The only good news about our pitifully small army is that the upkeep is meagre enough when set to 50%, fortunate as it corresponds to our meagre income. Looking at the budget screen I see that I am decades away at best from an improvement in land tech or infra tech and those are the only two I care about right now. Rome's too poor for trading or building a navy so those sliders get locked at zero. With maitenance set to minimum I lose less than a ducat a month. I spend 60 from my initial treasury promoting a tax collector in Mediolanum, the largest and wealthiest city in Italia. With all that done, it's time to unpause.
Most of the year passes quietly until, as expected, Orestes is killed.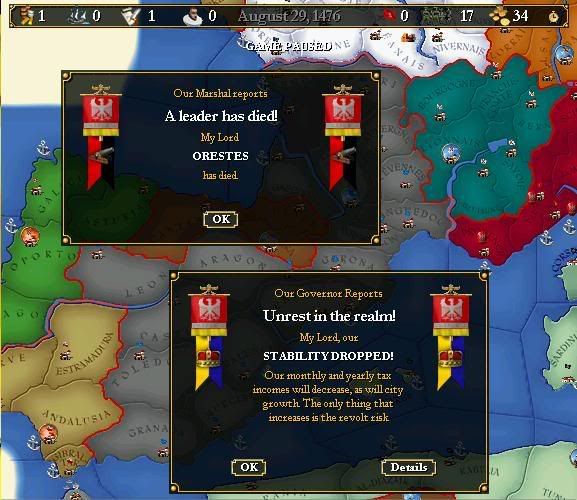 That sets in motion a chain of events putting Odoacer in power and forces me to decide the fate of the Roman Empire.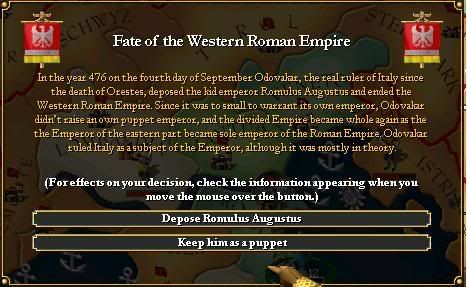 I keep Romulus as a puppet (+1 stab). Deposing him switches to the Italy tag, gives a bonus to centralization and a stab hit. But since this is a Roman AAR, that option doesn't matter. Rome needs an Emperor and right now Romulus is it.
I wait until after the census tax comes in, a whopping 26 ducats, and then look to my sliders. I decide on a move towards Land, figuring there will be plenty of fighting in the future. The morale and mp bonuses are just as important as the cost reduction for infantry; given the tight straits I'm in I need every last edge I can get.
Later on in the year I get a choice about the Emperor; either keep Romulus or restore Julius Nepos to the throne. Since Romulus is a worthless git, I go with Nepos.
To my pleasant surprise I discover that going with Nepos let's me inherit Dalmatia and I get Illyrian as a culture. All for the cost of one move towards decentralization. The state's already horribly decentralized, however, so it doesn't really matter. I celebrate my successful addition of new lands.
Later on in the year I get presented with another easy choice.
Since the other options increase revolt risk and cost 100 ducats respectively, I quickly decide that Rome needs more Aristocratic guidance. The Dip bonus and lower cavalry costs make it an easy pill to swallow.
The next event is not so nice, however.
Heresy springs up in Italia and I'm too desperately poor to fight it. Determined to avoid loans which I'm certain I won't be able to pay back, I swallow the stab hit. If the damned thing had come three days later I would've collected my higher census tax and it wouldn't have hurt so much. Clearly fortune does not favor me.
So, at the end of my second year (ignore the date in the pic, it was taken earlier but the border hasn't changed), this is where the empire in the west stands. Note the stats for Nepos, a clear step-up over our prepubescent ex-liege.