Lady of the North Star
Demi Moderator
106 Badges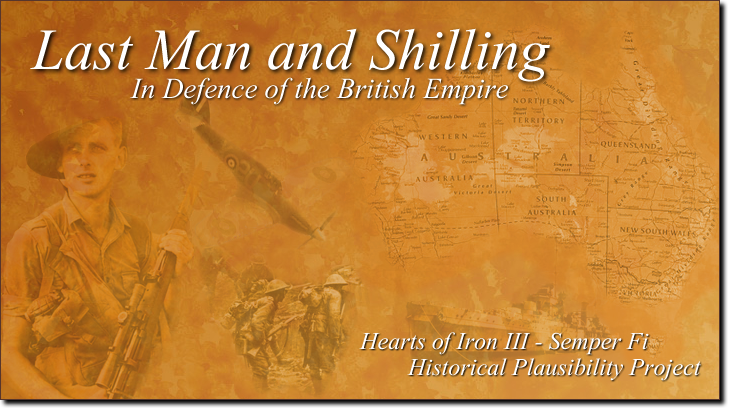 "Australians will stand beside our own to help and defend Britain to our last man and our last shilling."
-Prime Minister Andrew Fisher
Table of Contents:
​
Chapter 1 - The Fragile Peace
Chapter 2 - Blitzkrieg and the African Front
Chapter 3 - The Battle of Britain
Chapter 4 - Commonwealth Divided
Chapter 5 - A War in the East
Chapter 6 - Turning the Tides

AustraliAAR's Trophy Cabinet:​
Winner of ACA Favorite HOI(1-3) History-Book AAR: Q1 2012
Winner of ACA Favorite HOI(1-3) AAR: Q2, Q3 2012
Inspired WritAAR of the Week AwAARd: March 25th, 2012, August 12th, 2012
Preface:​
I've created this AAR for two purposes: firstly, to help increase my HOI writing practicals in preparation for a future, more grand AAR I have planned. Secondly, I wish to do my part to promote what I feel is a fantastic mod in HPP; while not generally one to play mods above vanilla, I've found this one simply too good to turn down and it's totally revitalized my enjoyment of the entire Hearts of Iron series. Kudos to you guys!
Now, to explain what this will be and what I'm aiming for: this will be primarily a history-book and gameplay AAR, although elements of narrative will be included where I see fit and feel the inspiration to write a character. My goals will be simple - although Australia will remain a member of the Commonwealth and will defend Britain and the British Empire, she will avoid joining the Allies if possible, nor will her ally New Zealand (this will be a 2-player co-op). Australia will above all else attempt to grow its position of power and prestige, by building her army and navy up to considerable strengths and her industry to such capacity that she is the dominant power of the South Pacific. We will aim to transcend the status of 'Regional Power' in the hopes of becoming a 'Major Power' instead, although I will consider the storyline more important than this goal. We will resist any and all Japanese aggression and, if it is necessary and within our capabilities, we will supplement Britain's defences in India and Africa to ensure that the vital Suez canal and wealth of India do not fall into enemy hands.
If this interests you - read on. The first update should be posted without too much delay!
WARNING:
This AAR uses .png files due to their advantages in transparency and low colour count images such as popups! Nonetheless, the average update can contain as many as 3mb of pictures and they may load slowly! You have been warned.
Last edited: