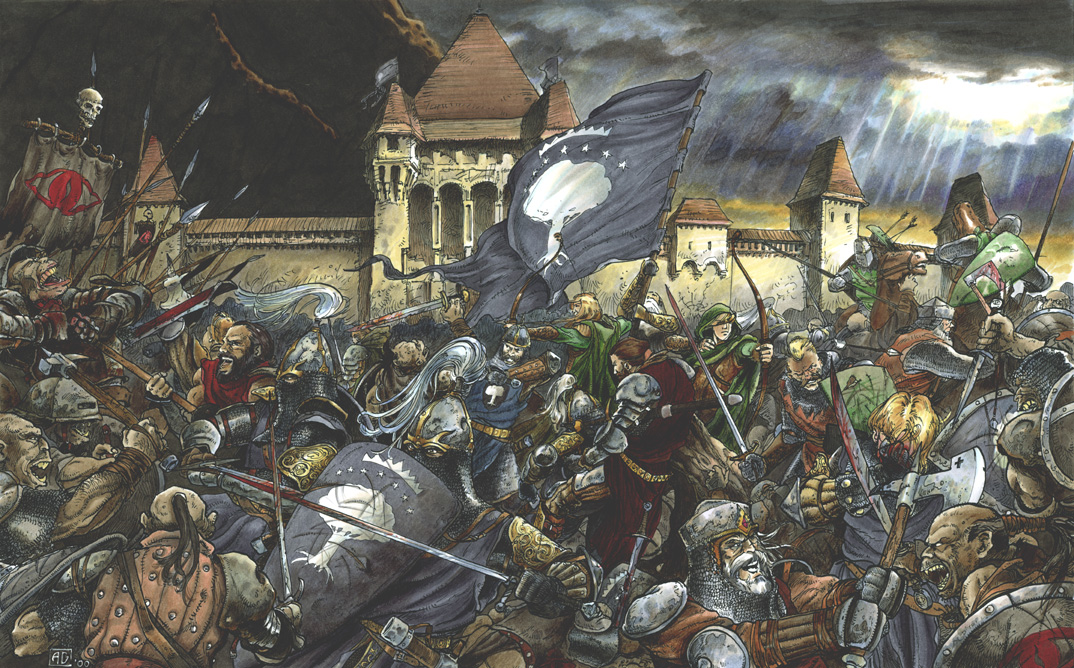 ​



This is a game set in a fantasy universe which is meant to have role-play and stories from the players about their characters. The hope is for this game to feel somewhat original in setting and in mechanics, but mostly be fun so it doesn't die. There will be several races that can be played. You start out with one measly outpost and 10 units. Over time through orders your character will gain a greater power base. Once strong enough you carve out your own kingdom, and eventually empire. Forge alliances/rivalries with other players, tackle powerful NPC factions, dominate your area, make great stories; for now is a time of change for the land we once new has fallen.

Orders
1)Revenue Orders - gives money. These orders can be about anything money related.
2)Combat Orders - gives money. This order can being anything fight related. Also it is the order used when choosing to take a settlement, or fight someone.
3)Purchase Orders - there are certain things in the game that you may buy.
54Movement Orders - moving great distances takes time, so you may only move your forces one province every turn. Certain events can quicken this.
Rolls:


These are the what is earned from rolls from 1 to 6. Read it as rolled 1/rolled 2/rolled 3/rolled 4/rolled 5/rolled 6
Revenue Order +[Gold 0%/3%/6%/9%/12%/15%] of total income.
Combat Order [Gold 0/1/2/3/4/5]


Purchases
-Purchasing soldiers
-Increases in class rank.
-Upgrade your castle.
-Upgrade your army
+1 Provincial defense is 100 gold. There can be ten purchases per province.
+1 combat roll is 200 gold.

Income
Revenue orders can help you earn a little extra on the side but taxation is where its at. Every settlement generates its own amount of gold every turn for its owner, that amount depends on the settlement's level. Loot may also be gained through trade agreements, raids, or loot from the battlefield.
County Capital: +1 gold a turn.
Province Capital: +3 gold a turn.
Region Capital: +5 gold a turn.
Citadel: +15 gold a turn.

War


When dealing with another player be sure to declare war in thread. This will give both of you an extra combat order to devout specifically to fighting the other..





There are multiple regions, with their own provinces, and settlements inside them. Each region has a Region capital (circle with star in it), these are divided up into Province Capitals (circle with a dot in the middle), and varying amounts of County capitals (circle). While at war you must take these places, yet do not forget that there will be a fight for them (combat order). Note that you may also raid the settlement if you don't wish to conquer it but it can only be raided once every three turns, this gives twice the amount of gold from loot roll. A settlement may also be seiged to take it which is longer but involves little to no casulties while preventing said settlement from producing income.





Reward for settlements



County Capital: +50 unit maximum, [1/2/3/4/5/6] gold,
Province Capital: +100 unit maximum [2/4/6/8/10/12] gold,
Region Capital: +200 unit maximum [4/8/12/16/20/24] gold,
Citadel (special settlement): +1000 unit maximum [5/10/15/20/25/30] gold
There will be a garrison and a base defensive roll for these places. Purchasing provincial defenses will help increase the security of your settlements.

County Capital: Base of 100 units, 1 combat roll. Each level in defense gives +15 units. Can survive 1-2 turns of seige.
Province Capital: Base of 200 units, 2 combat rolls. Each level in defense gives +35 units. Can survive 2-3 turns of seige.
Region Capital: Base of 500 units, 3 combat rolls. Each level in defense gives +85 units. Can survive 3-5 turns of seige.
Citadel: Base of 1500 units, 5 combat rolls. Each level in defense gives +120 units. Can survive 5-10 turns of seige.
So a Region Capital benefiting from provincial defenses rank 10 (the max) would have 1350 units, and 3 combat rolls.

Casualty Rolls
These are done after a battle in which a player is going up against an army or settlement.
0%/1%/2%/3%/5%/8%/13%/21%/34%/55%
Remaining Force = Total Force – (Total Force (Percentile Roll( Largest Force/ Smallest Force)))

Your army's stats, make-up, and upgrades will help determine which units are lost and which ones aren't.

Death and Injury


If you roll a 1 during combat you went on personally you become injured. If this happens while you are all ready injured then that character dies and you will need to play as their successor. Successors inherit the land, gold and armies, but not combat rolls nor class ranking.



GM Events


There will be events that ,affect only one province, a whole region or more. This is a way to force players to change their plans or at least put them on standby while they deal with the event. If you don't the event will get steadily worse and more cumbersome to your plans. Defeating them also yields great rewards.



Diplomacy
Players will be able to interact with each other and form alliances. These should be formalized in thread, but you can all work details out in private if you wish. Trade agreements can give minor income increases to people in it. Diplomacy doesn't cost an order either so chat amongst yourselves as much as possible.

It is also possible to spend a revenue order on peacefully taking a settlement. Certain rolls will be required for it though, and settlements must neighbors your own nor owned by another faction.



County Capital: roll 4+
Province Capital: roll 8+
Region Capital: roll 12

Castle


Each player who joins will be starting out with their own settlement, but this is a very important settlement. This place will be your capital and generate income for you, and it is upgradeable to increase income as well as unit maximum. Their defense is also separate from region defense so upgrades are needed to increase their defense. You want to do this because loosing your castle will cause some bad events to happen.



Upgrade:
1)Outpost; free
2)Tower; 30 gold
3)Palisade; 40 gold
4)Ramparts; 65 gold
5)Fort; 80 gold
6)Keep; 100 gold
7)Improved Keep; 120 gold
8)Castle; 150 gold
9)Fortress; 200 gold
10)Stronghold; 300 gold
Base Stats for Each Level of Castle:
Rank 1 = 1 income/ 30 unit maximum/ 10 garrison units/ 1 combat roll
Rank 2 = 2 income/ 60 unit maximum/ 70 garrison units/ 1 combat roll
Rank 3 = 3 income/ 90 unit maximum/ 110 garrison units/ 1 combat roll
Rank 4 = 4 income/ 130 unit maximum/ 160 garrison units/ 2 combat roll
Rank 5 = 5 income/ 180 unit maximum/ 200 garrison units/ 2 combat rolls
Rank 6 = 6 income/ 240 unit maximum/ 270 garrison units/ 2 combat rolls
Rank 7 = 7 income/ 310 unit maximum/ 320 garrison units/ 3 combat rolls
Rank 8 = 8 income/ 390 unit maximum/ 410 garrison units/ 3 combat rolls
Rank 9 = 9 income/ 500 unit maximum/ 600 garrison units/ 4 combat rolls
Rank 10 = 10 income/ 2000 unit maximum/ 1000 garrison units/ 5 combat rolls

There are three classes for people to choose from each offering a different perk. Each class has 5 rank is bought for gold. Everyone starts out at rank 1.
Warrior
Units are 25% cheaper.
Ranks:
1)Wanderer; costs 0 gold
2)Barbarian; costs 20 gold
3)Fighter; costs 50 gold
4)Champion; costs 170 gold
5)Legend; costs 250 gold
Thief
Gets 2 Revenue Orders.
Ranks:
1)Cutpurse; costs 0 gold
2)Brigand; costs 20 gold
3)Bandit; costs 50 gold
4)Scoundrel; costs 170 gold
5)Rogue; costs 250 gold
Magi
Gets an Extra Combat Roll
Ranks:
1)Neophyte; costs 0 gold
2)Adept; costs 20 gold
3)Sorcerer; costs 50 gold
4)Mage; costs 170 gold
5)Wizard; costs 250 gold
Unit amounts per rank.
Rank 1 = 0 unit maximum
Rank 2 = 90 unit maximum
Rank 3 = 120 unit maximum
Rank 4 = 410 unit maximum
Rank 5 = 1000 unit maximum

There are several races within the world of Aerworuld but only a handful that can be played. (There was more information on them in post but due to a corruption of the post edit failure that information was lost.

Human - These are the most warlike and populace of all the races they dominate five of the nine regions on the continent. Their bonus is starting with a castle level 2.
Drow - These are dark skinned elves of Aerworuld who live mainly within the Twilight Forest, but also have distant relatives in several disperate tribes scattered throughout the world. Their bonus is +2 to combat roll limit.
Draenei - These are highly religious beings from another plain who had come to fight off a demon invasion. They are incredibly apt at holy magic and technologically more advanced. Tehir bonus is 1 free tech upgrade at start of the game.
Urak'Hai - Cousins of the Orcs of Mundus these orcs have brown, red, and black skin. They are separated by two groups the Uark in the north and the more tribal Hai in the south of the region of Urok. Their bonus is starting with 30 special units as opposed to the base 10.
Teifling - When the demon invasion of Ur'Va the Enflammed happened the Teiflings came as his slave army. When Ur'Va was defeated they had been left over and formed their own societies. Their bonus is 40 gold at the start as opposed to everyone else's 20.
Undead - When the great plague hit Slavonia it wiped out most of the living population. Afterwards they rose up and continued to carry out their existence in their new state. Some mindless and others willful, still sentient. Their bonus is immunity to injury.

Map of:

Aerworuld


Culture Map
Regions:
Almania
Dead Lands
Ealdholm
Franconia
Khab
Latmium
Orient
Outlands
Twilight Forest
Urok
Wilderana

Character Sheet
Name: your character's name
Race: What race you are
Class: Your class
Starting Region: Where you would like to start.
Castle Name: name of your castle
Faction Color: which one you'd prefer
Family: or just something to indicate who takes over after your character dies
Special Unit: (Give description of how they work and I'll make them)
Backstory: optional

Last edited: