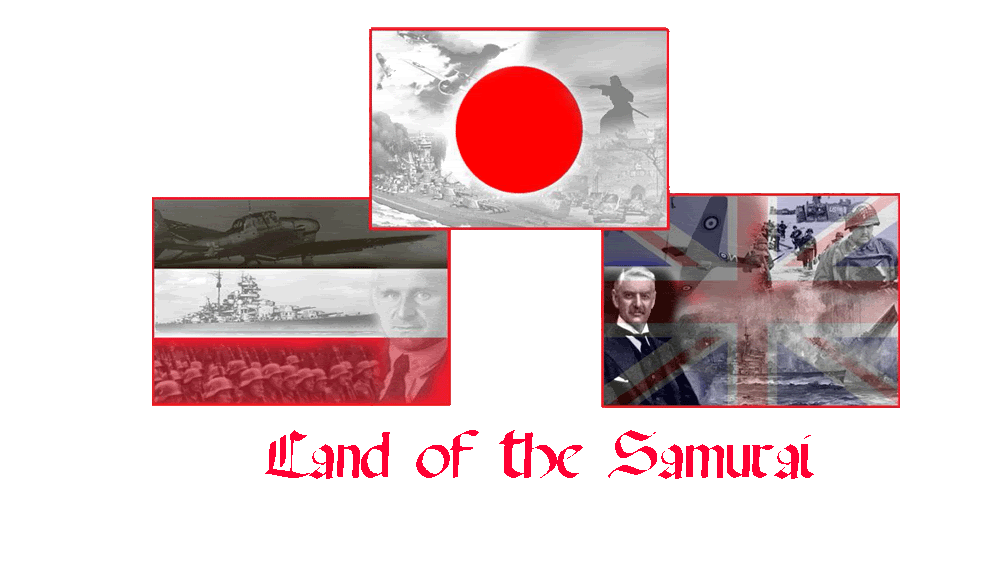 "No man is an island, entire of itself, every man is a piece of the continent, a part of the main. Any man's death diminishes me, because I am involved in mankind. And therefore never send to know for whom the bell tolls, it tolls for thee." -- John Donne
​
What is Land of the Samurai ?
An Alternate History AAR where the Samurai not only survived, but won the Bushido Wars, an actual period of riots and rebellions by Samurai during the Meiji period of Japan.

What's up with the image ? Will Germany, Britain and Japan work together !?!?
That is correct. Keep in mind though, this is a different history with a different Japan and a very different Germany.

How Often Will You Update ?
The Depends. Possibly once every three days. I don't want to get to a point where I am rushing my writing and dragging down the level of the AAR.

Will we see Historical Characters ?
Although this is an alternate history AAR, you will see Historical figures. However, circumstances will have changed some of their personalities.

The Samurai couldn't have won the Bushido Wars ! Right ?
In this timeline, America and Britain were in a cold war-esque phase in the late 1800's. When America took an interest in Imperial Japan, Britain took an interest in the Samurai. The rest is history.

When are you starting the scenario ?
1936



So the war will begin in 1939 ?


No. You'll have to wait and see.



Will You be playing as Japan for the entire game ?


I wish. When I modded my files, I wasn't sure if the AI would do what I wanted for the scenario so I played as France for the first few year or so. that left me with an unprepared Japan for what I need.

This is pretty cool ! What are we going to see ?
Samurai. A totally unrealistic France p). A fractured Commonwealth. An Alliance on the verge of collapse. A lonely Japan.

Why aren't you playing with DAIM or setting this to Very Hard ? Say, what difficulty is this ?
This will be my first game with this mod and my second game as Japan. It will also be my third full length game. Therefore, if your looking for DAIM, go look at Democracy's Last Legs (In fact I recommend you do anyway) I'll be struggling against the mass of enemies I have. . As for the difficulty, I will be playing on Normal because I would collapse against the IC of my enemies if I did not.

When will you make the first post ? I can't wait !
I will be posting on November 3. Both because I want to write more updates before I begin posting and because it will coincide with the release of Dragon Age Origins. Yes I am paying homage to Bioware.

Your last AAR didn't have many pictures. Will this one ?
Yes it will. They will be either story pictures (actual historical photos) or they will be game play pictures. As the AAR progress' though there will be fewer pictures. I've played ahead and decided not to grab as many because the situation remained largely the same.

What type of AAR is this ?
This is a narrative / character AAR.
Index ~
- Best Character Writaar of the Week : 15/11/2009



Main Characters ~ Bold names are Living​

Allied
- Katsumoto Takamori ; Japan ; In Argentina with Catherine
- Einglen Feurersturm ; Germany ; Within Berlin
- Winston Churchill ; Britain ; Within London
- Neville Chamberlain ; Within London
- Erwin Rommel ; Germany ; Planning the next moves of the Deutscher Landsmänner
- Catherine ; France ; In Argentina with Katsumoto
- Carl Friedrich Goerdeler ; Germany ; Forced to sign German Surrender, Executed by French Bloc

Bloc
- Pierre Laval ; France ; Celebrating the Downfall of Germany
- Erica I ; Sweden ; Killed by Katsumoto
- Colonel Bjorn ; Sweden ; Killed by Miura Anjin

Last edited: