Part III: Are they Normans?
Duke Arnau of Barcelona was rather perplexed by the shabby band of visitors before him. They claimed to be Breton, a people Arnau had scantly heard of. Yet their leader spoke almost flawless French – making communication rather easy.
"They remind me of Normans," Arnau's chief Marshal said, ominously.
Perhaps he's right
, Arnau thought.
If they are anything like Normans, Barcelona could end up like Apulia – taken from within by obstinate mercenaries.
"I wouldn't give them the time of day under your banner, if I may humbly suggest," Arnau's Marshal said.
At this point, that is obvious, but surely there is some use we can extract from these...Bretons.

They are certainly well armed: well made hauberks, swords, two-piece helmets-
"While we still can, we should lure them away with a fight, assuming they are like typical Normans. Hopefully they shall not return. Their presence in your realm is a disaster waiting to happen!"
Yes, but to where? To the Emirates in the south? Hah! I would sign my death warrant with such a move.
With a now portentous voice, the Marshal spoke once more- "The Mallorcan pirates ought to make good of em'."
Now the Marshal is proving insightful. To send these brigands to Mallorca would be the best course of action. For starters, the Bretons would be taken far away from Barcelona. Perhaps as an added bonus, they may even take the islands! Perfect! The Mallorcan raiders have ravaged the Barcelonan coastline for ages. If the Bretons are anything like Normans, the Moors won't know what hit them!
***​
As Arnau's thoughts descended into whimsical fantasy and strategy, a different voice broke his day dream-
"So when may we expect a decision, Duke Arnau?" spoke Alan in a courtly fashion.
Taking a moment to examine the Breton Duke, Arnau answered as if his better- "I do not believe we are in need of your services. Though it is much appreciated."
Alan's eyes closed in restrained frustration.
Aranau continued- "Though, if it is some kind of war you seek, there is plenty to be found in the east. Mallorca is a thorn in our side, nay– an infected wound in the groin."
Amidst the chuckling and murmurs he had evoked, Aranau's tone began to become more friendly and welcoming-
"If you could pacify those lands for us, my Kingdom would be in great debt to you."
Alan's defeated expression lifted– "I'll see what I can do, Duke Arnau."
Arnau's tone shifted into manufactured excitement-
"Good, I'll have supplies arranged for you! It is quite a distance after all! I'll even enlist the services of other mercenaries for you!"
Always toss the garbage in one go.
​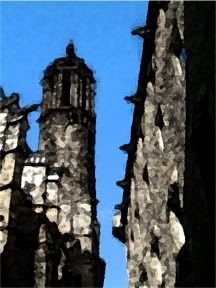 Last edited: