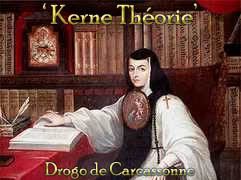 Part V: Rising Power
​
Two weeks after the crowning of Alasdir as Duke of Galicia, war broke out between the Duchies of Brittany and Breton March. Brandon de Porhoët had inherited Penthievre from his father Konwion, just before Crimthann set out on his second voyage to Spain. The province would play a crucial role in starting the conflict. The roots of the short war are obscured by exaggerations and other tales. At face value, it would seem as though Breton March was the aggressor. Yet there was no real motive for this, Crimthann was far more powerful. I believe that the Bishop Geoffroy of Leon was behind it, working by proxy of Crimthann himself. Early in April of 1269, troops from Leon began pillaging border towns in Penthievre, a county under the control of Brandon. When demands to cease were ignored, Brandon invaded in a fury on July 2, 1269. Regardless of his role, Crimthann was bound to aide his vassal.

The Duke of Brittany certainly seemed prepared for the war. He was quickly able to draw up 8,000 men and immediatly set out towards Vannes – the center of Porhoët power for the last two centuries. Outside the town of Ploeren, the two Dukes met. As were most Porhoëts, Brandon was a brilliant commander. Despite this, he was terribly outnumbered and was outmaneuvered as a result. Having shoved his rival aside, the Duke of Brittany settled down for a siege of Vannes.


...I ask you, Duke Crimthann, to agree to a days long cease-fire so that my wife, children, and their kin may flee Vannes. In the namesake of Saint Hoel, the liege of my forebearers, please accept this agreement.

- Brandon de Porhoët August 15, 1269​

Crimthann ignored all pleas for a cease-fire by Brandon and his broken armies. His stern attitude towards the entire affair payed off and by the end of September, Brandon had ceded Penthievre to Crimthann.



Many statues of the Duke arose after his victory.

​



All records for the following years drop in content dramatically. It was only in late 1274 that the writers of the time began to take note of events once more. In August, Crimthann began to suffer from a terrible illness. One of his physicians noted:



The Duke weeps uncontrollably and he tells of piercing headaches. As he speaks to me, he coughs up blood in small droplets. As he turns to relive one bedsore ridden side, he is struck by a terrible agony within his abdomen. Before I could complete my examination, the Duke was overcome with such a fit of tremors that I nearly fainted. ​



Crimthann was in this state until January of the next year. During that time, doctors proclaimed him poisoned, news which shook the upper echelons of Ducal power. Instead of heading out any sort of formal investigation, the Duke blamed all of his neighbors – from Brandon to the French elites in other provinces. After shaking all traces of the illness, he began his campaign of retaliation. In February of 1276, he declared himself the legitimate ruler of Vannes. Brandon need not of worried however, Crimthann wasn't concerned with him yet. In the south, Nantes remained in the control of French nobles from the time of Amédée Capet. Placing the blame squarly on the French rulers of Nantes, Crimthann organized an invasion. Unsure of his enemy's strength, the Duke had his chief marshal and relative, Folcaud, march into the province with 13,500 men. The army was so overwhelming that the petty Barons were immediatly tripping over themselves in surrender. On July 19, 1276, Nantes was once more a dominion of the Kernes.
​