Replies
St. Just- Thank you! Actually I ended up receiving the modifier for 'division of the new world' so likely the pope just smacked me over the head and asked what I was doing since I was one of the claimants.
Urza- I have a policy against high taxes in a province that isn't a core with wrong religion, usually RR is already high enough there. These provinces will take a while to be profitable anyway (except Sus) so I don't feel the need to do anything else to make them a burden.
Gabor- You will see in the background of the screenshots this update on how that war turned out. I'll go a little more into it in the 1500 overview. Both you and Urza must be wizards regarding the 8 adm monarch, wait until you see what happens! Naval forcelimits are ok right now. I currently have about 10 ships less than I can support, Land is a bit tighter, by the end of this update I had hit my forcelimit, and am not going over it. I think Infi and Sus count as colonies, but Tangiers doesn't. Rio and Arguin are both colonies as well.
NACBEAST- Thank you! Usually I don't have to worry about losing Brazil by going for India first, but The Incas are about a 50/50 shot. If I had lost one of my armies in the war with Morocco I would have likely been sunk, fortunately I'm aware of these events and the weaknesses of the AI in exploiting them. With awareness and knowledge, usually patience is all that is needed to overcome. Probably the best advice I can give to any new MM player is patience.
AAR News
So I had a couple mentions about trade and world events. I had already played this Update when I checked for replies, so I Promise I will cover trade in my 1500 overview. What is this 1500 overview I keep mentioning? Well this update ends at the year 1500, so I will be doing an overview of the game so far after this update. It will include an overview of the map and political situation in Europe, an overview of my nation, including trade, policies, military, strategy, current issues, etc, an overview of my goals, which ones I accomplished and which ones have yet to be done, and finally an overview of the next century, my goals for it, and those goals updated to reflect the current game situation. So without further ado I present you with Update 6!
Update 6
1489-1499​
With the war with Morocco over, it was time to focus once again on domestic affairs. Midway through the war I had another slider move, but didn't want to risk it while my armies were tied up in North Africa. I decided to move 1 towards centralization, with this outcome.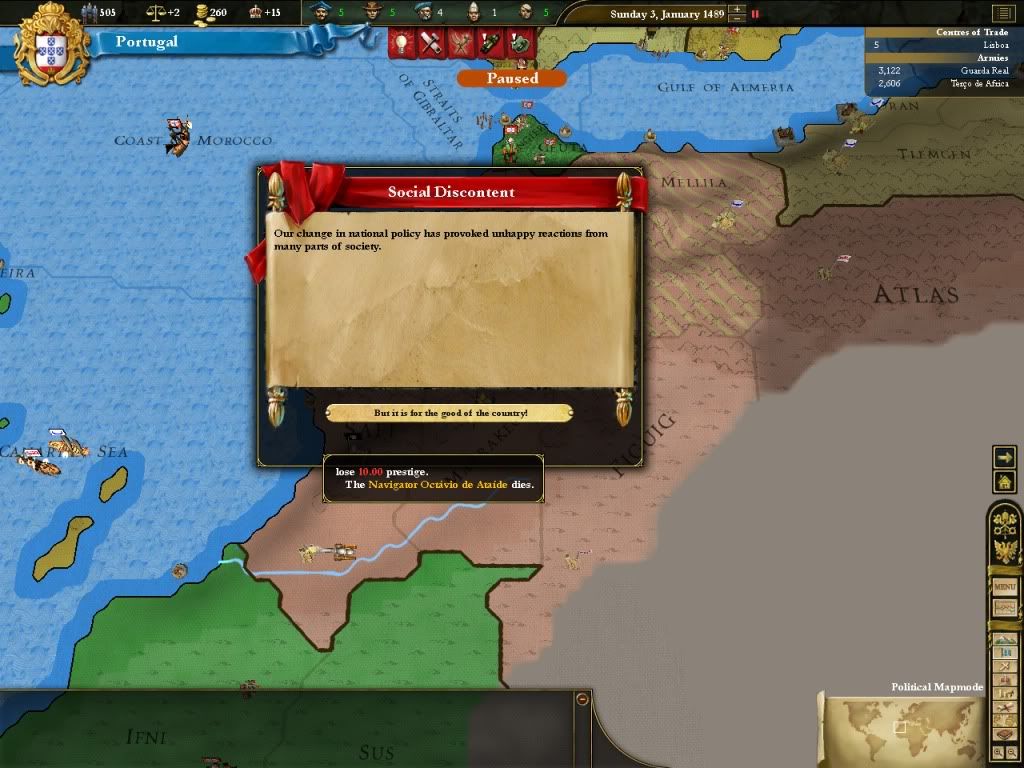 It had the added effect of making the Aristocrats furious again, however they calmed down only after a few months. By the end of this update all major factions were back to neutral, however by that time larger issues with the government had come to fore. I also began receiving the dynamic core events for my new provinces, which will likely take some time to core.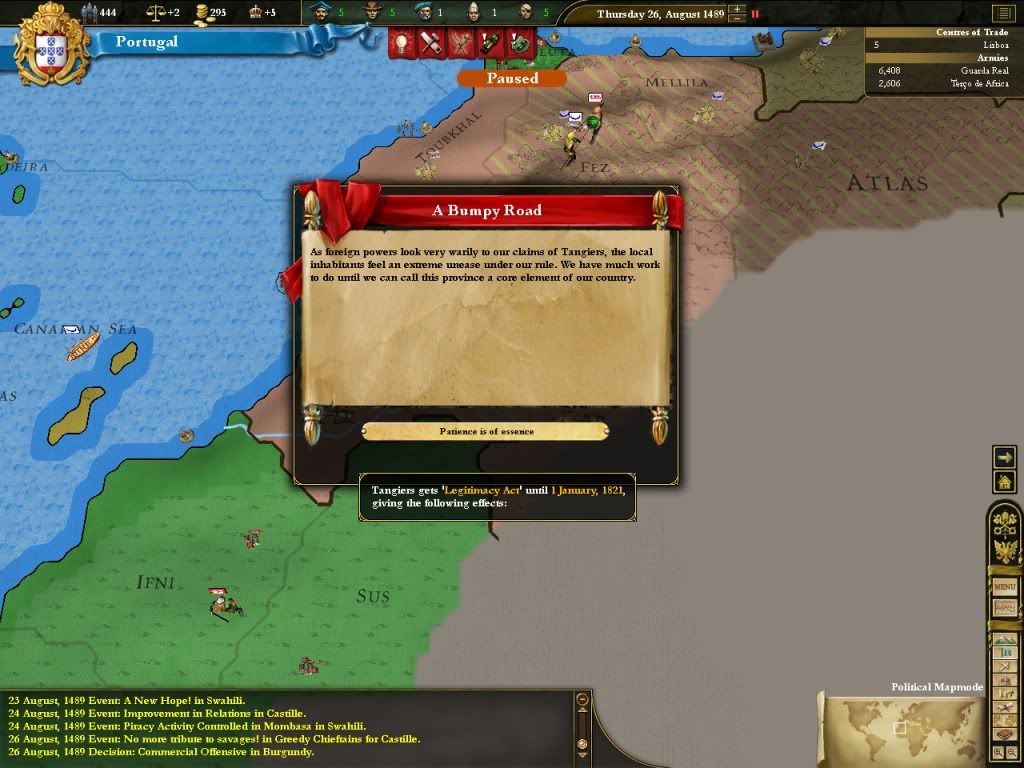 Having gotten the new King during the middle of conflict, I really hadn't had time to do any diplomacy in Europe. With the war over, I began royal marriages with the usual nations, and Also managed to sign an alliance with Aragon.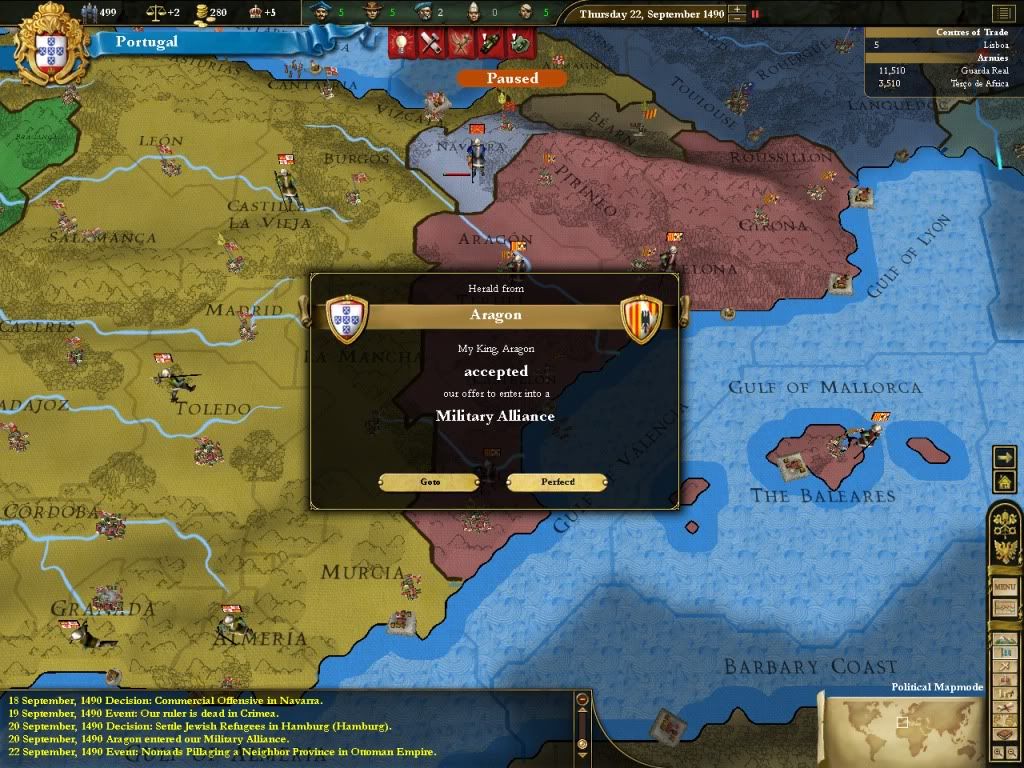 Worthy of note is that Aragon and Castile have been allied with a royal marriage 90% of the game, so I have no doubt we'll be seeing Spain in the next 50 years. Meanwhile progress towards my goal of India was finally back on track.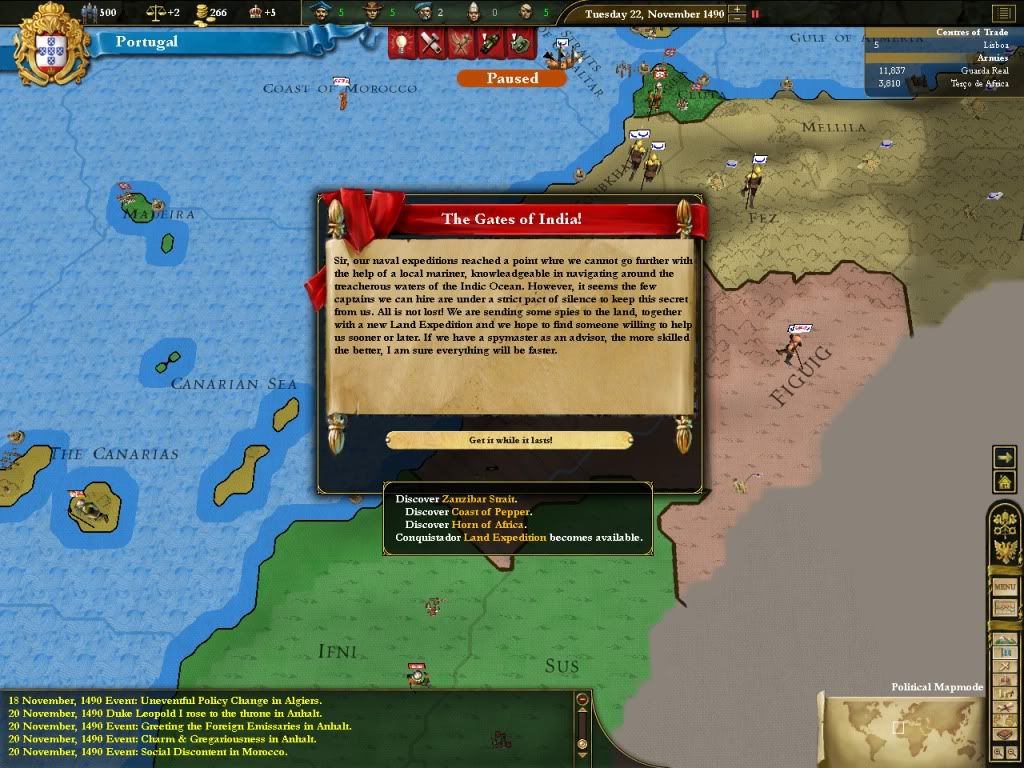 After this event I sacked one of my advisers and hired a Jewish spy master that conveniently offered his services not 3 months ago. My current king doesn't hate Jews like the last one did, so thankfully I wont have any issues with this. As a bonus, my recent gains have led to me becoming a Major Power! At this point it seemed like the early game clouds were clearing, and the sunshine of the mid game was starting to show, sadly MM struck again.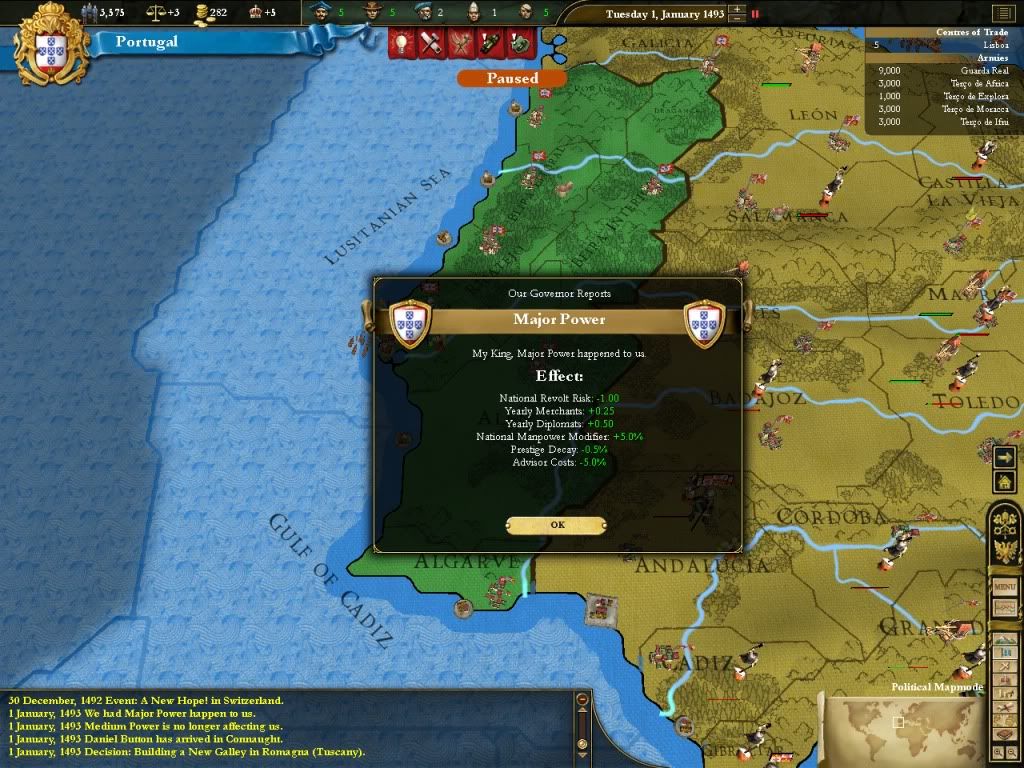 If there were such a thing as a 14 point swing in MM, this would be it.
Adm 3. 3!!!! I'm in trouble now. Just to add insult to injury, you can add another colony to my AE burden as well.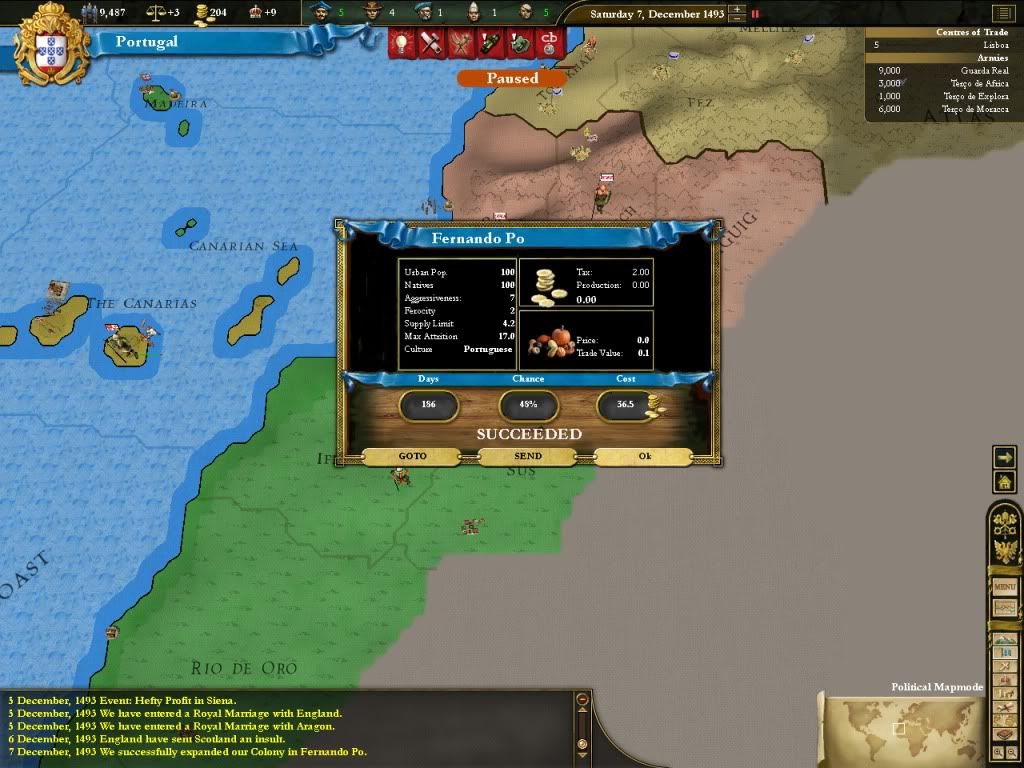 I had sent this colonist before my King died, and he succeeded after the new one rose to power. I decided to make my new king a general immediately, and he ended up 1/0/4/0. The 4 maneuver rating led me to put him with a 1000 man army that would sit in Fernando Po to protect against the less than friendly natives. With any luck he'll catch malaria, but knowing the MM gods he will likely stick around for a LONG time. Damn.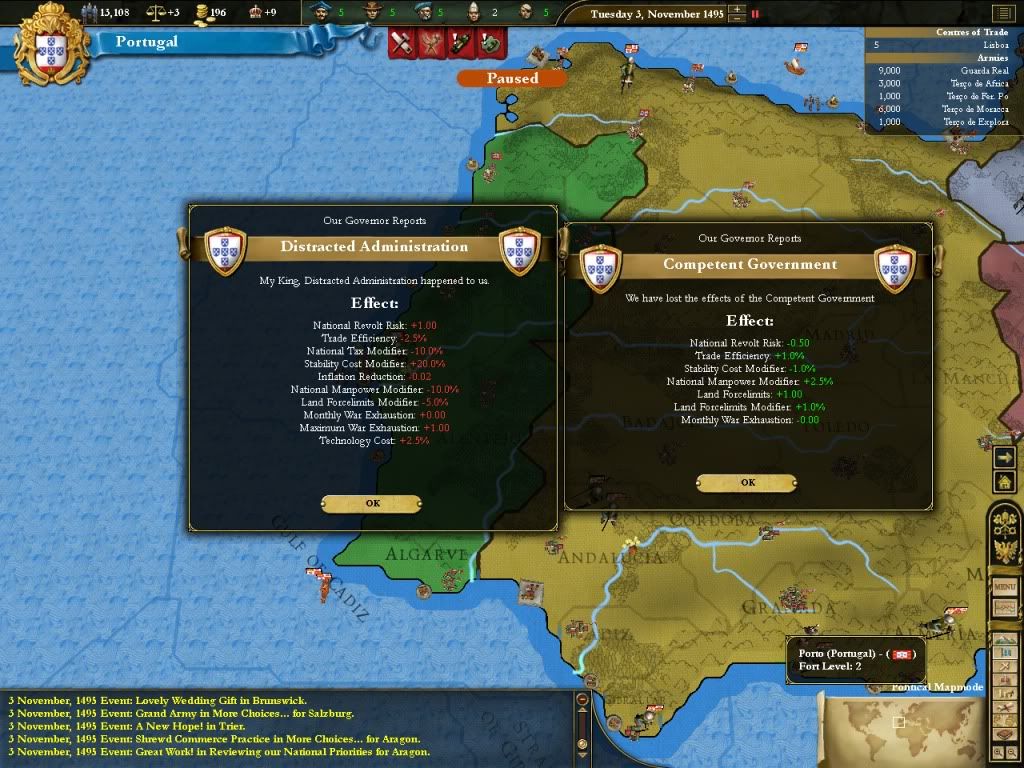 This was the first reduction, but more would come quickly. Partly due to what in any other situation would be great news-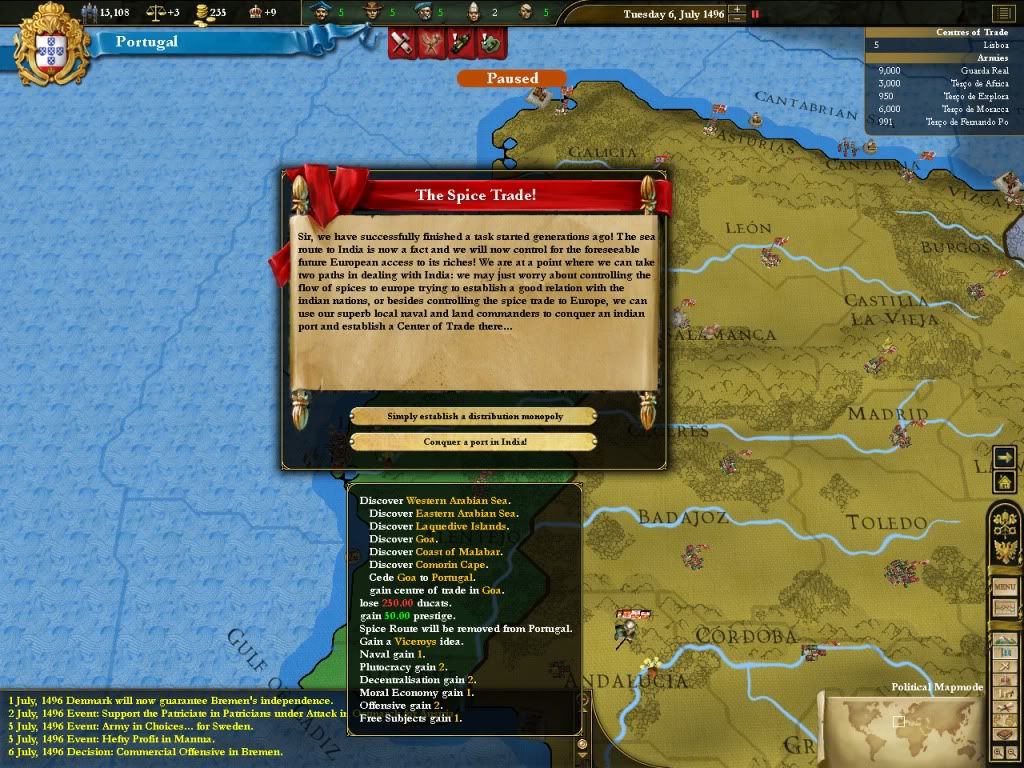 The effects of this event do everything from knock me out of balanced policies to gain me a rich CoT and a great new colony. However in the end the benefits will GREATLY outweigh the costs, so It is very much worth it. I end up having to take a loan, however an influx of cash comes from destroying the temples in Goa, and from this decision.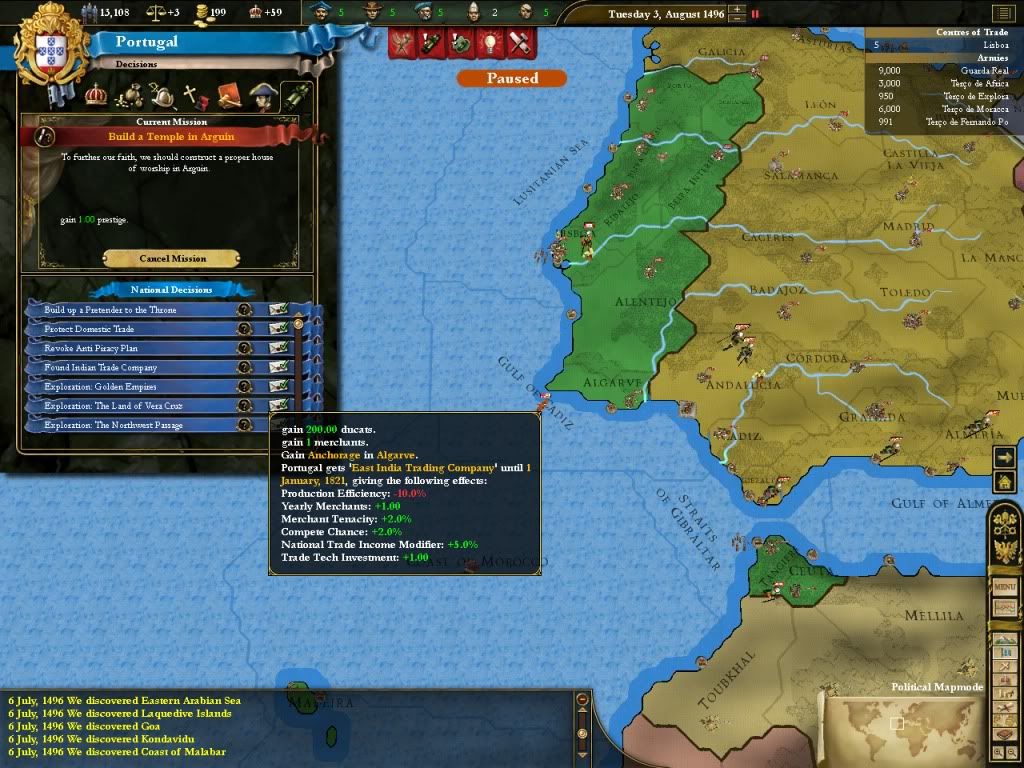 Founding an east India trade company, in case it's hard to see
So the worst that comes from the loan is 5 years of interest, annoying but manageable. I also waste no time making the next step towards exploration.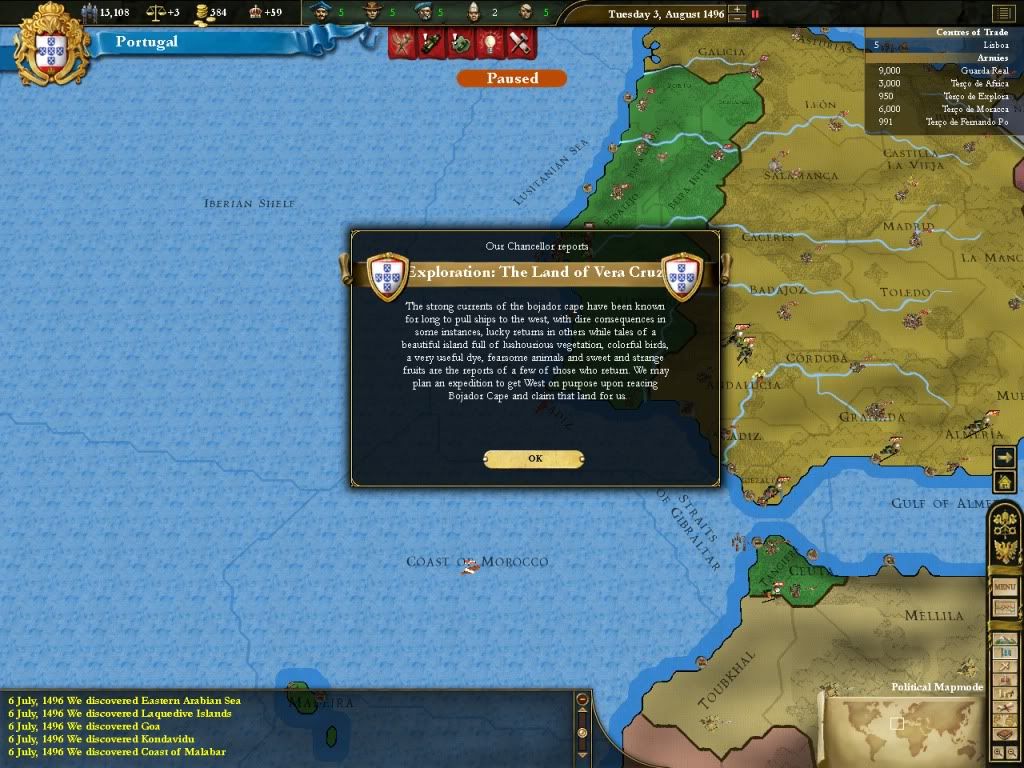 Brazil here i come!
Worthy of note at this time is that both the golden empires (Inca) route, as well as the middle passage route were still available. If the golden empires are still open when Brazil is discovered I'll be taking it, but were still further behind than I'd like so lets not get our hopes up.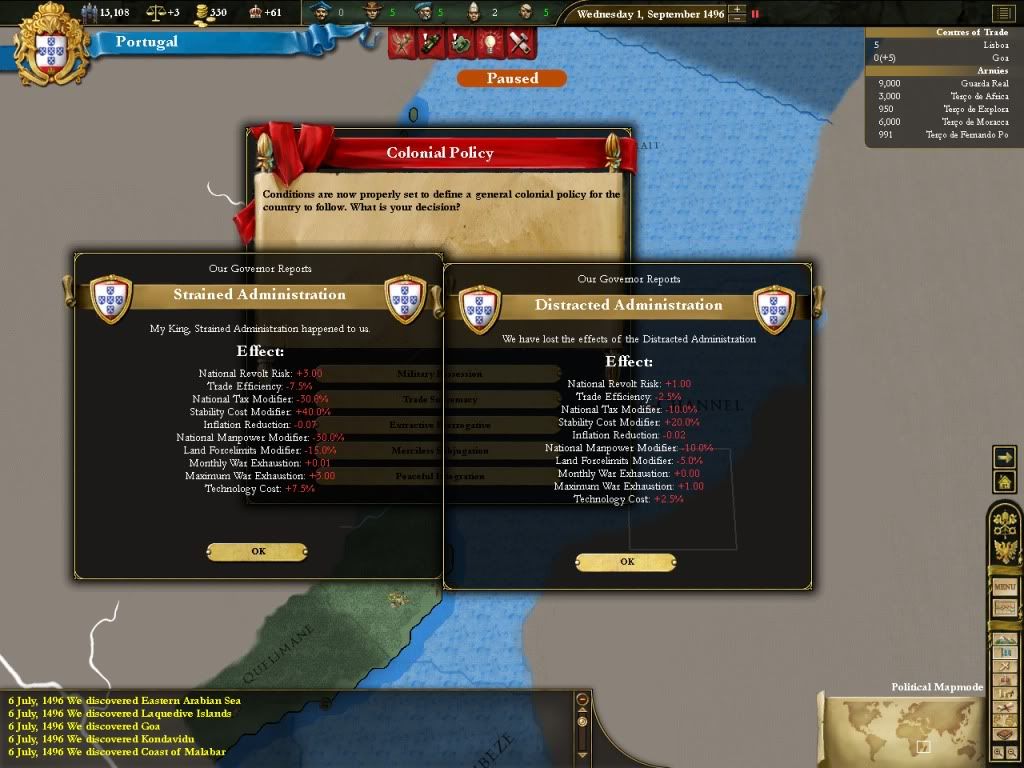 This next picture shows the continual effects of my inept monarch. He is still sitting in Fernando Po, and I'm still waiting for him to die. In the background you can see another event to decide my colonial policy. I choose to go for trade supremacy. My newfound colonial progress also lends itself to a Colonial faction setting up shop in Ribajento.
And with that comes more exploration. I quickly get a slew of post-India events that lend themselves to more discoveries, and more opportunities for glory.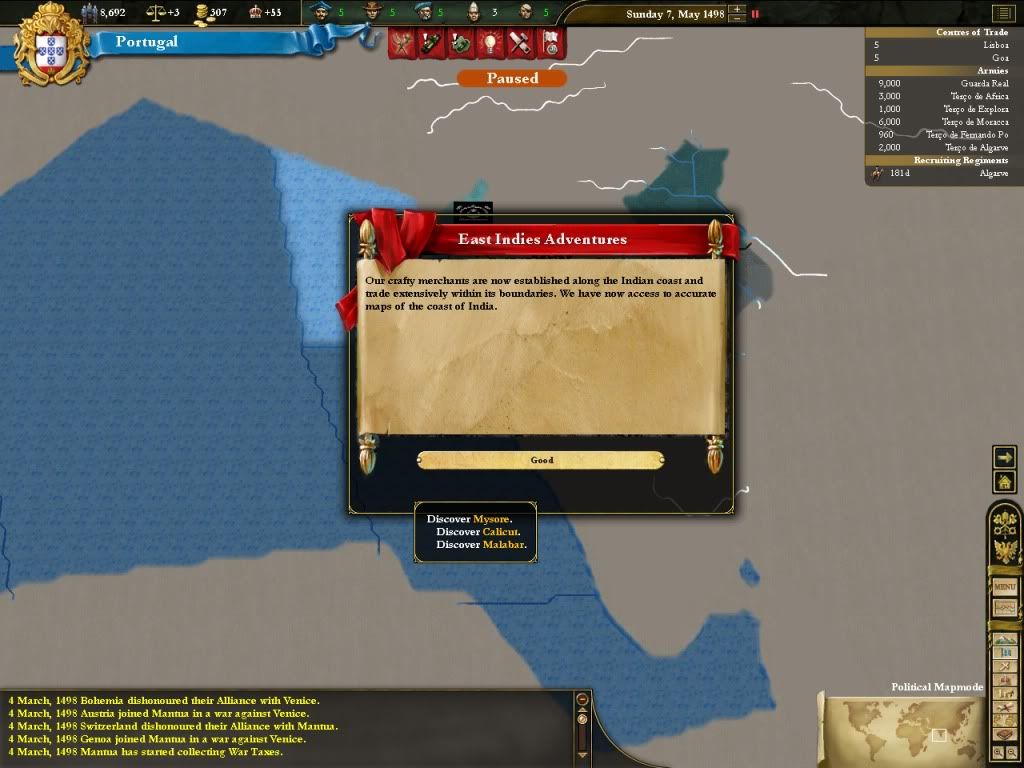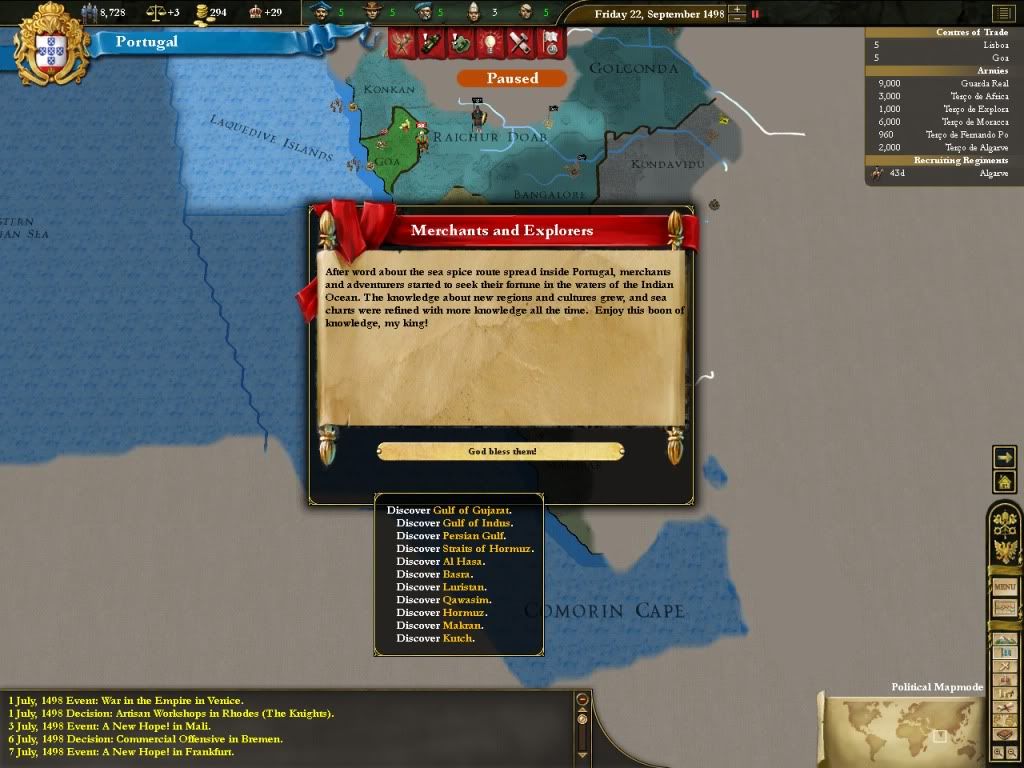 And with that I'll leave you with one last Picture, regarding Aragon going after Navarra.
Just another example of my less than perfect playstyle, I overlooked the fact that at some point this would happen. Castile also dishonored the call, but was allied with Aragon again by the end of the update. I tried to renew the alliance but was rebuffed, however possibly an alliance with Aragon wouldn't matter anyway, providing the crowns unite at some point in the near future. Anyway the Update has ended in the year 1500, and there is plenty to do. I didn't get a picture, however in 1498, I got the modifier for Overwhelmed administration, the worst modifier possible. I will go over my economy in detail in the 1500 overview, but lets just say for now that it hurts, and Inflation will be going up a bit more than I would like for the near future. Meanwhile Joao III still sits in Fernando Po, and has yet to die. For those of you thinking this is a tiny bit gamey, well it is- but I DO have a logical gameplay reason for it as well. Currently due to high native hostility even 1 unit faces attrition in the province, unless led by a general with a high maneuver stat. Joao's maneuver stat is 4. Therefore he keeps the army from dieing, while hopefully getting weaker every day on his own. I can only pray, until the next update!