EDIT:
Ok so haivng been inspired by Prawnstar's Iroquois AAR I decided this could be my first very hard game lol.. This way I wouldn't feel too bad about dying so quick..
After a few false starts (I never knew the Huron could be so strong!) I have arrived in 1567...
I have fully westernized to the Latin Tech group, I have latin units and I am also a nobel republic!
I fought one war with portugal, back when I was land tech 7 and only held to a white peace after I burnt her colony which gave us some borders.
I have colonized north to secure a sea port and have 5 traders in ming (Which is worth only 240 gold in total! and a monopoly in Mohawk (total worth 260 ish which I'm get 170ish)
Spain, France and Portugal are allied and are big problems...
Spain is currently in a war against Great Britain, Scotland, Austria, Bohemia. i don't think it is going well.. all her colonies in North america (the ones not over 1000) are in decline and the ones I share a border with have only 7 men left and are losing 25 a year. if the war goes on, I'll lose my border with Spain.
Here's North America
A bit closer and my tech/economy: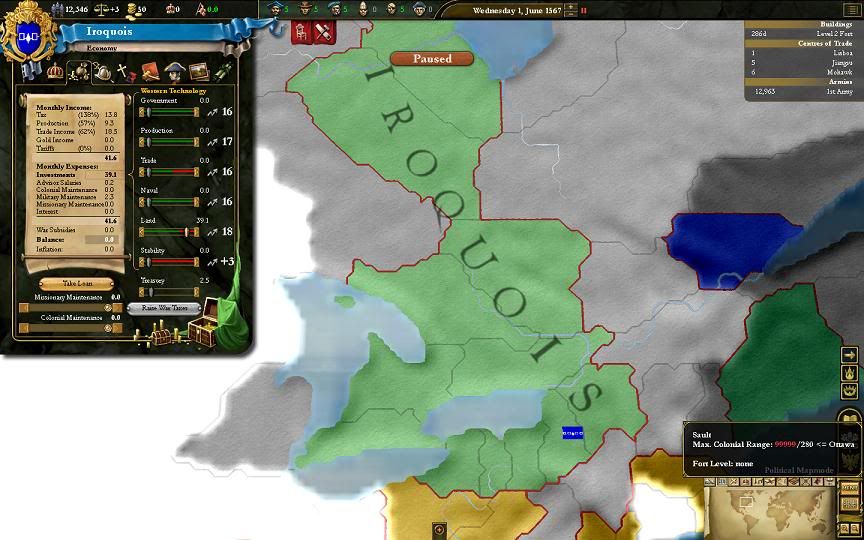 I'm one level behind Portugal on Land Tech and I'm 3 behind Spain. My land maintance is on it's lowest setting...
Nat Ideas are colonial ventures, military drill and the 50% more manpower one...
So do I colonize the provs that Spain loses, or do i colonize the empty spaces which wont give me european borders?
I have level 2 forts but only in two provs; and not much money... should I concentrate on buildig gforts, then workshops, then colonize or split my money over both? I'm thinking mostly to build forts in likely european borders only then colonise with the occasionaly workshop here and there...
Or do I focus on building regimental camps to up my appauling manpower (200 gold each for 25% prov manpower)?
Also should I auto send merchants to Ming until I've got a monopoly and ousted most of the others trading there the CoT is only valued at like 250 and each tradee costs over 10 ducats?
Here's the whole world for a quick view:

It's hard to see but Austia is huge as is Bohemia and Sweden. Something bad happened to France though and Burgundy and Britain both still have provs there. Ireland has a colony in the new world too..
Please any advice would be awesome!
Seriously i've been lucky and played hard to get this far but now I feel my next decision will be the most important!
Last edited: