This is the first CK AAR I've done. I've been inspired by works written here, and, more importantly, the fact that it doesn't take much writing to make one if you're good with pictures.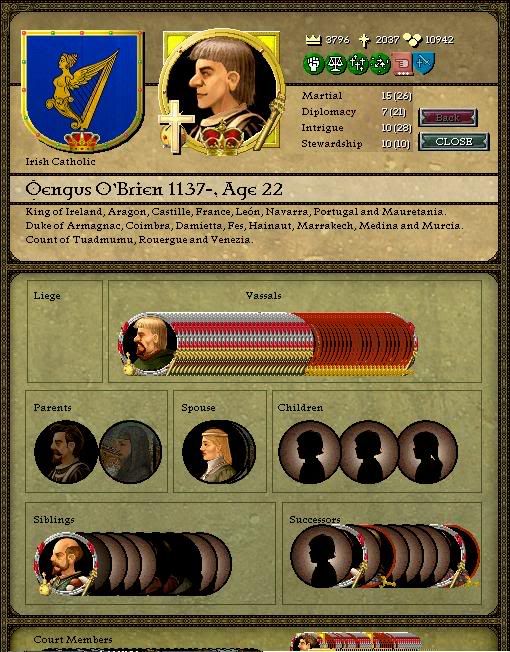 My name is Oengus O'Brien. I realize the O has an accent over it but I'm far too lazy to do anything about it here. I don't know or care how to make the O with the little accent over it on a keyboard.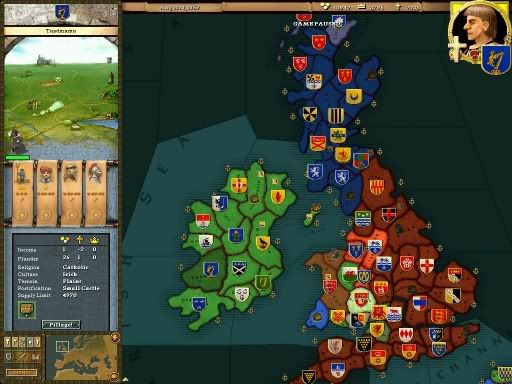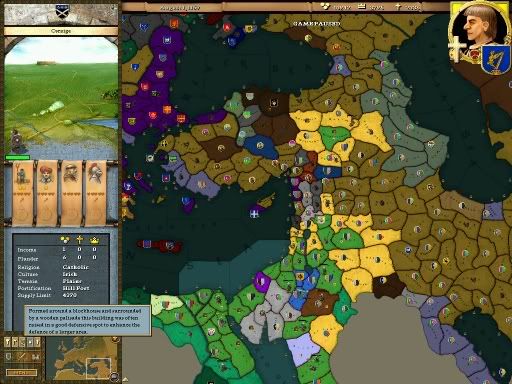 Behold the Realm of Ireland. In the words of my Ancestor Donchad O'Brien, the Unifier of Ireland, "This Realm be Pimpin".
Perhaps you wonder how an island of poor drunkards became the most powerful kingdom in Europe. Well, grab a gallon of ale or two to hold you off before the whiskey arrives and listen to the tale or Ire. Land.
This was my Great-Great-Great Grandfather, Toirrdelbach O'Brien. He was the Duke of Munster, and he had a vision: not being a talented General himself and already being 57 by the year 1066, he wanted his son to be King of Ireland. The northern counties broke apart and two of them joined my ancestor, giving him the edge. Once he'd secured an advantage, he used Machievellian tactics to set the stage for his son's rule. In other words, he stole money from old ladies, raised an army, grabbed some titles, and assasinated most potential obstacles.
This was my Great-Great Grandfather, Donnchad O'Brien. Rumor was that he was so well-endowed that he caused horses to feel insignificant whenever he wore tights (not that he was gay, this is the middle ages- it's cool for guys to wear tights! I swear! Don't you believe me?). His armor is still in the family museum, and the codpiece is the size of a viking longship.
It was this weapon that he used to conquer the other Dutchies and proclaim himself King of Ireland. He is considered the father of our country, and considering how many bastard children he sired, it's not entirely inacurate.
During the one-year-long reign of Gofraid, the legendary "Cockwalrus", my Great Grandfather, Ireland established it's rule over two territories in the Iberian peninsula. the kings of Leon, Aragon, and Castile would've complained, but they were busy getting their asses kicked by the muslims.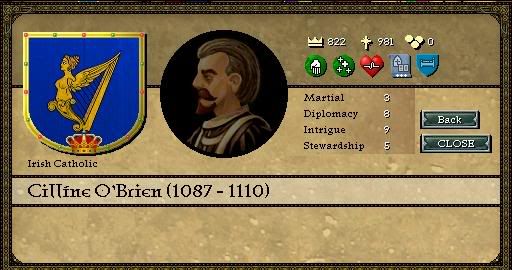 This is Cilline O'Brien, my Grandfather. He inherited at age 10 and ruled for 13 years, during which he took over half of the Iberian Peninsula as well as most of Morrocco and a few places in southern Italy.
Here's my Dad, Colcu. As the child of Cilline and the daughter of the King of Aragon, he inherited the last remnants of Christian Iberia. He began his reign as a 3-year-old child and ran into some difficulty when he was proclaimed to be a heretic for not disposing of the only useful person in the court, the Spymaster, who was a Muslim woman. Also he talked out of turn at Sunday school and made fun of the girls, but his heresey was eventually erased when he agreed to give gigantic bags of cash to the church, and, as soon as he came of age, he embarked on a quest to reconquer Iberia from the heathens. It worked, but it took 5 years and, in the final epic battle against the Homoerotic Emir of Seville, the Emir struck my father in the head with the legendary Iron Dildo. He died weeks later from this head wound, having just proclaimed Iberia to be free. He was Beatified and I tried to get him sainted as well, but the pope ripped me off, taking my money without giving Dad the sainthood. What a prick.
Finally there's me. I am the son of Colcu O'Brien and the whore daughter of one of the French dukes. My father ensured that everyone on my mother's side who was to inherit ran into an accident, and so we acquired territory in Egypt and North Africa along with about a fifth of France. Unfortunately, I ran into realm duress when I was six. Didn't stop me from financing and leading a crusade when I was 13. I conquered a lot, and when I returned, it was rumored among the nobles that I now had pubic hair, and so they capitulated and stop trying to duress my realm when I wasn't looking.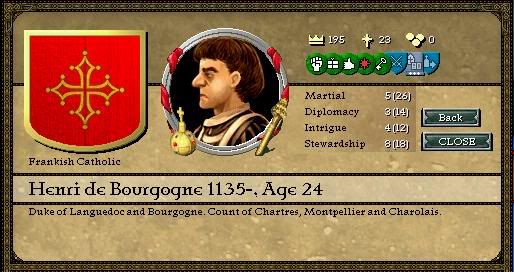 This bastard used to be the king of France. I had him excommunicated and waited until his nobles duressed his realm, then grabbed his title and declared war on him when I was 16. He cried a lot, which made me feel bad, but kicking his ass helped me feel better. Odd. Now I'm King of France.
That is the history of the O'Brien house, stay tuned for a tale of Empire, Victory, Despair, Erotica, and Pineapples.