I've been loving all of the individual tech trees that people have been doing for different nations. I want to see one for China, but it's a bit hard since China imported most of its equipment and diplomatic choices will determine where that equipment comes from.
However, China did have a very embryonic auto industry in the 30's.
I lack the photoshop skills to make the icons myself
This was my first try,
Anyway, near as I can tell, China had three home produced vehicles during the 30's.
The one that the above is based on and the one I could find the most about, is Tang Zhongming's coal powered bus/truck.
He started converting imported cars to coal power in 1931 and was building his own trucks by the mid 30's. (Mostly using Chinese copies of Ford parts).
This is one of the earlier models
This is a model of the 3.5 ton truck that he built a few of (28) in 1937 but they were bombed by the Japanese and then the factory was taken over when Shanghai fell to the Japanese. It had a 60 hp engine and could go 52 kph top speed.
His trucks were charcoal powered because China lacked oil. If you look around lots of countries in Europe also switched all of their civilian transport to charcoal vehicles.
The other truck I could find is older and was built in Manchuria in 1931. It's the "People's Truck" (though not at all related to Communism)
And an ad for it
The factory had just started production when the Japanese took over, but many of the people who worked there moved South.
This image comes up in the Chinese as either an example of the People's Truck or an example of the first entirely home produced Chinese car, built in 1943 by Du Yuming.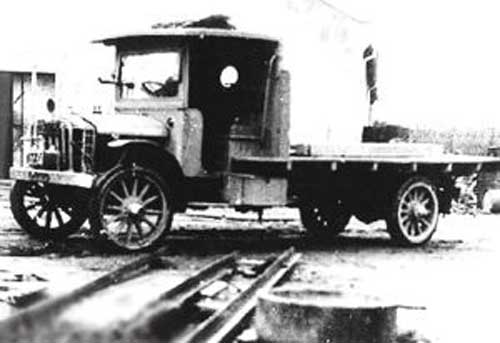 I have no idea which one it actually is. Du Yuming had seen the people's truck and hired a lot of the people involved in the development. In 1937, he'd designed and was preparing to build the first Chinese car with absolutely no imported parts, but the war forced him to relocate before he could start and he put the project on hold so that his factory could make spare parts for all of China's various foreign vehicles. He was stripping down Japanese locomotives to get the high grade steel he needed.
In 1943, he was successful at making the car, but it wasn't up to the specifications he could have built it to in 1937 due to a shortage of good machine tools and raw materials.
Anyway, I hope someone can use these to creatively do the Chinese infantry tech tree.