Chapter 11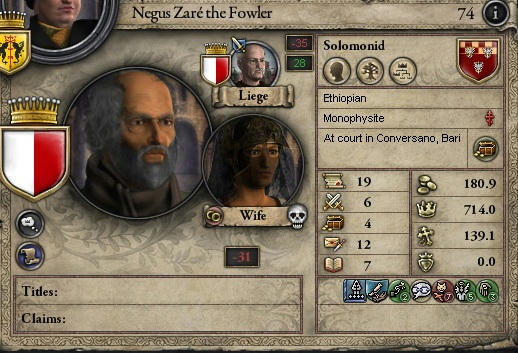 I learn that the wife of Axum's old ruler, Negus Zare Solomonid, has died of natural causes. Ever since the infidels stripped Negus of refuge by sacking my father's demense in Herar, Negus and his family have been living as courtiers in Conversano, Bari, in Southern Italy. He hates his liege there, but most of the courtiers hate the liege as well. At 74, Negus occupies himself with his love of falconing and with trying to become steward for the count, a deluded ambition since stewardship is his worst trait.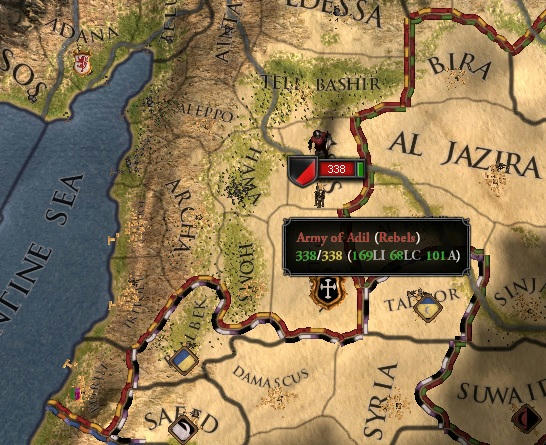 Nikodemus tells me there are vassal Greek forces in Eastern Byzantium that Fethee and his force of 20 men could connect with. He mentions, though, that many Greek overlords there recruit from the local Sunni populations, so it would be all too easy to confuse the Greek forces with Sunni rebels, who are also frequently encountered in the area: "Especially to one unfamiliar with the area and with the languages involved," he says, adding that it would be almost certainly lethal to make a mistake here. He gives me the precise locations of one small band of 300 or so rebels led by a Sunni Muslim named Adil in the county of Asas. He neglects to mention me where any vassal Greeks forces could be found.
Later I give Fethee orders to connect up with a vassal force of 300 Greeks in Asas and work with them to destroy nearby rebels. I note that many of the allied vassal troops will look Sunni. I advise him that the Sunni only respect strength, so he should approach them boldly, loudly proclaiming that he is a vassal of the Basileus of Byzantium, here to slay every rebel in the area without mercy. I stress that he needs to put it just this way. His hatred of me subdued for the moment by his eagerness, he promises that they will be impressed by the force of his words and approach. I cannot say I feel pleasure at this, but I certainly feel no guilt as my hated nemesis leaves the room. It does occur to me an odd state of affairs when my nemesis is not the Caliph who stripped from me the chance to rule as Abyssinian King but rather one of my councilors.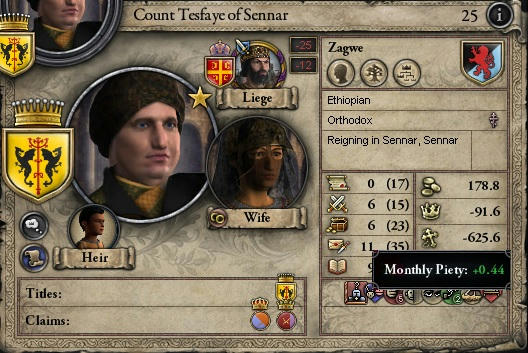 The good news is that my piety is moving in the right direction. The bad news is that at 0.44 points per month, it will take 118 years to break even.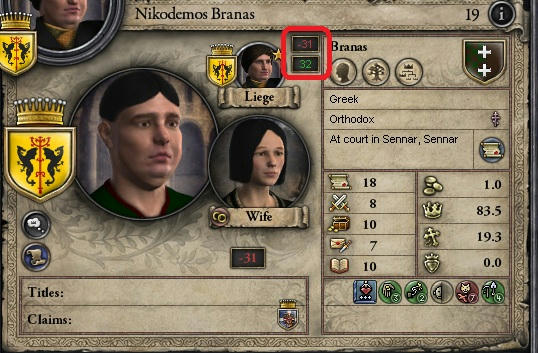 Yes, Nikodemus hates me, too. But he also needs me.
With us both being shy, I find it a little easier to talk with Nikodemus, and I have a little heart to heart with him about the reality of pressing his claims on the Hellas County. Thankfully, not being an imbecile, he has already figured out this much himself. But as I had hoped, he fully realizes that any short-term chance he has to press his claims rests on building up my own land and power so that I can be in a position to help him. With his diplomatic abilities, Nikodemus is good at disguising his disgust of me. But I have become something of an expert in people hating me, so I can see through him. Yet I do like him, and as he was a former chancellor for a Greek Count and familiar with the dynamics of power in the chaotic world of Greek Byzantine politics, I realize that Nikodemus could be very useful to me.
The first step will be to acquire an additional county, preferably one from which we can hire a mercenary company. Ideally this county will be the same religion and ethnicity as me, to quicken the population's acceptance of me. But as the now-conquered Nubia is the only such candidate, resting in the craw of the infidel beast, this is not likely. Best to stick with at least the same religion, if possible.
I am no military genius, yet even this problem is apparent to me: "But how would my 249 men ever be able to conquer as much as a city's levee, let alone a county?" Nikodemus explains that there are two paths we must follow here to ensure sufficient fighting forces.

I'm not going to win "Most Popular Liege" award anytime soon.
The first is we must boost the levees that my two vassals are providing me. While Bishop Afework merely hates me with a passion, Mayor Abai of Kosti becomes apoplectic at the sight of me. They are giving the 30% levees required by High Crown Law, but not one man more. Converting them to Orthodox would be an important first step their acceptance of me, and for that we will need a new chaplain.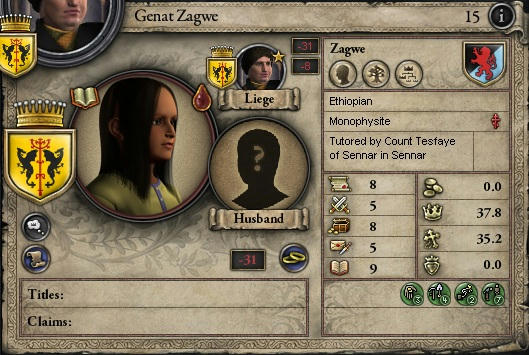 Surely an eventual candidate for sainthood.
The second path to boosting our fighting force is allying ourselves with someone who has already has a larger levee. My unmarried sister will be useful here. My sister is charitable, diligent, temperate, and humble, and yet even though she approaches sainthood with her qualities, she still manages to find it in hers heart to also hate me. If we marry her off to someone who will then be allied to us, their armies could be our armies in a war to add to our land. Nikodemus has already taken the liberty of examining every available Orthodox bachelor and a few more besides that could be made single with the relevant attentions and administrations.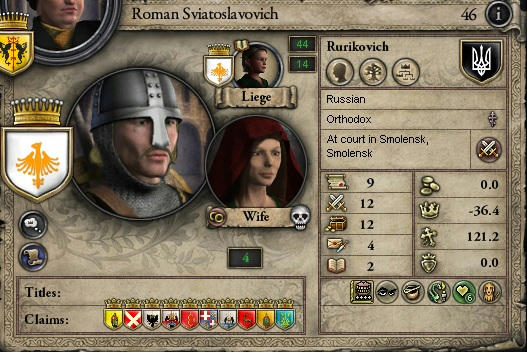 Kind, trusting, brave. Not a bad catch… if you never mind the 30 years difference, of course.
Roman Sviatoslavovich (my mouth can barely produce such a foreign name) is a Russian with some useful connections and prospects. His own wife, Varvara of Kopys, died a year before of natural causes. And while his dreams are of being marshal rather than acquiring another wife, he seems amenable to the match with Genat. "You have already broached the matter to him?" I ask, incredulous. "But of course," Nikodemus says, "I assumed you were serious about again raising the glory of the Zagwe Dynasty to its rightful place among the most powerful in the region. Isn't that what you want?" Damn, he is good. I simply nod.
Roman is cynical, which endears him to me, and he is also content, brave, kind, and trusting. All the qualities that would make him an ideal husband for my sister Genat. Of course I'm not the 16-year old who will need to enjoy the husbandly affections of a man 30 years her senior. I try not to think about that too much. The thing I
will
think about is Roman's connections. Roman himself is penniless and has no land. But a union between our two families carries with it an alliance with Roman's older brother, the depressed, paranoid, and wroth Duke Gleb II of Ryanan.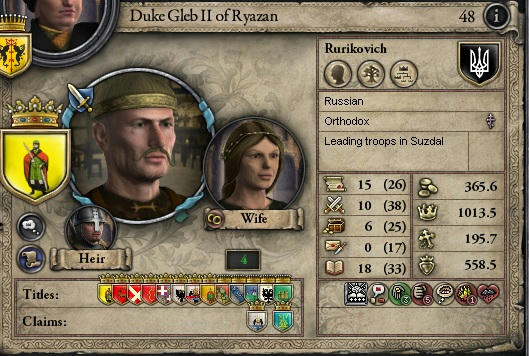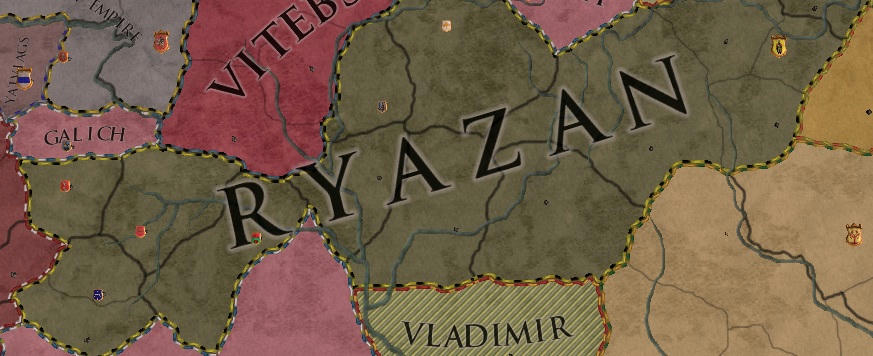 I want to
be
Duke Ryazan.
With eight duke titles to his name, Gleb is a man who carries virtually all the Russian-sounding duke titles you could imagine. And while Roman hates his brother due to his having everything that Roman himself does not, Gleb likes his younger brother and wishes to help him in whatever way he can. (Aside from giving him a title, apparently.)
As a potential ally, Duke Ryazan is perfect. He is the same Orthodox religion as myself. He does not seem to mind my not being Russian, his placement near Byzantium helps ensure that we will be able to have him help us acquire land closer to my liege lord, which I would prefer. And he has levees, lots of them. Owing to current wars, he only has 700 men available, but his 51 castles, cities, and churches ensure that at full strength he will be able to easily help me crush a couple of weak counts.
"So we will marry off Genat to Roman, and Gleb will help us acquire a couple of counties," says Nikodemus, getting excited. "Then you will be able to help me press my claims to Hellas, and I will become your most loyal vassal." It is at this moment that I know Nikodemus is playing me for a fool.
Last edited: