"England's throne has fallen to William the Bastard. The Normans have taken over the court and the nobility. Only a few Saxon territories remain and even they swear fealty to William. I worry, Cadgwan."
The marshal was certainly right to worry, mused Count Cadgwan Meriadoc. William's coronation took place only the day before and already there was talk that the Bastard planned to keep going with his conquests, not stopping until all of the island fell under his sway.
"Tell me your opinion of the Scots and the other Welsh lords" ordered the count.
Gwrgant Meriadoc smiled. Although giving up title to the counties of Glamgoran and Gwent was the hardest thing he'd ever done, he sensed the spark of destiny surrounding this young cousin. His own children were worthless and the marshal would be the first to admit that. Iestyn, his lone son, already boasted five children of his own at just 16, the first one born when Iestyn was 11. A lustful lout, that's what his middle child was. Gwrgant's eldest and youngest were both daughters, pretty enough he supposed, but without any reedeeming talent to speak of.
"King Malcom of Scotland rules over a sizeable domain, but a poor one. The Scots are fearsome warriors capable of protecting their homeland, but that is all. As for our own kinsmen, the Duke of Gwynned is a talented man, but the Duke of Deheuberth is as able as my son and his brood." The marshal spat to the side in distaste.
"And neither of them with anywhere near the troops necessary to withstand William's massive armies" concluded Cadwgan as he looked thoughtfully out the window overlooking the forest, "Which means there can be only one solution."
"And that is?" inquired Gwrgant with a small smile.
"We must find a new homeland."
Shock jolted the marshal as the stunning sentence slammed into him. Gaping, he stepped forward and gripped Cadwgan's shoulders with both hands.
"You can't be serious! To run away from our home, from the very country our ancestors paid for time and time again in blood? To surrender our birthright without so much as a whimper?! Cadwgan, tell me this is only a passing fancy! Tell me you will give up this madness and never think of it again!"
The count stood implacably in his only worthy courtier's hold, his face grave.
"We have no choice, Marshal Gwrgant. It is better that we should go far from here and build a new country, a new Wales, than be crushed under the callous Norman boot. We must leave to a new land and a new life. In the fullness of time, perhaps some day some future generation of Meriadoc will be able to return and reclaim these lands."
Pain shot through the old noble's heart at those words and he fought his tears as he nodded his acquiescence.
"Yes, you are right of course. But I have one request of you. I am an old man and do not wish to go to some foreign land. This is my home and I wish to die here. Will you allow me to stay?"
Cadwgan embraced the man who'd given up so much already for him, his voice as firm and strong as his grasp.
"You can do more than stay, Gwrgant. You will be made Count again of whichever you prefer of Gwent and Glamgoran. I owe everything that I have to you and I will it that you will not only die in beloved Wales, but die as the nobleman that you are."
A weathered hand wiped his eyes for the Marshal as he took a step back and exhaled slowly.
"Then give me Gwent, so that when that future Meriadoc does return to reclaim Wales and sails into that harbour, my ghost will be there to greet him with joyful and open arms."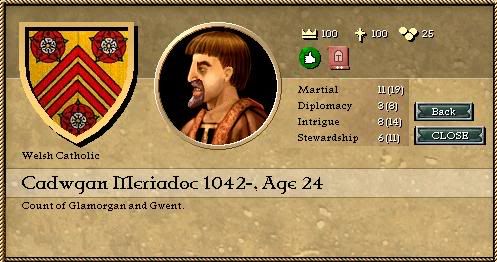 Makes you wonder where he's planning on going, eh?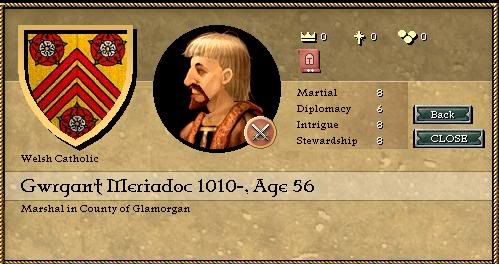 The loyal Welshman and Marshal, soon to be restored to the County of Gwent