Editor-in-Chief
32 Badges
Imperium AARlandium Sacrum – The Holy AARland Empire – Succession Game

Signup and Comment Thread
​
This game has now begun, but you can still sign up (see below). Read the reports
here
.
What is this?
This is going to be the sign-up and comment thread for a new type of AAR, based on Iain Wilson's hugely successful '
Kingdom of AARland
', and the succession game concept, as featured in the '
Collage of CAARdinals
'.
This idea is due largely to Kaiser Muffin's enthusiasm for a repeat of Wilson's game, and Vesimir's genius in suggesting a succession game,
when multiplayer failed to get off the ground
. My role has just been modding the starting scenario, and taking over from Vesimir due to his study commitments.
What is AARland?
As in the
Kingdom of AARland
, every member of the AAR community has the opportunity to feature in this report! Members will be modded into the game to play as counts or dukes, with their own portrait, dynasty and character traits.
What's a Succession Game?
We take it in turns to play the same game, and each player writes their own AAR chapter. A turn lasts for the reign of one king, and once the king dies, the save game is passed to a new player. What makes this particular succession game fun is that the order of play will be determined by whichever in-game dynasty is elected to be Holy Roman Emperor.
How do I sign up?
All you need to do is submit your character's first name(s), dynasty name, traits, culture, DNA (check out the DNA maker
here
) and starting location. Enter a reply in this thread, or send me a PM. You can choose whichever names and traits you wish (though no more than two traits and one education per character, please). Your dynasty name will stay with you, so much sure it's a good one!
Your character will begin at age 15, as will his wife (if he has one at the game start). No-one will have any children, but brothers, parents, etc. will be left in the game if they already exist.
For those of you unfamiliar with the game, this
help too
l is very, well, helpful.
I'm afraid there won't be any personalised coats of arms – it would be too time-consuming to move the necessary files for each player's turn.
If you wish to play the game, you should aim to be represented in one of the duchies on the list (see below), as these are the main candidates for election. The largest duchies are much more likely to be elected. If you want to be represented in-game but can't take a turn playing, you can still sign up to be a count.
The deadline for signing up for the start of the AAR will be Monday 21st June at 18:00 CET. After that, I will begin playing the first session. Anyone who wishes can still sign up, but you'll be added in to the game as and when I can.
Where and when are we playing?
This game will be played in the Holy Roman Empire, or Kingdom of Germany, as it appears in CK. The starting scenario will be 1066. The map below shows you the duchies of the Empire.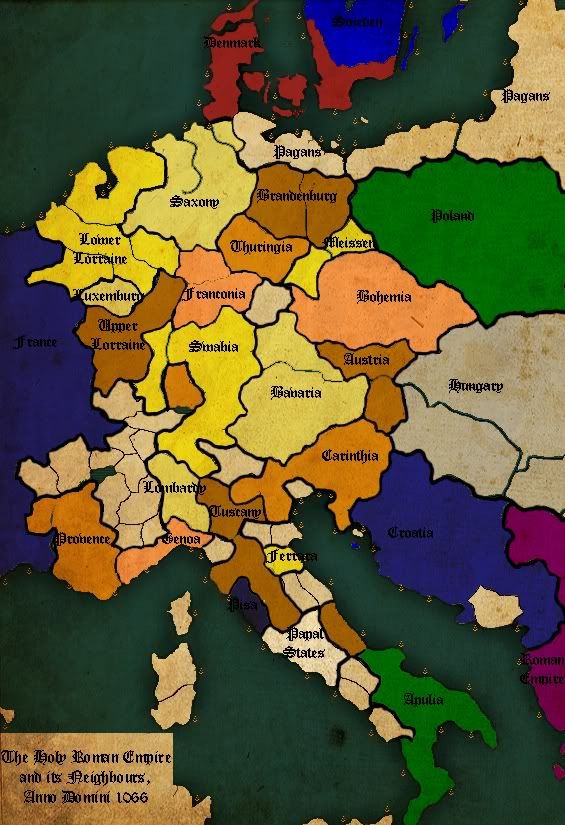 Currently signed up to play are:
Lower Lorraine (12) – Vesimir
Swabia (9) - MorningSIDER
Saxony (9) – Kaiser Muffin
Carinthia-Verona (8)
Bohemia (7) - Johann11
Bavaria (7) - Morrell8
Upper Lorraine (6) – Kadvael56
Provence (5) – Mr Capitalist
Franconia (3) – AllmyJames (Initial Emperor)
Thuringia (3) – Rabid Bogling
Brandenburg (3) - mayorqw
Austria (3) - Lucius Sejanus
Meissen (2) – Iain Wilson
Tyrol (2) - The_Shepherd
The following counties are taken:
Besancon - Murmurandus
Savoy - Splendid Tuesday
Holland - FlyingDutchie
Kleve - Sebeck
Steirmark - Serek000
Since we've already begun the scenario, the map is not that relevant, but there's still plenty of room for new players, either dukes or counts.
Some Rules:
- We will be using Crusader Kings Deus Vult, with the 2.1 beta patch.
- If it's your turn to play, try to post your report quickly, but it's especially important to keep everyone else updated on your progress. Kings can live for a long time in CK, so it's understandable if the report takes a while to compile, but don't leave us in the dark.
- If you need to be substituted, again, let us know so we can do that ASAP.
- No changing the succession law of the HRE!
- Be nice to your fellow AARlanders (i.e. don't steal all their land and exile them to the furthest reaches of the Earth)!
- When it's your turn to play, you'll want to give your children some land. But please try to make sure they're not next in line to succeed you – we want to give everyone a chance to play.
- Likewise, check the succession order, and try to make sure one of us is next in line. It won't be the end of the world if an AI takes over, but it would be easier if they didn't.
Last edited: