Strategy GuidAAR
25 Badges
In the middle of September, 1941, our 1st Armored Car Brigade had made contact with a British Division defending the coastal road north toward Cairo, Egypt. The ACs had no likely ability to defeat a whole division, and so they halted, and awaited reinforcements.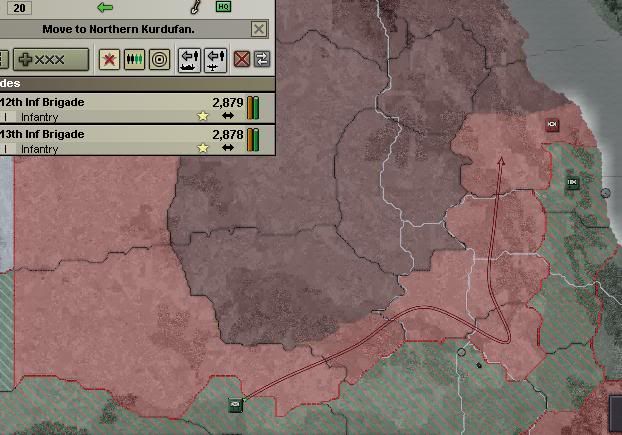 Those reinforcements had to come from the conquests of French central Africa, where they had been following the path of their armored cars – the 1st Brigade had split off from their parent division – slightly offset in order to lay claim to more British-held territory. This took quite a while, at the speed which Infantry could manage. By late October, they were just entering western Sudan. They continued to occupy more territory as they "rushed" toward the Red Sea. Other divisions, further south, were even more distant, and unlikely to be of help in opening the coast road.
Also at the end of October, Portuguese invaders had first landed in New Britain, and captured the key Pacific port of Rabaul. The Australian defenders had been lured away from their prize, and were trapped to the south of the port. On Halloween Day, the Australians were defeated by the combined force of two Portuguese divisions, and retreated south.
And, if you'll indulge me for a moment, I became unreasonably amused by seeing a division in Africa described as being "Supplied from: De Aar".
In the 2nd week of November, we began coordinated operations to gain a base on the northern shore of New Guinea, on the Australian-controlled half. These efforts centered on the Australian naval base at Lae.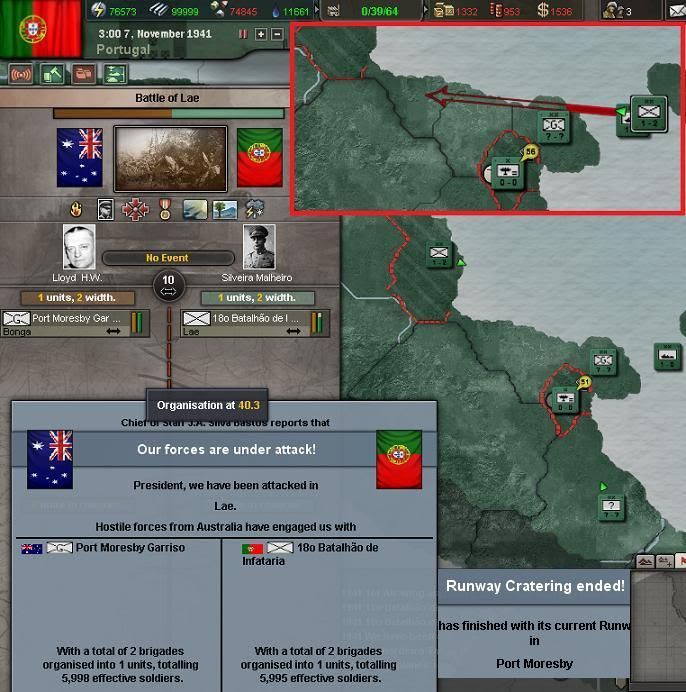 Again, the enemy had left the port itself unguarded (yet again, the AI is our playtoy – I couldn't have accomplished all this if the AI hadn't made dumb moves), and we moved in. But the Australians attacked us as soon as we arrived, and the odds were not good. Granted, our units were regular infantry, while theirs were equal numbers of garrison troops. But Australian garrison troops were pretty well trained, so they were a significant threat to us. Please note that the enemy are the Port Moresby Garrison – raising the possibility that they had abandoned their southern port, too (our air raids established that they did have defenders nearby, so grabbing it wouldn't have been easy).
But our 18th Division was not alone. Another division landed further west, along the coast, and began leapfrogging a path (land, conquer, return to transport, land, conquer…) southeast toward the fighting. We also used tactical bombers based out of Rabaul to begin pounding the British airbase at Port Moresby – they had bombers there which were causing problems for us. Within a few days, we had brought our fighter-bomber airwing into action (I don't recall when this finished equipping, but this is their first major battle), and they, too, were attacking the Australian bombers.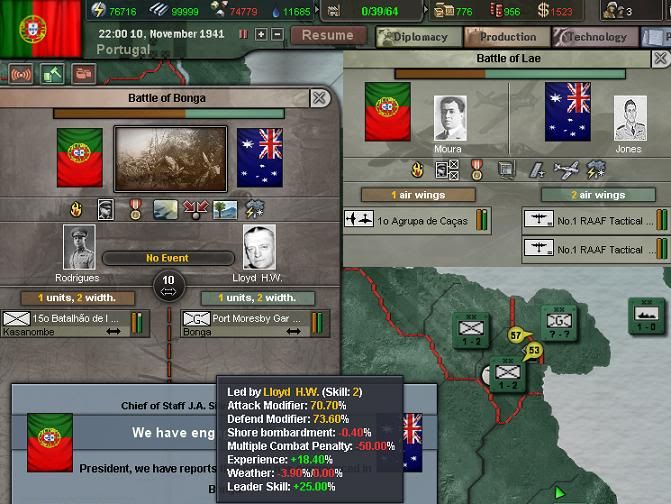 When the 15th Division reached the Lae area, from the north, they engaged upon the Australians' flanks, and quickly began to wear down the enemy.
Within a week, and just in the nick of time (the 18th Division was on its last legs), we defeated the Australians with our second attack, and they began to retreat by boat across the channel to New Britain. Naturally, we were concerned this could pose a threat to our takeover there.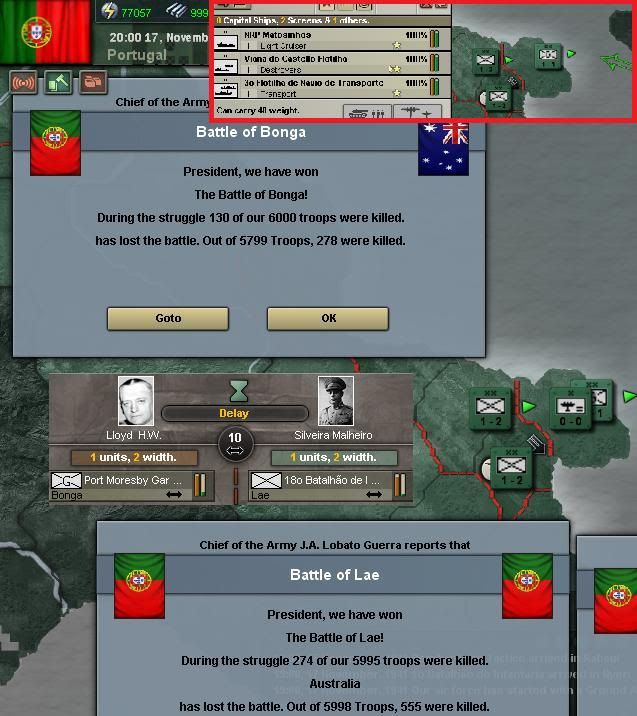 But our naval squadron, including destroyers and the cruiser Matosinhos, moved into the channel and blocked their crossing. Thus foiled, the Australians surrendered.
Back home, in Lisbon, another armored car brigade came into service.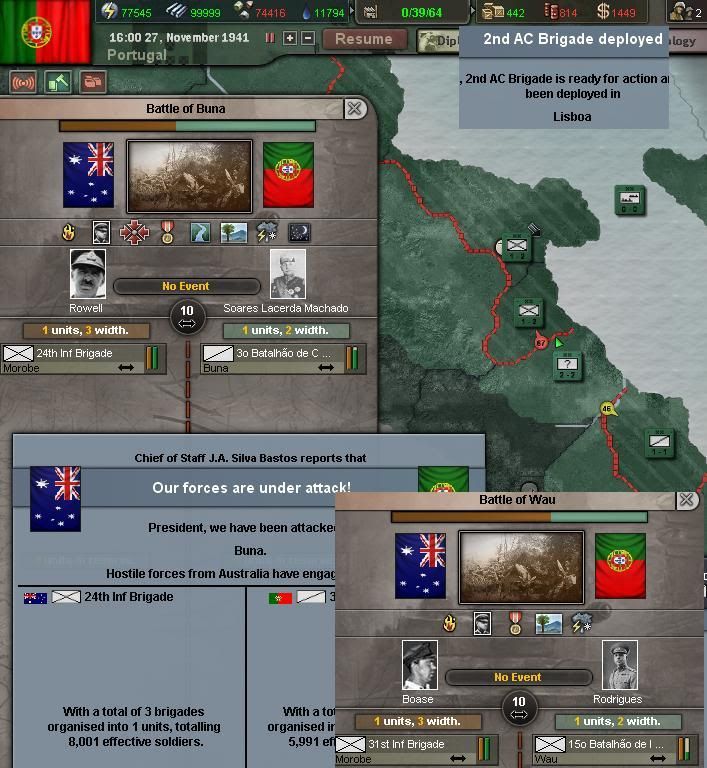 Our 15th Division moved south, hoping there would be no more enemy opposition. This proved overly optimistic, and an Australian infantry division struck back on November 25th. We wouldn't be able to resist their 3 brigades for long. By sea, again, we landed the 3rd Cavalry, which hit the Australians' rear flank, finding a second Australian division there.
The 15th eventually tired, and was forced to retreat back toward Lae. One Australian division followed, while the other kept the 3rd Cavalry engaged (who were fast running out of supplies). All of my divisions were understrength – the Portuguese 2-brigade units which had enabled us to be everywhere at all times – and so we could not realistically withstand such attacks. The Australians advanced back toward Lae, which was now looking more and more vulnerable to recapture.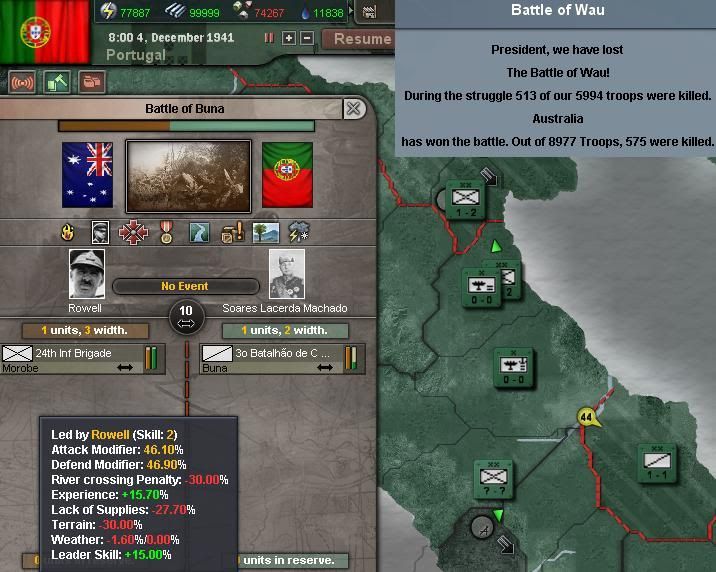 Quickly, two divisions were brought from our enclave on the southern coast of New Guinea (we didn't want to use them, as they were protecting against Australian invasion, but we didn't have a choice now).
Finally, if a little late, we advanced our Infantry tech, which helps our Organization in combat.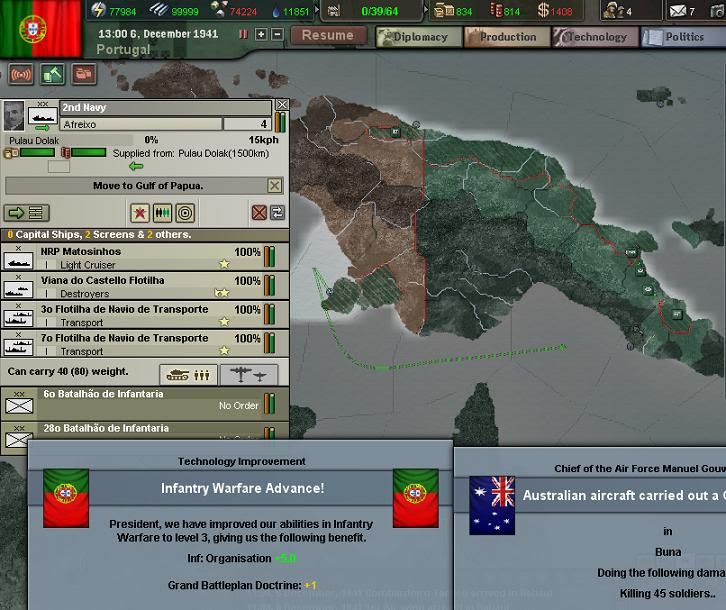 The Cavalry, too, was forced to flee at the beginning of December. If we didn't do something quickly, they would be run down and forced to surrender. Our navy landed a division by sea southeast of where the Cavalry had lost their battle, thereby securing a retreat-enclave where our cavalry could reach and survive. Then the second infantry division was landed at Buna, where the cavalry had just been defeated, and the Australians were suddenly outnumbered and unable to advance any further. Their counteroffensive was stymied.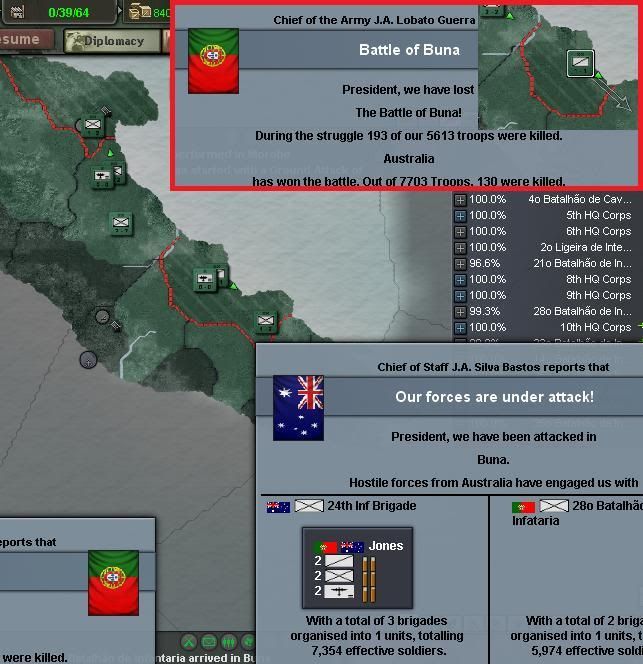 The 6th Division having served its purpose in saving the Cavalry from certain surrender, they take to the sea again, and are brought around to the southern coast of New Guinea. Landed there, in an area where they are unlikely to make contact with Australian troops, who are all busy, now, in the south, the 6th advances to the north, attempting to take territory, and perhaps link up with our northern forces.
We are fortunate the Australian Navy is not coordinated or brave enough to appear in the defense of New Guinea. We are protected by a cruiser, which is our foremost naval power right now, but the Australians should be able to blow it out of the water with a concentrated attack.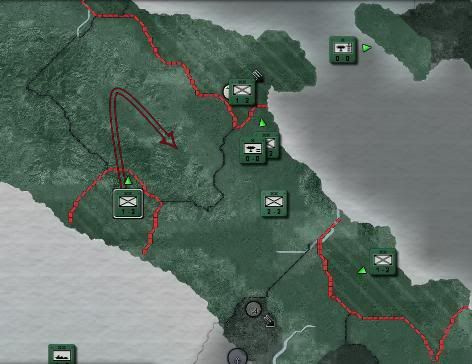 Returning to the rest of the world, as we wrap up, it's important to note that we have solidified a treaty with Colombia for them to supply us with refined Fuel (for a pretty great cost!). We have good stockpiles of Crude Oil, but our refining capacity is limited, and so we are quickly running out of Fuel for our aircraft and our few motorized/armored units. This will help solve that issue.
By mid-December, the 14th Infantry Division has marched all the way across Sudan, and has taken a position on the flank of the British 54th, which was blocking our armored cars from taking the road north toward Cairo (remember our race? – it's critically important that we start moving north along the coast road, if we ever intend to beat the Italians to Cairo or Alexandria).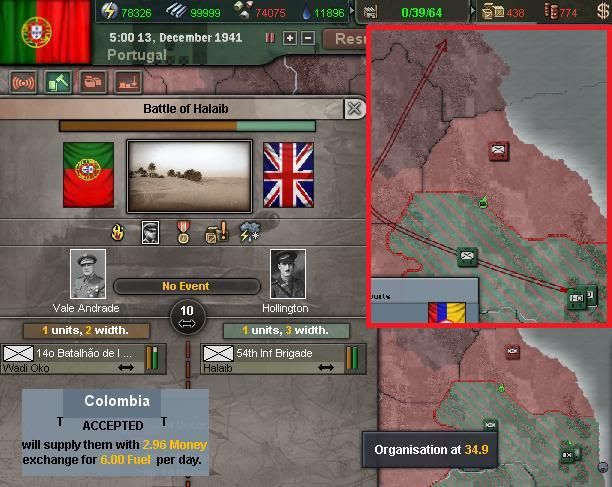 Once the 14th has "pinned" the British, so that they are otherwise occupied, the 1st Armored Car begins driving north in a hook around the British position, meaning to cut them off and then attack from their northern flank. Coordination of attacks is the only way Portugal has survived this war so far, and it's still the only way we'll make it. These individual, small, divisions just aren't strong enough to accomplish anything on their own.
In closing, I'll note that the Japanese were closing in on the capital of the Guangxi Clique, as of December 7th, 1941. On the 11th, the Guangxi surrendered, and were made into a puppet government, obedient to Japan's bidding.
Despite the Japanese victories in China, there are no signs that they might be intending to widen the war to encompass either Britain or the United States.