Chapter XXX
The Adventures of a Guard Captain​


It was such a wonderful day to be outside today with the trees showing its bare trunks as autumn came to an end as winter approached. That is if I could be outside today, but instead here I was stuck here in court. All of a sudden there was a man standing in the midst of the crowd who suddenly started shouting.

"Fellow Christians! I come here to bring you good will as a fellow brother in Christ. Come and hear me out as I share my testimony!!!"

It was one of those monks again who seemed to incensed that the Imperial Court was always full of decadent people, though it was not too far from the truth to be honest.

"I was on my journey in Rome to seek out the truth when I saw the Pope travelling on horseback surrounded by the poor citizens of Rome. As that image burnt into the back of my eyes one thing became clear, he is the Beast of the Apocalypse!"

That got my attention. Sure, the East has not always had an amicable relationship with Rome, but the Beast? As in the one related to the Antichrist? That was a bit harsh I thought.

"Once that became clear, everything else I thought I knew began to change! This phenomena is not exclusive to Rome alone, it is everywhere especially in areas where they dare to say that they are the protector of Christendom. What is this Christendom they speak of!? Christ came to deliver salvation to the elect, not establish an Earthly realm!!! For too long we have placed our faith in the so called spiritual descendants of the Apostles. Liars they all are! Whatever you may believe now is not the Christian religion, it is an Imperial Cult made by the Pagan Emperor Constantine! Down with the Pope, down with the Patriarchs, down with all the Bishops of the World and their false religion!!!"

Oh dear, now he's done it. Not only did he completely cross the line, but he also managed to insult the Imperial Line in an Imperial Court.

"Guards! Arrest that blasphemous pagan!!! I will not have a false prophet dare to lead astray my subject within my own court!!!!!"



It was the Emperor himself, Stephen who was completely outraged. Unexpectedly succeeding his brother after his sudden death, unlike his predecessors, Stephen was not an uneducated man. In fact, prior to his ascension, he was supposed to be destined for a Church career as he did his education under the tutorship of the late Patriarch of Antioch, Photios, who was known for having succeeded and becoming deposed to the office of the Ecumenical Patriarchate of Constantinople at least twice due to some theological dispute between him and Rome. The man was a legend within the theological circles everywhere in the world that was not Rome. As such when His Majesty arrested that outrageous monk, he most likely did not do it out of anger against the insult hurled towards the Imperial Line, but rather the more academic theological one which most may not be able to comprehend.

My suspicion was proven correct when the current Patriarch of Antioch, Kyriakos commended the Emperor for his actions.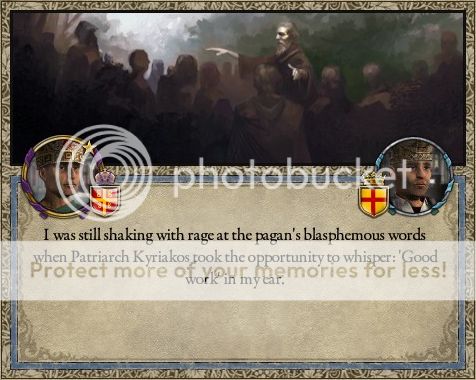 "Again? What is wrong with these Provincial Governors!? Are they never satisfied? You know what to do."

"Yes, Your Majesty."

I had no idea what was going on, but I did recognise the man speaking with the Emperor. He was the Governor of the Theme of Cyprus where rumour had it was also a Spymaster for the Emperor, dealing with the shady aspects of court intrigues and politics. He got a glimpse of me and started to approach me.

"Captain, I have a task for you. The Governor of Abydos, Dionysios is suspected of high treason and as such, you are hereby ordered to execute the warrant for his arrest."



"Yes, Your Grace!"

It didn't take that long by ship to Abydos where the treasonous governor resided. Not wanting to take any chances, I took a full company of Imperial Guardsmen and marched them to the Governor's residential palace. A chamberlain of some sort intercepted us before we reached the main gate.

"Who do you think you are marching here with armed men. Do you know who resides here!?"

"Who do you think we are? Have you seen the colours we are flying? We are the Imperial Guards here under the orders of the Emperor himself, now step aside or face the consequences for obstructing Imperial Justice!"

The man now suddenly in fear quickly moved out of the way.

"Dionysios, Provincial Governor of Abydos, you have been charged for high treason against the Emperor and as such we hereby place you under arrest by the orders of the Emperor himself. Co-operate with us and you shall not be harmed."

There was no response.

"In the name of the Emperor, surrender peacefully and come out Dionysios!"

There was still no response. Turning towards the man who intercepted us before I ordered him to open the gates.

"But... But... But..."

"By the Emperor, open these damn gates or I'll have you arrested also as an accomplice for high treason!"

With no other choice, the man obeyed my orders and opened the gates. As soon as the gates opened, I took four men with me to the front door while ordering the rest to surround the premise to make sure there was no room for escape as well as giving them the order to slay anyone who stood in their way. After walking for a few minutes, we finally reached the main office door.

"For the last time Dionysios, come peacefully or suffer the consequences!"

When my demand was met with silence, I lost my patience.

"Break it down!"

One of the guardsmen went towards the door and kicked down the door. Upon further inspection, the Governor was nowhere to be found.

"Find him! So long as his head is attached to his neck, I don't care!!!"

After furiously searching for over an hour, the chamberlain approached me.

"What is it!?"

"Um... The Governor just arrived from the tavern he was at."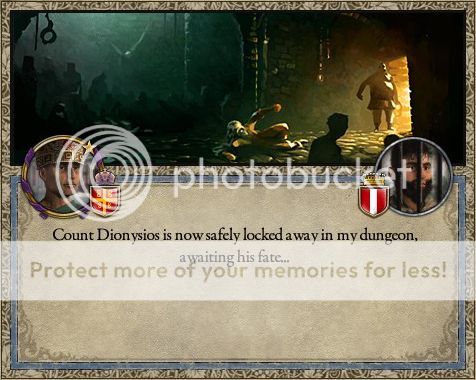 It was quite embarrassing really, but in the end we got the job done. We arrived back in Constantinople after two days with the Governor in chains. Upon arrival, we were greeted by the shadowy Spymaster for the Emperor.

"Well done, Captain. Though you only just arrived, I have another task for you."

"Where to, Your Grace?"

"Koloneia, not quite sure who you'll be working under, but you and whomever your superior may be are to go there and relieve the Governor of Galatia of his duties so he can do his After-Action Report for the Reconquista."

"But Your Grace, I am a member of the Imperial Guard, surely there are more suitable candidates to send to the front lines."

"You have combat experience, do you not Captain? That should suffice, or are you telling me that you are afraid."

"No, of course not!"

Well, I was to be honest. Though being an Imperial Guardsman was not always safe, but the mortality rate was significantly lower than that of the Imperial Legion. However, there was very little I could do to deter my deployment to the front lines.

"Good, the Empire has no need for cowards. Make certain that you are fully prepared and say your goodbyes as soon as possible as you are to leave at the first sign of dawn."

As the day went by, morning came suddenly fast signalled by the cock call. I was feeling rather anxious and was unable to sleep. With no other choice, I gathered my belongings and went out to the gathering point, meeting up with the 5th Imperial Legion of the Roman Army, drawn mainly from the Themes of Europe. Checking which stations everyone was at, I was surprised to find out that I was to command an entire division. After a quick briefing, we marched towards the front lines in the Armenian region.

It took about a months worth of marching to finally arrive at our intended destination. From there the overall Commander, who had not bothered to introduce himself to the rest of us, met up with the Governor of Galatia and relieved him of his duties as well as other non-essential military commanders including the Commander of the 8th Division whom I replaced. When we arrived, the forces already present were in the middle of laying siege against the castle of Koloneia. As soon as the 5th Imperial Legion fully merged with present Legion from the Themes of Asia, our Commander ordered us to assault the castle.

Although we were not fully prepared, the sheer number of the Roman soldiers against the Saracen defenders was so overwhelming that we took the castle by nightfall.



Leaving just over forty men to defend an entire castle, we marched South towards Melitene where were to rendezvous with the rest of the Legion from the Theme of Asia.



As soon as we arrived, our Commander once again ordered us to immediately assault the castle.



"Slay all those who resist, but spare those who surrender. They may prove useful for ransom later!"

"Yes, sir!"

As the defenders of the castle fell to Roman swords, another castle was occupied by Imperial forces.



Somehow ending up in the vanguard, the 8th Division were the first to arrive at the palace gates. There we were met by a Saracen wearing Armenian style clothing.

"Halt, who goes there!"

"Silence, you Roman dog! I wish to speak to your superior."

I pointed my sword towards the man.

"Identify yourself first, then I shall decide whether your head should still be attached to your neck or not."

"You impulsive infidel. I shall entertain your ignorance. I am the Sovereign Lord of these lands as accorded by Allah himself. Considering how you barbarians have rudely barged into my home, I would like an audience with the overall Commander of this barbaric force."

"Well, Your Grace, you should have said that first. Come with me, I shall escort you to him."

After escorting the Prince of the Marwanid Emirate to our commanding officer, he began laying out a string of insults after which he took off his coronet and threw them towards the feet of the our Commander along with his sword and a set of keys.

"What was that about?'

"Apparently, he surrendered."



"Sure is a strange way of doing it."

"Tell me about it..."

With that, the Reconquista against one of the Emirates or Principality was over.



It was about a fortnight after the surrender of Prince Marwan to the Imperial forces that we arrived in the mountainous region of Khilat where we were laying siege to yet another castle of the infidel Emirs.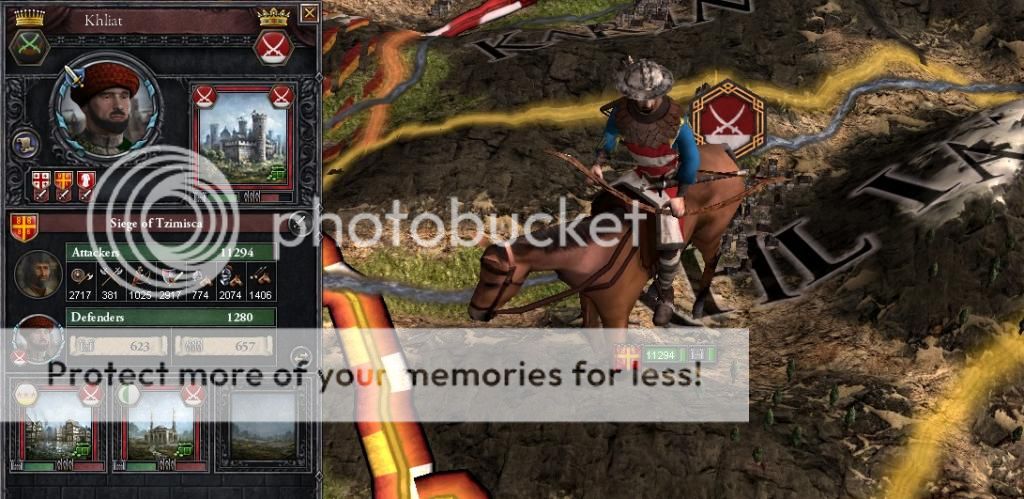 As our victory against our enemies increased, so did the amount of prisoners of wars we had to drag along with us. As our mobile prison system started become cramp, we began to get complaints from the prisoners due to their conditions.



Seeing how something need to be done, I decided to approach our Commander.

"My Lord, we are receiving complaints from our prisoners."

"So?"

"Should we not do something about it?"

"Well, if you feel that something ought to be done, why not do it yourself? Don't bother me with such minor details!"

Not a compassionate man he was. Seeing how simply releasing them was not an option and slaughtering them would give us a reputation which even the ancient Huns would not be envious of, I decided to go with a middle route.

"Lieutenants, get some men to see the status of these prisoners. If any have connections to a wealthy Lord or some kind of noble, send messengers to them for ransom."

"Yes sir!"



Just as the last of the prisoners with rich connections were ransomed off, a signal was raised from the Command Centre for all divisions to initiate an assault against the castle.

"8th Division, forward!"

"Sir, the walls have been breached on the South side!"

"All units, charge!!!"

By dusk, the castle was ours.



Just as we started to celebrate a member of the forward Scout Unit came rushing towards the commanders.

"My Lords, enemy soldiers number over three and a half thousand have been spotted in Koloneia!"

"Koloneia you say? Captains! Prepare your men,we march back towards Koloneia!!!"

"Yes, My Lord!"



Due to bad weather, it took nearly two months to get back to Koloneia.

"My Lord, scouts report that the enemy forces are just beyond the river."

"We shall charge at them before they can escape."

I did not like the sound of that.

"But My Lord! Crossing the river will put us at a disadvantage, surely we should attempt to lay a trap and ambush them."

"Nonsense! We are brave Christian soldiers, we face the enemy head on!"

"We will suffer casualties!"

"Of course we will suffer casualties! This is war, Captain! I will not have anymore objections unless you want to join those prisoners whom you seem to care so much about! Now, do as you are told and rally the men."

"Yes, My Lord."

Once we were ready, all the Division Commanders ordered their Ensigns to signal their ready status.

"All units, charge!"



The battle was chaotic with a hundred of our men falling by arrow fire in the river. Despite such casualties, the horde of Roman soldiers pushed onwards and charged towards the enemy ranks.

"Lieutenant, get the second rank to hold the left side!"

Hearing no response, I looked around to see where my Lieutenant went.

"Ensign, where's the Lieutenant?"

"He was killed with the rest of the men in the river by arrow fire, Sir!"

Without much of a choice, I decided to charge into the left section myself.

"Allah Ackbar!"

Turning around, I saw one of the infidel Captains rushing towards me. I managed to quickly side step before he managed to cut me in two though me managed to get his blade in between my armour. Before he could launch a second attack, I threw my sword at him and before he could react it pierced through him right in the middle of his face.



Badly wounded, I looked around to see where our Commander was. As the Imperial Legion finished off the remnant of the enemy force, to my horror I saw our Commander skewered on the enemy lance. Regardless, victory was a victory and we needed to report it back to the capital, somehow. Looking around, I saw a man cowering behind a fallen horse.

"You there! Which division are with?"

"4th, Sir!"

"I have a request for you, take the main standard of the enemy and take it to the nearest Imperial outpost and report a victory for the Empire."



"But-"

"What is your name?"

"Niketas, Sir."



"Listen, Niketas. I do not have much time, so I need you to do it. Though we have won, we are low on officers and with the Theatre Commander dead, we need a replacement and the Capital needs to know, besides we are also awfully late on our reports. While the rest of us clean things up here, I need you to do this for me. Can you do that?"

"Ah..."

"Niketas! A true Roman does not cower behind fear! Now, will you do this for me?"

"Yes Sir! Under whose command should this be delivered as?"

If only that cursed Commander had introduced himself...

"Do it under mine: Belisarius, Kentarchos of the 8th Division, European Theme."