Design Manager - Crusader Kings 3
Paradox Staff
28 Badges
Hello and welcome again to one of the Developer Diaries of I
mperator:Rome
!
Today I will be talking a bit about how Mercenaries work in the game, as well as some words about the Arabian Peninsula.
Mercenaries​
Armies came in many shapes, forms, and levels of professionalism, in the era that Imperator:Rome covers, something we to some degree try to cover in the Military Traditions that we have spoken about in previous developer diaries (and which we will return to).
One big difference however is that not all troops fought for the country in which they were born. Then as well as later in history mercenary groups played a big part, such as Cretan Archers, the famous Mamertines and others.
At times Mercenary groups played a decisive part in conflicts, as did their tendency to abandon an employer that could not pay them.
In Imperator Mercenary armies are always present, spread out over the map, using their own banner and the unit graphics of the local culture. As long as a mercenary army is not hired by anyone it will also not count towards the supply limit in the city they are located. Mercenary armies all have their own General, to whom all the troops are loyal.
Mercenary Overview Screen. Here you can at all times see what Mercenaries exist (sorted by Proximity) and who has hired them. It also displays the monthly cost of employing each Mercenary group. You can also see Papirius' unemployed Mercenaries on the map between Rome and Etruria.
Hiring a Mercenary regiment comes at a one time cost of
50 Military Power
, but also obliges you to pay their upkeep for the duration of their employment (at a rate
400% more expensive
than what one of your own armies would cost).
Hiring the army immediately brings it under your control, but does not move it to your territory. Instead, hired mercenary armies hired outside of your territory will begin in a state of exile, so they can be brought to your territory to then be used in whatever conflict you intend.
Any Mercenary company in
diplomatic range
can be hired, but their high upkeep means that hiring an army far from your conflict could get expensive as you would be paying their upkeep from the day they are hired.
Once no longer exiled, the mercenary army will act as any other army under your control, except for the fact that you cannot remove its leader, or remove any units. They will use your military bonuses, you can alter their deployment and their military tactics.
As with any army you can also disband a mercenary army at any time it is not in battle. Their increased upkeep cost will however also mean that disbanding them can be quite costly.
Once disbanded the mercenary army will again be considered available for hire, and it will begin its journey back to its home location.
Desertion & Mercenary Princes:
​
Mercenaries are not only known for how useful they were to their employers. Men like Pyrrhus and, in his youth, Agathocles, also made names for themselves as Mercenary captains when their prospects at home looked bleak.
Succession
and Monarchies is something we will talk more about later but it is possible for the Mercenary company list to be supplemented by characters from the wider game world, such as disenfranchised heirs.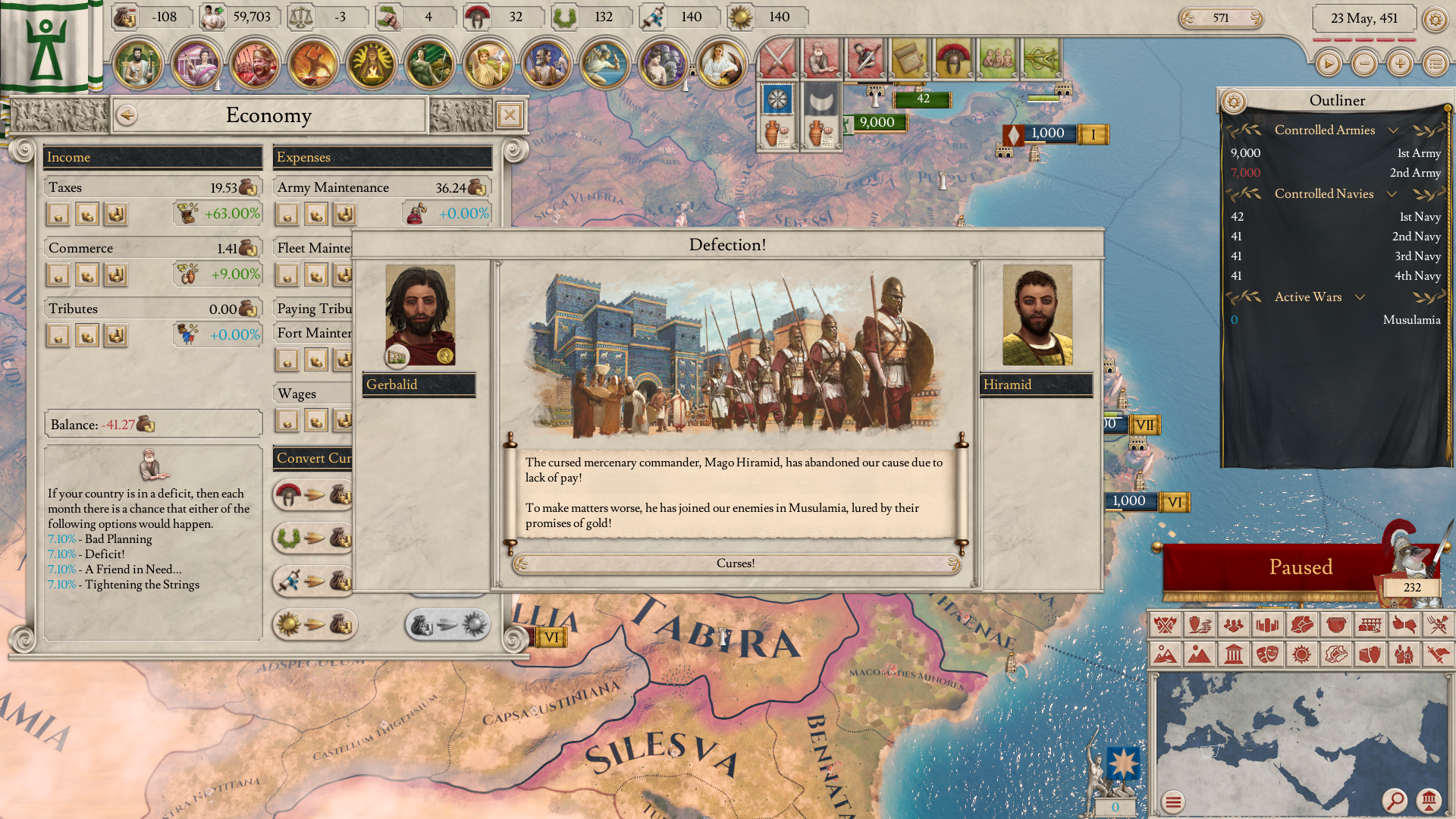 Last of all, should you not be able to pay your mercenaries you may find that this makes them quite unhappy. Among the various possible events that can happen as a result from a negative treasury (as mentioned in the diary on Economy) is that mercenaries might offer to join the opposing side in an ongoing war.
Arabia
For the map part of today's diary we are going to be looking to the south of regions we have previously visited. In 450 AUC or 304 BCE, the Arabian peninsula is at the same time isolated and integrated in the Mediterranean world.
The region is closely tied to the trade network of the Indian Ocean, which while not nearly as developed as it would become later, was still ancient by this time.
It is this trade in spices, cloth and incense that brought greek traders and explorers, to the region and eventually led to Roman trading posts on the Indian subcontinent, and it is this trade that is the lifeblood of the more advanced of the Arabian kingdoms.
Arabia Felix / Felicitous Arabia:
Throughout history southern Arabia has been the more densely populated and more developed part of the peninsula. The temperate highlands provide basis for agriculture and larger cities while the coastline is strategically situated to benefit from the trade flowing between Africa, India and the Mediterranean. This is how the region came to be described as Felicitous Arabia in greek and latin, or Al Yaman in Arabic.
In 304 BCE this region is home to a number of ancient kingdoms, with their own writing, bureaucracy and mode of government. Up until recently this area was dominated by the Sabean kingdom, but it is now divided between a number of smaller kingdoms.
Apart from the Arabian majority this region is by our start date also home to sizable Jewish communities, though these are at the time of our start not in control of any of its states.
Saba: Ancient Autocratic Kingdom and center of Semitic civilization in Yemen. In many ways in decline at our start date and challenged by smaller nearby arabian kingdoms.
Himjar: Kingdom of the Himyarites who eventually would come to dominate the region. Rival to the other south arabian kingdoms and already in control of the important coastal strip along the Bab el Mandeb strait between Arabia and Africa. Himjar starts independent and unaligned.
Qataban: Small kingdom in southern Yemen. Starts in control of the southern part of the Yemeni highland as well as some of the Incense ports of the south.
Hadhramut: Ancient South Arabian kingdom that was eventually conquered by Himjar. Controls some of the most valuable incense producing regions but is generally not nearly as rich and fertile as western Yemen.
Ma'in: Kingdom of the Mineans, who predate the kingdom of Saba but only recently rose to relevance in the region.
Northern & Greater Arabia:
​
Northern Arabia is not nearly as fertile or settled as the south, it is dominated by the huge Syrian and Arabian deserts, which most peoples have a hard time crossing. The Arab peoples have however made the trade through and around their peninsula their main source of income and their kingdoms can be found all around the deserts.
While never the dominant force that they would become later in history, some Arab kingdoms such as
Nabatea
,
Himjar
, and later
Hatra
and
Palmyra
, would prosper in a region that was constantly at the edge of the conflicts of greater empires.
Arabian pops are also present far beyond the region where Arabian states exist at our start, opening for the possible formation of more such states in the future in Syria and Mesopotamia.
Lihyan: Up until recently a small city state kingdom based around the Dedan oasis, south of Nabatea. Have recently grown to control a wider region, wresting control of the Tayma or Tiamat oasis from the Qadarites.
Thamud: Independent Tribal state along the red sea coast attested for hundreds of years before the start of the game.
Thaqif: Independent Tribe controlling the area around the Ta'if oasis.
Qedar: Old tribal federation formerly in control of the region conquered by Lihyan. Traditionally allies of the Nabateans but at the start of the game unaligned.
Gerrha: Independent Tribal kingdom in control of the eastern arabian coastline (Barayn).
Maka: Tribal Kingdom in modern Oman. Was previously under Achaemenid rule but has since slid into obscurity and been left to its own devices.
Tylos: Small trade kingdom on the island today known as Bahrain. The economy of Tylos is based on pearl fishing and it is home to a sizable greek minority.