In this AAR, I will be playing Burgundy, land of wine and beauty. Occasionally, I'll slip into a sort of "journal entry" narrative, mainly in the battles, but mostly I shall simply be reporting the battles and experiences of the game.
So, what are my goals?
1) Firstly, to defeat france. That means taking all of it's European holdings.
2) Second, become a large power in europe. This hopefully will be achieved at the same time as the first.
These secondary goals are those I'd like to achieve, but are by no means necessary:
1) Stop the formation of germany, so at least taking some of those key provinces.
2) Defeat England, as with france, this means taking their 'old world' holdings.
Bare in mind however, that these goals are not set in stone, and are subject to change, as anyone who looked at my Castille AAR will know.
The year we begin is 1453. Let the AAR begin...
First, we sorted out our advisors, deciding upon two devoted to stability and one to land technology.
And we move a slider toward innovative, stirring the populace.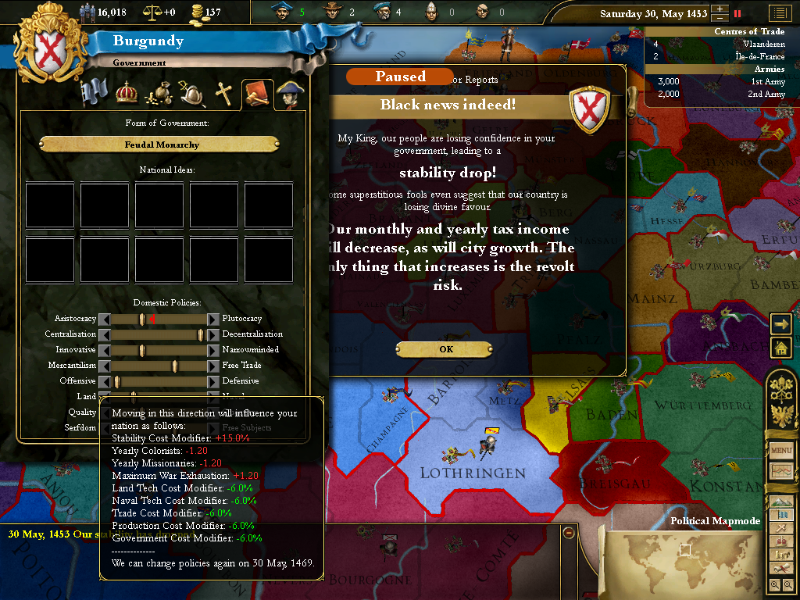 Our provinces are split in two, this can't continue. We begin preperations for the annexation of Lorraine.
A new king is crowned, Lord Louis-Joseph I, and the discovery of a remarkable artist, Gilles Binchois, produces 3 stability for Burgundy. We also send more merchants to Ils De France, resulting in 5 successful hits. We now have 4 merchants in our own COT, and 5 in france.
Concerned that a combat with france was not within Burgundian capabilities, an alliance with Aragon was secured. Should the french start a war, they would find opposition on two fronts.
And, in september 1454, a new national idea was founded, the bill of rights.
----
From the diary of Guillame Dufray:
"September the second, 1454. A momentous occasion for the peasantry of fair burgundy. All men laid down their tools and joined the celebrations. No less than a hundred of us drank dry the local tavern, and yet more have arrived there for drink! Were it not for my commission by Lady Alonso, I would have a pint in my hand now. Oh glorious nobles, they wear their sadness as obvious as their velvet robes, yet they lock themselves away in their golden halls and crystal vaults. Still, 'tis a glorious achievement, king Louis has done his subjects a great deed."
----