Patron Saint of Suenik
57 Badges
One of the most fun aspects of CK is its "modability" (real word? You decide!). I've done this a couple of times before - namely gone into the game files and hacked around to replace existing medieval types with the names of friends and family members (and then had my wife come over, stare at the screen with horrified eyes and say "What does this message mean when it says I've died in childbirth?").
Recently I was speaking with some friends and we agreed that it would be "fun" to put all of our names into CK, let it run and see what happens. So, we duely have and it's been amusing.
Being the AAR whore that I am I also thought "Why not turn it into an AAR?" So - I have.
The setting is the Hastings scenario playing as England, but instead of all the usual startup characters I've been burdened with myself as King and some friends as my (dis)loyal minions. Otherwise, it'll run as a fairly standard (normal/aggressive) CK game. You'll just probably see some odd, non-medieval names on screen shots.
The first few updates will be written as kind of history book type entries, but after that I'm going to go more narrative ('cos I'm a contrary-mary that way) but, as should become apparent, this is a comedy AAR - not serious in the slightest.
So, if you're still reading this, welcome to chapter 1.
---
Wherein the King realises that he has no aptitude for diplomacy and Hereford and Northumberland have a falling out​
In 1066 the realm of England was in turmoil following the death of King Harold.
He instituted a system of inheirtance that his advisors dubbed
semisalic consanguinity
- a complicated way of stating that the strongest male heir (including those through the female line) would inherit a title upon the current holder's death. Officially this policy was enacted in the interests of fairness, but in private the King was often heard to concede that it ensured that "no brain dead moron would end up on the throne and undo all my good work".
The final tier of legal authority within the kingdom was known as "regal supremacy" - a polite way of daring the Papacy to try and dictate policy.
Ye Lawes of Angleland (TM)
When the grumbling Saxons had calmed down and they had ceased daubing "death to the usurpers!" on every available flat surface, the King turned his attention away from law-making and back to two more pressing matters, namely finding a worthy bride and depopulating the countryside of indigenious wildlife (which was called "poaching" if you were a peasant or "sport" if you were a noble).
Have at ye piggy!
The boar hunts proved to be remarkably successfull affairs and soon the King had established a strong friendship with the Duke of Canterbury (who, it seemed, also possessed a similar cavalier attitude to animal welfare).
The other hunt - this time for a bride - also went well, and soon all the nobility were invited to a ceremony in London where the King was grandly wed to some random, young, virile French wench that he had met on his travels.
She may not look like much but she's got it where it counts...
As the guests filed through the castle the only thing more impressive than the extensive collection of animal heads mounted on the palace walls (none of which looked too happy to be there) was the bridal dowry (which was presently being unloaded from several carts and which probably in part contributed to the King's attraction to his bride to be).
By 1068 the realm itself was surprisingly stable but a falling out between the Count of Northumberland and the Duke of Hereford was to call this peace into jeporday. By all accounts the new Duke of Hereford was a pure, chaste and honourable man. The Count of Northumberland on the other hand was famed as a wenching drunk with the moral fibre of baboon. A set-to at the royal tournament resulted in a fierce rivarly between the two nobles and although the King remained impartial on the matter Hereford perceived this neutrality as a lack of character.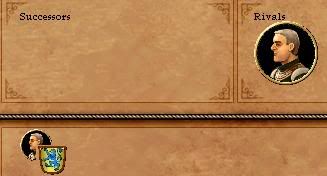 Thankfully the King's advisors suggested a diplomatic solution, one that was guarenteed to make all parties see that this unfortunate misunderstanding was a silly little affair that could be consigned to the annals of history.
Tacit diplomacy or crass bribery?
Historians have agreed that this particular King would best be remembered as a pious King; although he wished to firmly hold the reigns of power within his realm he was devout in his dedication to the Catholic faith and its offices. Less noble scholars have wryly remarked that this is called "wanting to have your cake and eat it".
Therefore, the subjects of the realm were frequently dissapointed when petitioning the crown against the Church. For all his talk of "Regal Supremacy" the King was all too willing to curry favour with the Pope.
Of course I'll ignore them Your Holiness!
Eventually the Pope acknowledged such piety and, in 1068, sent a Bishop to the King's court.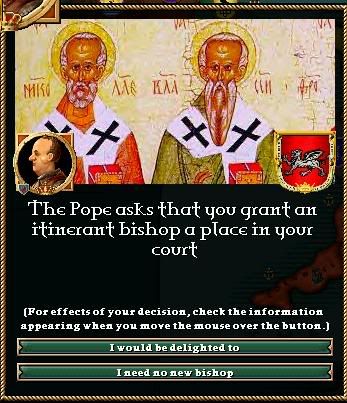 The King was delighted to meet his new bishop but soon began to understand why the Holy Father had sent Donald from Rome to these shores.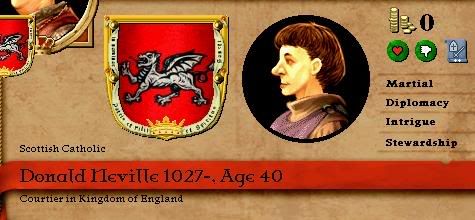 As well as being flat-broke the new bishop was a lustful sceptic who's real passion (apart from whoring) was putting heretics, witches, Muslims, Pagans and everyone else who wasn't Catholic (and a few who were) to the stake. Conversations with Donald often gravitated towards the women of the court and tended to follow the same, staid format.
"Is she single?"
"No."
"Oh - is she a candidate for excommunication?"
"No."
"Oh... What about her? Is she single?"
"No."
"Oh - is she a witch?"
Despairing of having to house such a potentially scandalous (not to mention immolation-happy) moron in his demense the King had his advisors come up with a way to get rid of him that wouldn't offend the Holy Father. The solution was both simple and elegant.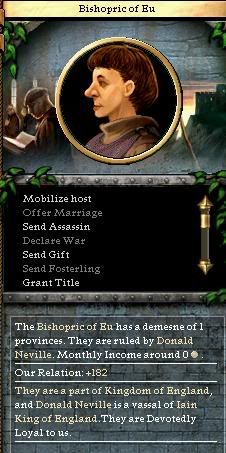 An elegant solution
Duncan was made Bishop of Eu - a paltry little Norman province that the King hadn't even realise he possessed. None the less, the Duke of Normandy was entrusted with keeping an eye on this firebrand in case he should prove too zealous in burning his French subjects (the reasoning "They're French - they'll have done SOMETHING deviant!" was not legally sound).
As the years rolled by the King was made aware of a potential threat brewing to the West. The Duke of Hereford had it on "reliable authority" that the Counts of Wales were planning a union - a union that could potentially threaten the stability of the Kingdom of England. Heralds were therefore dispatched to see if the Welsh lords could be brought into the fold peacefully.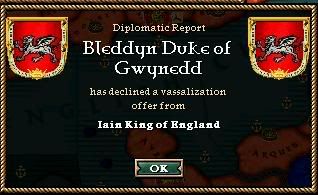 That'll be a resounding "no!" then...
In response to this rebuttle by the Welsh, the Duke of Cornwall was reputed to be openly preaching distain for the King's strength, and to further complicate matters further north the Countess of Lancaster had "miraculously" found a "mouldy old partchment" that proved her family's claim to the Count of Durham's land (this was in addition to the document that she had manufa...er...FOUND proving her right to Northumberland's land).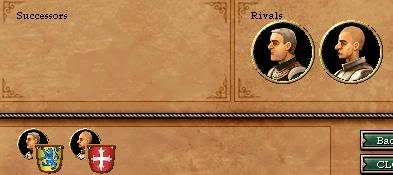 Mouldy old documents are powerful things
Neither the count of Northumberland or Durham were believed to be particularly impressed by such sabre rattling but decided that the best course of action would be to call her names and act as if they weren't bothered. Durham's famous "Attention Hungry Diva" speech is often cited as one of the earliest examples of popularist rabble rousing. It is widely recorded that Lancaster retired to her ancestral home to sulk. It is less frequently recorded that she is believed to have thrown a screaming fit, beaten a serving girl to within an inch of her life and demanded a bath of asses' milk as "therapy".
At roughly the same time as all of this was taking place a minor rebellion had occured north of the border, when the count of Berwick declared his independance.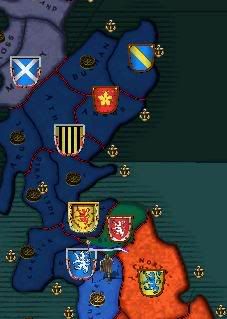 The King of England, anxious to do something to make himself feel less nervous about the various threats assailing his realm offered the rebel Lord an alliance. Under the terms of such alliance the King of Scotland would be forced to cancel his agression against Berwick or declare war on the Kingdom of England. The English soverign was reported as saying in private "Yeah it's risky but I need something to distract those squabbling bastards back home. The only thing rebellious lords like more than treason is the random slaughter of foreigners!"
It all came to naught though when the Count of Berwick declared his intent on facing his aggressors on his own.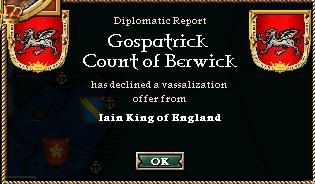 All by my sellllllllf!
"On his own" the Scottish crown massacred his troops and he was hung drawn and quartered in Edinburgh several weeks later.
With it becoming increasingly apparent that he had all the diplomatic clout of a haddock, the King's mood was blackened further when he returned home and discovered large portions of the capital ablaze and thugs dressed in bright clothes and gold chains capering through the streets like rather destructive gibbons.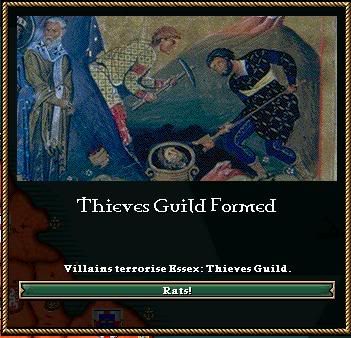 Dat iz well bad, innit?
While some historians would argue that such an open display of public unrest was the catalyst for later social change, most are pretty clear on the fact that the King uttered "Sod this - someone else sort it!" before making off for another round of bloodsports with the Duke of Canterbury.
Whilst on this trip Canterbury is reported to have planted the seed in the King's mind of a more agressive way of subduing the Welsh Lords.
A cunning plan
Will the King attack Wales? Will the Northern hate triangle burst into civil war? Will the Duke of Cornwell have the stones to rebel? Will the Countess of Lancaster pluck any more 'valid and legal' claims out from the family vaults? Find out in the next exciting chapter!