Second Lieutenant
60 Badges
How do you like them Naples?
A Neapolitan AAR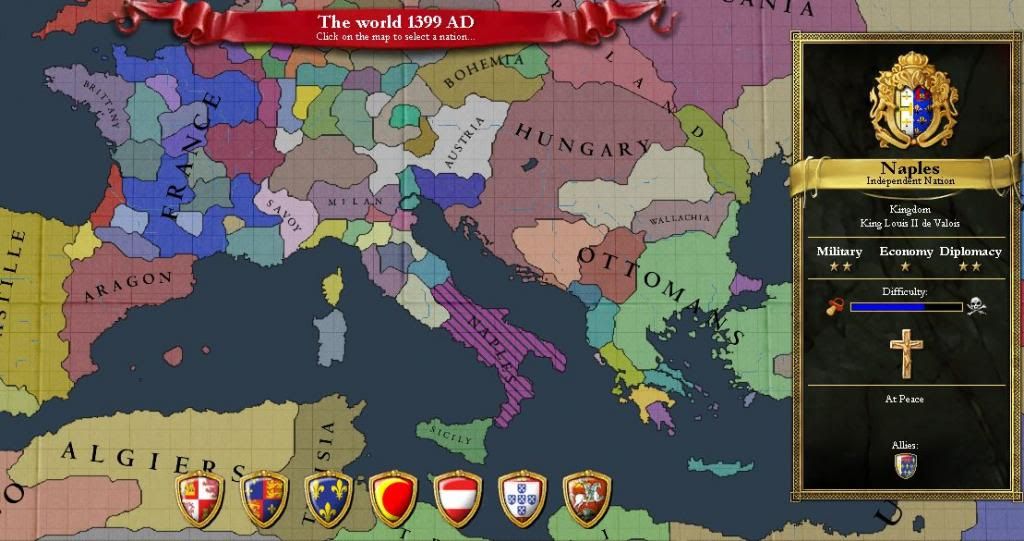 First of all, I would like to apologize for that sad excuse for a pun in the title. Sadly, they won't be getting much better from now on. Anyway…
Good morning, how are you? I'm drSandworm and welcome to my first ever AAR. I've been itching to do it for quite some time, but due to lack of time and other circumstances I've never had an opportunity to try it. Not until now, at least.
The reason why I chose Naples is, well…. aside from a chance to make a horrible pun, not many. I guess it's because I haven't played much games in this area of the world (and I'm too traumatized to try playing in Russia again).
Naples starts off as a Catholic Italian nation ruled by a French monarch, with one decent province (out of four), an army of 1000 and a personal union with Provence which is ought to bring me more harm than good, regardless of who wins the French game of musical thrones. It has the potential to reunite Italy, conquer areas around the Mediterranean Sea, and maybe even restore glory that was once Rome. More realistically though, it will fail and become a pawn in the hands of Castile/Aragon/Austria/Flavor of the Week Blob in their struggle to control Italy. What destiny has in store for us?
…I don't know, I've just started the game.
I wouldn't go so far as to call it a "comedy" AAR, as I doubt I could make somebody laugh, so let's just call it a less serious AAR.
RULES:
- no cheating
- no save file editing (like I would know how to do it)
- no rage reloading
EUIII DW v. 5.2, with MiscMod v.0,799. Normal difficulty; inflation on; historical lucky nations (that surely won't come back to bite me later)
GOALS:
- Survive until the end of the game
- Retake Sicily
- Maybe possibly unite Italy
- Seize as much of the Mediterranean as I can
-
Stay in union with Provence for as long as I can
Well, I was cured of the hopes of completing this objective in a mere 20 years! Thanks, France!
I like to consider myself a moderately competent EUIII player, but don't expect something crazy like world conquest from me. Besides, I'd rather mess around and have fun with the game.
DISCLAIMER: This AAR may contain: mediocre game play performance, bad decisions, sad attempts at humor, overused jokes, double entendres, national stereotypes, references to other, better AARs and peanuts (but only after 1500). Viewer discretion is advised.
I am not a native English speaker, so feel free to correct me if you see some kind of grammatical error or a typo. As always, any kind of feedback is welcome.
Enough of my ramblings, sit back and enjoy!
Last edited: