Well to start this off I would give an introduction and history about my little impoverished count but sadly cannot find anything, not that it matters, as we will do our best to not follow history. And this is my first ever AAR played as William the Conqueror a few times but decided the Weimars need some loving in the AARs



Count Aribo von Weimar (Count of Weimar); de jure duchy of Saxony but my liege is that pesky brother Duke Otto von Weimar ruling out of Meissen.

Oh starting date the usual September day in 1066.

So I'm poor only have 41 gold and earning .79/month, really hating my brother Otto at the moment damn him for being born before me! Oh well. So I need to get married to a little youngin with good fertility, because to sow the seeds of discontent I need SONS!!!

Therefore up goes the ambition Get married, and then the marriage ceremony (plus 50 prestige, said screw the 6 gold) to Constance de Bourgogne, she's only 21 and full of lustful tendency
(23 Sep 1066)

Next ambition is going to be a son so hope the wifey is in bed because marrital bliss is coming her way!

Then on the 29 of October 1066 my wondrous emperor of the Saline Solution (oops I meant the HRE and Salian Dynasty) declares a Holy War for Mecklenburg, and ontop of that calls my darn peasants away from this year's harvest.

While that fun stuff is going on I'm chilling at home on a vacation from my duties as Marshal for my dearest brother, when wouldn't you know the wifey is prego!

So while I'm celebrating I get word that Savoy has declared independence and is about to get drowned in Saline. Unfortunately the grand Emperor in his almighty wisdom has decided that little mosquito Savoy is more important to smash than the 5.5k barbarian horde that is rampaging through Brandenburg, and sadly setting their sights upon my little fief.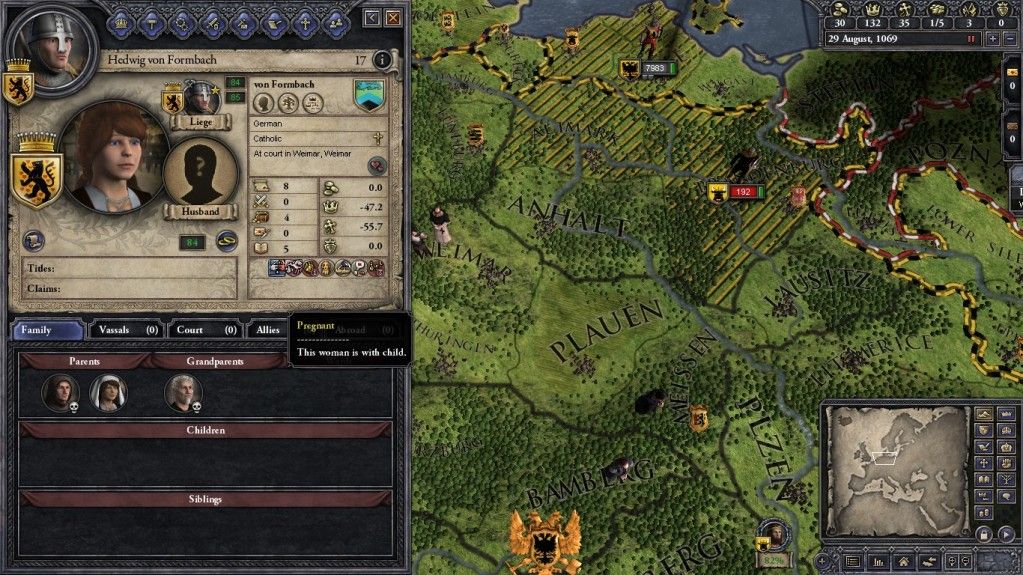 Hope that pic worked!

Anyway so then fastforwarding a bit because I'm getting tired of boring you but on 21 July 1067 I have a daughter...so in my disgust I name her Oda.

Still in a fit of rage and near manic depression as I'm only getting older, I happen upon a young lass by the name of Hedwig von Formbach dancing in my court. I pull her to the side and give her a good tumble in my wife's bed, just for payback for pooping out little old Oda. 23 May 1069...and ooo she is prego too!!!!!! Here's to hoping its an Aribo Junior.

So finally the Holy War for Mecklenburg has come to a conclusion and the Emperor has won...who would have ever doubted. So he calls for a Grand Tourney and invites my old self along with my old broken steed. So I accept only to hear the even more joyous news that Matteo Lord Mayor of Bologna got so drunk celebrated his liege's success that he tripped up his tongue and declared a War of Independence. If only I could see Matteo's face the day he woke up all hung over surrounded by his Captain's awaiting marching orders...that had to be the world's worst hangover. And not too mention that he is the sole cause of the Tourney being cancelled on 26 January 1070 due to the scary war with little old Bologna. Think our Gracious Sovereign is a chicken if that scared him that badly.

So on the 2 of March 1070, lady Hedwig gave birth to a bastard daughter also named Hedwig. This angers me so I refuse to legitimize her, let the damned thing go live with mommy's family. And not only does this upset me but the lusty filled wife of mine runs away to a convent, although its odd because all of a sudden she's pregnant on the 5 July 1070...hmmm maybe I drunkenly stumbled to the convent to roust her from the prison mayhaps.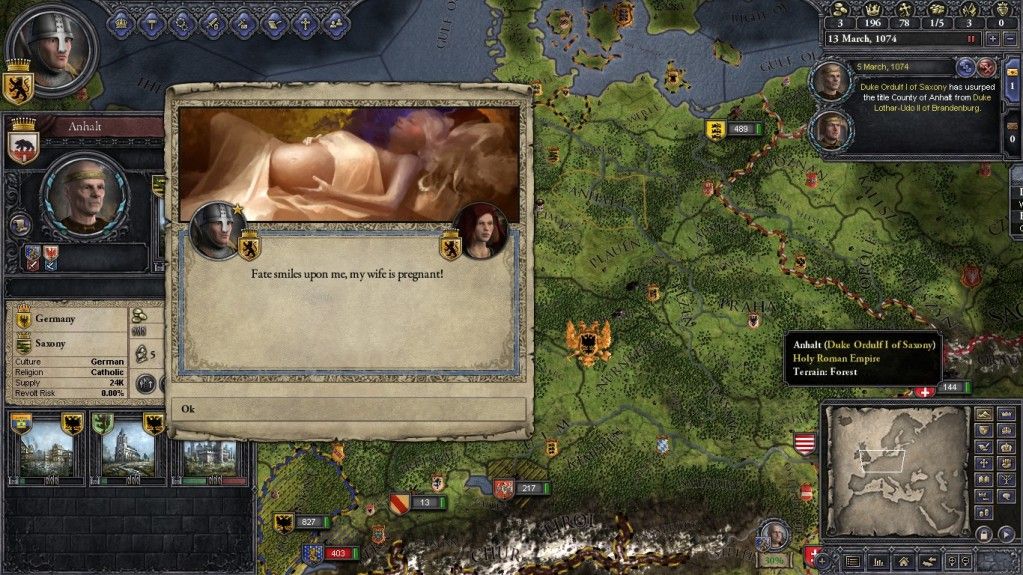 Then 4 months later I become ill, guess this is god's reward to me for creating a bastard, and it only gets worse because I get pnuemonia as well, sucks being a poor Count unable to afford health insurance. But luckily it disappears and I'm all healed up on the 22 of December 1070.

On the 6 of February 1071 I have a son...thank the gods the wife finally has done it! Little baby Willhelm von Weimar.

Then three uneventful years later my wife is pregnant again all the while the Duke of Saxony and some other such place that I forget its name, steals some land from the Duchy of Brandenburg...and well he's literally setting his sights on me and the little minor Count of Plauen Adalbert. Then wonderful little Theodorich is born on 12 October 1074. Shortly afterwards there is a rumor of a "DRAGON!!!" so I proceed to calm the villagers down and swear that I will Kill the damnable creature and hang it above my courtly seat. (sounding like a Targaryen eh!)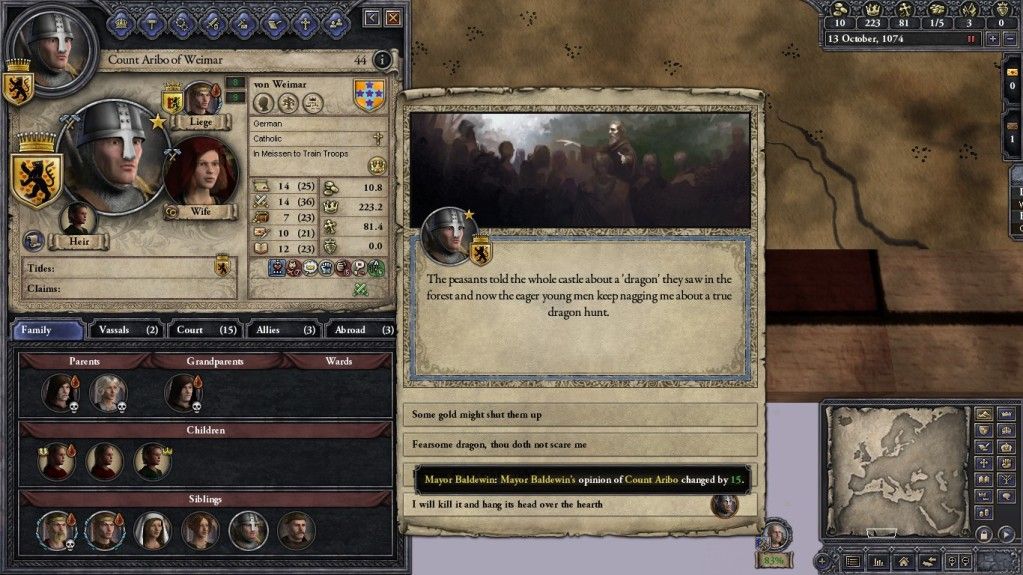 So then the Kingdom of Bohemia gets founded and well the wife gets pregnant again with what will be my third son...starting to have too many of them rascals...this one's name is Berengar.

But fearing the eventual invasion by the Duke of Saxony I assassinate the young Count Adalbert of Plauen. This places his sister Countess Benedicta on the County throne and wouldn't you know Willhelm needs a betrothal! Win win for everyone except the young and late Adalbert. So then I see Countess Gerberga of Lausitz is a minor and well needs a hubby as well so the betrothal goes to my second son Theodoric...they're kind of sort of cousins though because her daddy was my half brother they belong to House Wettin though.

So I widdle away my time finishing some construction projects and watching the young ones harass they're mother around the castle, life is good...well untill that illness bites me again on the 16 of May 1079. This time I fear I won't recover and stay bed ridden till December 24 1079 on which day I pass from this world turning the reigns of the County of Weimar to my wife to act as Regent until young Willhelm grows into himself.
Last edited: