Debased coinage
35 Badges
Honduras​
Free, Sover
iegn and In
dependent
​
Welcome to Honduras, the land of bananas, bananas and, well, even more bananas! Such is the existence of a quite quintessential banana republic. The reason for this AAR's existence is most probably the failure of my laptop, which has put the Danish Revival (which you really
should
read) on hold, which means, to all intents and purposes, it is my only currently ongoing AAR. Hopefully this will mean more updates more quickly. It will also be, for some strange reason, the first Honduras AAR
ever
. I can't fathom why no one has done one before!
This will be played with straightforward vanilla 1.04 with the only modification being a slight alteration of the "Death of the USCA" event, giving back the 5 reliability to Guatemala's troops which their troops unfairly lose for the rest of the game with the dissolution event. What I did was play as USCA up until that event, then release Costa Rica and El Salvador as satellites causing the death event to fire the next day. I will remove those two countries' satellite status before resuming the game, the reason being that I wanted maximum time to play as Honduras. The title, by the way, is the national motto of Honduras. I prefer Guatemala's, which is "The Country of the Eternal Spring", but beggar's can't be choosers I suppose.
I will use no cheats, although some possibly gamey tactics may be employed to make the game a worthwile experience. My goal is to make Honduras into an unlikely utopia and immigrant heaven, and to ultimately unite Central America and more under the banner of Honduras!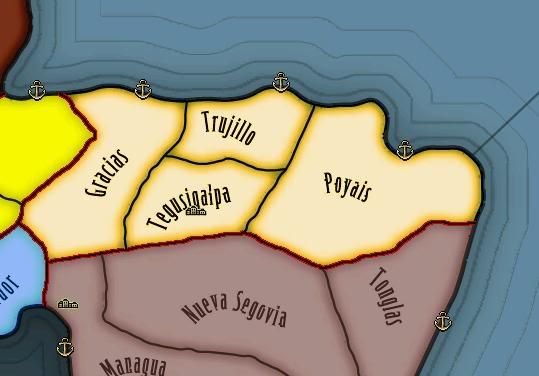 This is Honduras as of 1837, having just gained independence with the death of the USCA. Her neighbours include El Salvador, Nicaragua and Guatemala, the latter being the most populous and powerful. Close by are Mexico and the UK, who are both major regional powers. The USA is as of yet a distant, rather unimportant country, but there are many within Honduras who wish to see a system implemented mirroring that country. El Presidente is open to the idea, and has plans for a full system of reforms, hoping this will attract immigrants to our new and rather empty nation. And El Presidente is never wrong
(except when he is.)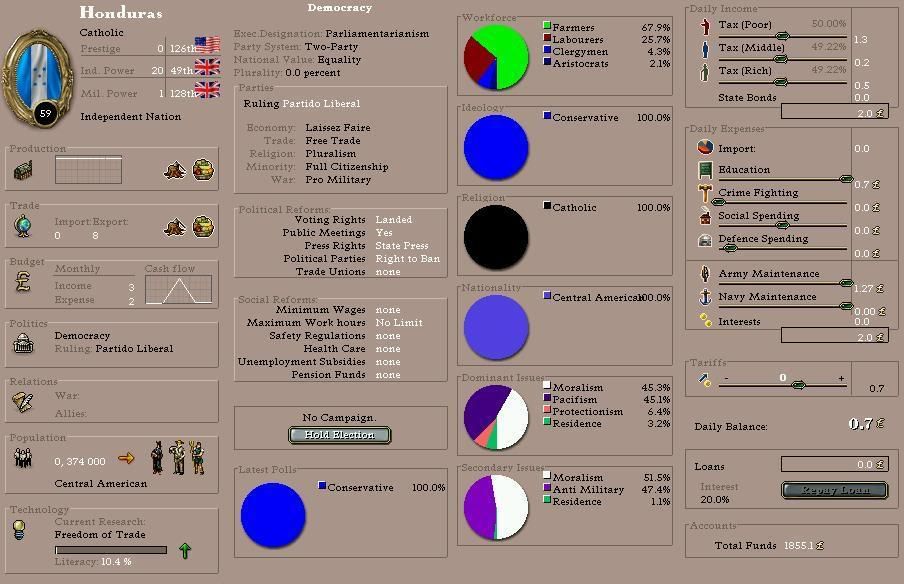 The above pretty much speaks for itself. Honduras does not make an awful lot of money, having such a small population, and with a research rate of just 0.48 points a month things are going to start off a little bit slow. But, as time passes, El Presidente will no doubt learn many interesting ways of intimid...uh,
encouraging
the farmers into producing more and more bananas. El Presidente will also make sure to improve relations with Mexico and Britain as short term foreign policy goals, although it will undoubtedly take time for this to pay off.
As a side note, a couple of interesting things happened in 1836. In January of that year the now extinct USCA was offered an alliance by Texas, which would have meant war with Mexico. This was declined, obviously. February saw the Belgian rebellion blow up into full war involving the UK, Prussia and Austria (and Belgium and the Netherlands, of ocurse), but that was not of too much interest to the Central Americans. That was about it for 1836, but El Presidente does not like talking about the past. He also does not like talk of his sudden and incredible rise to power in Honduras either, just so you know...
Coming up
- A full account of Honduras's early years: poverty, bananas and the price of creating a utopia.