Mademoiselle Gothique (she/her/hers)
Moderator
87 Badges
Homelands
Chapter Thirty Six: Fortress
Part 2
Prelude:
November 21st, 1317 the 1314 Civil War ended in a final, anticlimactic, siege of Pest. With Hungary out of the war, the other states admitted defeat as well. It was all over and as the dust settled it was Vishly who was still standing. Now he turned his attention to the capture and punishment of the Fraternal forces, where ever they were. For these people it meant fleeing, fleeing for their lives and often leaving behind estates, wealth, family, loved ones and pride. It meant finding jobs, finding a way to hide in a society that they had no training for or purpose in. A tragic circle of pain and poverty, a circle that was not quiet justice, though it was the circle they tried to force on many in the merchant class. In Æstlinn, Prince Gunvald did his best to distance himself from his father. He ruled as Prince during the night and on the few days he did not have work to do helping Nigul run his business receiving goods and shipping them deeper into the Empire. The Prince soon forgot what little life of luxury he had, and few of his co workers understood who he was and the gravity of him being there. They treated him as one of their own. That meant chastisement for failure, praise for success, ridicule for stupidity, and drinks for charm and jokes. He stood out as an outsider, not only for his age, but his mannerisms and accent gave him away as a product of the city. Here in the north he was amongst a different stock.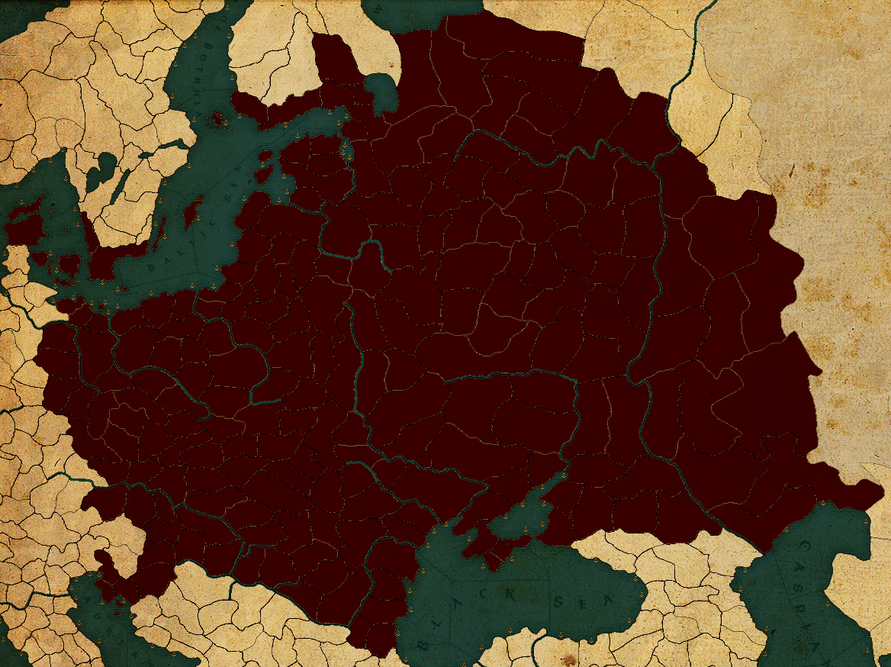 Prussia at the end of the 1314 Civil War.
​
November 21st, 1317
"Eh, Gunny, can ya' and me dat der log keepah?" Hillar asked. Gunvald looked up but was confused. "Eh, you dum or somfing? Giv me dat der log keepah!" Hillar pointed to a large book. Then it made sense, log keeper... the log book is what he wanted. Gunvald nodded and handed him the book. "Fur a city boi you sure don know wats wat."
"W-well you know us, all book smart n-no s-street smart," Gunvald said.
Hillar rubbed his fist against the boy's head in a gesture of faux punishment, "Ya dats fur true, boi. Ere in da nord, it's all 'bout da stretsmart!" He smiled and headed down a ladder back to the dock level of Nigul's business. When he was out of sight, Gunvald returned to crunching numbers. He was the only one beside Nigul who knew math, so it was all he could do. His fingers were always stained blackish-purple from the ink, but the quill became a part of his hand. quickly filling in the spaces. The math just became a mental thing. Walking the streets he would listen to people call their price of their fish and could quickly deduce how much they had caught, the current tax on it and where it had come from.
Even Nigul, who once spoke with just an accent had fallen back into his northern speak. "Gunny, wats say you we cut da bois a break? Cans we afford it?" Gunvald quickly looked down the list.
"If we want to bring Peeter w-we will have to wait until t-tomorrow."
"Wats dat cap'in?" called Peeter from below.
"Nofin, your jus a drunk!" Nigul called. There were laughs from below as the men continued to sort the crates into destinations and care to be given to the cargo. Nigul smiled and shook his head as he patted Gunvald on the back. "Well, den you gets out of 'ere, kay?" Nigul said winking at the boy.
"Th-thanks, Nigul!" Gunvald put his quill away and sealed up his ink well. Then blew across the logs he had been updating and once the ink was set and dry he rolled it up and put it on the top of the pile. Then he grabbed his coat and headed down the latter.
"Eys, cap'in? Can I gos home too?" Hillar called, roughing Gunvald up a bit.
"Yea, cap'in... I ams real tireds!" Peeter called. The men harassed Gunvald in a brotherly way, and after a few laughs they waved goodbye as he headed back toward Nigul's estate. Æstlinn was a bustling city, but it was much smaller and crowded than Memelgrád. The homes seemed to be built right on top of each other. The port was alive with voices and languages from the whole Baltic. Gunvald walked through the old city, made up of ethnic Estonians who spoke a strongly creoled Prussian. Many recognized him as Nigul's apprentice and waved. One lady called him to her door, she had a gift for Nigul, a pie made with fresh lamb's meat, a repayment for when Nigul waived a small fee for her once, probably many years ago. Gunvald took it, and upon urgings, promised not to eat it until Nigul was home.
He walked up the steps of the estate and was let in by a maid, one of three or four that wandered the halls during the day making sure things were tidy, and strangers weren't walking in uninvited. "Ow was work t'day, Gunny?" she asked, closing the door behind him as he put the pie down.
"Good, a-as usual," Gunvald said.
"E is'n ovah work'n you, right?" She asked, putting her hands on her hips.
"N-no, ma'am, Nigul n-never over works m-me."
"All right then, but iff'n 'e does... you run to Auntie Eha, you hear?" she said, shaking her head and wandering off. Gunvald went up into his room, there he had a small stack of books he read on days like this when he had little to do. But today he didn't feel like reading, or writing. He sat in uncertainty, looking at the quill and paper at his desk. The feeling, one he had know from before, was boredom. The ire of all children was the feeling of having nothing to do. He had no siblings around him to play with, and even with his parents he never saw any brothers or sisters. A feeling of emptiness and loneliness flooded over the small boy as he sat there, pulling his knees up onto his chair and clutching them to his stomach. On the desk was a small statue, it was of King Sviendorog, mounted and armored he sat gallantly in the saddle, his visor up and his sword on his side, lance in his hand.
"Wh-what sh-should I do?" he asked the small figure. He half expected an answer, in a childish way he wanted an answer, he wanted his long-dead relative to speak to him, just briefly. The statue, of course, was silent and motionless. The boy sobbed, lonely and seemingly forgotten he had nowhere to turn, no one to go to. He tried to forget his past, and his current situation. There was a rocking noise, as if his statue was moving, and when he looked up it had seemingly moved. It now faced the window, Gunvald followed the small man's gaze and saw it peered toward the window. Rushing up, the boy saw that it faced a street, usually quiet and abandoned it was now full of children singing and dancing and playing small games with one another. Gunvald ran down, past Eha, and headed outside.
As he left a voice called to him, "Dinnah is aft'r da church bells, boi!" Outside he turned the corner and headed down that street he saw from his window. There he could surely find something new to do, at least for a little while.