Prologue: The Sons of Loðbrok

We are starting the game with Ivar the Boneless, Jarl of Suðreyjar, in 867.
(That's still an awesome title shield.)
Ivar is a fierce warrior, and that's a good thing, because he, along with Hvitserk of Jorvik, start the game leading the Great Heathen Army at war with Northumbria and East Anglia (and eventually all of the British Isles). However, this means there's a risk that he'll die early, but at least he's already got a full family to back him up (including Aslaug, his mother, and instant Court Völva).
His daughter Aslaug is married to King Bagsecg of Jylland, of House Jute. It is good to know, but there's not much to be done about that, and her children are of House Jute anyway.
But there are four sons, and their scheming matters in the early days.
The Heir Apparent: Sigtrygg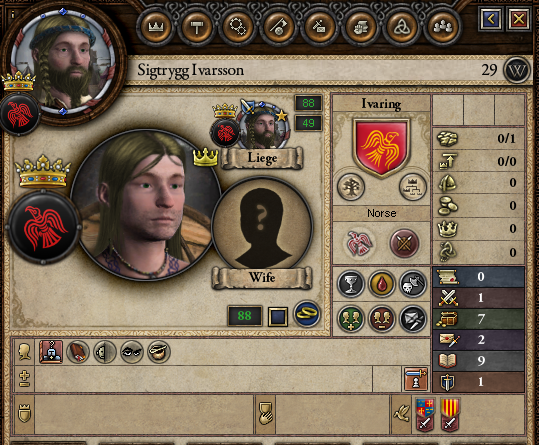 Sigtrygg is the oldest, but not always the best choice. He's already 29, so you'd hope his stats are better by then. Ivar's sons demonstrate some randomness, but I usually end up with Sigtrygg expecting to be given great things. But this time, he's Content. We'll see.
The Eccentric Uncle: Sigfroþ

Sigfroþ is usually decently competent, but better in support than as the heir. Still, he has rarely caused me trouble in the past, but is usually someone that can be trusted to support the Ivaring name. The military score is a shame.
The Family Rival: Barid
Barid is usually one of the best positioned to lead, and often makes a good argument to be selected heir. But, he's also the sort to take it personally if he isn't; he's often Arbitrary or Jealous. But, sometimes, he'll die quickly in battle. We shall see.
The Dark Horse: Guðfrið

Guðfrið is still a child, and still has decent stats. There's a good chance that he might just be the heir the dynasty needs, but it's never a sure thing.
In any case, it's vital to remember that I've got four sons and Elective Gavelkind, no matter what. There are ways around it, if Ivar lives long enough.
Also important to note are Ivar's vassals, as they will vote on the heir, and can provide their own instabilities.
Ketill Flatnose rules the Isle of Man, and is normally a solid supporter of Suðreyjar. He has one important resource that is sorely lacking in pagan lands at the beginning of the game, though, and makes him very valuable indeed: eligible daughters.
Olafr rules Dublin, but here we see one important change from the pre-Holy Fury game. He now has two counties: Dyflinn and Meath. He's also a bit harder to keep on side, as he's Ambitious, but also, he's a Yngling. That's the family of Haraldr Fairhair, and if I'm unlucky, Dublin will be inherited by a fledgling Norway. But that's a two-way street that can be of use. More on that later.
Because there's a more important change that Holy Fury makes: Another new county, with another new vassal.
Iona is its own county. And it's ruled by a Catholic priest. We all know who's really going to cause trouble for the petty kingdom. (But they've got a super cool title shield, too. Pity it's just a count's shield.)
But so far, after all this time, I haven't talked about how this relates to the Sons of Loðbrok.
Ivar is the oldest son of Ragnarr Loðbrok, and his brothers have founded their own houses, which are quite small. Björn af Munsö is the Petty King of Sviþjod, Halfdan Hvitserk is the Petty King of Jorvik, and Sigurdr Snake-in-the-Eye is the Petty King of Sjælland. A series of unfortunate circumstances, and Ivar, as the oldest, stands to inherit lands in Sweden or Denmark. Given that in this game, the goal is far to the east, this fact is important to note.
Very important.
Speaking of east, where is the goal?
Tibet. In particular, the five holy sites we will eventually need to hold are Balkh in Transoxiana, Gilgit, Hvamna, Purang in Guge, and Lhasa in Ü-Tsang. We've got a trek ahead of us.