Influencer Manager
35 Badges
Welcome back Cities: Skylines fans!
As promised, we have another special treat for you all in the form of a 2nd Dev Diary which delves into the creation of the 3 new Holiday Songs that were added to the
Carols, Candles and Candy DLC
- which you can get for free on Steam!
If you missed it:
So where did it all begin? Right here with you! Some of you might remember back in October where we asked for musical inspiration from our city-builders around the world. In hindsight, October might have been an odd month to ask for festive cheer. But you didn't let us down, and we didn't end up with a Nightmare Before Christmas
Get your Cities: Skylines Holiday spirit on, help us write the Cities Carols of this season!
You can see that thread
HERE
!​
After getting some hilarious Weird Al references and YouTube videos that you really shouldn't watch (of course, now you will go watch them... we warned you!) we started getting some awesome submissions! The jokes certainly didn't end though, and you can tell we have quite a comedic community:
And
@co_emmi
wasn't about to let the opportunity pass by to join in on the fun!
By the end of the month, we had 2 pages full of beautiful poetry that would make
Vogon's
proud! These masterful lyrics about truckers, traffic jams, chirper hats and more were finally ready to be taken to the Head of Music at Paradox Interactive: Tobias, whom I interviewed earlier this week to prepare this Dev Diary for you!
Tobias is what you'd call a veteran of Paradox Interactive, having worked with us for
10 years!
Back in those days, Fredrick Wester (the CEO at the time) would hit Tobias up to come play the drums
But it wasn't until recently in 2017 that he stepped into a full-time position, overseeing around 50-60 producers and composers on various projects, where he works towards one major goal:
"How do we use music to make our games better?"
​
I started off by asking Tobias how he approached a project such as Cities: Skylines, to which he explained how Cities: Skylines had a certain Neo-soft, smooth sound that simply made you feel good. It needed to be something you could listen to for long hours. Cities: Skylines players are notorious for going all night long to the rhythm of music, so it's quite an important aspect!
For this particular project, Tobias met with multiple producers to discuss how to create a seasonal feel to the game with these Holiday songs. Together they put together a reference list of music from Spotify and YouTube, examples to which they could glean inspiration from. The ideas were brought forward to Colossal Order and other members of Paradox Interactive, and back-and-forth they went until everybody felt happy with the direction chosen for the music. Collaboration at it's finest! Tobias was sure to mention how important it was to make sure that the developers felt that the music "felt right" for the game, throughout every step of the process.
So when the foundation was set, it was time to roll up some sleeves and get to work! I thought it best to break it down to a numbered list to show you the steps taken to turn "We thirty thousand truckers are" into a game-worthy radio station song!
The League of Extraordinary Musicians

Tobias first worked on finding the best suited producer and composer by reaching out to multiple people and asking for samples of what they'd like to create. Most of them are from Sweden, as it's easier to be nearby so he can actually visit their studios and work together. There are also quite a few from LA in the USA.

The composer chosen for this project is none other than Kalle Engström! A well known composer who has worked with artists such as Celine Dion, The Saturdays, Lindsay Lohan, Westlife, Jade Ewen, Ace of Base, Girls' Generation, EXO, Super Junior, and A-JAX!






Creative Liberty in Action

Once selected, the work begins on transforming forum posts and comments into music. No offense intended people, but this is no easy task! You're not exactly world renowned lyricists

The material was excellent though, and with some sketches, restructuring, and creative writing - lyrics began to form. Those lyrics were matched up with the appropriate music themes that had been decided before, and back-and-forth tweaking led to songs emerging forth from the studios. Three, to be exact.

And again, the entire team and developers were kept up-to-date about the music being proposed, and everyone was given a chance for feedback.


Let the Band Auditions Begin

In his heart he knew
The artist must be true
But the legend, of the rent was way past due

Now wait just a minute... a band was involved? Well no, not really. But Tobias wanted you to think there was a real band behind these radio songs. These songs needed to feel credible, like a real band might create them and have them playing on your cities radio. Your cities are believable (well, most of them) so the radio stations should too!

To meet that goal, Tobias set out to find the right vocalist who could sing the songs prepared by the producer and composer. It was decided that these three songs would best be suited by a male vocalist, and an American who could produce a "feel good" vibe that matched Cities: Skylines neo-smooth tone was asked for.



"After auditioning a few singers, we found one that had a great American vibe. Like a MIchael Jackson mixed with Justin Timberlake vibe"



The perfect singer was found, and the band Stills was formed and ready to bring three new holiday hits to your radio stations!


Mastering and Mixing, The Far Side of the World

The pieces were in place, the players were ready, it was time to make a holiday miracle happen! Your inspiring lyrics were about to be transformed into an actual song. Typically the whole team would meet in Tobias' studio in Sweden, but this project had Stills and vocal coaches recording in the USA.

Once the vocals and music were prepared, the producers went to work ensuring the songs were perfect for the game. At around 90% completion it was sent to the game development team to ensure that the final product was aligned with the original vision. Many hours of mixing and mastering, ensuring the songs had correct volume levels and RMS values, and the songs were ready!
*Tobias at work in his studio, creating the music for a recent Stellaris trailer
Enough Talk - Show Me the Music!
Alright alright. We're almost there =) Let's get listening to the astounding songs that are now available all over your City's radio stations!
First up:
Yonder Star
https://soundcloud.com/jonathan-whitley-23479283/yonder-star
Entry: Emre Yigit
Second: A New Day
https://soundcloud.com/jonathan-whitley-23479283/a-new-day-smix
Entry: Pillark
​
And lastly: Let it Snow
https://soundcloud.com/jonathan-whitley-23479283/let-it-snow-smix-1
Entry: Keltia_Vikinga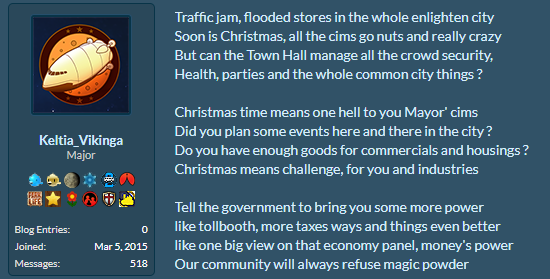 We hope you've enjoyed this 2 part Dev Diary! From all of us at Paradox Interactive and Colossal Order, we wish you all a happy holiday season! We're looking forward to 2019 and all the new content we've got planned for each of you.