CK3 Game Design
Paradox Staff
77 Badges
Hello everyone and welcome back to another dev diary for Barbarossa where today I'm going to be diving into the unique branches for the Baltic states. I would like to open up by showing the state rework I neglected to show last week, so here they are! The new Baltic States'... states.
Starting with Estonia, we have two starting focuses: Rally the Nation or the Era of Silence. Historically, the Era of Silence was a time in Estonian history where Konstantin Päts suspended all elections in Estonia out of fear of the fascist Vaps Movement.
While going down this path, the Vaps will gradually grow more and more agitated, and the player must use a series of focuses and decisions to prevent the nation from fracturing into a civil war. Once the Vaps are dealt with, Päts stands ready to prepare the nation for the inevitable wars to come.
A banker and economist, Päts has access to some powerful bonuses to the Estonian economy and internal stability.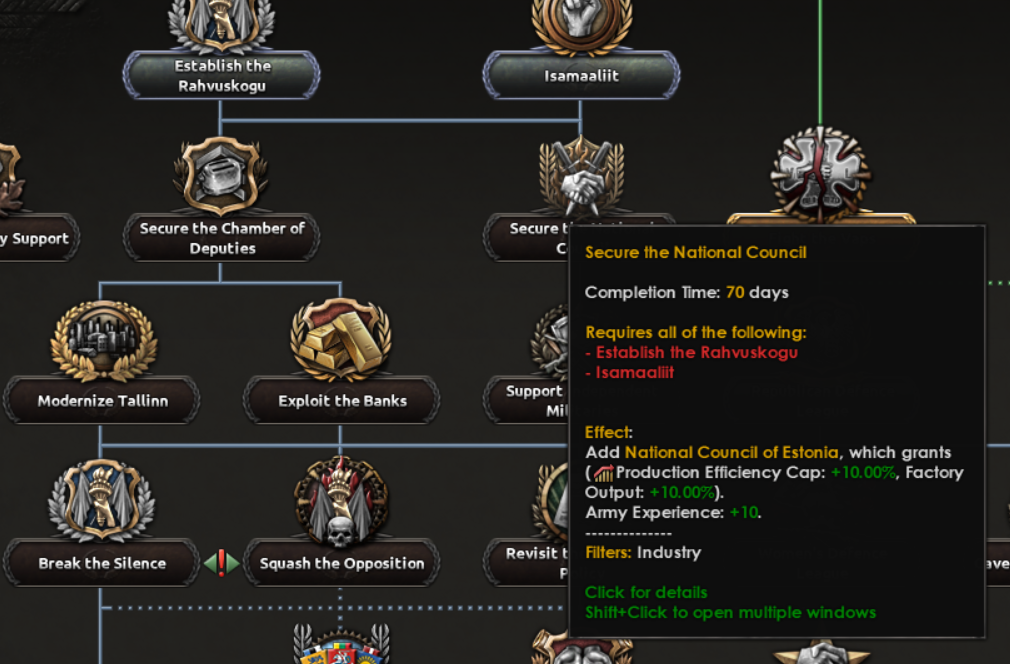 Since his dictatorship was underpinned by the fear of fascists and communists, the threat both pose must be pushed into irrelevancy if an Estonian player wishes to restore democracy in their nation.
However, the dictatorship can be maintained by pushing not only communism and fascism into irrelevancy, but also democratic support.
Rally the Nation has the player take control of the Vaps in a series of decisions much similar to Britain's fascist marches, whereby the Vaps must rally public support for their movement and overthrow the government. This culminates in a march on Tallinn and taking over in a civil war.
From here, it's a race against time to bolster the military and ready the nation for war. As a movement made mostly of veteran's societies, the Vaps have access to some powerful military bonuses and free units.
On top of that, the Vaps held close connections to the far-right veterans in Finland and as such, once they have taken over Estonia, they stand ready to give official support to the Finns to do the same in their own country by organizing marches through Finland.
Once this is done, Estonia is at a crossroads for where her identity lies. She may lean into her Scandinavian identity and conquer the Nordic countries, or she may lean into the Finno-Ugric identity and prepare for a war against Russia.
If Estonia successfully conquers the Nordics and completes the "Estonia is Scandinavia" focus, she will gain access to the old Nordic League decision from Waking the Tiger.
Leaning into the Ugric identity however will allow Estonia to form the new Empire of Finno-Ugra out of the Finnic identities living in Scandinavia and Russia.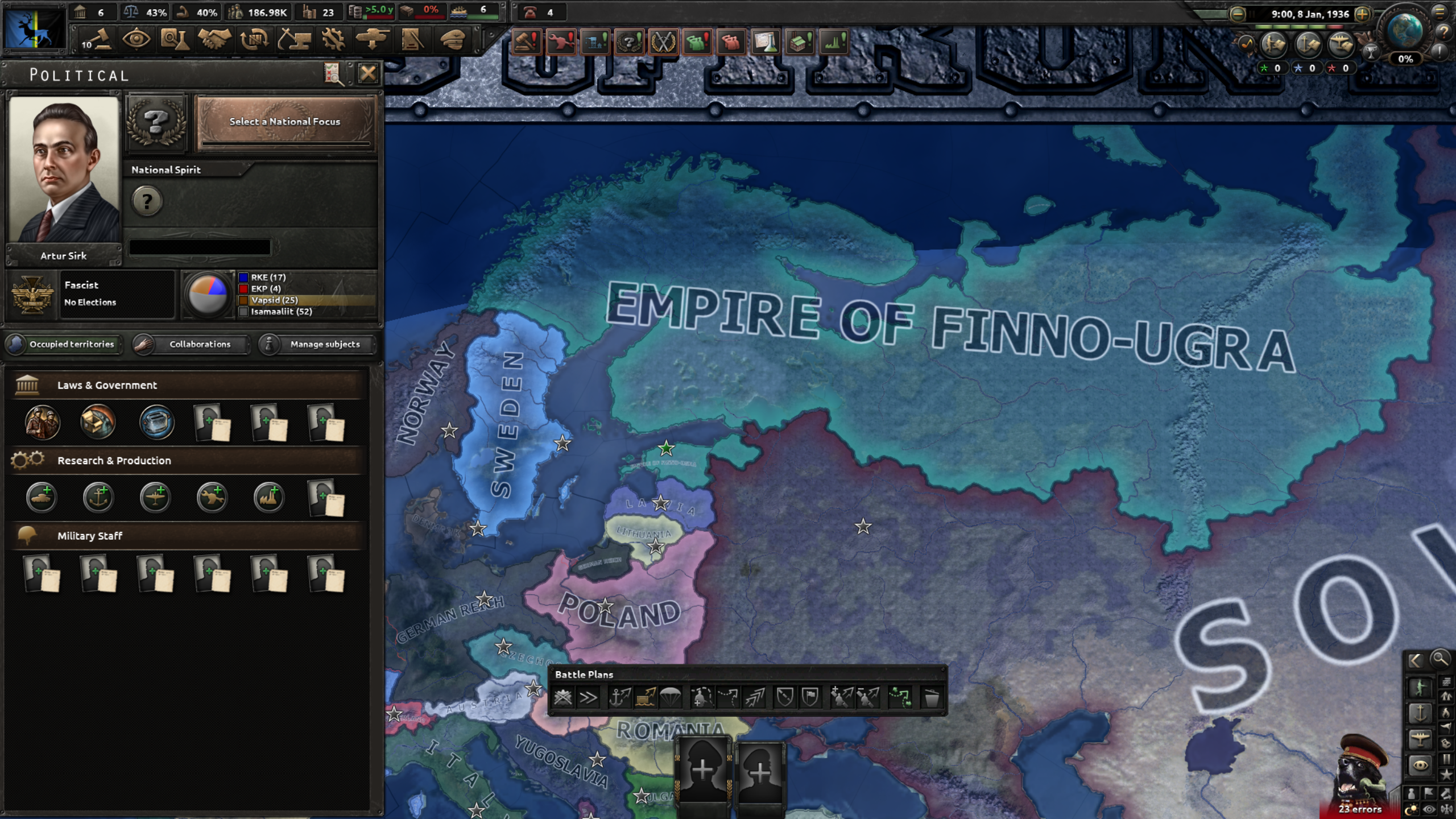 ---
Next up we have Latvia's political focus, beginning with Kārlis Ulmanis' historical decision to suspend the constitution of Latvia.
The focus tree is split into the military and civilian governments, which may or may not merge into one depending on your choices.
Historically, Ulmanis assigned the marshal of Latvia to be his Prime Minister, replacing Kviesis of the Farmer's Party. Choosing to do so will allow the player to vastly improve their military industry.
Marshal Balodis became so influential in Latvia that many believed the nation to be a diarchy between Ulmanis and Balodis, despite this not being the case. However, the player will be able to make this perception a reality and establish Balodis as dictator of Latvia, rather than keep Ulmanis' rule.
Instead of assigning Balodis as PM, Ulmanis may also choose to renew Kviesis as prime-minister, adopting a more open attitude towards the former Saeima members, giving bonuses to the civilian economy.
Similar to the marshal branch, at the end here Ulmanis may either restore public elections and empower Fricis Menders, or he may integrate the Farmer's Party into his own; strengthening the dictatorship.
Next we have the military side of the Latvian government. Latvia may choose to either suppress the fascist Thunder Cross movement, or collaborate with them.
Suppressing them will allow Latvia to empower paramilitaries and organizations more aligned with the government, such as the Aizsargi, eventually allowing women to serve in the Women's Aizsargi.
Unlike Estonia, Latvia has the ability to court the fascist Pērkonkrusts group without having them take over the government. However, this is a delicate balancing act because if the Pērkonkrusts grow too powerful too quickly, Latvia will be split into a civil war, so collaborate with them with caution.
If the player can keep the Pērkonkrusts in check for long enough, they can complete the "Anti-German Propaganda" focus, pacifying the Pērkonkrusts for good while utilising their bonuses.
However, Latvia may also have the Pērkonkrusts supercede Ulmanis' government and take over the nation peacefully, unlocking powerful focuses to help them conquer the Baltics.
On top of that, Gustavs Celmiņš viewed Christianity as a weak and foreign religion, and instead stated that Dievturība neopaganism be adopted as Latvia's state religion. If the player goes anti-German, the Dievturība national spirit is upgraded as you progress down your fascist focus branches, eventually becoming quite a powerful boon to your nation.
Going pro-German however will allow Latvia to adopt the mantle of RK-Ostland, serving their German masters by occupying the Baltics and Belarus.
---
Lastly, we have Lithuania's national focus tree, and similar to Latvia's, most everything is interconnected.
Just like Latvia, Smetona can choose to appoint either a military prime minister as they did historically, or assign Vladas Mironas, a priest turned politician.
No matter which they choose, Lithuania must fulfil Smetona's ambition of empowering the Presidency and elevating the President above party politics. What this will mean for a Lithuanian player is that party popularity will have no impact at all on the nation's stability, and they will instead gain a flat amount of stability as a base.
Over on the right here we have some of Lithuania's external politics. Lithuania may attempt to seek peace and eventually mutual guarantees with their old enemies in Poland, or they may sign the Soviet Mutual Assistance pact, ensuring that Vilnius be returned to Lithuania upon completion of the Molotov-Ribbentrop Pact.
Lithuania may also center their politics by suppressing communist and fascist supporters in their nation, eventually allowing them to focus their efforts on their true enemy, be that Germany or the USSR.
Over on the left, we have focuses for dealing with Augustinas Voldemaras. Voldemaras was once Smetona's Prime Minister, but in 1936 the Iron Wolf leader was in a Lithuanian prison. Lithuania may exile him, granting access to their usual political focuses, or free him, allowing the nation to slowly turn to fascism.
In the fascist branch of the Lithuanian tree, Lithuania is able to go on a war-path to restore the old borders of Greater Lithuania. Opposing the Germans will also allow Lithuania to lay claim to "Lower Lithuania", AKA Königsberg.
A fascist Lithuania that manages to either occupy Poland or align them will be able to restore things to the way they once were: with a large dominant Lithuania and a small submissive Poland on their border.
But Lithuania does not have to assign a Prime Minister at all. A fourth option is open to Smetona, and that is inviting the son of the duly elected King of Lithuania: Mindaugas III.
And here we have the beautiful Karl Gero von Urach portrait I teased in last week's diary! Big thank you to
@Indyclone77
for sourcing the reference picture from the Landesarchiv Baden-Württemberg for us!
Should Lithuania choose to elect a king, the player will gain access to the same claiming mini-game as Poland but inverted, allowing for a Commonwealth in which Lithuania is the senior partner.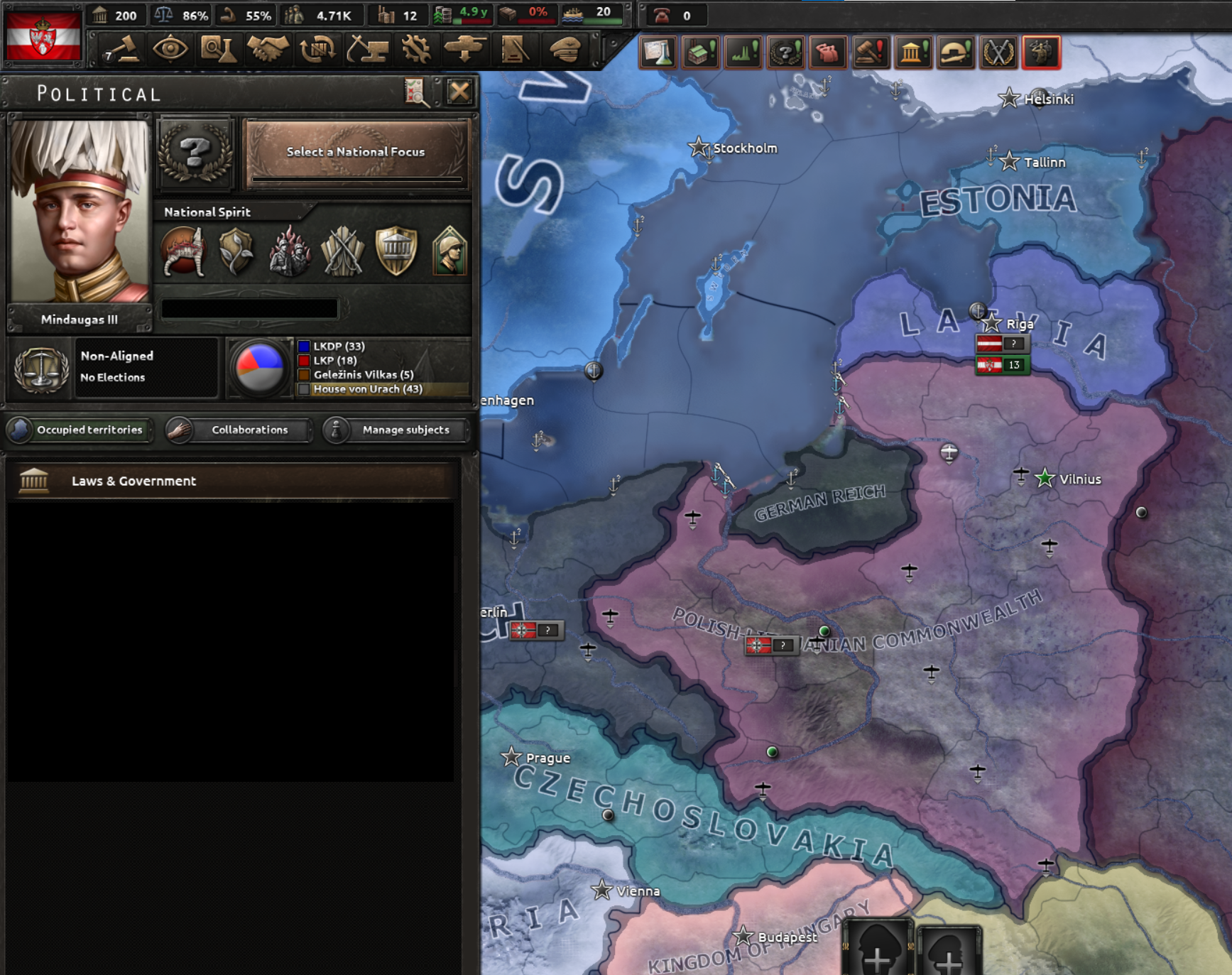 Should both Poland and Lithuania choose to go monarchist, the two nations will be allowed to decide how they wish to move forward. They may reject the other and go to war, or they may unite into a Commonwealth faction and stand as friends.
---
There are also a number of shared focuses in the unique branches as well.
Any Baltic State may choose to form the Baltic Entente faction, and if they become democratic, they may also turn this alliance into an economic union. By completing focuses to draw the states closer together, the democratic Baltic state may be able to unite people of the region into one nation.
Similar to Poland, all three Baltic states have a small exiled government branch, granting them access to some offmap factories and weekly manpower.
The Baltics may also choose to do as they did historically: granting basing rights to either the Soviets or Germany, and eventually submitting to their occupation. Should the Baltics submit to Soviet occupation, they will switch to their shared communist branch.
That's all for this week! Don't forget to tune into
PdxCon '21 on Friday and Saturday
, there is a bunch of interesting HOI4 stuff there as potentially some reveals
*edit in case you missed it*

Here's the detailed itinerary of HOI4 events:
Friday 21 May:
Game Challenge - Corazones de Hierro 1110-1310 CEST: Join Content Designer Drikus Kuiper, Senior QA/NaCl enthusiast Daniel Sjöberg, and Community Manager Josh Bassett on Twitch for a top-secret in game mission, and compete with your fellow players for prizes!


Announcement Show 2000-2100 CEST: Our CEO Ebba Ljungerud welcomes all to the Con, with a full rundown of the many new announcements you can expect over the course of the event...including a brand new game from Paradox Development Studio. Pre-show from 1930.
Saturday 22 May:
Map Painters - Designing Game Maps for Map Games 0230-0310 CEST: Content Designer Drikus Kuiper joins colleagues from multiple Paradox titles to discuss the ins and outs of making maps for complex strategy games, and answer your questions.


Kaiserreich Mod Documentary - Two Decades of Alt History 0310-0335 CEST: Content Creator Kaiser Cat Cinema takes us on a journey through the story of this long-lived, legendary mod.


Output Modifiers - Building a HOI Mod 1155-1325 CEST: Content Designer Manuel Molina Grande, QA Viktor Dahlberg, and Community Manager Josh Bassett give a step-by-step introduction to the process of creating your first HOI mod, with a Q&A session to follow.


HOI Story - 5 Years of Hearts of Iron IV 1715-1755 CEST: Game Director Dan Lind, Content Design Lead Gabriel Blum, and Senior QA Daniel Sjöberg will be your guides through the panoramic sweep of HOI4 history, charting how the game has grown and evolved over the years. What's next for the game?


The Greatest Content Generation - Meet the HOI Team 1800-1900 CEST: Meet and greet session with the HOI 4 dev team, including Game Director Dan Lind, Game Designer Robert Dotson, Content Design Lead Gabriel Blum, Content Designer Manuel Molina Grande, UX Designer Peter Johannesson, Programmers Björn Mattsson and Eddie Willman, QA Viktor Dahlberg, and Artist Timor Khanagov.
And that's just the HOI-specific content. Feel free to check out the website for the full timetable, including a large number of mysterious secret ones...
We hope to see you all at twitch.tv/paradoxinteractive for PDXCon Remixed!
Last edited: