Game Designer - HoI4
57 Badges
Greetings, I am a game designer new to the HoI4 team. This is my first dev diary, so be gentle
. Also, sorry for the late post today. I am an American and when it comes to WW2, we show up late.
Today's diary entry covers our improvements to submarine convoy raiding. In past versions of HoI4, submarines have not really pulled their weight. We have sought to change that and make them worthwhile to build. I recently put these changes to the test by playing a Germany campaign.
My naval plan as Germany was to exploit the central Atlantic and Cap Verde Plain with a submarine wall. This would hopefully prevent England from getting necessary resources from the USA and the colonies. The biggest effect of this resource shortage would be the UK running out of fuel, crippling both their navy and air force. This would hopefully open the UK to sea lioning before the USA joins the war or at the very least, make winning the air war very easy and cause permanent damage to the UK's fleet.
We have previously mentioned the spotting system, and how naval task forces are revealed over time. This functions a little bit differently for subs. Spotting an enemy sub outside of combat is based upon chance. The chance for this to happen is based on how quickly the spotter will spot their target. However, it is possible for a submarine to have a large enough advantage in spotting that the submarine task force will not be able to be spotted. However, convoy escorts will still be able to fight against submarines once combat is initiated, even if subs are not normally detectable by enemy taskforces on the map.
This system creates a tech race between sub stealth and sub spotting, with subs having a better chance of getting an advantage in the early game. Previously, submarines would eventually be detected and killed no matter how good at hiding they were. This is no longer an inevitability.
Before beginning the war, I made sure to complete the German naval focus line down to "U-boat Effort." Along with getting a research speed boost and some dockyards, the focus gives Germany access to a "Cruiser Submarine." This sub is a sort of tech 2.5 Sub with extended range, some unique module options, including catapult planes, and the ability to be upgraded with a snorkel.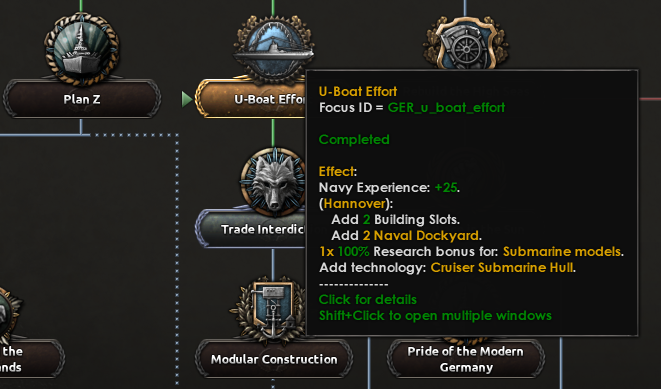 Part of my plan for giving England a hard time included mining up the English Channel. I executed this plan with a cruiser sub equipped with naval mines and plane catapults. These plane catapults boost the sub's surface detection, giving them an advantage in being detected and helping them remain invisible, at least for the first couple years of the war.
I made a tech 3 sub-variant for minelaying the Eastern North Sea and a tech 3 raider-sub for Cap Verde Plain. When I demanded Danzig from Poland in August of '39 I had 79 Subs of various roles ready and much of the Trade Interdiction doctrine complete. This focus on raiding will give my subs a further detection advantage over other countries that have yet to complete their convoy escort doctrines.
Speaking of the naval doctrines, we have made some changes all around to account for the new combat system and apply a bit of balance. In particular, we have given some buffs to the Trade Interdiction doctrine to make it more attractive than it was previously. We have added additional survivability for submarines and more of an edge in surface detection values. Capital ships have received some defensive increases as well.
Torpedo reveal chance is a new thing for subs. When subs are in combat, attacking no longer guarantees that a sub will reveal itself. Baseline, subs have a 50% chance to reveal themselves when launching a torpedo volley. This can further be improved through doctrines and admiral traits. This makes ambushing protected convoys safer and retreating when too many destroyers show up easier.
In my campaign, I capitulated France in early December of '39. To help with the Axis's naval situation I formed Vichy France. Before France fell they had been contesting my raiding of Cap Verde Plain to the best of their ability, but I was still seeing some success. Forming Vichy France put more ships in the hands of the Axis and would further help to stretch the limits of what England could endure at sea.
With Vichy France on my side, early 1940 saw a massive spike in convoys raided as Cap Verde Plain and the Mid-Atlantic were now completely covered. By this point, I had ~20 dockyards producing subs for minelaying and raiding. All of my newest tech 3 Raiders were seeing great success in under the guidance of Karl Dönitz. Even when contested by British convoy escorts, they were able to get a respectable amount of kills and retreat. Naval bombers were also ramping up operations in the English channel.
We have added a new effect to convoy raiding, war support reduction due to raiding. By mid-1940, Canada had been raided to 0 convoys and had their war support reduced to a point where they were no longer able to support War Economy. This helps to promote raiding and discourages blunt forcing convoys through an area where you are being raided.
By early '41 the UK had been choked out of convoys and fuel and was unable to keep their navy running and were about open to a naval invasion. By mid '41 I had naval invaded the UK and was Setup for an attack on The USSR.
See you all next week!
Rejected Titles:
-Raiding and Reaving, 1940 edition
-Subs, they're not complete trash now!
-Under the sea, Darling its better
Last edited: