Game Director
Paradox Staff
12 Badges
Jul 23, 2007
12.793
38.304
Hi everyone! We need some recovery time after PdxCon before we talk about more new stuff so today I figured we would recap stuff from PdxCon as well as talk about some team and studio topics. I am happy to say that we announced the name of the next big expansion - No Step Back!
No Step Back
We finally announced the name of the next expansion at PdxCon! (I accidentally wrote it on twitter last week but apparently nobody had time to spot that hehe). No Step Back will launch together with the 1.11 Barbarossa update and the mission statement is to focus on Soviet, the eastern front and refreshing land warfare and logistics!
This is a huge undertaking that changes a lot of key components of the game, especially the AI. This has been a major reason for waiting with Soviet. We needed to build up both ai stability and get a new partisan system in place and have time to rework supply etc etc, so its the culmination of a long plan towards this goal and its nice to see it coming together.
This wasn't a full reveal - we will be showing off and announcing more features as the dev diaries come online. We also showed some more up to date visuals on the ongoing work on the (wip) supply system:
There will be some more in depth looks on this again. We are currently working on how motorization functions as part of it but it's roughly as presented before with a focus on connecting supply hubs using railways and convoys to project supply, with motorization improving the process. The mapmode is starting to really come around and is much easier to play with compared to the one we showed in the initial early look diary (just don't look too close on the red - lack of supply color above, I grabbed it from a bug report where stuff was intentionally made extra bad for those units to test… but I felt it showed off the state well).
placeholder train graphics as our proper models aren't in the game just yet, but doesn't it look cozy?
We also teased some pictures of the railways and trains, as well as confirming that there will be railway guns as a new unit type. They function a lot like naval bombardment support and are intended to help break tough defended positions (probably cities/railway hubs). More on those in a dedicated train porn diary in the future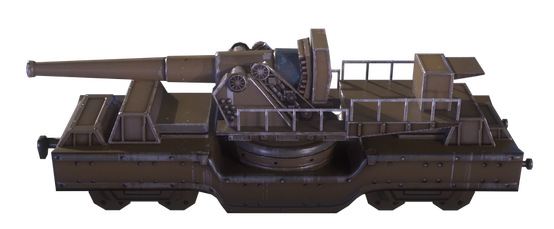 Soviet tree wise we do not wanna show off too much yet. It will have its dedicated diaries (plural) and its one of our more ambitions trees yet, both in size and in player choices. Soviet is after Germany the nation thats most important to get right for a ww2 game, and compared to Germany a lot more complex. Here is a little teaser (are those icons placeholder or is it a shaved marx?), feel free to speculate what choices hide outside the screen...
(yes I know center is on the left. Trust me it makes sense. You are crazy I am not crazy!)
PdxCon Recap - Statistics
Let's start off with some yearly statistics updates!
We keep trending up on active players. This year's record peak was 899k players in a month which is crazy!
Majors vs Minor nation picking keeps slowly converging towards an even split:
Modding wise here are the latest numbers for the biggest total conversion mods:
Road to 56 - 10%
Kaiserreich - 6%
Millenium Dawn - 3%
The New Order - 2.9%
Old World Blues - 2.2%
The Great War - 2.2%
Cold War: Iron Curtain - 1.2%
Future Roadmap and thoughts
We also talked about the future of Hearts of Iron after No Step Back and onwards, because we don't plan to stop any time soon on expanding the game.
Yes, we will be reworking Italy in the future
As games get older the harder it is to do large paid mechanics changes and HOI is starting to approach that stage now. Our current thoughts (that could totally change) is to focus more towards smaller DLCs like country packs, patches and free updates long term as this lets us focus on whats best for the game and get more flavor in.
Speaking of country packs. Battle for Bosporus or Death or Dishonor is what we are thinking here. We want to focus on themes and specific regions here. At the moment the top contenders we think about are Scandinavia, Middle East and South America (so big its maybe two though), but we got more ideas. Game development is hard and no plan truly survives contact with the enemy etc so we will see, but this is our intent
There are a few big pain points in the game like peace conferences that are definitely things we are planning to tackle as part of the future plans, and a focus towards country packs make that easier.
We also want to try and help onboarding for new players. HOI4 is a hugely complex game and the tutorial is really not what it could be. But we also have other improvement ideas here.
To be clear, none of this is promises because plans change, and I cant say exactly when these things happen - my goal is to keep you in the loop with how we think about things
If you want to watch the pdxcon panel here are some bookmarks to the twitch stream (I am told there will be youtube clips available in the future too):
Reinforcements!
We have some cool team stuff happening, I will hand over the mic to
@Arheo
Greetings all! Fresh from the Elysian fields, several of us previously from the Imperator: Rome team have swapped our gladii for KV-1s and have integrated with team HOI to create the ultimate combined arms, bear mounted (..thanks, Dan) division.
On a personal note, I'm thrilled to be joining HOI - it remains one of my all-time PDS favorites. The opportunity to give so much attention to such a short yet critical period of history is rarely afforded elsewhere. I have a great interest in the simulation of socio-political/economic causality behind the global narrative HOI provides, but find myself most at home micromanaging an ever-diminishing frontline in Russia… now with trains.
The ex-Imperator folks bring with them a wealth of knowledge which I'm certain can be put to good use here - we have spent a long time reacting, consulting, and working with our community to build a better game - something which I look forward to doing with the passionate fans of the HoI community as well.
Join the Army?
Hi, I'm
@Birken
. I'm the technical director of Studio Gold and have been with Paradox since the release of Hearts of Iron III.
We're expanding the programming department in Studio Gold to better support the development of Hearts of Iron and future projects. Right now I'm looking for a Manager to help me develop our department as well as programmers that want to work with us to keep on building on Hearts of Iron and other GsG titles.
Please checkout the following job ads if you think it could be something for you.
Programmer Manager
Game Programmer
Senior Game Programmer
That's it for today, see you all next week!