Game Director
Paradox Staff
12 Badges
Jul 23, 2007
12.793
38.304
Hi everyone! With the team now back from a few days on Malta (where we learned, among other things, that limestone walls trumps radar for warning about incoming italian bombers), we are back at full steam and have another dev diary for you talking about stuff coming in Together for Victory and the free 1.3 patch. First up is the new focus tree for New Zealand:

New Zealand
In 1936, the First Labor Government had just taken power in New Zealand, the smallest of the commonwealth dominions. This new government introduced a number of social reforms and created what would become the world's first modern welfare state. In practical terms, this gives you a much needed boost to your available manpower and provides more workforce for your factories, represented by a reduction in consumer goods required.
With a very small industry, you'll have to work hard to expand your production capabilities. Fortunately, unique resources in the form of natural gas, oil and iron rich sands are available for you to exploit. Several industrial initiatives are also available to you and lucrative technology sharing focuses will give you a valuable advantage if you remain loyal to the commonwealth.
If you choose to abandon Great Britain to it's fate however, there are three options for you. You could side with the Japanese as they are your biggest threat, or you could embrace the global revolution and form closer ties with the Soviet Union. The last option available is to establish a true independent New Zealand and take your own path. Perhaps by taking Australia on the way.
Some of the new leaders & portraits for new zealand
When working on the New Zealand tree, we wanted to include some important historical developments. The formation of the Royal New Zealand Navy and Air Force were important for the country's ability to defend itself. To aid you, two light cruisers and a number of aircraft will be transferred to the newly formed services.
The Charlton Automatic Rifle, although historically never deployed, was a modification of the Lee Enfield rifles for automatic fire. This was just one of many efforts to make do with what limited resources they had at hand.
Another such effort, perhaps not quite as successful, was the development of the Bob Semple "tank". This indigenous armored fighting vehicle was constructed from a tractor chassis, armed with no less than six Bren machine guns and was armored with corrugated metal plating. It was believed to be bulletproof.
Combat Log
You might have spotted changes to the theater interface in earlier screenshots, and now is the time to explain whats up!
First of all there are two new indicators on the right. These show you how many active defensive and offensive combats are going, and if any of them are having problems. Its a good way of noticing if there are changes to the status of a front at a glance. Next to them is a button that opens up a brand new interface: The combat log.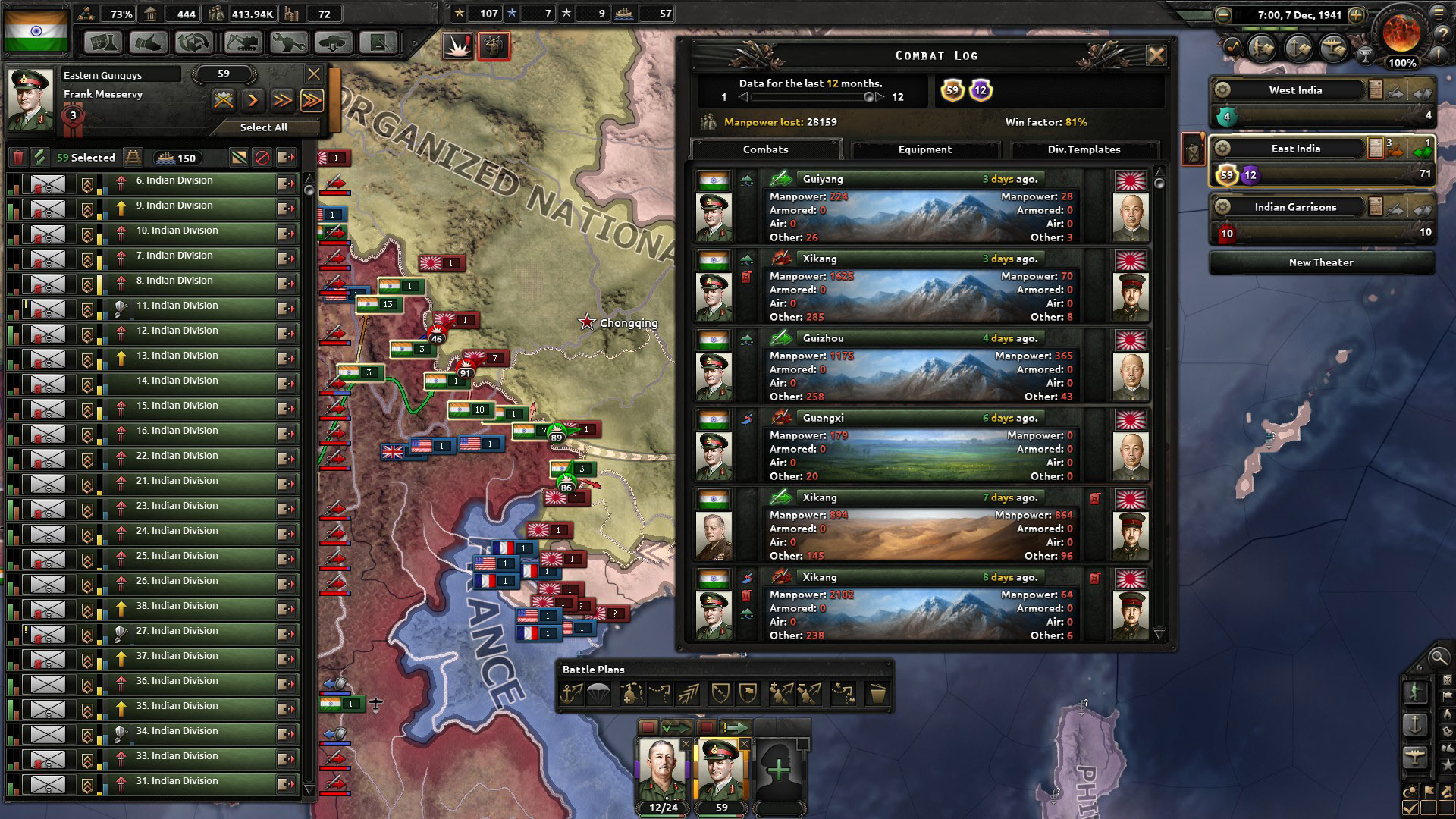 This new feature gives you access to history over combats for the selected command groups in the theater. Summarizing losses to combat damage, attrition, any combat modifiers that were present and breakdown on losses to air. The idea is for you to be able to analyze the situation after the combat is over. This part will be available for everyone as part of the free 1.3 "Torch" Patch. For people who get Together For Victory there are also two more tabs available letting you dig into lists of equipment losses for you and enemies and check out performance of division templates involved in the fighting.
Thats it for today, next week I'll be inviting
@Jazzhole
and
@Metal King
over to talk about awesome new music and sound.
Also don't forget to tune in for today's World War Wednesday Livestream and find out if who of the Allies and Axis will be able to tip the balance in the war in Europe! Watch it live @16:00CET over at
https://www.twitch.tv/paradoxinteractive
!
Last edited: